SEASON: A letter to the future is an atmospheric exploration adventure about one girl who is on a mission to savour the world. The Finger Guns review:
I think it's fair to say that SEASON: A letter to the future has had a potentially turbulent time during development, details of which we won't be going into here. When controversies surround a game's development, it sometime culminates in a confused final version of the game. Many had theorised that the promise of the initial trailer of SEASON: A letter to the future may not materialise. It's my pleasure to report that this narrative adventure game has certainly delivered on its potential, regardless of the headlines it may have generated during its time in development.
Wakey, Wakey
In SEASON: A letter to the future you play as a young girl named Estelle who experiences a prophetic dream. This dream indicates the end of a 'Season'. Seasons have come and passed through life in this world for centuries, signalling a change. A vision of new era. What is this Season that is about to end? How will it affect everyone? This isn't purely your Spring, Summer, Winter Autumn. This is something much more symbolic and ambiguous. Could it turn the world inside out? I guess we'll find out.
SEASON is a parallel journey; One of adventure and one of discovery. In the prophetic dream, an Elder had instructed the young girl that she had to take what she had collected to the end of the world, to a vault, as it's the only place that is safe. It's quite unclear what that means to begin with but you comply, mostly out of curiosity. On the other side of the journey, you are taking in what has already been found and saved. These journeys run parallel, like a storybook before bedtime.
Estelle feels compelled to collect and gather what could be lost in the season and take it to the vault. She picks up her late fathers camera, just to take him along for the ride. Already the game is filled with an emotive quality of a good story of a young girl trying to fulfil a "destiny", or a prophecy of some sort, but has to deal with the enormity she may leave behind. Her mother.
One of the first orders of business is to create a special pendant designed to protect you whilst out on your journey to discover and document the end of a season. This is your first look into the gameplay and what your time on SEASON: Letters to the future entails.
You will wander around and take stock of the belongings over years past, childhood memories, belongings and neglected items. Learning about their story and how they mean something to someone, even if that's not you, the character.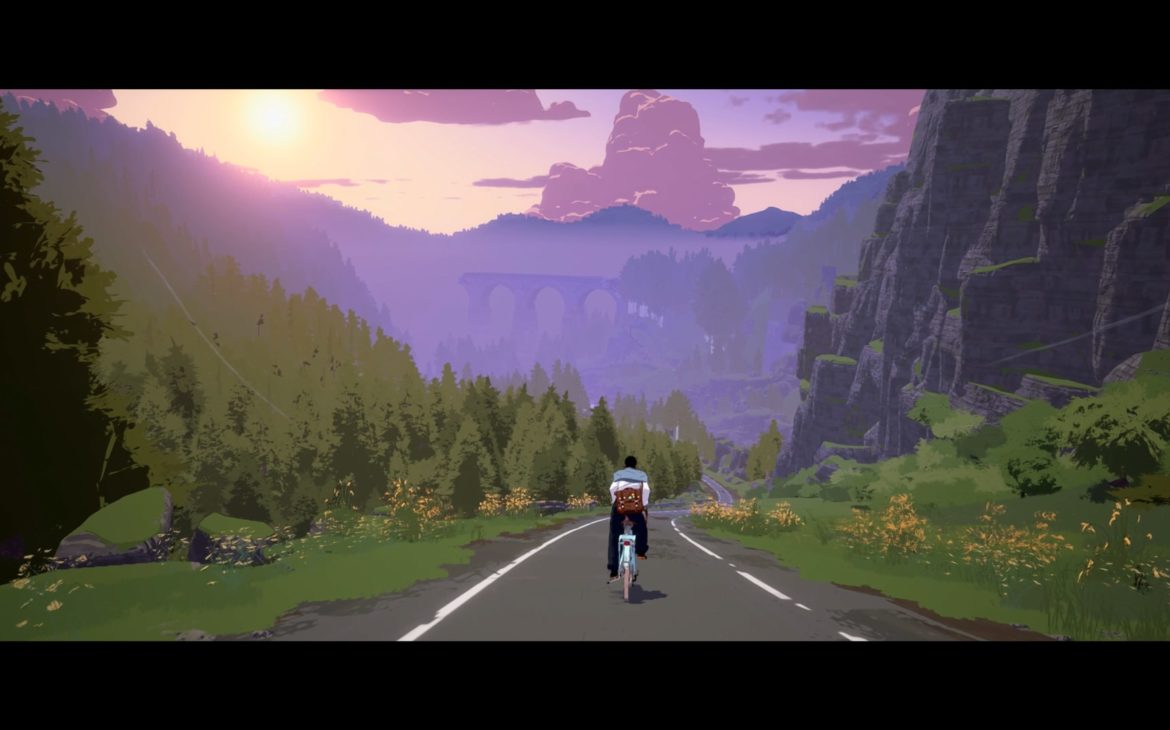 Mindfulness: The Game
SEASON: A letter to the future is a sponge filled with the meaning of memory. Once leaving your home to document the season, Estelle will travel by bike throughout luscious vibrant landscapes. The game itself has a very relaxing, atmospheric feel where it is easy to soak up the undertone of complexity.
On the same note, I will say that complexity is apparent from the start in not a very coherent way. For me, it was very unclear what the 'visions' were, how everyone knew of them, how they came about, who was it, ect. I couldn't quite tell at first between the parallels of why and what in regards of purpose. This does become much more clear the more you play it, but it is much more of just having to accept that all is not meant to be clear immediately.
On the back of this being relaxing, there's not really any strong objectives or linear aim to the game. This is purely explorative, other than the narrative itself. You as the player will really make of it what you will in regards to how much you put in. If you speed through the game, biking everywhere, waiting until you get to some sort of plot point, you will likely take nothing in. The enjoyment will pass you by. This is a game that is meant to be savoured. I played the first few hours in a big dose, and I remember thinking to myself actually, I think I would really enjoy taking my time and playing this my way. In a way that I can kind of decide where the chapters begin and end.
Your main expedition will be to a place called Tieng Valley. It is learnt that soon this will be washed away by a broken dam and the village will be completely destroyed. The community will need to evacuate at Midnight. Some have already fled, some are reluctant to leave their roots and to abandon memories of a lifetime. It's now up to you to decide what the future may remember of Tieng. Tieng is filled with depth and structure, from fields, to lakes, to forests and more.
To document your journey, players are given a keepsakes log. This will be your trusty paper companion throughout the game, to collect for the future for whoever is reading. This turns into a 'create your own collectibles log'. Each page is based on a location, some will require you to actually seek certain things to uncover more of the story but the majority is all player's choice. You can decide what is worth capturing, never to be forgotten. This can be done in two ways, either by camera or sound recorder, recording the sounds and environments of your travels, or shooting to film via your father's camera.
The camera does have a few options in regards to zoom and filters, and can be accessed at any time. Once a page has been filled to a certain amount, quotes of her musings and decorations will unlock for you to customise the page. Filling this book is a lot of fun and very relaxing, as well as allowing for pure creativity in regards to placement, decorations and using your own art. Estelle will also be able to ponder her thoughts on some of the pictures you may take of things, adding more to the story or more depth to the thoughts she has whilst on this important journey. At some points, you will take so many pictures, that it really is up to you about what story you, the player, wants to depict of the lessons you've learnt or the place you have just been. Some findings are darker than others, and it is possible to ignore this and illustrate only beauty.
Lost in a Memory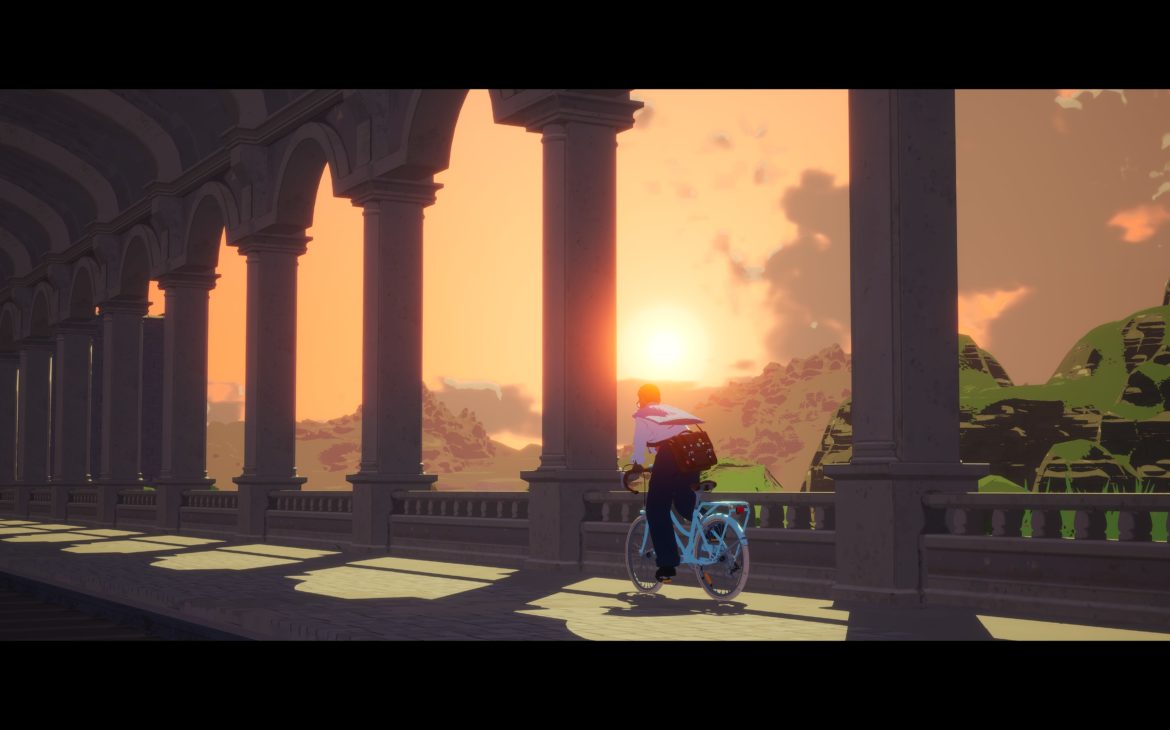 From the first pan out to the scenery, once Estelle rode her bike from the quaint town she once lived, I audibly said 'Wow'. It isn't often I verbally speak out loud when playing a game (not in a way that isn't filled with rage anyway). Although the visuals are not in any way realistic the art style is beautiful in its own way. The culture it depicts between location, the colour palette of scenery; there is something very special about the way this looks.
There's some really poignant, sad moments that are foretold and actually illustrated very beautifully some time later. The community you meet, the life they've shared on that very soil. It can be possible to help them in some way, to connect with these people who are only fleeting in your life for a few hours. There are some subtle twists and turns within this game. SEASON: A letter to the future, also dances spirituality with prayer, religion, culture health and memory. There are gorgeous flowers that tell you memories of those once remaining in the valley.
I really found the last hour or two the most captivating. The conclusion of this game struck me very suddenly. It all kind of just made sense. At first you're just mindlessly going around collecting, documenting, lingering on. Then, everything gathers so much meaning.
It's like your faced with the game talking directly at you, and for some weird reason at the very end I just immediately welled up. It's such a beautiful depiction of a journey, with permission to feel confused, lost, to take a risk, to soak it all in and let it be in the past. I absolutely can not say anymore about this without spoiling it all.
The game is recommended to be played on controller, and other than the confusion at the beginning and a couple of instances where my bike would just yeet off of environmental structures, there is little to complain about. That being said, objectively, this is not a game for someone who is looking for action-packed thrills. This almost felt like Mindfulness: the game. At times even the music was so soothing and subtle that I tried to in-game record it because I thought it was something fun to record in the environment before realising this was the soundtrack.
The runtime does not overstay its welcome, and I finished SEASON: A letter to the future within around 6 hours. Annoyingly, I was one achievement away from 100% completion. This has nothing to do with the review, but more just a gripe on my part as someone who frequently misses out on the platinum for silly reasons. One thing to note however, is that it appears the game can have a different ending, although admittedly I didn't explore this as to not ruin my experience. It looks like you would have to start from scratch to achieve this ending. The more you collect and the different interactions you have, the choices you make, will all draw up conclusions leading to one of two endings. SEASON: A letter to the future is a wonderful indie entry by Scavengers Studio, and I can only look forward to hope of more storytelling if there is a future change of season.
---
SEASON: A letter to the future is a soothing and immersive world of exploration and atmosphere. It's an easy recommendation for indie lovers with an appetite for adventure and discovery. The game revels in beautiful fidelity and a wonderful art style, containing a journey of memory, storytelling and community.

SEASON: A letter to the future is out January 31st on PC (Review Platform), and PlayStation 4 & 5.
Developers: Scavengers Studio
Publishers: Scavengers Studio
Disclaimer: In order to complete this review, we were provided with a promotional code from the publisher. For our full review policy, please go here.
If you enjoyed this article or any more of our content, please consider our Patreon.
Make sure to follow Finger Guns on our social channels. Twitter, Facebook, Twitch, Spotify or Apple Podcasts – to keep up to date on our news, reviews and features