Seeing the trailer on Twitter a few months ago, I had instant excitement for the games release. The trailer showed nothing extremely exciting, in fact it was quite vernacular – running through the Indonesian streets, hanging out at a bus stop in the rain. Despite the everyday mundanity, I couldn't help but fawn over the stunning pixel art style combined with the quaint piano led theme; and by the end of the trailer I was prepared for A Space for the Unbound to take me anywhere, even if it was just to a local arcade.
Boldly Go…
However, that wasn't the case at all for the game. Set in rural Indonesia in the 90's, you play as Atma – your average teenager awaiting their approaching high school graduation. You and your girlfriend Raya make a bucket list to complete before growing up. The list varies from collecting bottle caps, beating your high score on your favourite arcade, and even petting the fluffiest animal. You talk to the townsfolk, pet all the stray cats you can find whilst trying to complete this bucket list. Though things aren't as they seem as supernatural happenings occur to Atma, despite being initially oblivious to it. On top of that, signs of the world ending subtly make their way into the day until you can no longer ignore them and have to get to the bottom of the mystery before it's too late.
I won't go much further with the plot as the mystery persists until the last moments of A Space for the Unbound and it's really the most special and heartfelt aspect. Mojiken describes the game as being about overcoming anxiety and depression and a lot of the emotional touch stones do explore those themes. It shows so much in the characterisations of the townsfolk, Atma, Raya and the other people you meet along the way how much thought went into the emotions Mojiken wanted to convey. With no personal experience of Indonesian culture, it's one I felt welcomed into when playing A Space for the Unbound, and the reverence for the country's own history brought a warmth and comfort that's hard to capture in games. It's both just enough to educate, but universal enough to relate for any walks of life and it's something I truly admired when playing.
While the localisation isn't 100% perfect (I'm looking at you Justin Timberlock), nothing is lost in translation when telling what feels like a deeply personal story that has a fantastical, celestial fairy tale within it. There is some midgame bloat that feels like it artificially lengthens the mystery adding to the convolution but I can't argue that the pace is consistently slower giving that overall slice-of-life feel that the developers were going for.
Out of Bounds
A Space for the Unbound plays as a 2D adventure game that has similar puzzle mechanics to a point-and-click. You have full real-time control of Atma going through town at your own pace, tapping on interactables for context, finding items that could lead to potential puzzles as well as collectibles that aid your bucket list. Though the real main mechanic is the Spacedive. To Spacedive is to enter an NPC's heart/soul where they're usually facing inner turmoil. You do this by opening a Magic Red Book that you obtain by playing through the story when prompted to do so near the NPC. The end result is to change how they feel about certain events in their life, other people or their own beliefs. This is solved through the point-and-click style puzzles I previously mentioned – key items, visual cues to do various things in the correct order will trigger the positive outcome you want.
Spacediving does get slightly expanded upon, however later in the game the puzzles got longer slowing down the game. I don't know if it was my own excitement for wanting to progress through the story but it did feel samey and uninteresting whenever I had to Spacedive; and in true Inception style you can Spacedive within a spacedive. In other instances, you'll eventually have to fight, which is a case of tapping a button combination within a timeframe for attack and click on a bar when it hovers over the green zone at the right time for defence.
These mechanics outside of the exploration (which is mostly curated) are the bulk of the game. As you progress it does increase in difficulty but it never ends up being too tough. I could imagine this might not be engaging enough if you're not sold on the story or the mis-en-scene from the start. For me it did wane near the end if it was anything that slowed down the progression of the story as there wasn't too much variety in what I did in my 12 hours of playtime. With that said, I did appreciate that there were changes in the gameplay during my time. Despite that, during your exploration you can pet all the stray cats and give them names, so depending on who you ask, this could be game of the year.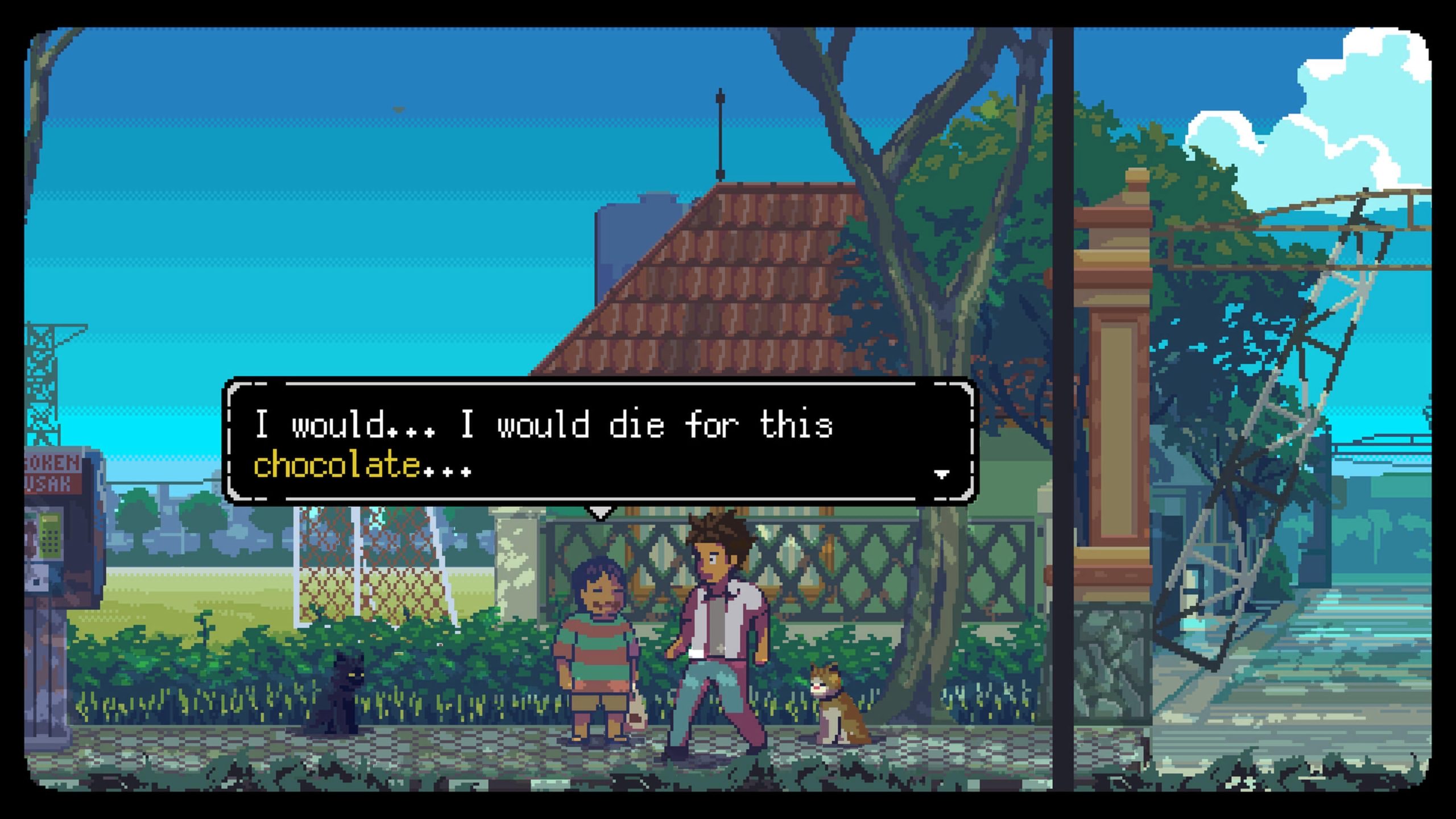 Spirited Away
In story and look, A Space for the Unbound felt reminiscent of a great Ghibli movie. Whilst the majority of the setting and characters are of normal people in a small town, the detail and colour used in the pixel art style breathes so much life into the story, it's hard not to find it all so endearing. It's no coincidence having a 90's setting with this art direction as some of the most revered titles in that era boasted a similar style. This direction only bolsters the influence that Mojiken had when making the game.
We're exploring thoughts and feelings we had when we were younger in the game. The fear of growing up, being embarrassed of your interests because you might get bullied for being different, or not knowing what you want to do when you're older. It's all positioned for a nostalgic hit of comfort with its art style that succeeds in making you feel young again, relating to Atma and Raya with what they're going through. Not to mention the use of these warm blues of the sky contrasting with the vibrantly painted buildings that brings an incredible atmosphere to the rural town.
On top of this there is an earworm soundtrack from Masdito "Ittou" Bachtiar who has been a frequent collaborator with Mojiken. The soft, whimsical and laid back piano led themes with whirring cellos and of course some 90's synth chords thrown into the mix; all amounts to a cosy and nostalgic soundtrack that pairs perfectly with the art style. Whilst the same instruments can be heard in every song, all of it is unique in the emotion it evokes and just ties a perfect ribbon on this charming game.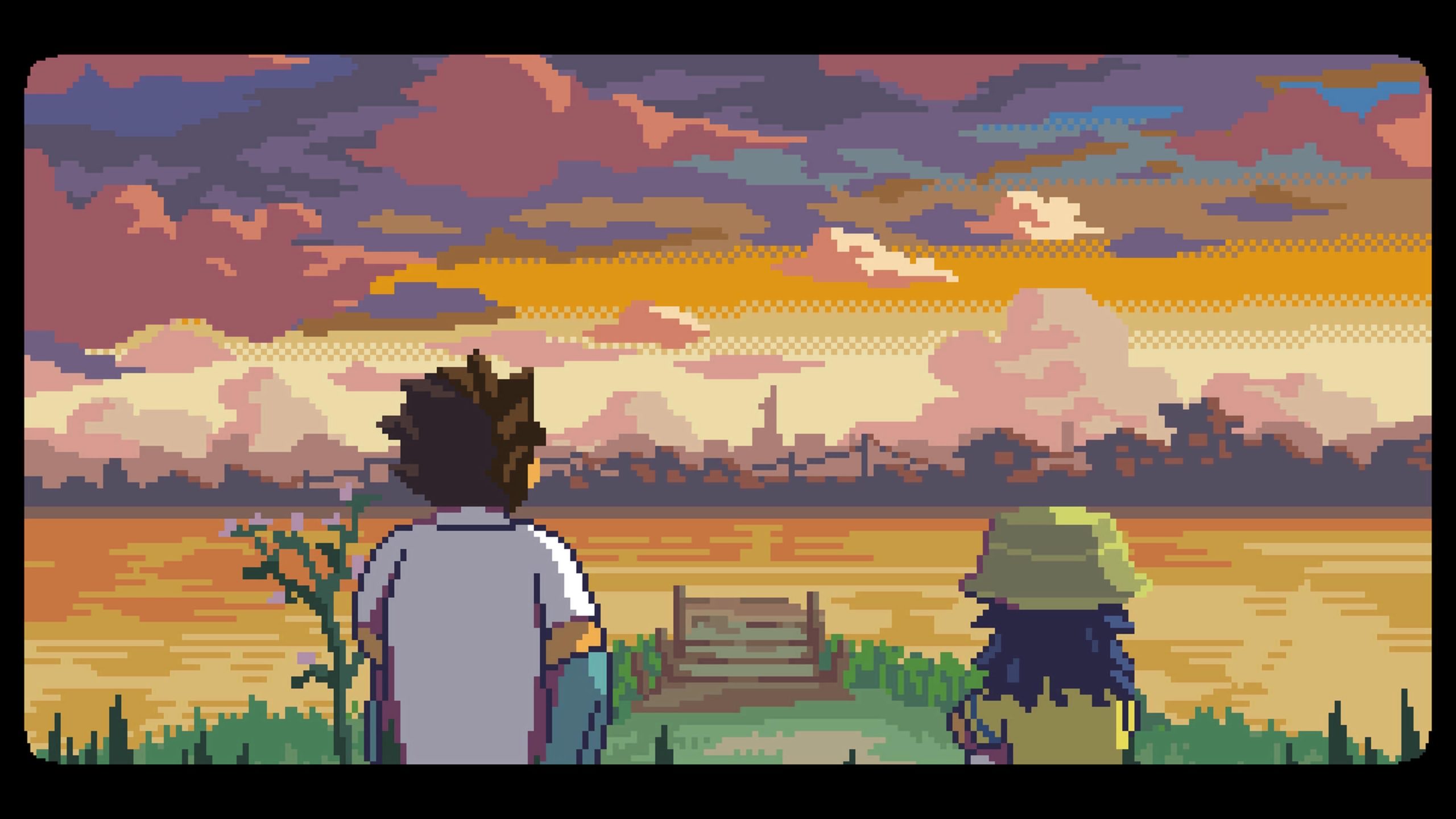 Bound to Conclusion
The biggest downside is the repetitive nature of the gameplay that feels less engaging as time goes on. However, every aspect from the story, visuals and music culminate into a possible indie sleeper hit that could be in talks as one of the better indie games of this year. I know we're only into January and there's a whole year left but I have a really good feeling coming away from this game. There's so much love and reverence in the setting, characters and design that it's palpable up until the final moments – making it an overall special experience.
---
A Space for the Unbound shoots for the stars and lands in the Milky Way, making it a 2023 stand out already. Whilst the gameplay wanes in the final hours, the story, characters and plot conclude in an immensely satisfying and emotional way.

A Space for the Unbound is out now on PlayStation 5 (review platform), PS4, Xbox One, Xbox Series S|X, Nintendo Switch and PC (Steam)
Developers: Mojiken
Publishers: Toge Productions / Chorus Worldwide
Disclaimer: In order to complete this review, we were provided with a promotional code from the publisher. For our full review policy, please go here.
If you enjoyed this article or any more of our content, please consider our Patreon.
Make sure to follow Finger Guns on our social channels. Twitter, Facebook, Twitch, Spotify or Apple Podcasts – to keep up to date on our news, reviews and features.