A chunky-looking piece of kit, the Nacon RIG 500 is an accessible headset for those not looking to break the bank. The Finger Guns review:
I wouldn't call myself an "audio purist" or anything pretentious. My records get played on a decent setup, but it's not "top end" or anything. I don't have a soundbar for my TV, I make do. And when it comes to headsets, I used to have a Triton but I hadn't replaced it. That is, until we were offered the Nacon RIG 500 Pro HC Gen 2 to review.
To continue the simplicity above, I am not a technically-minded person either. So if you're expecting to hear about the harmonic tolerances or whatnot, this isn't that review. This review will be simple, a basic look at how the RIG 500 sounds, its fit and the functionality of it.
So, without further ado, let's have a look at this bit of kit.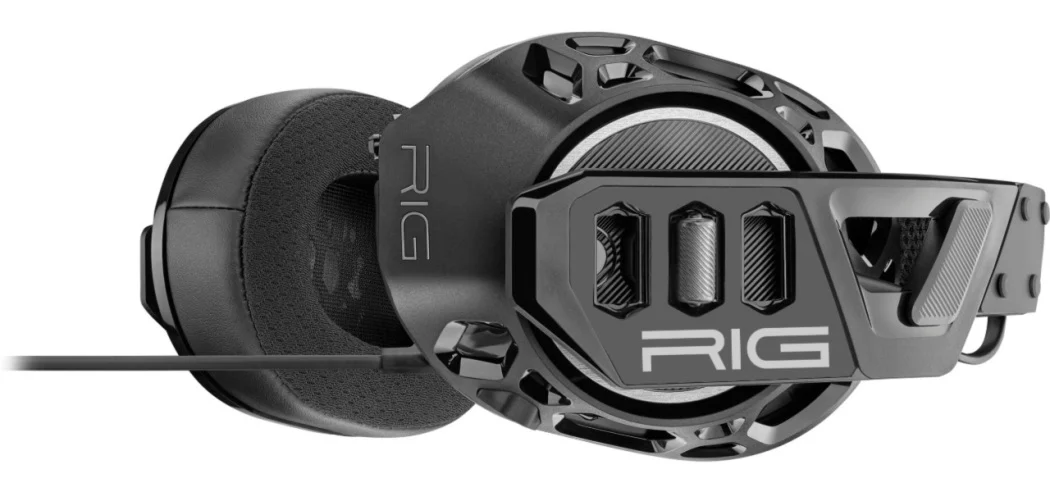 The Fit
As you might have gauged from the picture above, the RIG 500 is a beefy-looking piece of headwear. It looks like something from a 90's film about teenage hackers, or something you'd buy in Cyberdog, but rest assured it's not actually that daunting a bit of kit.
It does have some chunky looking cans though, housing 50mm drivers in each one. They are a big fit, too, encasing my ears whether or not I had my tunnels in. Rather than slide and clicking the cups/headband into a comfortable position, there are three positions that each cup can click into. For me, I was quite happy in the middle position, but the RIG 500 does cater to those with differing head shapes too.
The headband works as a two-piece system, rather than one stuff piece. The stiff bit is there, housing the weight of the cans, but the inner head support is an elasticated strap that takes the weight off, making for a comfy fit.
The mic is detachable, but can also be moved out of the eye line when not in use. I only used it once or twice for some Gotham Knights with Toby, so most of the time it was detached.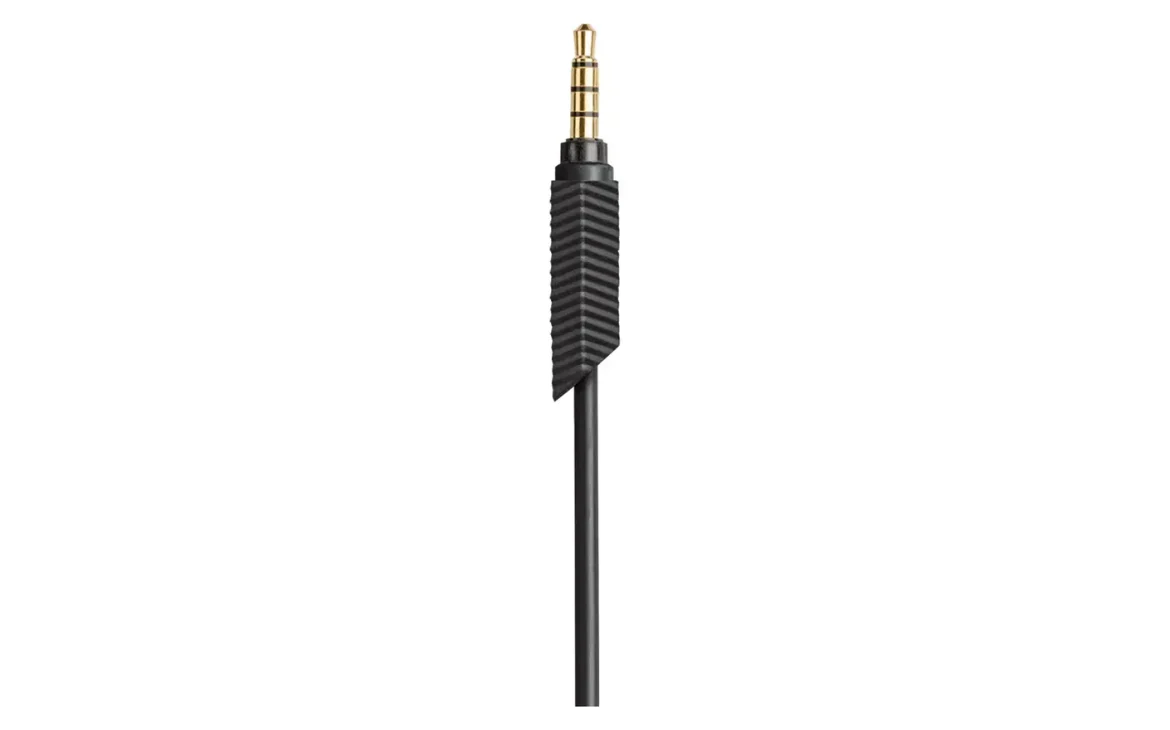 Connectivity
Whilst there are different headsets for different consoles, the RIG 500 Pro we received was multi-format. But for review purposes, mine was solely used on my PlayStation 5. It comes wired with a 1.3 metre cable, which houses a 3.5mm jack at the end. Naturally, this goes into the headphone jack on the controller, and has an inline volume control near the headset too.
The volume control is independent to the system's volume, so it took some fiddling (and remembering) to go to the Settings and change the master volume. Lastly, if you're in a party, there's the option to balance or prioritise game/chat volume. This is personal preference, mind.
There is an 800 HC model that's Bluetooth enabled, if you fancy plumping that little extra for some neatness and lack of cabling.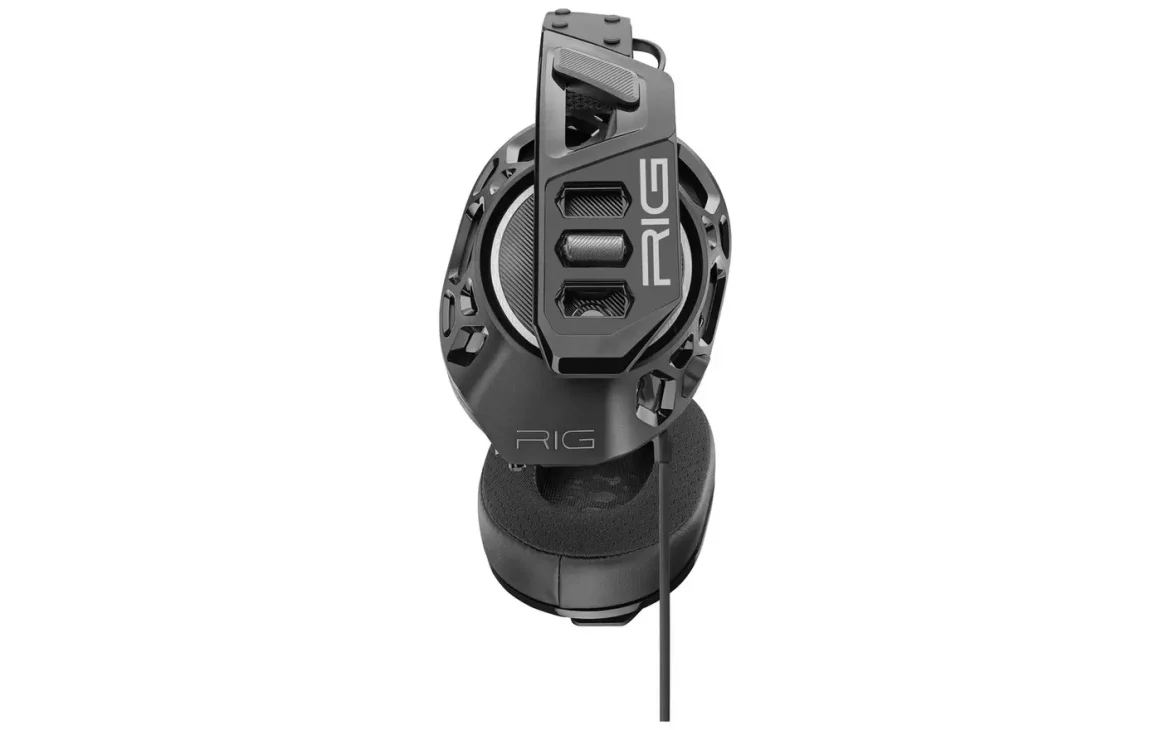 The Sound
Now, this is the crucial bit. For all of its looks and charm offensive, the real kicker is in the sound. It's easy to be put off by headsets that just use headphone jacks as tinny, monaural affairs, but that isn't the case here. The RIG 500 supports Dolby, for a start, coming with a two year activation code for Microsoft/Xbox users in the box. On PlayStation, however, that's already an option in the sound settings.
For my playtest, my predominant game of choice was The Last of Us Part I. Just coincidence, as I was playing it anyway, but it worked out well. The stereo sound of the RIG was impressive, especially when it came to Clicker-based moments. I wouldn't say it allowed me to hone my survival instincts, but hearing them all around was certainly unnerving. Same with battles against humans, hearing them try and flank around me, yelling from all angles.
Chorus, the space shooter that Toby reviewed back in December, was also tested. Without hyperbole, it genuinely felt, for lack of a better word, immersive. They say there's no sound in space, but that certainly wasn't the case here. Hearing Nova's boosters in surround sound, blaster shots coming in from all angles, it was awesome.
It did also get a turn on the Switch Lite too, where it acted more as a stereo headset than a surround headset. Call of Juarez: Gunslinger was a fun test, hearing 360° rootin' and/or tootin'. Granted, you won't get full Dolby 5.1 out of a stereo headset jack, but for its price point, the RIG 500 does a good enough job of emulating it.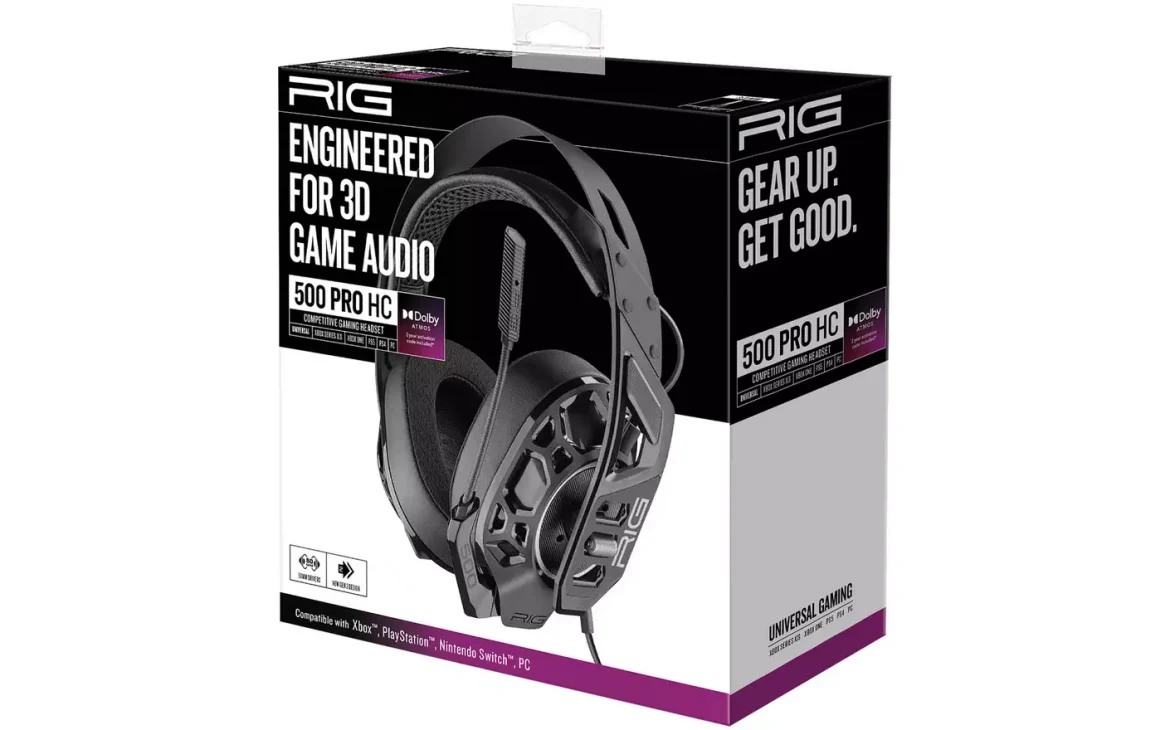 Final Verdict
If this review seems short, don't be surprised. I did say I'm not going to give you the full on, Digital Foundry-style review. This is a simple headset review from a simple gaming man, who likes decent sound without breaking the bank. Fortunately, this is a recommendation, as the Nacon RIG 500 Pro HC Gen 2 is exactly that.
It's an affordable headset, with upgradable options in the RIG 800 if you want wireless. Considering the 500 plugs into controllers now, rather than base units or TV's, there's not much risk of entanglement. Are there cheaper, or marginally better alternatives out there? Perhaps, but this isn't a comparative review.
This is an impartial verdict from someone who's last decent headset was a decade ago, and that was retired about five years ago (the headband snapped). If you're looking for a headset to ignore the outside world, or to stick on if you've got a baby falling asleep, for less than £100 then I would thoroughly recommend the RIG 500. It's multipurpose across formats, so in easy terms, it's a "one headset mostly fits all" affair. It's comfortable, it's adjustable, and it adds a decent level of surround sound to any game you're playing.
---
Despite its scary looks, the Nacon RIG 500 Pro HC Gen 2 is a sub-£100 headset that offers some decent surround sound gaming. A short cable keeps from snagging on things, with Dolby support across formats. It may not fully replicate the home theatre feel, but it packs a punch for its price point.
The Nacon RIG 500 Pro HC Gen 2 is available from Nacon for European addresses, Argos in the UK and Amazon for the USA.
Disclaimer: In order to complete this review, we were provided with a retail copy of the headset. For our full review policy, please go here.
If you enjoyed this article or any more of our content, please consider our Patreon.
Make sure to follow Finger Guns on our social channels –Twitter, Facebook, Twitch, Spotify or Apple Podcasts – to keep up to date on our news, reviews and features.