The current-gen edition of Sniper Ghost Warrior Contracts 2 has arrived. The Finger Guns Review;
The current-gen edition of Sniper Ghost Warrior Contracts 2 has arrived. The Finger Guns Review;
Note: Our own Greg has reviewed the PS4 version of Sniper Ghost Warrior Contracts 2, which goes in-depth on the game's campaign and mechanics. The following PS5 review is primarily a focus on the enhancements added to this updated version of the game. You can read Greg's full review here.
Arriving a little later than we had hoped – with the goal being the PS5 upgrade landing day and date with the PS4 edition – Sniper Ghost Warrior Contracts 2 nevertheless arrives to the current generation in scintillating form, providing a much cleaner visual palette, higher resolution and some fairly enjoyable DualSense additions. It's by far the ultimate version of, one would argue, the best game in the series thus far.
It's fairly easy to recommend purely for the PS5 improvements. Namely, right out of the box you've got the 'Elite Edition' of the game. Essentially along with all the shiny tech additions you've also got access to the fairly large 'Butcher's Banquet' DLC. Now, it's not quite as cool as the title may appear to suggest, but it's well worth jumping into if you've found yourself wrapped up on the campaign. You've got a couple of extra primary targets, a new region to explore for those all important collectibles, along with a couple of extra bounties. It's fairly route one when it comes to DLC, but let's be honest, pulling off a perfect slow-mo shot to the back of some unfortunate soldier's skull never really gets old. Particularly in 4K.
The loading times are naturally hugely improved in this edition, though don't expect 'first-party' levels of nearly-instantaneous loading, the third parties are still somewhat lagging behind in their usage of that lovely lovely SSD that's tucked away in the PS5. Still, they're pretty good overall so it's difficult to complain. Jumping in and out of the game and the main menus is a breeze, and loading from the PS5's Game Card menu hits around fifteen seconds or so. It's difficult to complain about that but when we can see what the SSD is capable of elsewhere it's all the more frustrating when developers continue to disregard it. 
The anticipated DualSense additions arrive with the Elite Edition and thankfully they don't disappoint. Focusing primarily on haptic feedback (feeling the crunch of a slow-mo is a treat), the features feel immersive whilst not overdoing it so you still feel very much in control. You'll feel each shot you take with the pressure of the trigger, and you'll know it when you've been hit yourself.
As with the loading times you'll not find a third-party going the extra mile with what the DualSense can really do, perhaps we've been spoiled by the likes of Ratchet & Clank and Astro's Playroom, but there's still nothing to really compare anywhere outside of the first-party features and Contracts 2, whilst certainly better than most, still can't quite capture the magic of what the controller can really create. Perhaps there's only so much you can do with a Sniper game but it's all in the weaponry and feeling nearby explosions. Why not incorporate the vastly different terrains you find yourself on or use it to help navigate towards collectibles? The creativity remains lacking in third-party uses of the controller, and I have to hope this will improve over time.
CI Games have taken full advantage of the extra boost in power and resolution here. Visual options such as 60 frames per second is now a standard (locked to a 2K resolution) with a gorgeous 4K resolution option added to the 30 frames per second. Whilst 60 FPS is certainly welcome in a game such as this, requiring pin-point accuracy throughout, it's difficult to argue that 4K/30 is a more natural way to play the game. I found myself jumping between the two in the early levels and ended up settling on this mode as the visuals seemed less washed out. Bravo to CI Games for bringing their A-game to this upgrade, as each level bounces off the screen beautifully.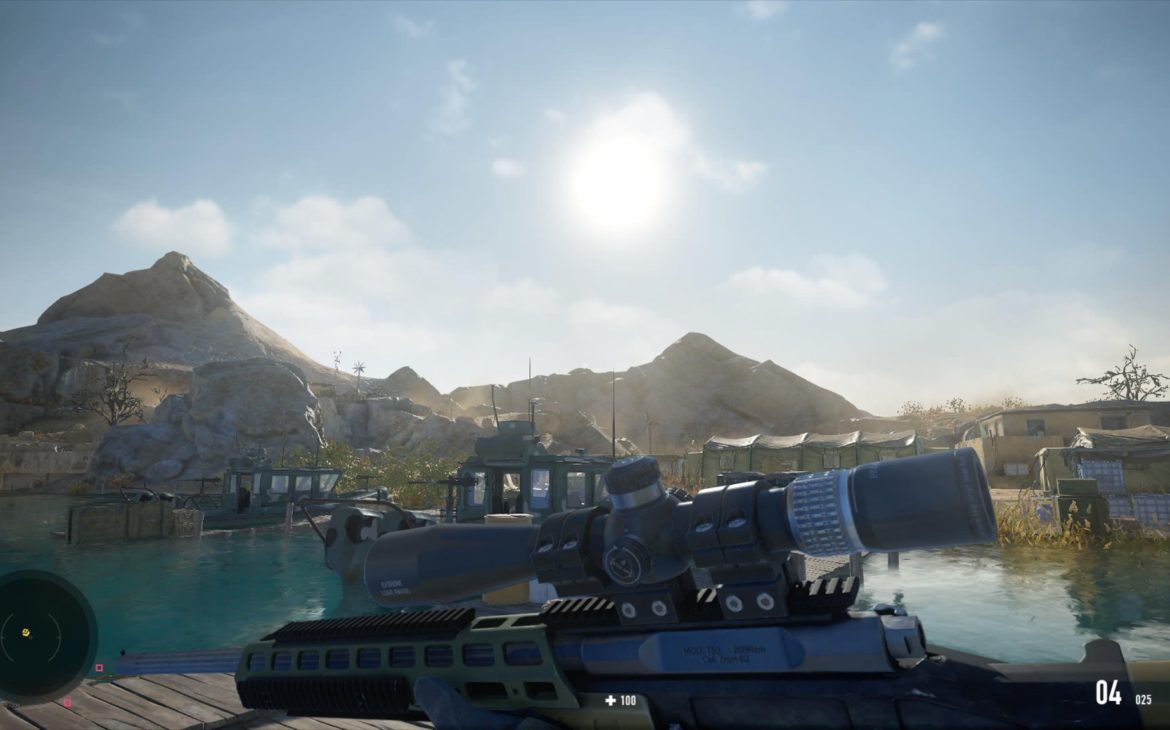 Of course this is down to personal choice, and you may find yourself unable to go back once you've experienced the game in 60 frames (hi there, Miles Morales), but I found my preference fairly early on and was pretty satisfied. Contracts 2 is a gorgeous game and if you have the set up to show that off it's well worth sticking with the booming 4K resolution option.
It's the balanced mode that perhaps may be forgotten in the midst of buzzwords connected to Resolution and Performance modes. Sniper Ghost Warrior Contracts 2 features AMD's FSR (FidelityFX Super Resolution), marking the first time a PS5 game has included the technology. It works by using a slider, enabling you to choose between performance and high presets. The further you go towards performance, the better the framerate will become. Moving towards Ultra-High will produce the opposite.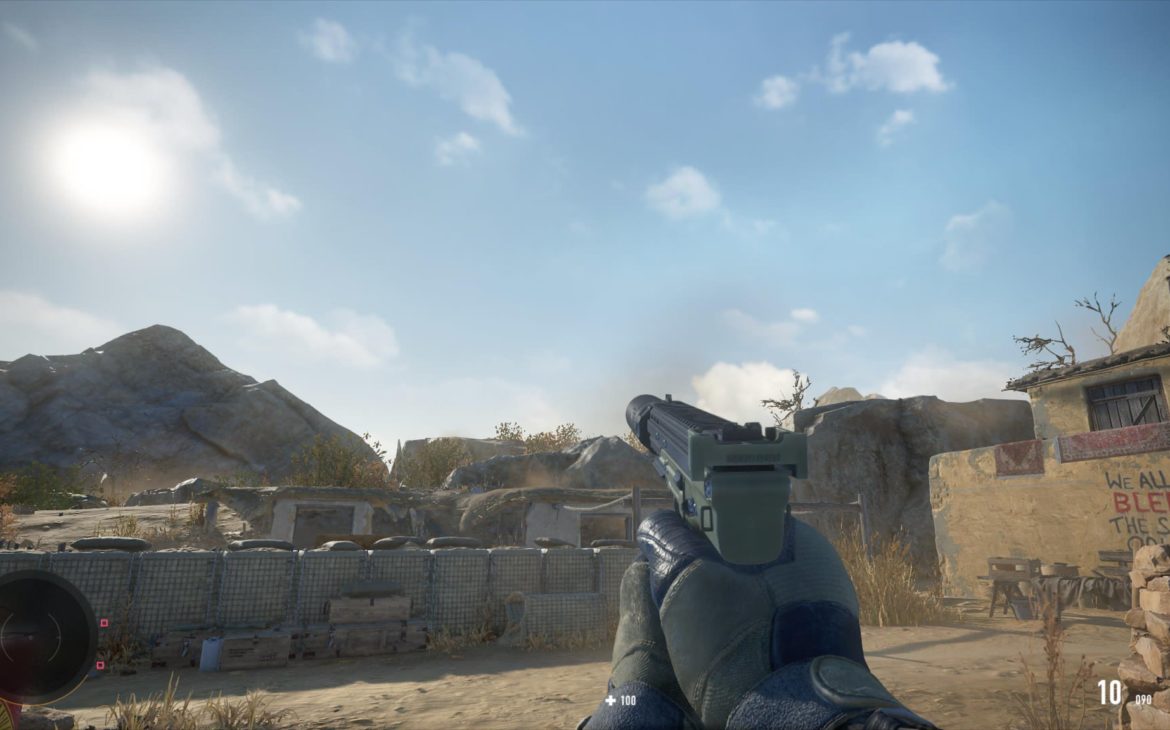 Fortunately, the majority of the additions (bar the questionable loading times) are welcome to an already solid shooter experience, with little else on PS5 right now coming close to what's on offer here. There's plenty to enjoy and with the additional DLC, the Elte Edition is a package worth investing in and a worthy upgrade.
Shooting dudes in the balls never looked so goddamn crispy.
---
Sniper Ghost Warrior Contracts 2 finally arrives on current-gen consoles and is all the better for it. With extra content, fun DualSense additions, a myriad of performance options and gorgeous visuals, this is by the far the ultimate version of an already brilliant game.

Sniper Ghost Warrior Contracts 2 is available now on PS4, PS5 (reviewed), Xbox One, Xbox Series S|X and PC.
Developer: CI Games
Publisher: CI Games
Disclaimer: In order to complete this review, we were provided with a promotional copy of the game. For our full review policy, please go here.
If you enjoyed this article or any more of our content, please consider our Patreon.
Make sure to follow Finger Guns on our social channels –Twitter, Facebook, Twitch, Spotify or Apple Podcasts – to keep up to date on our news, reviews and features.