Bringing its trademark action and spectacle to the new generation, Sniper Elite's famous X-ray mode has been given an overhaul. Find out how inside:
If you've ever played any of the Sniper Elite games, even as far back as V2, you'll know just how awesome it was the first or fiftieth time you get that sweet, long-distance headshot was. Doubly so, if you get rewarded with the series' trademark X-ray cinematic camera moment. Well, Sniper Elite 5 is dialling that mechanic up to eleven.
Whereas before, the gory visual moment was only triggered via sniper rifle shot or explosive, Rebellion have now broadened the criteria for the lovers of spectacle. Or testicles, or lungs… wherever the game thought that the shot would look epic. Now, X-ray moments aren't mutually exclusive to rifles, meaning that pistols and submachine guns will also trigger the effect, if the game deems it worthy. Take a look below:
Attention to Detail
Yet it's not just what causes the wonderful effect that's been enhanced, the kills themselves have too. Rebellion want to make their first next gen outing for the series stand out, and boy, have they done that. Not only is the level of detail that the bullet is causing been massively revamped, but so is the effect of the bullet's pathway.
Rebellion has said that bullets will now deflect off of bone, if caught at different angles, allowing deviations with each shot. What that potentially means, then, is that no two Kill Cam's will be alike. What that means for us, as lovers of this mechanic, is a whole new avenue of replayability and trying new trick shots.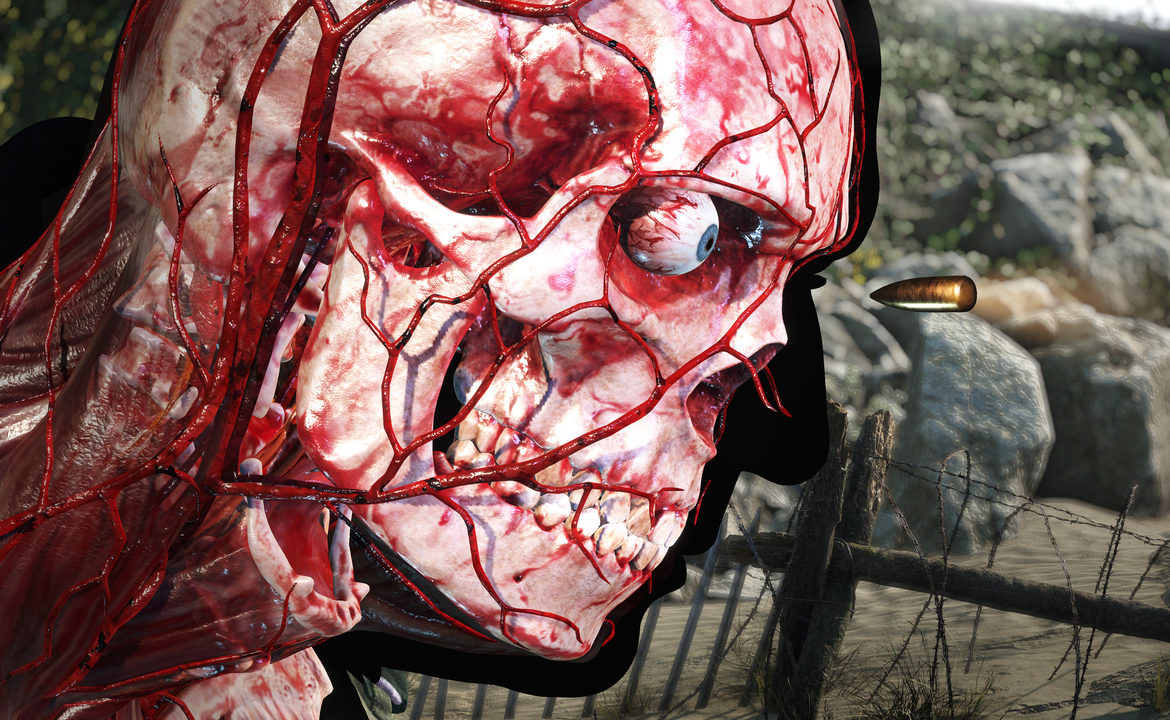 Of course, if the visceral detail is too much for some, the option to turn down the frequency of the X-ray camera (or off completely) is there.
What with its new range of customisation options that we've previously covered, Sniper Elite is shaping up to be a hell of a game. Seeing the series progress this far, and make a leap to the new generation of consoles, is one I'm personally looking forward to. Sniper Elite has always been a game about spectacle and saving the day, so let's see how Karl Fairburne does that when Sniper Elite comes out.
Sniper Elite 5 will be released on May 26th, and will be available on PlayStation 4 &5, Xbox One and Series S|X, and PC.
Pre-order now and receive a bonus, Hitler-centric mission: Wolf Mountain. The Deluxe Edition is also available to pre-order and will include Season Pass One (two Campaign Missions, two Weapon skin packs, two Character Packs, six Weapon Packs), Target Führer and a P.1938 Suppressed Pistol.
Source: Press Release
If you enjoyed this article or any more of our content, please consider our Patreon.
Make sure to follow Finger Guns on our social channels –Twitter, Facebook, Twitch, Spotify or Apple Podcasts – to keep up to date on our news, reviews and features.