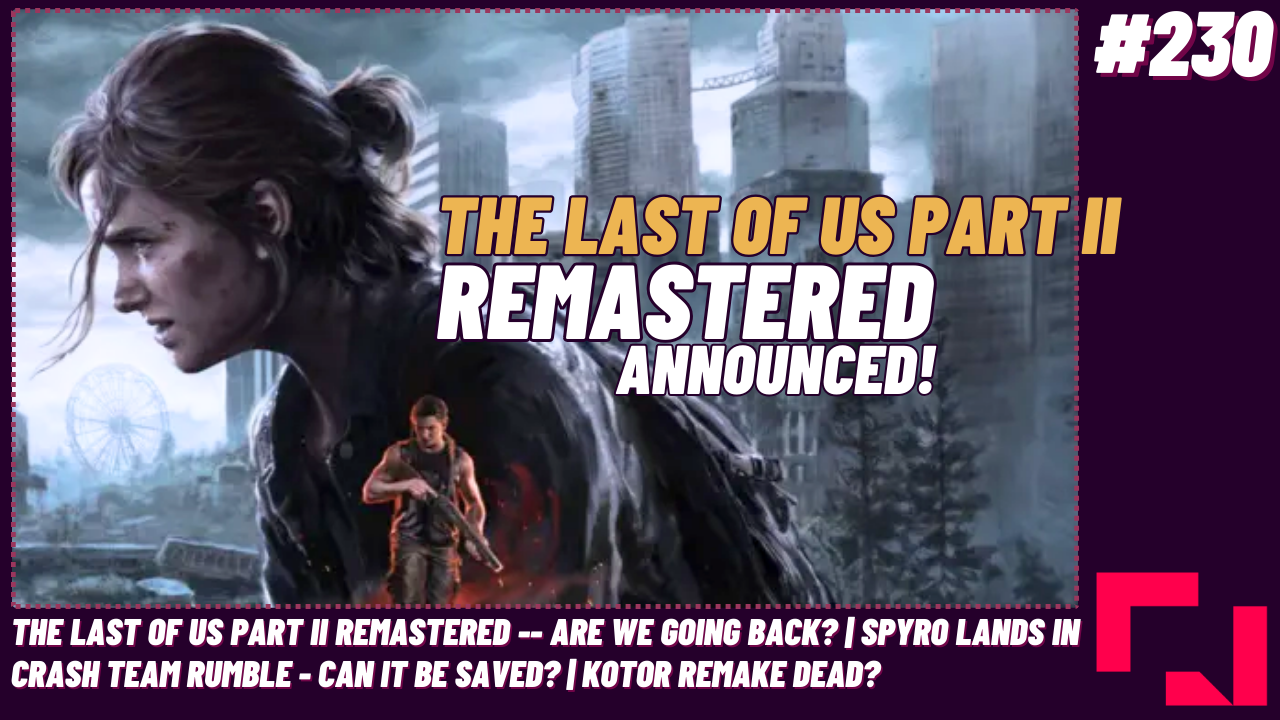 'Stoke is not 'The North'. You haven't done the accent outside of the house, have you?'
This week on The Finger Guns Podcast it's been a quiet news week but we've managed to scrape together the news that The Last of Us Part II is getting a remaster and coming in January with a bunch of extra fetures. Is it enough to get us to come back to that mammoth story? And is Rossko gonna buy it just so he can make music with Ellie's guitar? Probably.
Elsewhere everyone's favourite dragon Spyro is coming to Crash Team Rumble! Is that enough for fangirl Kat to jump back in? Well, apparently it is and we're probably going to join her.
Dragon's Dogma 2 has gotten a possible release date and the Knights of the Old Republic remake is apparently dead in the water. What happened? We suggest some theories.
In Game of the Week Kat has been checking out the rather lovely Sonic Superstars, Miles has been checking out F.E.A.R. (can you tell they've been on the Black Friday PSN sale?), Josh has been time looping in the terrific In Stars and Time whilst Rossko has been ultimately disappointed by Dreamworks All Star Kart Racing.
In our recommendations we talk Lake's lovely DLC Season's Greets which is just more Lake, but Christmas time! Wonderous. Miles recommends not playing The Kindeman Theory, Josh has been checking out Gubbins on mobile whilst Rossko has been thoroughly enjoying TV this week with the brilliant Boat Story on BBC iPlayer and Scott Pilgrim Takes Off on Netflix.
Hey if you like our podcast why not leave us a review?! You can do it on Apple where you can also spread the love and on Spotify with their star ratings. Everything helps and we'd really appreciate it. Thank you!
Enjoy the episode!
To download the MP3 of this episode, right-click here.
Theme Music – De Jongens Met de Zwarte Schoenen by RoccoW & xyce. | Edited and produced by Ross Keniston | Published by Acast.
Team: @FNGRGNS / Rossko – @RosskoKeniston / Paul – @ThePaulCollett / Greg – @GregatonBomb / Josh – @jshuathompson / Sean – @Omac_Brother / Toby – @toby_andersen / Kat – @RainbowDropx / Tom – @T_Woods93 | Yogdog (Jonathan Brown) – @Yogdog | Facebook: FingerGunsUK / Twitch: twitch.tv/fingergunsdotnet / The Official Finger Guns Discord Discord: Join here!