Bilkins' Folly is the second title from Australian solo developer Webbysoft. This time around Webbysoft are in international waters creating a swashbuckling adventure that looks to ignite the nostalgic cannons. The game is a narrative adventure puzzler with a focus outside of any combat encounters, as the only violent mutinies you'll partake in are logical ones as you're hunting for treasure.
There is an eclectic cast, enough maps to fill out a dictionary and one of 2023's best dogs – Drayton. Bilkins' Folly first and foremost feels like a triumphant ode to the games you'd find on a Gameboy. Very quick to pick up mechanics with deceptively devilish puzzle-solving, I couldn't help but notice the classic LucasArt games inspirations emanating from the treasure chests amongst the folly. But does this journey to an unknown mystery hold true value, or is it just fool's gold? Let's get into it.
Dead Man's Tale
We meet the titular character Percival "Percy" Bilkins on a quest to find a treasure that many a Bilkins family member have spent their lives looking for. Retracing your familial steps to be the next great treasure hunter as well as being in the process of finding your family, your ship capsizes leaving you without a ship or crew to help you. Thankfully, with the help of island locals and your trusty dog Drayton, finding your family and the well-hidden treasure is just a little bit easier, and when I say a little, I do mean a couple of grains of sand in the boot amount of little.
You'll be travelling across islands, meeting a motley crew of pirates, drunkards, and important townsfolk while of course finding treasure. As I mentioned before, Bilkins' Folly is void of combat so it is a game solely relying on the world's charm and puzzles to keep you engaged. The story portion will take about 15 hours give or take your problem-solving abilities, which is a sizable amount of time from games in any background. This is partly to do with the activities you'll partake in, but all the more present is the pace of the game.
Bilkins' Folly isn't in a rush to go anywhere fast. Whether it's the speed of Percy's walk, the droves of dialogue/log entries to read or the slow unfurl of the quest structure, it all presents a cadence that if you just want to solve the mystery and perhaps find the sought-after treasure, you're barking up the wrong palm tree. For me though, the game kept my interest throughout as I adored the dry wit and whimsical nature of the dialogue and just overall feels relaxing to play – even if I'm banging my head against the ship's sail.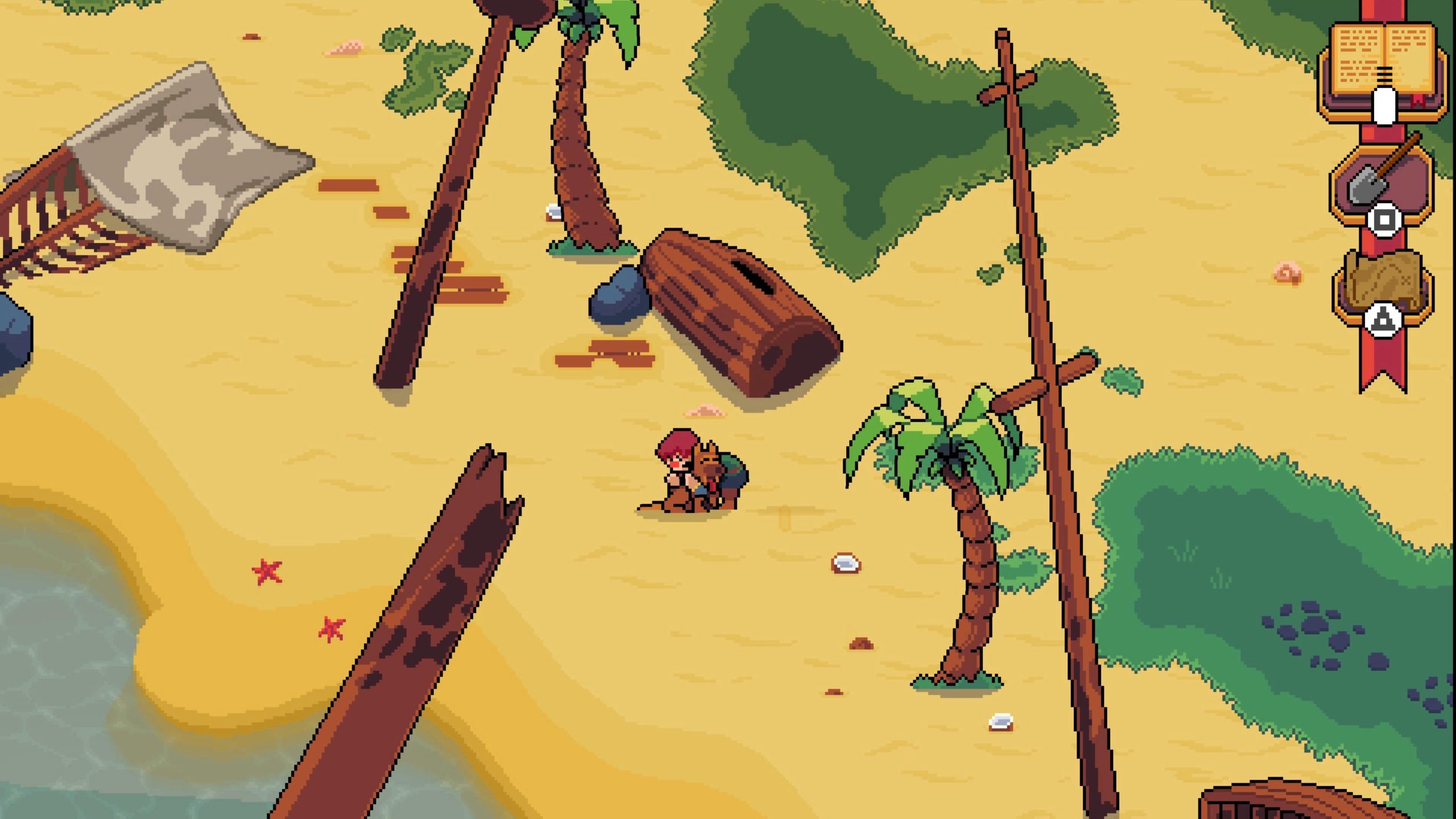 X Marks The Spot
From the isometric perspective, you'll be exploring your environments and picking up quests from the locals. This usually results in you receiving a map that'll vaguely describe where the treasure is. It starts off simple enough as it might depict surrounding fauna with an X as to where the treasure is buried. Once you think you've found it, you press 'square' and start digging, thus starting a slow animation, almost like a drum roll to potential success. However, the further you get into the game the more multifaceted the puzzles become. You'll be deciphering codes, counting your steps and even partaking in a bit of cartography to solve the clues you're given.
I must admit I have had some real problems solving the puzzles, and whilst it's extremely cathartic once I crack the code, it suddenly became very unobtainable. Long story short, before writing this review I was stuck, I am still stuck and I don't think that'll change until I see a solution online. This is where some of that LucasArt inspiration feels prevalent as there is a persistent stubbornness when trying to solve the puzzles. The game is just smarter than me and not even hugging Drayton could make me feel better about it.
There are some minigames/puzzles too, like a board with a bunch of letters where the only clue is 'arrow letters are vowels' and you slowly work it out. As well as moments like a grid game where you herd sheep, with every sheep having a behavioural pattern to your movements. These moments have a white flag that essentially does the puzzle for you and to some extent, I wish I had that kind of help in the main quest so I wasn't in a folly myself.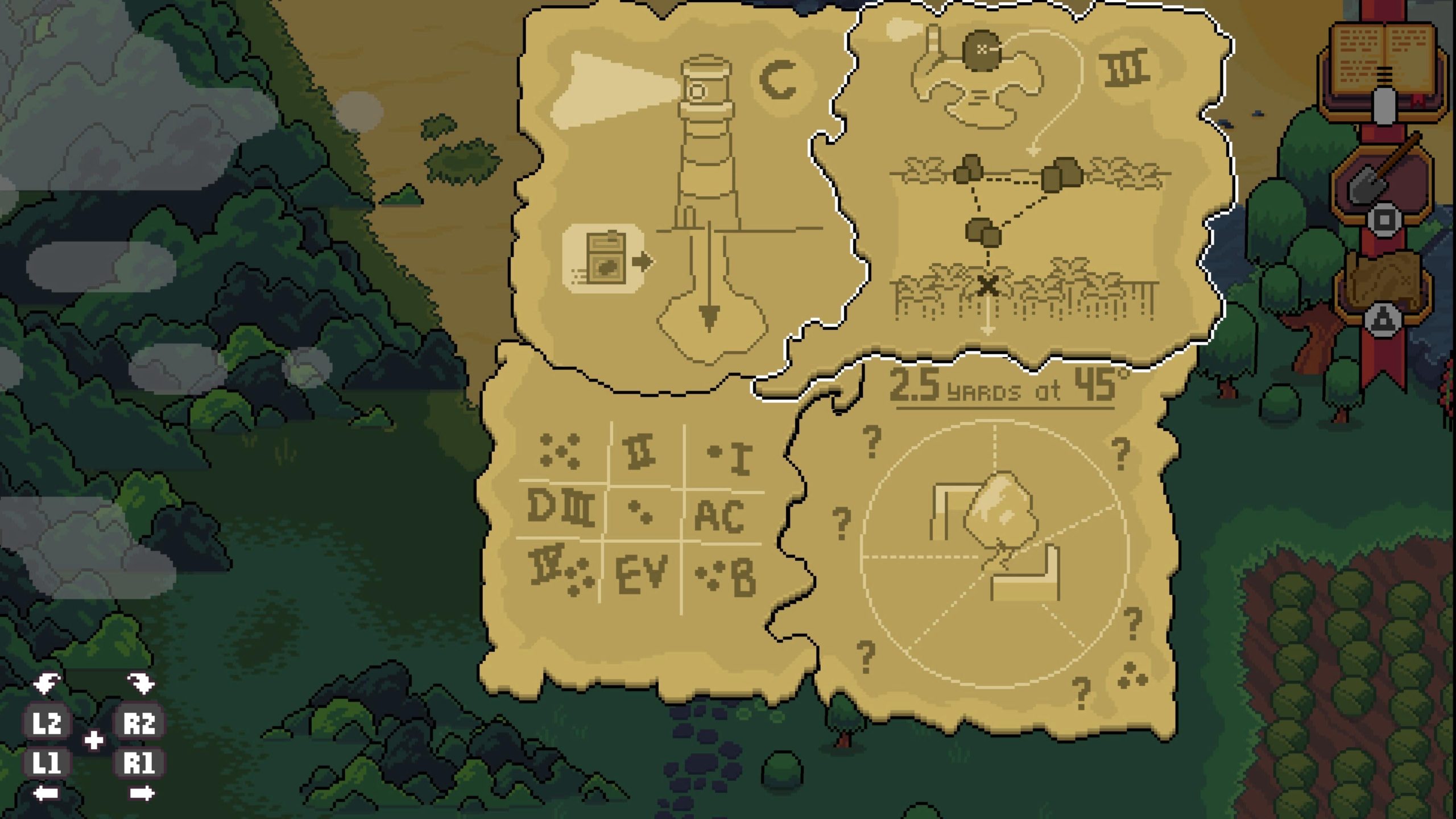 Treasure Island
This is the main bulk of what you do in the game. Sifting through the island, recognising locations and using the given map as a reference to find the treasure. Further on you'll have even more tools at your disposal to help decipher the clues. Drawing lines on your map at specific angles and adding icons truly puts some power into your own problem-solving. Drayton isn't just a lovely companion you can pet but a game mechanic that levels up the more you bond with him.
This unlocks new abilities that start off as basic commands you'd imagine for a dog, but further in you'll thanking Blackbeard you have Drayton whilst you're spelunking for gold. These mechanics stack at a decent pace and every time it opens up opportunities that you might have seen on the island before, giving you a real eureka moment. They're insignificant on their own but the game feels special when it's all harmonising. It's not all clear seas though as Bilkins' Folly is lacking a bit of polish when it comes to gameplay.
Sometimes Drayton will go missing, looking at the map the icon of yourself might not be in the right direction, the frame rate would dip, and to be extremely picky some of the buried treasure is a little too specific. On a few occasions, I would dig only to reveal nothing so I spent a good 10 minutes flipping the map, trying somewhere else, only to go back to square one but a smidge to the left and finally find what I'm looking for. The game feels purposefully obtuse and it leans into the old-school specificities, which does have a place for some players.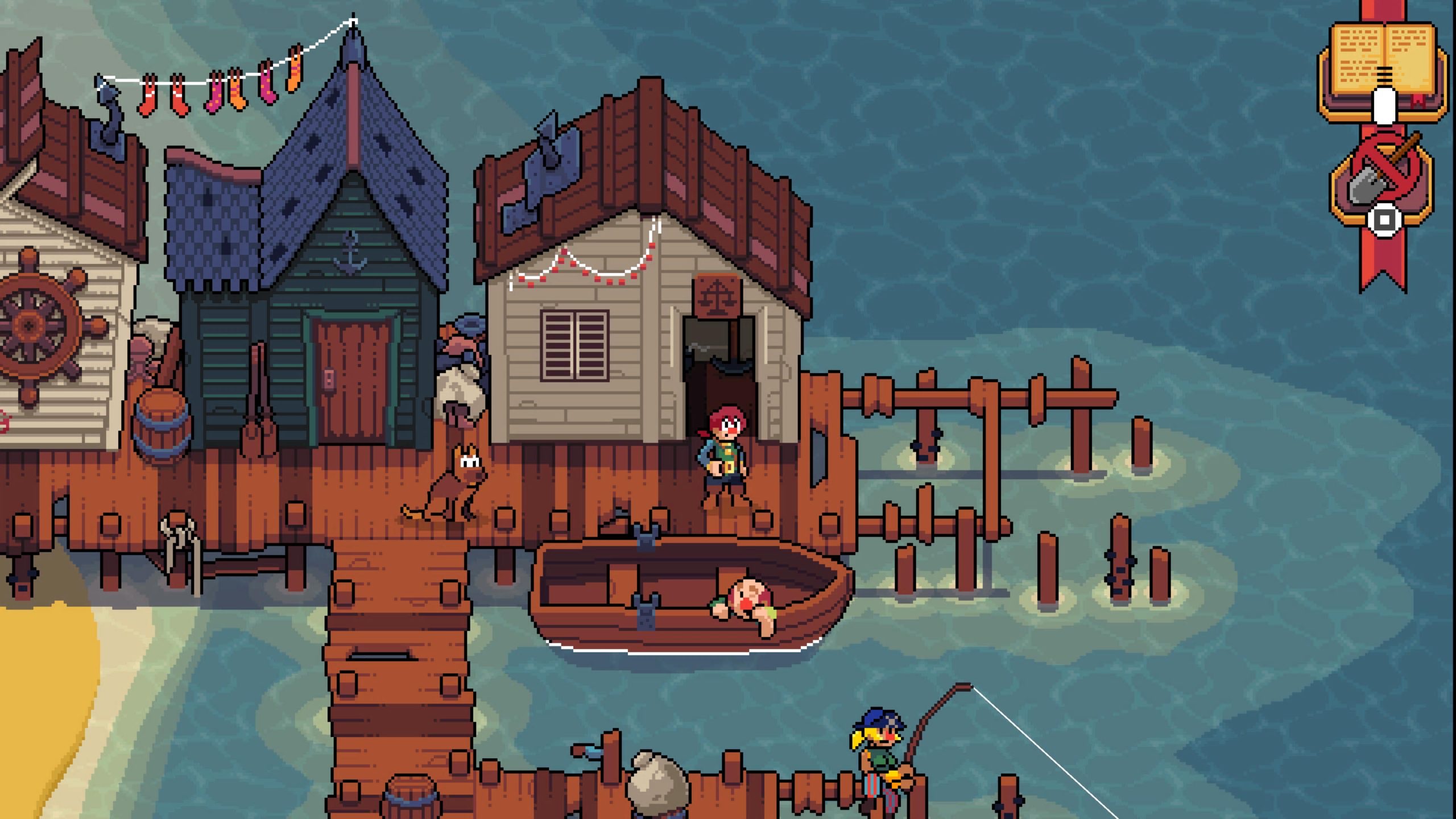 Pirate's Life For Me
Bilkins' Folly sports a lovely bold and colourful pixel art style which really hits home the warm feeling the game presents from the jump. Locations aren't wildly different from what you've already seen before in other games, but the creative characters, vibrant colour palette and unique swagger in execution makes Bilkins' Folly different. Percy has a hilarious walk, Drayton is adorable and the wildlife along with nature breathes so much life in its nostalgic angle. The text on screen might break the immersion for some by being a very basic font that contrasts against the game's art, but I appreciate the readability.
Characters audibly speak in a made-up language, adding to the hilarity. This is all soundtracked to a wonderful pirate-like soundtrack. Hearing the Squeezebox playing along with the sounds of the oceans and seagulls just feels so nostalgic. There's obviously a big influence from Monkey Island with its tone, presentation and even gameplay elements to an extent, it feels like a completely different experience unique to Bilkins' Folly.
The game isn't quite the long-lost treasure pirates spend their lives searching for, but it's a worthy haul that's so rich and confident in its design. Some players might find it too hard and I'm in that camp, but those looking for challenging puzzles will have lots of fun. Some may even find it meandering, but the pace is definitely part of the charm. It's not flawless, but the sheer amount of what the game includes makes it a pleasant time.
---
Bilkins' Folly is a charming yet deceptively challenging puzzle adventure that would fulfil most players' pirate fantasies. The wonderful array of mechanics and the pitch-perfect comedy that harkens back to '90s adventure games is a cosy time. It's not without some minor flaws, but it's an admirable exploration of being a different yet entertaining game.

Bilkins' Folly is available now for PlayStation 5 (review platform), PS4, Nintendo Switch and PC via Steam.
Developer: Webbysoft
Publisher: Armor Studios
Disclaimer: In order to complete this review, we were provided with a promotional copy of the game. For our full review policy, please go here.
If you enjoyed this article or any more of our content, please consider our Patreon.
Make sure to follow Finger Guns on our social channels. Twitter, Facebook, Twitch, Spotify or Apple Podcasts – to keep up to date on our news, reviews and features.