The Super Rare Games Mixtape series is back with a new jam-packed addition full of thrills and chills, just in time for Halloween.
Super Rare Games allum Ryan Brown is dropping a brand new treat, or trick, just in time for Halloween. The Mixtape series has been a labour of love for Brown, so what better send-off than to curate and release the horror-filled fifth Super Rare Games Mixtape?
Inside is a carefully selected collection of 30 games, 8 playable demos and many more special features, all from the grassroots indie game scene and delivered onto a single USB shaped like a tape cassette. It also features a bespoke launcher that players will use to sift through the crypt of horror games.
Super Rare Games has consistently done a great job preserving, supporting, and highlighting amazing indie developers and this continues with the latest version of the Mixtape. The Mixtape is at hand ready to deliver when it releases 19th October at 6pm BST (10am PDT/1pm EDT) and will be available worldwide over at superraregames.com.
Quantities are highly limited with only 1,500 copies available at launch. Finger Guns have had early access to the mixtape and we'd like to go through a couple of the exciting games you'll also be able to play. First, here's a full list of what to expect.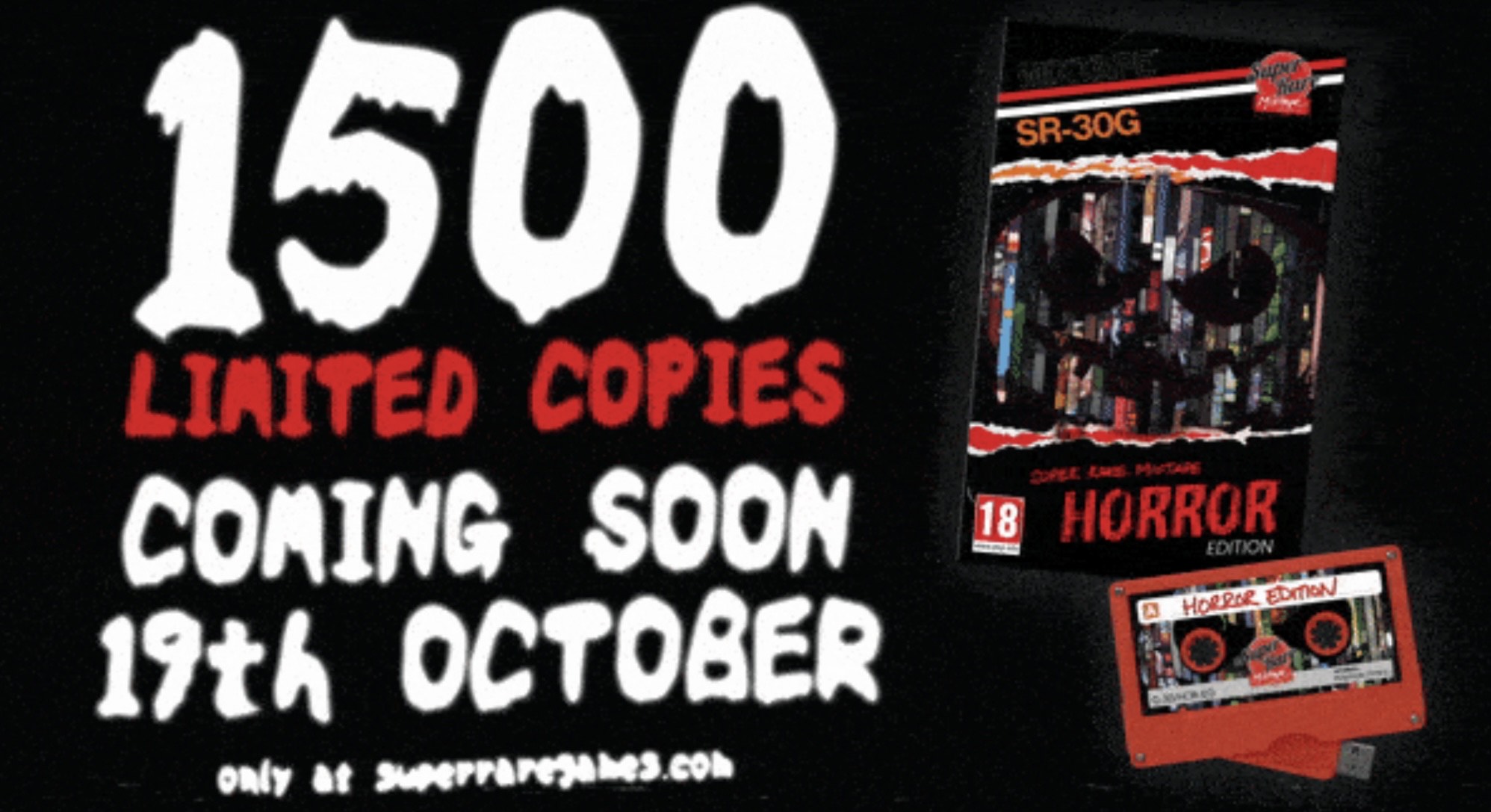 The Tracklist
GAMES INCLUDED – FRAGMENT: Extended Edition, My Sweet Zombie!, The Devil, Flesh, Blood & Concrete, COLDLINE, MapFriend, Hellgineers, Spookynaki, Code: Dino-H, BioCrisis, FeedVid Live, Night Stop, Dispatch, Unsorted VHS, Terminal, The House in the Woods, Bonnie's Bakery, Apocryphauna, Mysteries Under Lake Ophelia, Corpse Ocean, Digidream, MOTH HOUSE, Helltown, Sagebrush, Our Lady of Sorrow, PortaBoy+, The Shopping List, No-Snake Hotel, Fears to Fathom: Home Alone, Godbeast Mk.II
DEMOS INCLUDED – BioCrisis – Return 2 the Lab, The Salt Order, Project Anomaly: Urban Supernatural Investigator, The Tower on the Borderland, The Lacerator, Endacopia, Mothmen 1966, Bahnsen Knights
BONUS FEATURES – Games are not everything that's hidden on the Mixtape. Learn more about the games through trailers, developer audio diaries, and concept art galleries. The drive also comes with game soundtracks and a soundtrack player
Inside The Horrors – Miles Thompson
Quite honestly, only picking out one or two standouts from a roster of 30 games feels straight up unfair. Like taking on Michael Myers with a toothpick. Having spent a good chunk of time exploring Super Rare Games' Mixtape, I can safely say it's a wonderfully eclectic selection.
I went from corridor shooting biohazard scientists in BioCrisis (honestly, what a name), to collecting demonic entity cards in Apocryphauna – an allegory game about transsexuality – to then avoiding raptors in sub-zero temperatures on Code Dino-H complete with Resident Evil tank controls. That was the first three games. THE FIRST THREE.
FeedVid Live was one of my highlights. A creepy mash-up of social media interface that uses Twitch for text inputs, a Saw-esque escape room puzzle to solve and a nervy, tense atmosphere. Then I switched to My Sweet Zombie! where I threw cookies at a zombie as a cafe barista down on her luck and sick of her mundane work life. I honestly can't think of a more chaotically horrific yet enjoyable time.
Then I fell victim to the dastardly "No-Snake Hotel", which spoiler alert, is a complete misnomer. Complete with a death screen simply titled "Snek". Wonderful, sneked indeed. Lastly, I want to shout out Coldline for perfectly encapsulating the nerve-shredding tension of being on-hold and listening to automated messages to get something done. In this game, you have to avert a nuclear disaster by navigating a rather tricky automated message system.
Still easier than cancelling my broadband account, let me tell you.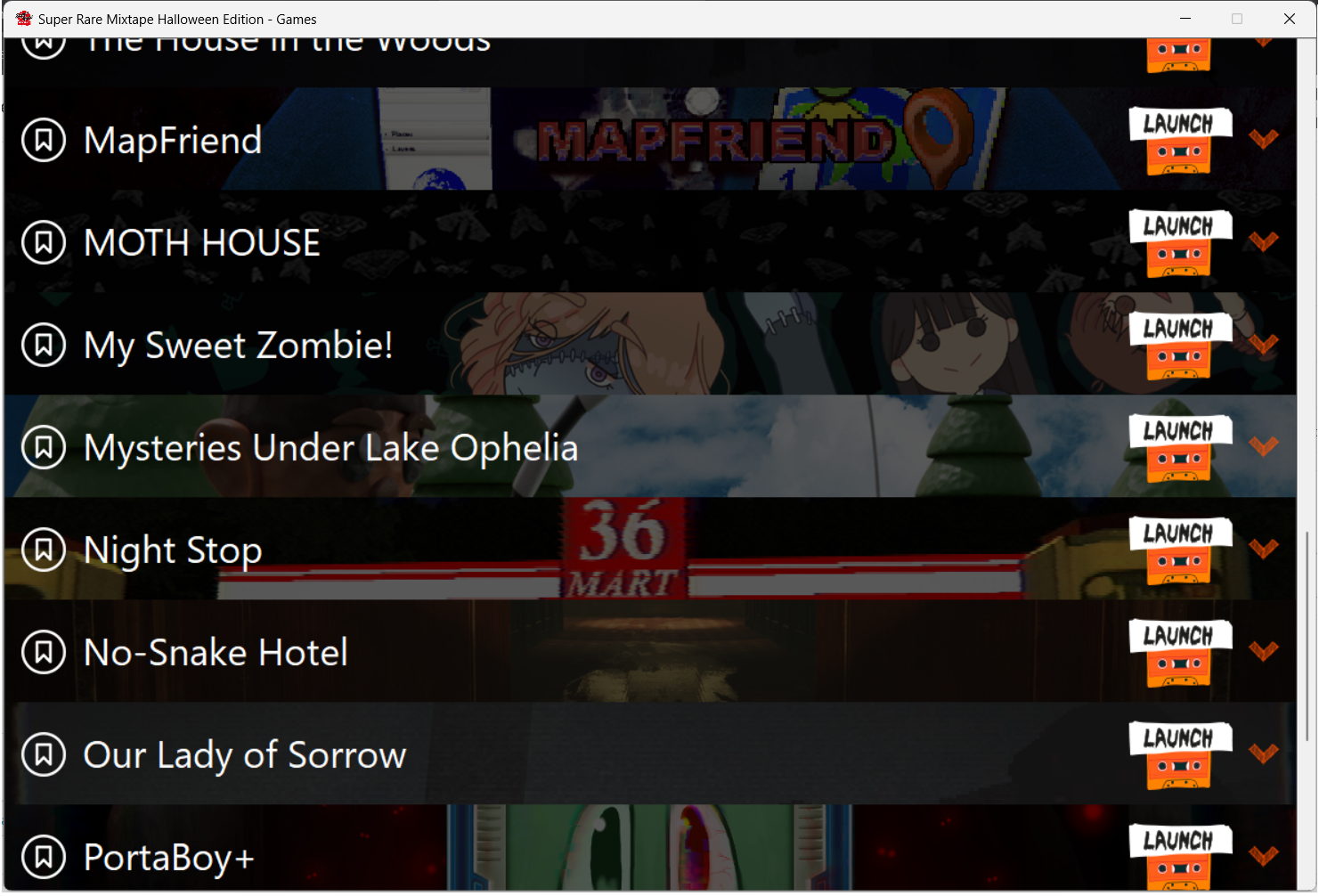 Horror Never Sleeps – Miles Thompson
It may be quite the cliche, but this Super Rare Games Mixtape really does have something for everyone to enjoy. To have so many incredible little indie experiences wrapped up in one terrifying package is marvellous. From wincing in trepidation at delivering letters in Helltown to overcoming the atmospheric horror found-footage title in Unsorted VHS, there's a wonderful mix of experiences to be had here.
The best part is that it welcomes fans of all levels of horror. Don't fancy a jump-scare fest? Don't worry, you'll find more tense thrillers to play instead. Want to feel eternally haunted and unable to sleep easy? Give Night Stop a try. Most of the games in the Mixtape are pretty short, clocking in between 20 minutes to an hour, meaning you can chop and change at will.
There are some lengthier titles in here, so you'll most definitely be getting your money's worth. I'd go out on a limb, Texas Chainsaw style, to say that longevity isn't really the point here, however. This is a collection of creative endeavours, all demonstrating a wonderful understanding of the craft that embodies the horror genre.
Almost every title here is compelling in its own unique, twisted way. I genuinely got excited as I polished off one unsettling experience to jump into the next. Was I going to be in first-person finding demonic cards or guiding someone through an escape room on a Twitch chat interface? Who knows, but you'll want to find out.
Super Rare Games' Mixtape is one of the easiest recommendations I've probably been able to make this year as a result. A fantastic concept reanimated into life by people who clearly love the genre and video games as a creative outlet. Put on the mixtape and face your fears, you won't regret it.
Super Rare Games Mixtape Releases 19th October at 6pm BST (10am PDT/1pm EDT)
---
[Source: Press Release]
Disclaimer: In order to complete this feature, we were provided with a promotional copy of the product. For our full review policy, please go here.
For more News click here
Make sure to follow Finger Guns on our social channels –Twitter, Facebook, Twitch, Spotify or Apple Podcasts – to keep up to date on our news, reviews and features.
If you enjoyed this article or any more of our content, please consider our Patreon.