Voxel heist simulator Teardown finally breaks into the console space. Here's everything we know of the upcoming release.
After a few years on PC and a few more awards under its belt, Teardown is finally coming to consoles in all of its voxel-heisting glory on November 15th 2023. The first-person heist simulator's console debut will be feature complete including a 40-mission campaign, a Sandbox mode and the recently released Creative mode.
The Creative mode will let players make their own levels and share them for others to play. It'll also come with the 'Art Vandals' campaign expansion that adds even more missions to the base game. If you thought that was all there was for Teardown you've been robbed already. Tuxedo Labs has also shown off a DLC Road map for both consoles and PC, which you can check out below: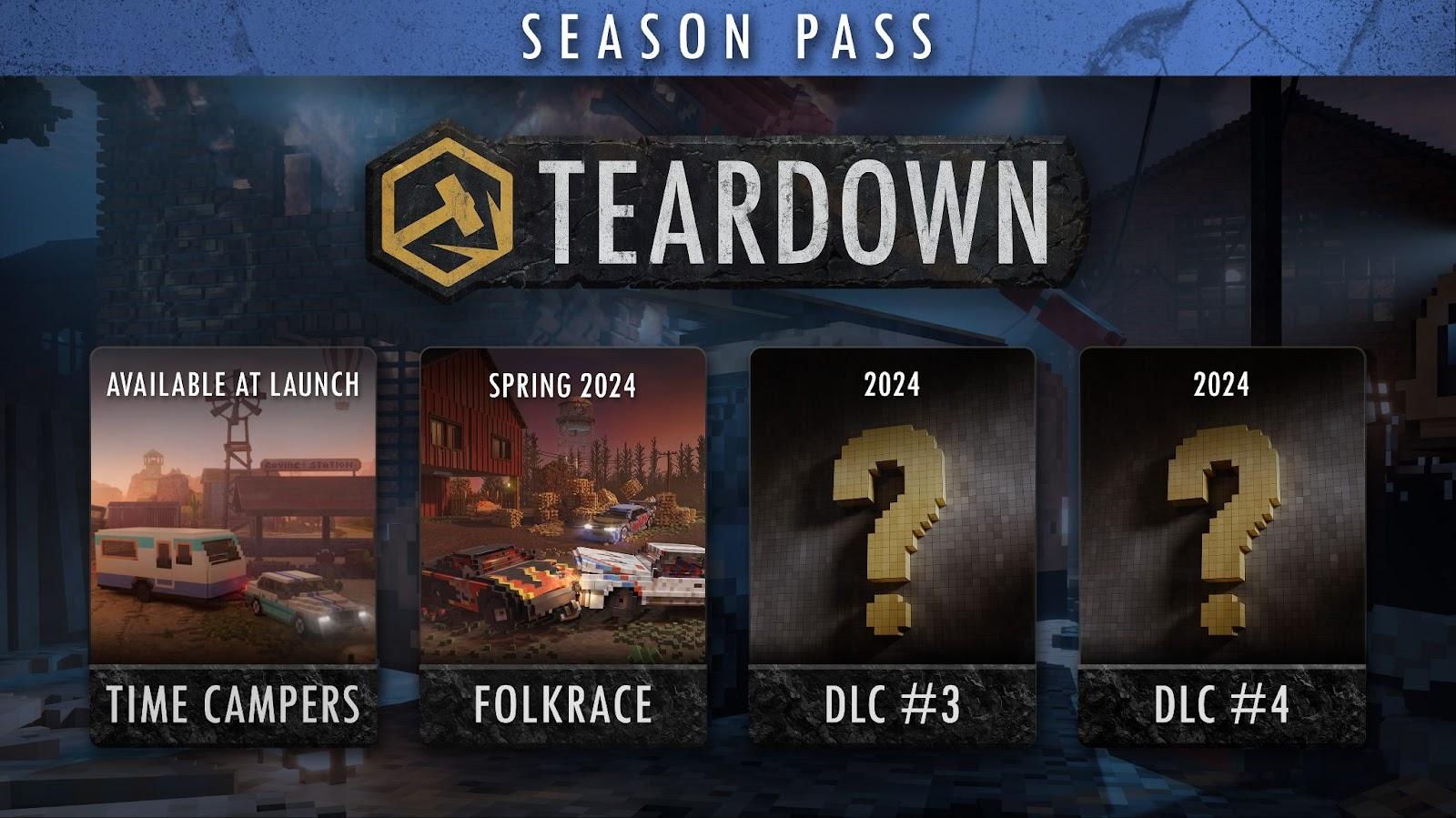 The "Time Campers" DLC, debuting on PC and consoles on Nov. 15, introduces a Wild West campaign expansion, featuring new maps, setting-appropriate tools, and horses.
The "Folkrace" DLC, releasing in spring 2024, features a series of destructive racing game modes, three racetracks, and a fleet of new vehicles.
Two additional unnamed DLCs, coming by the end of 2024.
Those who buy the Ultimate Edition for £41.74/€49.99 will get the Season Pass (£24.99/€29.99), or buy each DLC individually for £6.69/€7.99 each.
Where The Heist Happens
Starting today, Xbox Series X|S players who pre-order Teardown will get early access to bonus content, including the vehicle-based Löckelle Motor Park game map and two heavy-duty monster trucks.
Players on all platforms will be able to choose from three editions of Teardown:
Standard Edition: Get the full Teardown base game for £24.99/€29.99 (Available to PlayStation Plus Extra and Premium/Deluxe subscribers as one of their additions to the Game Catalog in November.)
Deluxe Edition: Get the base game and the first two upcoming DLCs – "Time Campers" and "Folkrace" – all for £33.49/€39.99.
Ultimate Edition: Get the base game, the Season Pass featuring all four upcoming DLCs, and every demolitioner's best friend, the Quilez R0113R Robot, all for £41.74/€49.99.
Teardown will release on the 15th November 2023 for Xbox Series X|S and PlayStation 5.
---
Source: Press Release
For more News click here
Make sure to follow Finger Guns on our social channels –Twitter, Facebook, Twitch, Spotify or Apple Podcasts – to keep up to date on our news, reviews and features.
If you enjoyed this article or any more of our content, please consider our Patreon.