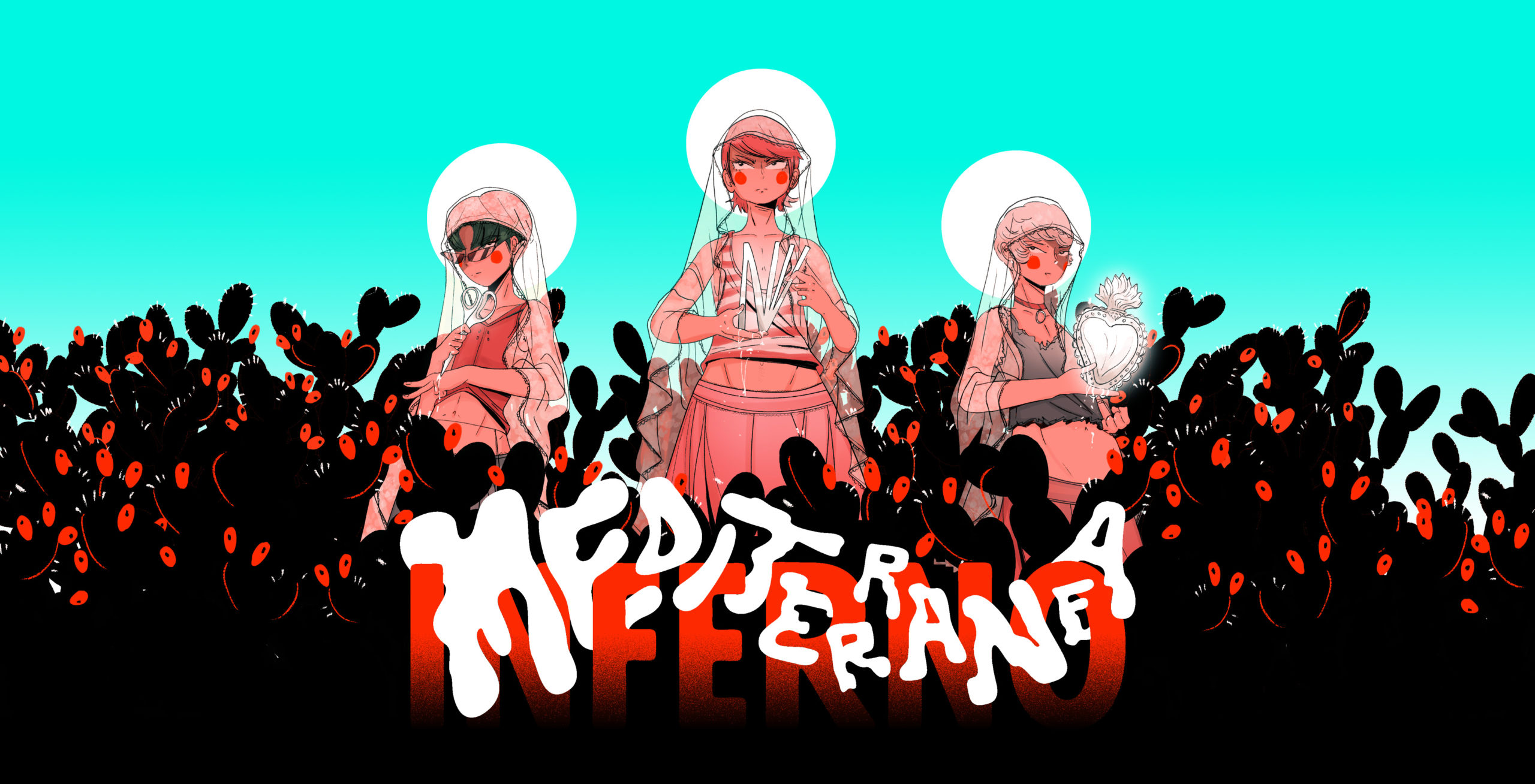 From the studio and writer of Milky Way Prince comes a new story of a post-2020 lockdown reunion. Details, trailer and preview impressions all right here.
Last year, Santa Ragione's Saturnalia was quite the hit at Finger Guns, even bagging a game of the year award from us. With no time lost, the studio has clearly been hard at work, with their latest title – Mediterranea Inferno – now officially announced and due for release later in 2023.
The horror gameplay has been put away in favour of a more story-focused visual novel about three men in their 20's reconnecting. Hoping to rekindle their friendship after the enforced isolation of 2020's lockdown days, they'll be attempting to recapture their special bond while collectively working through their trauma.
Of course, there's always a catch. Lurking in the shadows of this summer retreat in Southern Italy lies each of the character's secrets, their fears, their obsessions and their desire for retribution. As you embark on their journey, you'll make decisions on where they go during their three day escape, uncovering more about their histories and motivations as you select their daily tasks.
Mediterranea Inferno is being written and directed by Lorenzo Redaelli, who you may remember should you have played the award-winning Milky Way Prince – The Vampire Star. If that's not enough to sell you on the game already, there'll be a public demo available to try which releases during the June Steam Next Fest, so you can get a glimpse into what Santa Ragione's next title will hold for you.
Check out Mediterranea Inferno's announcement trailer and read on if you'd like to know more based on our preview impressions.
Reach Out To Temptation
Mediterranea Inferno – much like Saturnalia before it – leans into some incredibly heavy and intensive themes. As a visual novel, all of the focus is going to be on the story and writing, particularly for the core trio we're going to be spending this time with.
Having had the chance to play about 30% of the game's promised story, it's very clear that the game is leaning into these powerful concepts even more so than Santa Ragione's previous work. Claudio, Andrea, and Mida are larger-than-life personalities, purposefully exaggerated in their traits and mannerisms to highlight their own flaws and issues.
From the onset, you'll be thrown almost head-first into uncomfortable territory to tread. Drug use, sexual violence, psychological abuse, lust, revenge, hatred – you'll be exposed to a veritable gambit of intensive imagery. Everything is dialed up to 11 with the intent of making you feel unsettled. Which is fitting, as Mediterranea Inferno is all about delving into the character's inner desires and darkest urges, the kind most people try to keep suppressed and hidden at all costs.
As a starting point, it can make the trio hard to connect to and I found myself a little bit lost trying to keep track of what was going on within their interactions. However, I recognised by the end that that's kind of the point. Once I had that lightbulb moment, I started to click more into what each of the characters is about and each of their insecurities.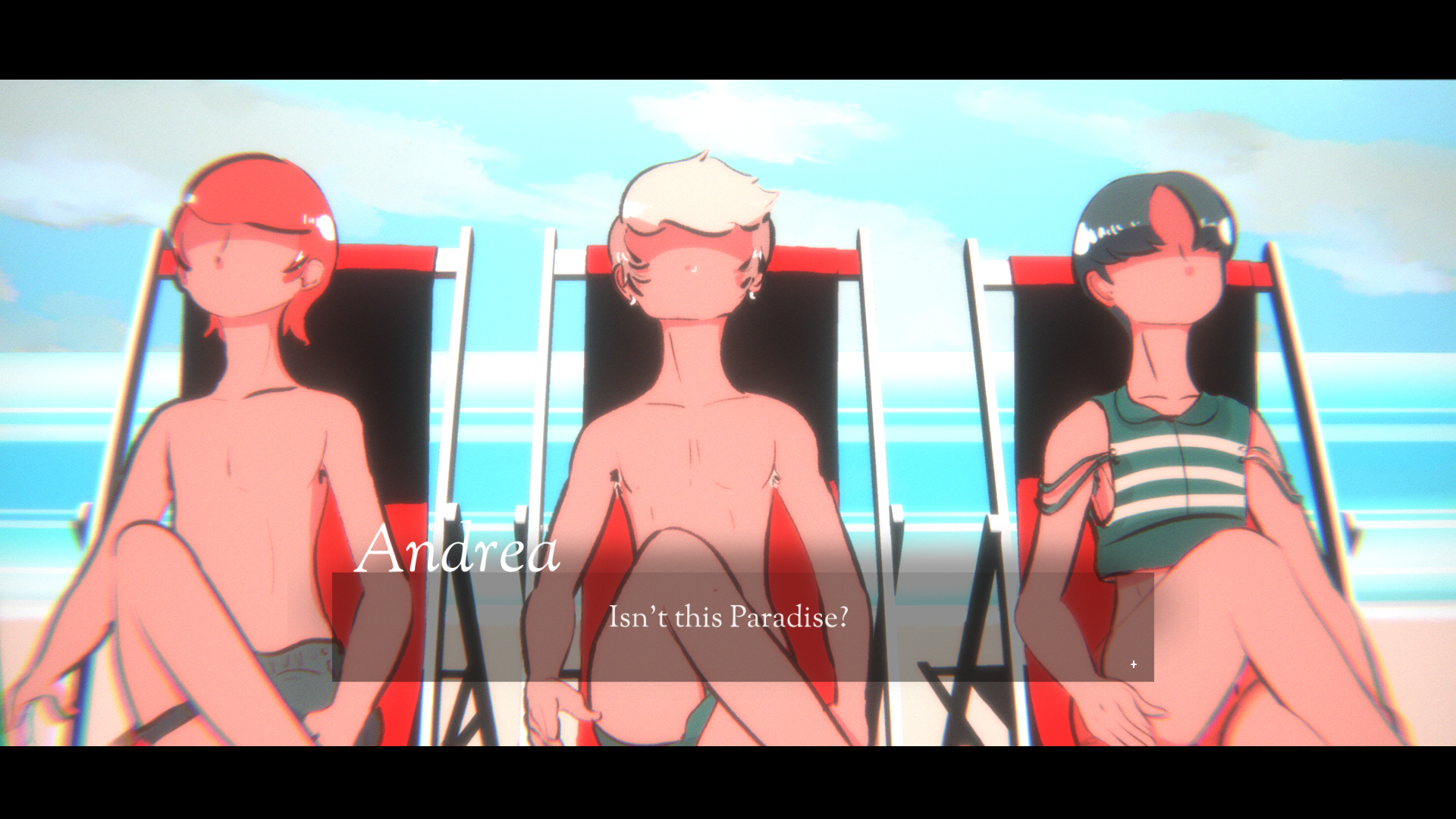 Paradise or Parasite?
From the chunk of Mediterranea Inferno available to try out, the gameplay systems appear to have been kept simple and accessible. Most of your time will be spent clicking through the dialogue alongside the beautifully drawn original illustrations. There's a certain pazazz in how the dialogue and stills move at a crisp clip, which is fittingly appropriate given how each of the protagonists has an obsession with fame, appearance and star-value belying their otherwise broken personalities.
You'll have the chance to enter Mirages – spaces of each character's inner consciousness where you can interact with surreal environments which highlight and contextualise their traumas and backgrounds. Making choices on what the trio do during the day will affect which of the party have their Mirage opportunities and you'll have to balance the currency you earn from their disappointments carefully to engage with as many of them as possible.
Aside from the gorgeously-drawn illustrations, there's a certain shock-value to some of the imagery you'll bear witness to. In one sequence I was clicking through the regular dialogue as images would snap in rapidly to show the seedy undertone of the character's real thinking. In one of the Mirage sequences I was picking fruit off of an otherwise completely naked lad's body before I then selected a lollipop called Fetish… which was in the shape of a foot.
Sexual liberation and deviancy are a big part of Mediterranea Inferno's narrative, as are anxiety, insecurity and violence. If you're sensitive to such topics and content, this might be one to go in carefully with. Obviously I've not had the chance to see how a lot of these plot-threads develop further, but the context I've already seen has me intrigued to see how dark these themes really go. Which, I suspect will be quite dark indeed.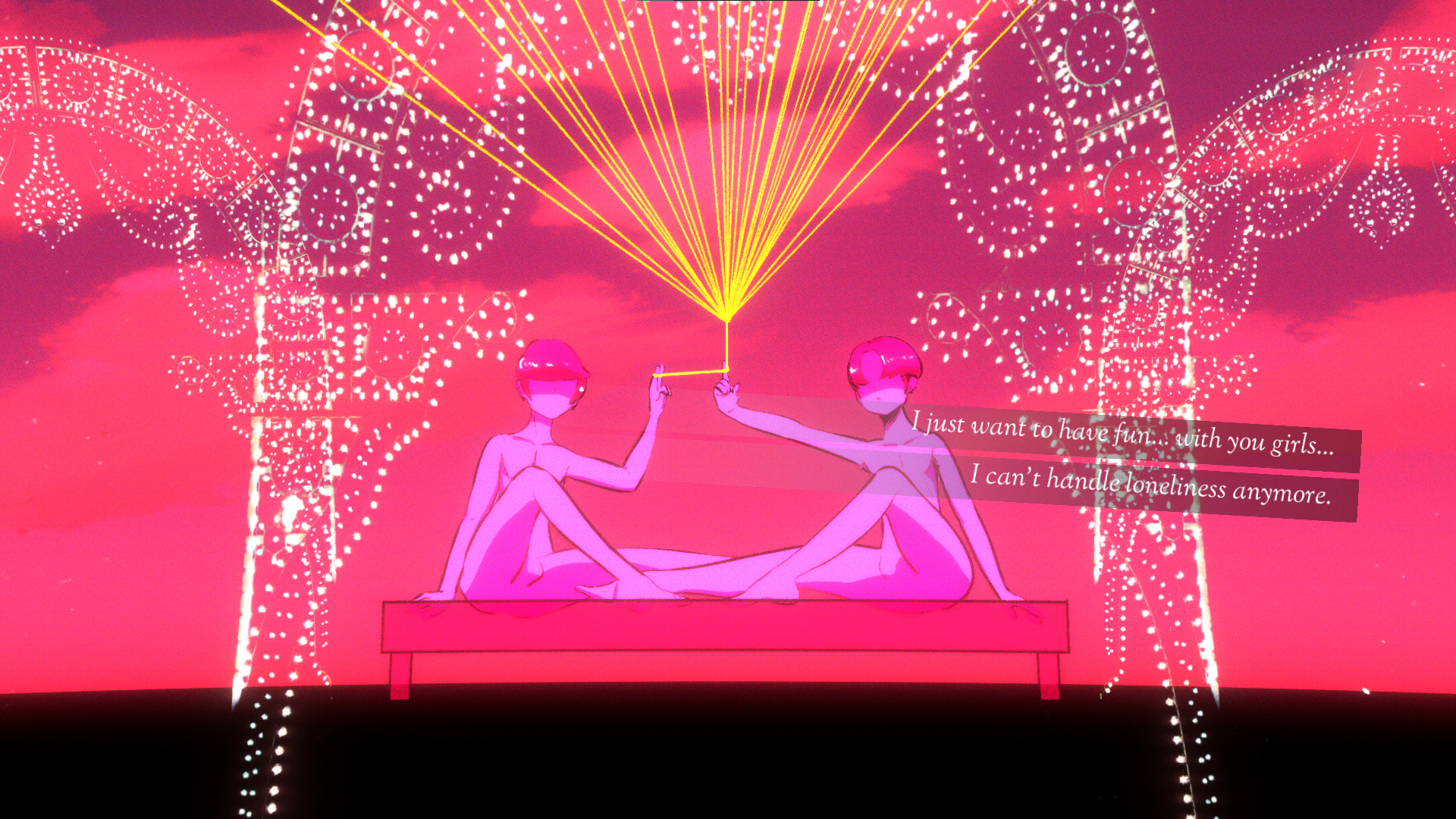 The Deadly Sins
Visual novels aren't my typical forte but Mediterranea Inferno has a lot going on within it that has me interested. It's unabashedly in your face with its themes, writing and imagery, however there's also subtlety in how you interpret the goings-on both in the boys' real world and their surreal unconscious minds.
Some of the imagery is fantastically creative and brilliantly inventive, which has done a lot of the heavy lifting getting my interest peaked. Claudio, Andrea, and Mida are confusing, broken and damaged people who are pining for the life they once had together while simultaneously lamenting their current situations. Seeing their full stories come to light is going to be an intense undertaking given the hints of their depravity already.
Mediterranea Inferno is one to therefore keep an eye on in 2023. It will be releasing on PC initially, with other platforms to be announced in due course. Given Santa Ragione's history for delving into the dark and the intense, we're excited to see what depths they'll unearth here.
[Source: Press Release]
---
For more News click here
Make sure to follow Finger Guns on our social channels –Twitter, Facebook, Twitch, Spotify or Apple Podcasts – to keep up to date on our news, reviews and features.
If you enjoyed this article or any more of our content, please consider our Patreon.