A 3D platformer featuring with light-hearted story and amusing musical notes, Billie Bust Up is a modern day Banjo-Kazooie.
Who'd have thought that I of all people would be writing about a 3D platformer with musical vibes? Well, that should be a glowing compliment to how entertaining Billie Bust Up is. Developed by Giddy Goat Games and published by Humble Games, it feels like a love-letter to 90s platformers. As an avid nostalgia fan of Banjo-Kazooie, I was keen to give it a try.
Bust a Move
While platformers aren't typically my forte anymore, I had a smile on my face throughout my 10 minute demo of the game. In the demo, you play as Billie, a young goat recently risen from the dead. The early portion was exploration and (you guessed it) platforming from A to Z. So far, so simple, I thought. Billie seems charming and full of gusto and the environment was colourful and immersive.
Then I got to the real demo. After a brief cutscene where a creature hosting a party for the undead discovers you are most definitely very alive, a chase sequence begins. Imagine the boulder dashes from Crash Bandicoot and you're on the right lines. Then, throw in an ear-worm tune being sung by the advancing creature about all the ways it can kill you.
I laughed multiple times throughout the sequence and the tune is still playing over in my head even now. It's also on Spotify, as the chap I spoke to regarding the game gleefully told me. What really peaked my interest however was how the platforming ramped up dramatically. Suddenly, I was avoiding lava, timing jumps to clear electricity, all while trying to stay on the track.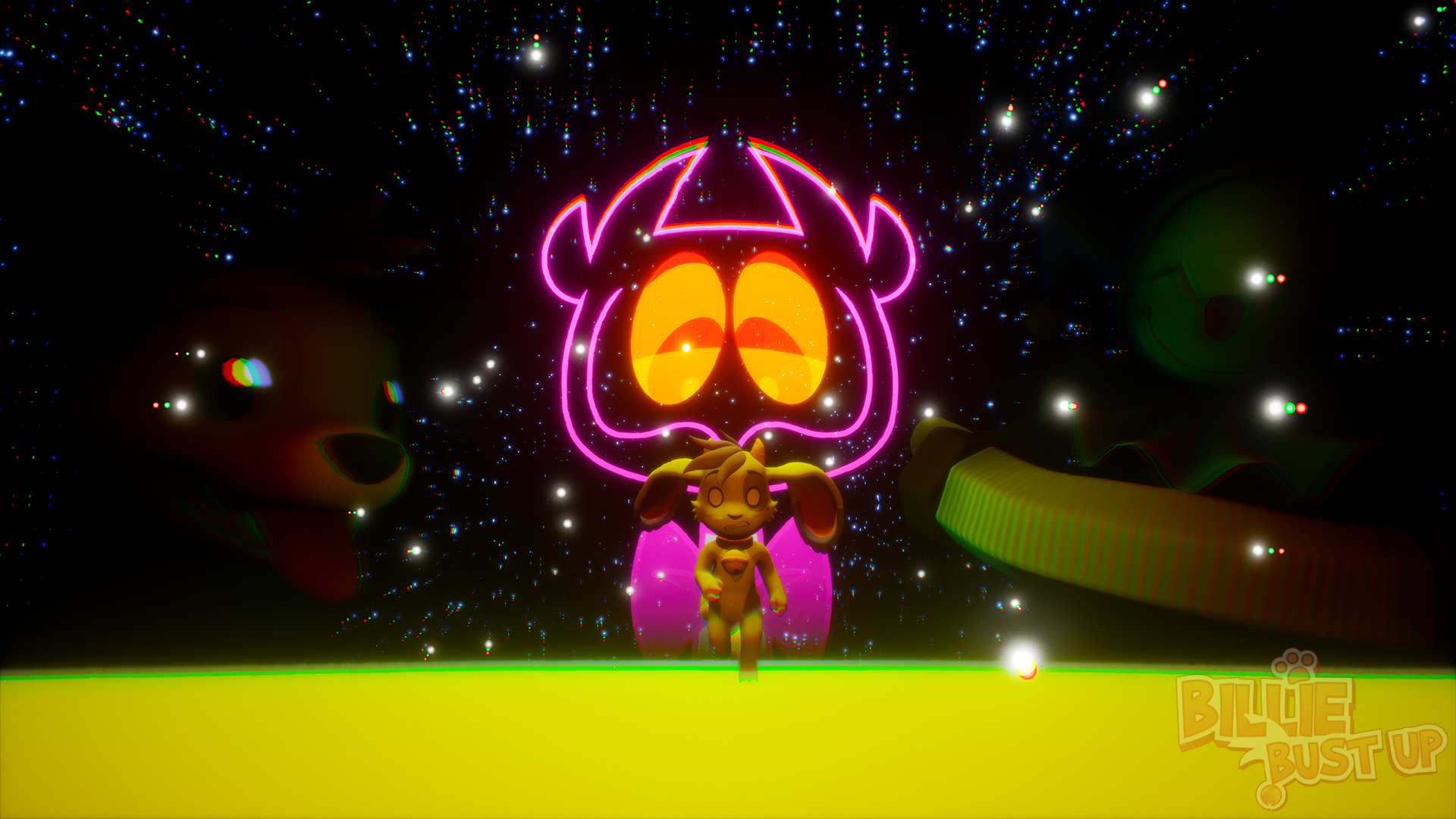 Billie The Kid
Then the game straight up switches the camera orientation. Suddenly it's upside down, then it's sideways and everything in between. Having been felled towards the end, I discovered the devs have even switched up which orientation it'll change to every time, so you can't even muscle memory it. Thankfully, Billie Bust Up is forgiving with checkpoints and hits before death, evening the experience out.
That may change however, as higher difficulty options and even a one-hit kill mode could be in the works. When I tell you the dread that places in me, I cannot even adequately express it. Most importantly, Billie Bust Up was entertaining. The characters were endearing and the musical score looks like it's going to be a highlight.
If this is what bringing back 90s platformers and channelling animated movies holds for the future, I'm all about it. Billie Bust Up doesn't have a set release date yet, but it will be releasing via Steam, where you can wishlist right now. Or you can go listen to the track on Spotify and never have a clear thought again, whatever you're into.
---
Billie Bust Up is coming soon on PC.
For more News click here
If you enjoyed this article or any more of our content, please consider our Patreon.
Make sure to follow Finger Guns on our social channels. Twitter, Facebook, Twitch, Spotify or Apple Podcasts – to keep up to date on our news, reviews and features.