Part city builder, part strategy resource-management, part tower defence. Bulwark: Falconeer Chronicles is an eccentric concoction.
Strategy games, base-builders and real-time strategy titles in general have a rough time making the jump to controller from mouse and keyboard. Bulwark: Falconeer has quite the job on its hands therefore to make all of those genres work in one package. I got to spend some time with the game on the show floor at EGX and find out a bit more about it thanks to the lovely folks at Wired Productions.
The current demo build was half tutorial, half experiment and tinker. What struck me as most impressive was how well mapped and designed the control scheme was for controller. You switch between buildings on the ground mode using A and when you take to the air in your zeppelin you simply aim and click. It was a little awkward at first, but it became surprisingly intuitive in no time.
Soaring Seas and Skies
Building systems are also streamlined, you float the cursor out from buildings to plant structures, for example. One hit of X and bam, new tower constructed or upgrade launched. Within 10 minutes, I was expanding my network of structures like an ant tunnel, only I was expanding over islands, instead of mounds.
Combat and declaring war mechanics have only been recently added, which made sense, as it feels relatively primitive at present. Instead of directly controlling units, airborne forces will latch onto your zeppelin and fire automatically. Military warfare in general looks to be a last resort or less incentivised option, as a single warship downed me about four times, so Bulwark: Falconeer Chronicles will be challenging, to say the least.
Lastly, I was struck by how large the world map is. Granted, much of it is an expansive sea-scape. However, even in this early build there were dozens of icons to go and explore across the vast ocean. There are multiple factions, all of which have their own belief systems and lore, so while you navigate the seas, you'll be navigating political diplomacy too.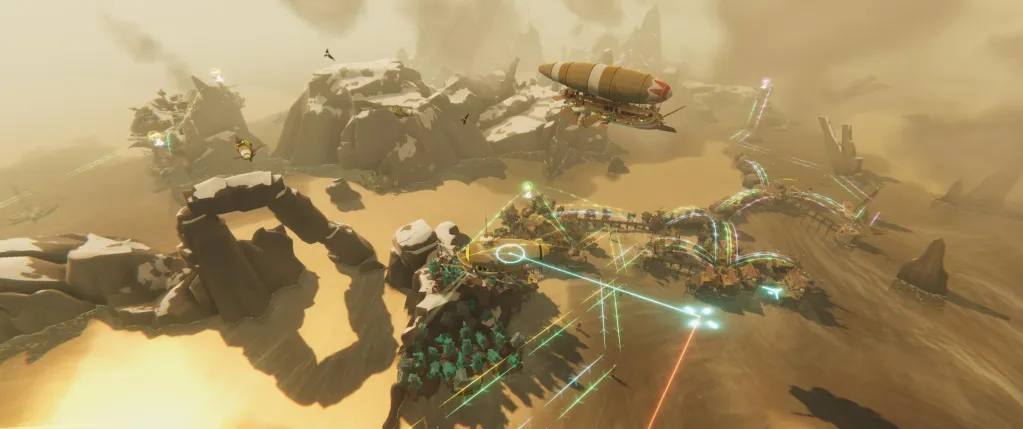 Time To Establish Your Bulwark
Or you can just be like me and declare war on the first faction you meet, cause I just embrace the chaos, apparently. The folks at Wired Productions explained that the game may go through some further substantial changes and have systems developed further before launch. As such, I'm pretty excited to see how Bulwark: Falconeer Chronicles develops in the next few months.
It's also worth mentioning that aside from the fog, there are no textures in the game whatsoever. The entire aesthetic is built from cel-shading and magic, it seems. I have no idea how they've pulled that off, but it looks pretty wonderful as a result.
There's sadly no firm release date for Bulwark as yet, but you can wishlist the game via Steam now.
---
Bulwark Falconeer Chronicles is coming soon on PC.
For more News click here
If you enjoyed this article or any more of our content, please consider our Patreon.
Make sure to follow Finger Guns on our social channels. Twitter, Facebook, Twitch, Spotify or Apple Podcasts – to keep up to date on our news, reviews and features.