A dog shelter simulator that looks paw-some, To The Rescue! will appeal to the dog lover in all of us. The Finger Guns Preview.
A dog shelter simulator that looks paw-some, To The Rescue! will appeal to the dog lover in all of us. The Finger Guns Preview.
I've always scoffed at those people that sit at E3 events and scream as games get revealed. You know the kind. Like that guy at the Bethesda E3 conference a few years back? Yeah. Well. I can't do that anymore. 20 minutes in to my Pre-E3 preview presentation of To The Rescue! with developer Olivia and I caught myself cheering. Not only cheering but letting out an embarrassing "YEEEAAAAH" noise as a dog is finally adopted from Olivia's blossoming dog shelter. I'm not even ashamed. The moment deserved it.
To The Rescue! is a dog shelter simulator. You play as a character (chosen from a series of pre-set character models) that has moved to a new town along with their canine companion. Upon arrival, they start to question what to do with their life. That is until they find a puppy roaming around outside their house. The quest to find the owner of said puppy leads the protagonist through the steps of looking after a dog – feeding them, making sure they have water, cleaning them and keeping them happy – before they eventually end up setting up a new dog shelter of their own.
The initial story hook for To The Rescue! was inspired by a real world event that happened to developer Olivia and her partner – they found a dog roaming outside their home. It's an interesting hook and had me invested immediately – and I wasn't even playing the game.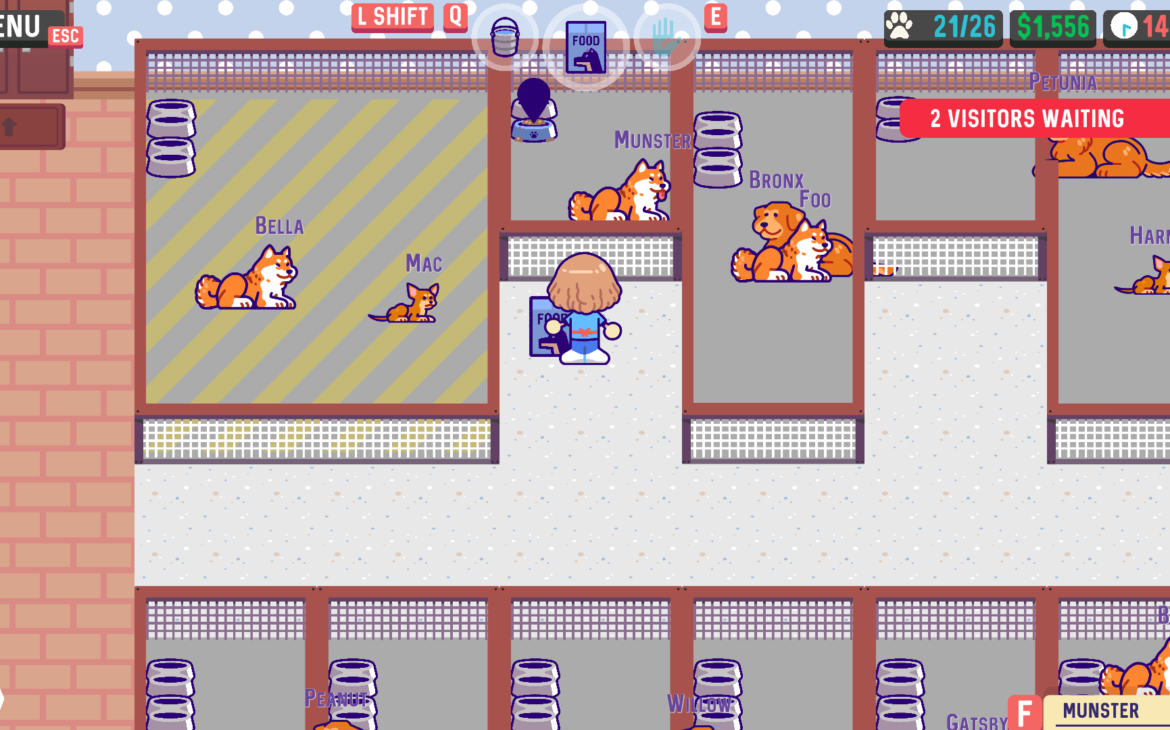 Once you've taken ownership of the dog shelter, To The Rescue allows you to customise it how you see fit – or how best to accommodate the dogs that will be arriving and looking for re-homing/rehabilitation, would be a better way to describe it. Different types of kennels and activity rooms can be built if you've got the cash for it.
Each dog that arrives at the shelter will be different. They have a name, an age, size, favourite food type energy levels and each have their own traits. Some dogs will be jumpy, good with other dogs, loud, good with cats, deaf and more. Walk past a kennel and some dogs will race to the front to greet you while others continue doing whatever they're up to. Some dogs will get stressed out by being next to other types of dogs with conflicting traits. It's up to the player as the operator of the rescue home to best care for each dog and make sure they're in good condition for when someone comes to rescue a dog.
Which brings us to the part of the game that made me squeal like the famous Bethesda E3 man – the adoption of the dogs. The aim of the game is to find the canine residents a new home. It's the primary way to earn money – thus keeping the shelter open and hopefully expand it – but also, they're dogs and they deserve a loving home. Would-be-adopters will arrive at the shelter and will detail what they want out of a potential pupper. "I want a small dog", "I want a dog that's good for cats" and "I want a big dog" are some of the starting requests that I managed to see. The player can then select the 5 dogs from those in the rescue that best suit the persons requirements. The prospective new owner will then take a look at all 5 and if they're suitably impressed, they'll take a dog home.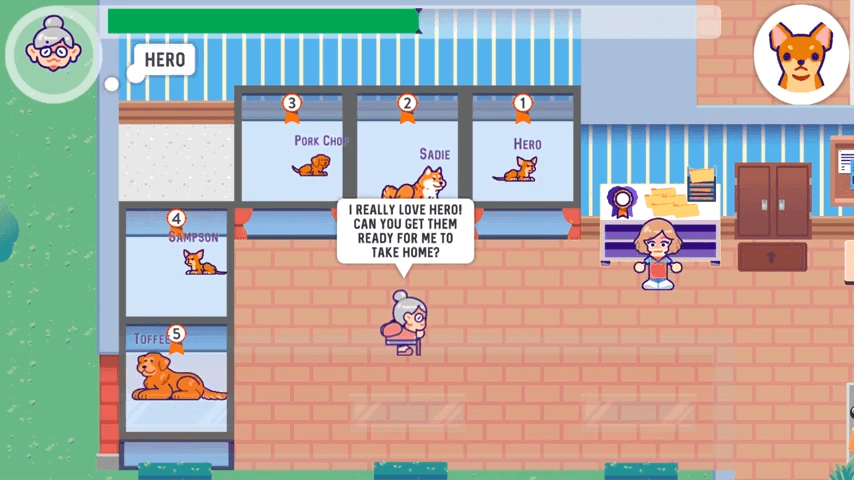 Success in To The Rescue! isn't just about finding a dog that suits that person's exact needs however. Each person who enters the rescue will have a type of resistance to adopting a dog. Some will have a high threshold and others a low. The combined power of all 5 dogs on display will be required to win over the adopter in order to send them home with a new canine companion. This is represented in a meter with each dog contributing their part to sending one to a new loving home, represented in stars. The better suited the dog to the persons requirements, the more stars they contribute.
A nice little touch is that the person looking for a dog might end up taking home a pooch that doesn't fit all of their needs. During the demo, when someone was looking for a small dog and their being a perfect match in the batch of 5 that were shown, they went home with a medium sized dog. Developer Olivia explained this to me that "Sometimes a dog will just look at you *just right* and it's love". I can relate too – I once tried to rescue a German Shepard and ended up with 2 grouchy shih tzus that I couldn't live without now. Go figure.
There's depth in To The Rescue! too. Successfully rehome dogs and you'll build up a positive reputation. By doing so you'll unlock foster homes and charity events to help with the running of the rescue. Each day's performance awards ability points which can be spent on better equipping the protagonist to deal with the hectic life of running a dog rescue. New room types can be built which can make the pooches happier and more adoptable. Illnesses can break out and spread through the rescue, requiring the player to separate the infected from the well or risk it spreading further. There's euthanasia in the game – although this can be turned off if you wish. Olivia explained that Little Rock Games really wanted to represent the whole spectrum of the rescue simulation – including the difficult decision to euthanize dogs that can't be rehabilitated successfully – to represent the struggle that real world rescues have to go through.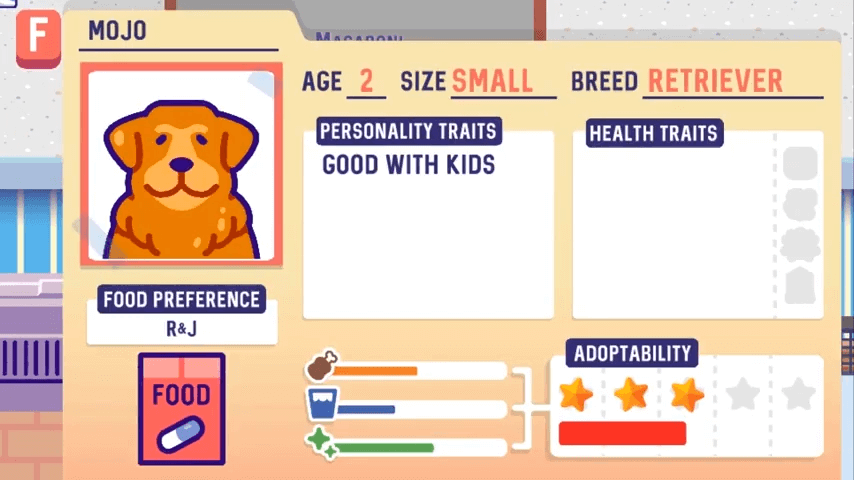 To that end, Little Rock Games are aiming to help real world dog shelters. 20% of Little Rock Games' profits from all sales of To The Rescue! will be donated to a charity that benefits shelters across the United States. I think you'll agree, that's an incredible gesture.
I spent half an hour watching Olivia play To The Rescue! but I would have happily watched her play many more hours of it. There was a palpable thrill to seeing a dog get a new home and an emotional gut punch when the 5 dogs on display couldn't quite convince a would-be owner to adopt. Watching the little pixelated pooches go about their business was an absolute joy and while I imagine there will be times when this game will get quite stressful, I personally can't wait to get my paws on it when it launches later this year for PC and Nintendo Switch.
To The Rescue! – A Dog Shelter Simulator is aiming to release on PC via Steam and on Nintendo Switch later in 2021. It's being developed by Little Rock Games and will be published by Freedom Games.
---
Disclaimer: In order to complete this preview, we attended a preview event for the game. For our full review policy, please go here.
If you enjoyed this article or any more of our content, please consider our Patreon.
Make sure to follow Finger Guns on our social channels – Twitter, Facebook, Twitch, Spotify or Apple Podcasts – to keep up to date on our news, reviews and features