Another month full of heavy hitters in November's list of indie games, here are all the games to be excited about:
The Winter blockbuster season may be upon us now as we start to end the year with some heavy hitters, but let's not forget that we've got some indie games coming our way that'll hit just as hard. Last month we covered some terrific titles like Vlad Circus: Descent Into Madness, Station to Station and Bilkins' Folly, with many more that you can check out from last month's list.
I'm starting to sound like a broken record but we really do have a substantial amount of indie games spanning across a myriad of genres this month, and it just shows how good we've got it in the indie space. Whether you're looking for a time-bending monochromatic RPG, a prison break simulator with extra claws or a heartfelt adventure that sees you fighting exes, this month has it all. So without further ado here are 20 indie games to be excited about during November 2023.
Honked: a clown noir by Crimp Games – October 27th 2023
You play as a hard-boiled private investigator in all its noir glory until… you get Honked! After being honked you are transported to the whacky world of Clownside where every resident is a clown. Although you may have swapped your PI paraphernalia for balloon animals, your keen eye for investigating and convincing nature will help you get clues from your fellow clowns to get to the bottom of this clownspiracy. The game is a short but sweet 3D platforming narrative adventure that sees you building balloon animals that help with your platforming abilities. Honked: a clown noir is out now on PC via Steam.
The Golden Eyed Ghosts by Syphono4 – October 30th 2023
The Golden Eyed Ghosts is a dark fantasy soulslike with a big helping of inspiration from the retro Legend of Zelda titles. The game is set in the crumbling land of Andromeda where ancient horrors dwell beneath the ground. Evil is bubbling to the surface, threatening life above ground and it's up to you to banish the macabre, as you recover four legendary swords that can save the world. Things aren't as they seem, however, as you uncover mysteries and stumble upon things that were maybe best left forgotten. With quests that affect the people around you and Metroidvania elements in the gameplay, the morally grey world is for you to survive. The Golden Eyed Ghosts is out now on PC via Steam.
Thirsty Suitors by Outerloop Games – November 2nd 2023
Thirsty Suitors has been one on Finger Guns' radar for a while now and thankfully the wait is almost over! The game is an adventure narrative that sees you playing as Jala, as she figures herself out at home before her sister's wedding. During your self-reflective journey, you'll be embracing Jala's South Asian roots with action-packed cooking sequences, exploring Timber Hills in expressive and high-octane skateboarding and facing your past with explosive turn-based combat against all your exes. Thirsty Suitors will release on PlayStation 5 & 4, Xbox Series X|S & One, Nintendo Switch and PC via Steam.
My Time at Sandrock by Pathea Games – November 2nd 2023
After the wide success of My Time At Portia, Pathea Games looked to continue the My Time series with My Time At Sandrock. This time around you'll be facing a post-apocalyptic desert wasteland. The game takes place 330 years after the Day of Calamity that wiped out most of modern technology, leaving it up to you and your trusty tools to restore the community of Sandrock to its former glory. Featuring a big open world to explore, extensive NPC quests to delve into and a fresh real-time combat system My Time At Sandrock looks to be a bigger and bolder sequel. The game will also have the hotly anticipated multiplayer mode, so now you can build your town with a friend. My Time At Sandrock will release on PlayStation 5 & 4, Xbox Series X|S & One, Nintendo Switch and PC via Steam.
The Talos Principle 2 by Croteam – November 2nd 2023
The Talos Principle 2 is a thought-provoking first-person puzzler that looks to vastly expand on the philosophical themes of the first game. With lush environments and even more brain-melting challenges to come across, you won't have to beat every puzzle to finish the game, but those who seek all the answers may want to as the choices you make determine the course of events. Biological humans are extinct, however, the human culture lives on through robots and you are at the centre of a megastructure capable of enormous powers hidden away. Will you find them? The Talos Principle will release on PlayStation 5 & 4, Xbox Series X|S and PC via Steam.
Back to the Dawn by Metal Head Games – November 3rd 2023
Back to the Dawn is finally on parole as players can very shortly check out the prison sim narrative on Steam Early Access. You play as a reporter, caught up in a dangerous conspiracy that has wrongfully landed you in a maximum-security prison. The main aim is to escape prison as you also accrue a case of evidence with help from the outside. Explore every inch of prison, discovering any weaknesses that'll aid your escape. Make friends or enemies with your fellow inmates with a view to helping you break out, all the while playing along with the prison system. Oh yeah, and did I mention everyone is an animal in prison? Not just behaviorally. Back to the Dawn will release on PC via Steam Early Access.
The Invincible by Starward Industries – November 6th 2023
Based on the novel by Stanisław Lem, The Invincible takes the motifs and futurologist philosophy of the book and transforms them into a first-person narrative game. You play as the highly qualified astrobiologist Yasna as you end up on the unexplored planet of Regis III. Maybe the planet is best left alone, however, as the crew's discovery could be humanity's biggest threat. With multiple tools at your disposal to aid you on your journey and stunning retro-futuristic visuals, The Invincible looks perfect for those into hard science fiction. The Invincible will release on PlayStation 5, Xbox Series X|S and PC via Steam.
SANABI by Wonder Potion – November 9th 2023
Follow the adrenaline-fueled adventures of a retired veteran in stylish dystopian action-platformer SANABI. With your signature prosthetic arm that helps you jump over skyscrapers, zip through bullets and defeat powerful enemies, you're called upon for one last mission. You've been tasked to ascend a mega-city that's run by a corrupt conglomerate. Behind this conglomerate is a mysterious entity known as 'SANABI' which is the key to uncovering the secrets within the city. With a cyberpunk aesthetic and exhilarating combat, SANABI looks to be a great time for fans of Gunbrella or Rusty Moss. SANABI will release on Nintendo Switch and PC via Steam.
Spirittea by Cheesemaster Games – November 13th 2023
Studio Ghibli's Spirited Away gave us a glimpse into the world of serving spirits their tea; and whilst child labour laws dashed our naive ambition of working for the dead, Spirittea looks to do just that – respectfully. You're the only one who can see the troublesome spirits in the town and it's up to you to get a bathhouse up and running for them to relax in. Solve what every individual spirit is missing to calm them down, whether it's digging up their lost treasure or simply some spicy noodles. You'll be managing your business, befriending the locals and decorating your bathhouse to be a bathhome. Spirittea will release on Xbox Series X|S, Nintendo Switch and PC via Steam.
Astral Ascent by Hibernian Workshop – November 14th 2023
Astral Ascent is a 2D platforming roguelite set in a modern fantasy world. You'll be able to pick one of 4 heroes all with their own personalities to escape from the Garden – an astral prison guarded by 12 mighty and ferocious bosses known as the Zodiacs. With a slew of unique spells to unlock across the different characters, you can craft your own build to try out and hopefully succeed. Don't worry if you fail though as each run sees you getting stronger, unlocking more knowledge on the characters you play as. With local co-op or online you can explore the wonderfully hand-crafted worlds solo or with a friend. Astral Ascent will release on PlayStation, Nintendo Switch, Xbox One and PC via Steam.
KarmaZoo by Pastagames – November 14th 2023
KarmaZoo is designed with altruism in mind as you and up to 10 random players help each other. There are a multitude of unique abilities across 50 different playable characters as you'll be playing all in the name of good Karma. Doing good deeds earns you said Karma as you stick together and sometimes even sacrifice yourself to help others in the Loop's deadly challenges. Earning Karma will help you unlock new characters and abilities for future Loops. With a plethora of cutesy animals, a lovely pixel art style and a unique premise, KarmaZoo looks to be a special co-op platformer for everyone. KarmaZoo will release on PlayStation 5, Xbox Series X|S, Nintendo Switch and PC via Steam. Publisher Devolver Digital
Broken Roads by Drop Bear Bytes – November 14th 2023
Broken Roads is an in-depth narrative RPG that sees you traipsing across the post-apocalyptic outback of Australia. Blending together traditional as well as new roleplaying elements built on top of a classless system that offers diverse character development options. Your actions are dictated by the Moral Compass system which influences your character's dialogue options and quest decisions depending on your philosophical leaning. All of this culminates in a robust character customisation with a large degree of openness to your playthrough whether it's through combat or the multi-branching narrative decisions. Broken Roads will release on Xbox Series X|S & One and PC via Steam, with further platforms coming soon.
Coral Island by Stairway Games – November 14th 2023
After a successful time in Steam Early Access, Coral Island is ready to cast out a wide net with its 1.0 release. The game is a vibrant and laid-back reimagining of farm sim games where you can be who you want as you escape the big city life in Pokyo and start a new chapter on Coral Island. Create a farm of your dreams, tend to crops and nurture animals as you build a bond with the world around you. Featuring multiple people to romance and a diverse community to encounter, Coral Island may just end up being your new home. Coral Island will release on PlayStation 5, Xbox Series X|S and PC via Steam. Publisher Humble Games
Teardown by Tuxedo Labs – November 15th 2023
After a few years on PC and a few more awards under its belt, Teardown is finally coming to consoles in all of its voxel-heisting glory. The first-person heist simulator's console debut will be feature-complete, including a 40-mission campaign, a Sandbox mode and the recently released Creative mode. The Creative mode will let players make their own levels and share them for others to play. It'll also come with the 'Art Vandals' campaign expansion that adds even more missions to the base game. Teardown will release on PlayStation 5, Xbox Series X|S and already out on PC via Steam.
The Last Faith by Kumi Souls Games – November 15th 2023
After an extremely successful Kickstarter campaign, The Last Faith is the latest in soulslike Metroidvanias to release. You play as Eryk who awakens with no recollection of his immediate past. Time is of the essence though as his conscience is deteriorating leading him on a mission for salvation, forcing him to cross paths with ancient religions and divinities. Heavily inspired by gothic horrors, you'll be engaging in precise and tough combat with a formidable arsenal of weapons, arcane spells and firearms. The Last Faith will release on PlayStation, Xbox, Nintendo Switch and PC via Steam.
American Arcadia by Out of the Blue Games – November 15th 2023
American Arcadia puts you into the world of Arcadia, a city that is the most-watched reality TV show on the planet. You play as Trevor Hills, your everyday, average man who's content with his mundane life as an office clerk. However, fans of the show don't care for just how boring he is and is next to be axed unless he can escape. You're not alone though as a stage technician aids you on your way to escape the most surveilled city on the planet. With a blend of perspectives and multiple genres from first-person hacking to 2.5D platforming, the layered narrative features an all-star cast – making American Arcadia very cinematic. American Arcadia will release on PlayStation 4, Xbox One and PC via Steam.
Wizordum by Emberheart Games – November 15th 2023
Wizordum is a retro-style FPS that puts you in the role of a Mage on a quest to track down the source of Chaos. The Ancient Seal of Terrabruma has shattered, unleashing the forces of Chaos consuming the kingdom. You are one of the last Mages of Wizordum sanctuary that can stop the corruption from spreading, as your mystifying arsenal of magic will leave enemies spellbound. Embark on the campaign with multiple secrets to discover or create your own levels for others to enjoy. Wizordum will release on PC via Steam. Publisher Apogee Entertainment
Steam | Twitter
The Kindeman Remedy by Troglobytes Games – November 16th 2023
The Kindeman Remedy is described as the most blasphemous, diabolical and insane management sim game ever. You play as disgraced Doctor Carl Kindeman who's lost any respect in the medical community due to his questionable methods. In the wake of his ostracising, Kindeman takes on a job as the prison's doctor, where he can conduct his sinister experiments freely and regain his lost reputation. With the help of poisons, drugs, hazardous substances and twisted traps, you'll need to manage your resources. You won't be alone, however, as you'll be helped by Sister Anna to carry out your monstrous schemes. The Kindeman Remedy will release on PlayStation 5, Xbox Series X|S, Nintendo Switch and PC via Steam.
Loddlenaut by Moon Lagoon – November 16th 2023
Loddlenaut is a deeply relaxing ocean clean-up adventure game with a delightful low-poly art style. You play as an interstellar custodian who's been sent to clean up the pollution of an ocean planet and help the indigenous axolotl-like creatures thrive on their planet. You'll be cleaning the planet of GUP-14 after the mega-corporation GUPPI abandons it. Leaving all their mess behind as a company that sold soda to spaceships, you'll be discovering bits and pieces of their time on the planet as you make the planet a better place to live. Loddlenaut will release on PC via Steam.
In Stars and Time by insertdisc5 – November 20th 2023
In Stars and Time is a monochromatic RPG that sees you living the same few days while an evil king is slowly freezing time to a standstill. You play as Siffrin along with their band of adventurer friends who get so close to defeating the evil king until a tragedy causes them to relive it all over again. During each loop, Siffrin gains a new perspective, learning from their mistakes to potentially persevere through the loop and hope to break the cycle. You'll be encountering turn-based combat using Rock, Paper, Scissors to defeat dangerous foes. In Stars and Time will release on PlayStation, Nintendo Switch and PC via Steam.
So many brilliant-looking indie games to choose from this month. What are you thinking of picking up? Release dates are subject to change but as always you can contact us on our socials or email at hello@fingerguns.net if you want us to showcase your indie games for November. Until next month!
---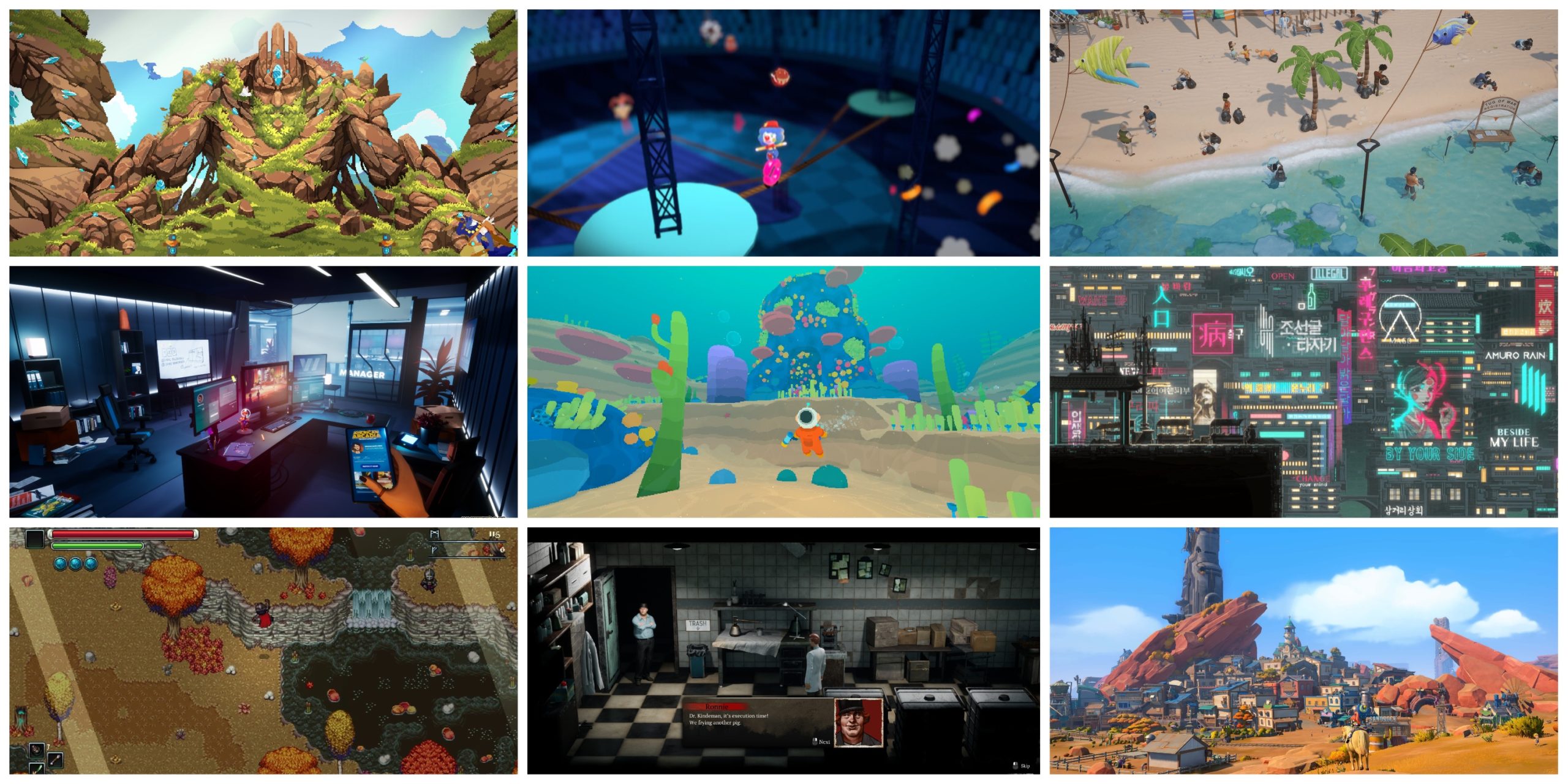 For more News on Indie Games and more click here
Make sure to follow Finger Guns on our social channels –Twitter, Facebook, Twitch, Spotify or Apple Podcasts – to keep up to date on our news, reviews and features.
If you enjoyed this article or any more of our content, please consider our Patreon.