Do old school puzzle platformers still have an audience in 2021? Out of Line aims to find out.
Do old school puzzle platformers still have an audience in 2021? Out of Line aims to find out.
In a time where games developers are looking to layer new mechanic after new mechanic after new mechanic into their titles to help them stand out from the crowd, it can sometimes feel like innovation for innovation's sake. For every critical darling that gets it right, there are just as many, if not more, that get it badly wrong. It has left me in the somewhat odd situation of wishing some games would go back to how they used to be – back in the heyday of the Xbox 360, when the Braids and the Limbos of the world ruled the roost (yes, I'm a middle-aged man, why do you ask?).
Thankfully, upcoming Steam puzzle platformer Out of Line, developed by Nerd Monkeys and published by Hatinh Interactive, looks like it might be just the game for those looking for something a little simpler, but no less enjoyable.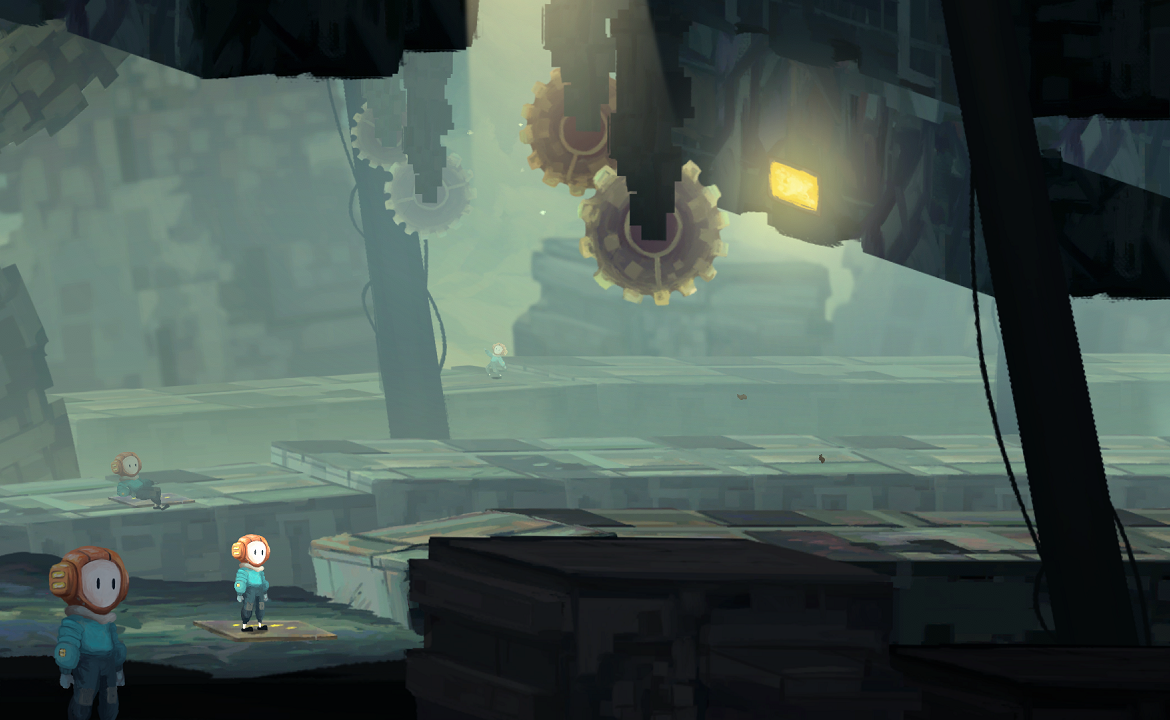 In Out of Line, you play as San, a young man seeking to escape the testing factory he has been trapped in, solving puzzles to travel through the factory's many areas, while also avoiding the sentient machinery that seeks to keep him there.
The main tool at your disposal is a seemingly magical spear. In the preview build I played, you use that spear to press buttons, act as a lever to open doors and move platforms, or even provide a temporary platform to reach otherwise unreachable parts of the room – no combat here to speak of, which in itself represented a nice change of pace.
This was pretty much the limit of what I could do in my time with the game, but the official Out of Line blog (which is genuinely fascinating from a game development standpoint, by the way) suggests you'll be able to do more upon its final release. However, what is here works very well and I actually appreciated the relative simplicity of it all. It was nice to be able to look at a puzzle and basically see the solution within a matter of seconds. Perhaps more importantly, it was nice to be able to execute those solutions without needing to rely on the lightning-fast reflexes that many modern platformers require (and which long deserted me).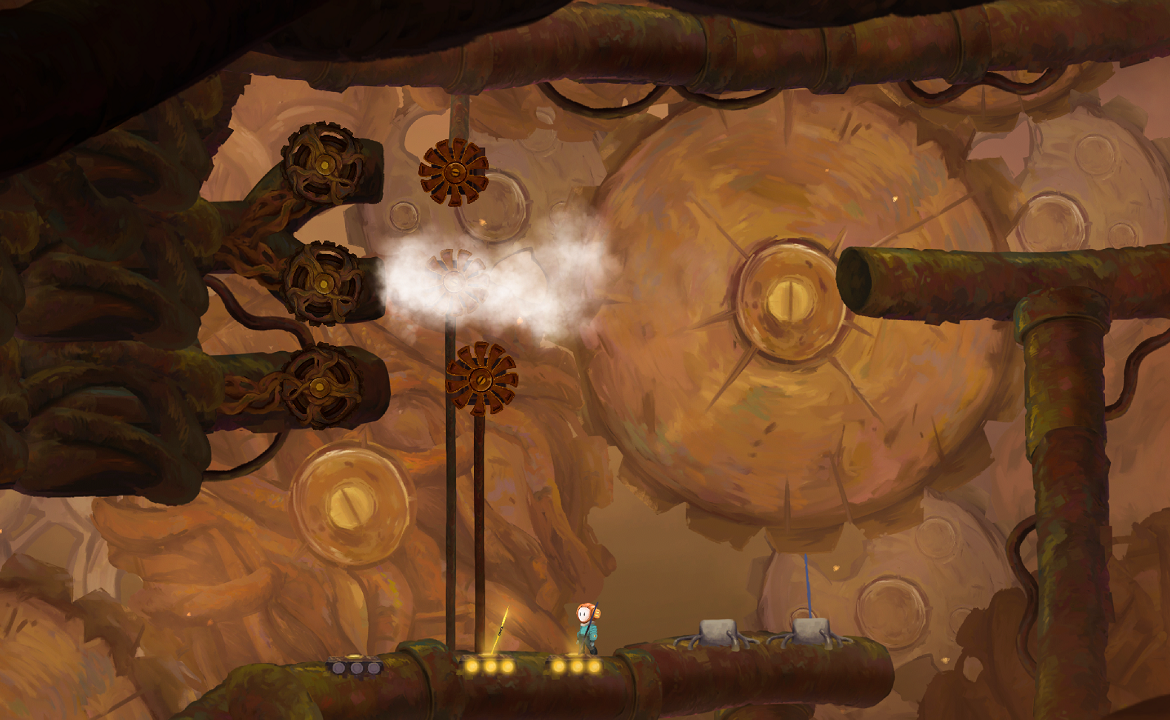 The simplicity and the more leisurely pace of the gameplay meant that I was also able to better appreciate Out of Line's excellent atmosphere – delivered via some gorgeous hand-drawn animation and intricate almost watercolour-like visuals. This all comes together to deliver a very believable world – one in which the nature and light of the environment clashes perfectly with the industrial gloominess of the situation San finds himself in. This clash can similarly be seen (or, more specifically, heard) in the game's soundtrack, which is an evocative mix of hope and despair.
Even with a fairly basic overarching narrative and no dialogue, Out of Line also manages to weave a potentially compelling tale. Within seconds of the game beginning, you quickly become aware that you're not the only one trying to escape, and the last few seconds of the build also leave you on a cliffhanger that points to interesting things going forward.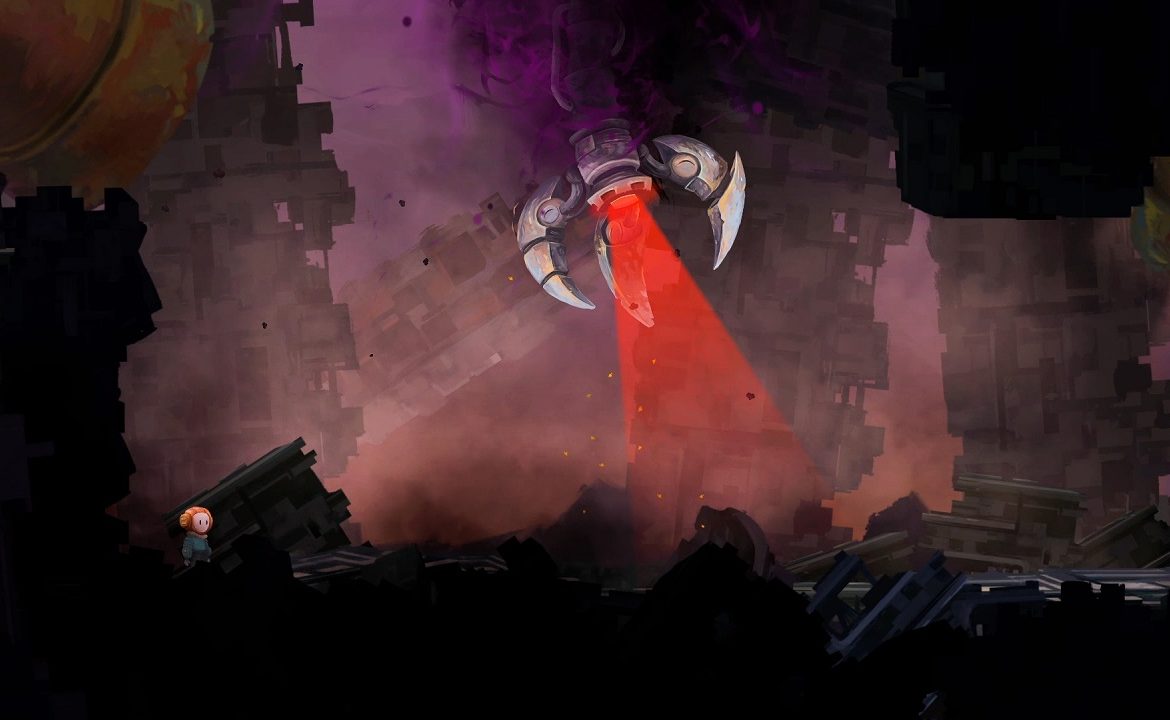 Just based on the hour or so I spent with this preview build, I would have been excited for the full release, due to arrive later this year. That time passed by very quickly, which is a testament to the game's ability to draw me in. However, knowing what I know about some of what I'll experience in the full game makes it an even more tantalising prospect – Out of Line feels pretty close to a must-play title and a nice nostalgic throwback to the kind of titles I lapped up between 2005 and 2013. Nerd Monkeys may very well be onto something special here.
It may not have much in the way of mechanical bells and whistles, but Out of Line feels all the better for it. By keeping the mechanics simple and the presentation charming, this 2D puzzle platformer evokes memories of some of the best titles from the 360/PS3 era and, as such, seems like it's going to be a very pleasant way to spend a few hours upon its release. One to keep an eye on.
Out of Line will be available on PC via Steam, Xbox, PlayStation and Nintendo Switch later this year.
Developer: Nerd Monkeys
Publisher: Hatinh Interactive
Disclaimer: In order to complete this preview, we were provided with a promotional copy of the game. For our full review policy, please go here.
If you enjoyed this article or any more of our content, please consider our Patreon.
Make sure to follow Finger Guns on our social channels – Twitter, Facebook, Twitch, Spotify or Apple Podcasts – to keep up to date on our news, reviews and features.