Finger Guns hit EGX 2023 to check out the future of indie games, here's what we got to check out that we think you should be excited about:
EGX 2023 has just wrapped and Josh, Greg and Miles descended on the annual British convention with the fervour and excitement of a kid in a mall of sweet shops, never mind just one. Of course, there were some heavy hitters on the show floor with masses of queues for all of them, but what we were really looking forward to was seeing some of the indie games coming soon.
We checked out a bunch that were on display and you can get some of our personal impressions on our EGX Podcast Special but here is a more extensive list of some of the indie games we feel you should have on your radar. There was something for everyone at this year's EGX 2023 and we want to share a peak at the future of the ever-exciting indie space.
Robobeat by Insanity Games, Simon Fredholm
Fast-paced, rhythm FPS action has become something of a favourite of mine in recent times. From Metal: Hellsinger to Bullets-Per-Minute, the genre is blossoming like a frenetic, sadistically violent flower. Robobeat, developed by single developer Simon Fredholm, base drops into the genre with punchy synth tunes, action-packed arenas and a wealth of weapons to decimate your opponents with.
The action is well-synced to the soundtrack and Robobeat has already demonstrated it has the thrills to match its predecessors of the genre. We're still utterly bemused only one person has managed to build this rip-roaring game. The music tracks are also top-class, I almost had to be torn off of the booth by force. Robobeat is scheduled for release in 2024 on PC (Steam) and if you've enjoyed any other rhythm shooters, you'll definitely want to check this one out.
Gori: Cuddly Carnage by Angry Demon Studio
You're a cat. With a hoverboard. Killing sadistic infected unicorns. Fans reactions have endearingly called Gori: Cuddly Carnage a PS3 game and I can feel the reverence players have when they say this. Gori feels like a return to an era where the goal of any game is to be heaps of fun. This game just does that as there's a whacky cyberpunk setting, with some Deadpool meta-commentary comedy going on and a propensity to not give a f***.
As your ship crash lands on a planet full of zombie-like monsters plaguing the planet, Gori tries to find a new ship. The journey is filled with hacking and slashing in virtuoso style, using combos and skate traversal to really be a cat with claws. Gori: Cuddly Carnage has a tentative date of this year as it releases on Xbox Series X|S, Xbox One, PlayStation 5, PlayStation 4, Nintendo Switch and PC via Steam.
Loddlenaut by Moon Lagoon
Loddlenaut is a deeply relaxing ocean clean-up adventure game. You play as an interstellar custodian who's been sent to clean up the pollution of an ocean planet and help the indigenous axolotl-like creatures thrive on their planet. You'll be cleaning the planet of GUP-14 after the mega-corporation GUPPI abandons it.
Leaving all their mess behind as a company that sold soda to spaceships, you'll be discovering bits and pieces of their time on the planet as you make the planet a better place to live. The game has a sweet low-poly art style and whilst we were at the booth we saw people of all ages enjoying the game – making it a treat for everyone to play. The game releases 16th November 2023 and you can play the demo now on Steam.
Bō: Path of the Teal Lotus by Squid Shock Studios
Taking inspirations from Japanese folklore, Bō: Path of the Teal Lotus is a 2D metroidvania that has a brilliant hand drawn art style. The game has a focus on aerial and acrobatic combat that sees you dashing around the levels with finesse as you undertake a mystical journey. You play the titular celestial blossom Bō who has descended from the heavens to fulfill an ancient prophecy.
It has fast and frinetic traversal and combat that will sasciate any action fans, whilst you come across wonderfully designed yokai monsters in a Japanese metropolis. The game has a potential release of 2024 and it's definitely one for those who love your Hollow Knights or Ori titles. You can wishlist Bō: Path of the Teal Lotus now on Steam.
Tea Is Served by TeaIsServed
Tea Is Served had an aloof appearance at EGX 2023. Flyers were handed out inviting you to have tea with Dracula and his friends at their booth. This is a VR title from a small group with the help of Story Futures to make the game a reality where you are taken hostage by Dracula to serve him and his friends' tea.
In the span of the demo, you have to serve the right food and drinks by order of the host, whilst hearing all the stories that the rogues gallery of monsters have to offer. Guests like the Loch Ness Monster, the Chupacabra, the Wendigo and even more are the attendees of the invite and you have to play flawlessly or else you're the dessert. The team are looking for a publisher to help get this game out there for players and you can find them on their socials @TeaIsServedGame on Twitter and Instagram. There's also a trailer for it right here.
Leximan by Knights of Borria
Leximan is a wonderful wizarding adventure that sees you using your words in a spellbinding way. You've just so happened to be enrolled into the most prestigious magic school: Academy Elementia. Here you'll learn the magic of Leximancy a stupendous branch of magic that makes players use their entire lexicon of vocabulary to spellcast. After the school is attacked by a nefarious evil, it is up to you, a basement dwelling spell caster to save the enitre school from being taken over.
The game has a very irreverant style that really makes me look to games like Undertale and Eastward if I was to compare. It has very oddball humour and a really crunchy looking pixel art style where your words are they key to combat encounters. Leximan doesn't have an official release date, but we are super excited to get our hands on this again.
Two Strikes by Retro Reactor
A fighter game inspired by Akira Kurosawa's 1954 samurai classic Seven Samurai, Two Strikes is all about pinpoint action. One heavy attack is enough to spell your doom, as you parry, feint and jostle for that singular opening to strike your opponent down. Promising to host nine unique playable characters, offline and online versus modes and single-player content, this could be one worth drawing your katana for.
Two Strikes is currently available from Steam via Early Access and there's also a demo if you'd like to give its ruthless precision action a go. We'd heartily recommend giving it a try, as nothing slices quite like a shimmering sword swing into the body of your friend's avatar. We're a friendly bunch, aren't we? Oh, and the art style is gorgeous, such a shame we have to get blood all over it.
Com__et by SuperBiasedGary
Part of the Leftfield Collection booth at EGX 2023, Com__et is a queer romance/horror visual novel that blends photography and 2D animation into one storytelling experience. There are many ways to mess up in the game, but through experimenting and sifting your way through dialogue options unlocks more during your playthrough as you learn more.
With four original songs, a dynamic soundtrack and multiple endings (though only one true ____ ending) the game will release 31st October 2023 on PC via Steam and itch.io
Valley Peaks by Tub Club
Made by the two people at Tub Club, Valley Peaks sees you assuming the role of a frog whose job is to climb up all the summits in a mountainous paradise to help signal boost the radio. The game is in first person and each trigger (on a controller) represents each arm for you to climb with. Your amphibious limbs stretch far but there is real emphasis on the physics and momentum you build whilst climbing.
As we were watching others play and experiencing it ourselves, there's a definite one-size-fits-all approach to the game mechanic as you can be as precise and tactile or treat the game like one singular speed run challenge and manipulate the climbing to suit you. It's an open-world game which makes the exploration a key factor in the brilliance of Valley Peaks. Alongside all the charming locals to meet and clubs to partake in whilst you're enjoying the ascent. You can play the demo on their Steam page right now.
Spirit Of The Samurai by Digital Mind Games
After a village suffers an attack from demons, samurai Takeshi reanimates to take on the Oni army to stop them from total devastation. Takeshi isn't alone, however, as he's joined by a cat and a spirit who'll both aid his journey against the underworld. The game is a 2D action adventure that has a distinct stop-motion art style that brings the character models to life.
The technique used for such an effect was to take the game's 60 frames drop it to 24 and splice between the two frames. Combat is tough as you use the right stick directionally to attack how you want and pull off combos that you design. This was the first time players got to check out the demo of Spirit of the Samurai outside of Japan. Whilst the game is a way out in terms of release, the game's unique style and inventive combat are reasons enough to keep it on your radar. You can wishlist it now on Steam.
Make Way by Ice BEAM
The biggest problem with most family-friendly racers is that you can't contort the track to ruin your mate's day. Make Way is the solution to this (admittedly very niche) problem. A jolly, entertaining racer for up to four players where you can each select chunks of the track and connect them like a Scalextric set. It's surprisingly addictive and hugely entertaining, boasting multiple modes from casual races to sadistic friendship-busters.
Great fun for both adults and kids alike, Make Way will… make… for a fantastic party game. Alternatively, you can use it to aggravate that one friend you just like winding up. The racing mechanics are on point, the powers are wild and the track manipulation is the star. Make Way is coming soon for PC, PS4/5, Xbox Series X|S, Xbox One, and Nintendo Switch. There's also a free demo available on Steam.
#BLUD by Exit 73 Productions
After working for mainstream television networks creating animation, Exit 73 Productions are now dipping their toe into video games with their debut #BLUD. With the main inspirations being Powerpuff Girls meets Buffy the Vampire Slayer, Exit 73 have concocted a sublime ode to 90s cartoons, all whilst showing their extreme talent in animation.
You play as Becky Brewster, the last bastion against a vampire apocalypse who just so happens to still be getting through the school year. The game has a heap of dungeon-crawling, puzzle-solving and most of all a lot of blood. For those who had fun with games like Dodgeball Academia but could have done with a bit more bite, look no further than #BLUD. There's no official release date yet, but we'll be sure to update you on the release.
Stampede: Racing Royale by Sumo Leamington
If Fall Guys and Mario Kart had a baby, Stampede: Racing Royale would be the vehicular offspring. Compete in races of 60 players, then 40 and finally 20 (if you make it that far) to be crowned champion of the Racing Royale. With a variety of maps and typical items to launch at your opponents, it makes for the most chaotic gathering of wildly dressed avatars imaginable.
Stampede: Racing Royale has a playtest occurring right now that you can request access to if you want to test your racing chops against the masses. The Early Access release is should arrive on November 2nd for PC (Steam).
Book of Abominations by Magination Games and Jan Huss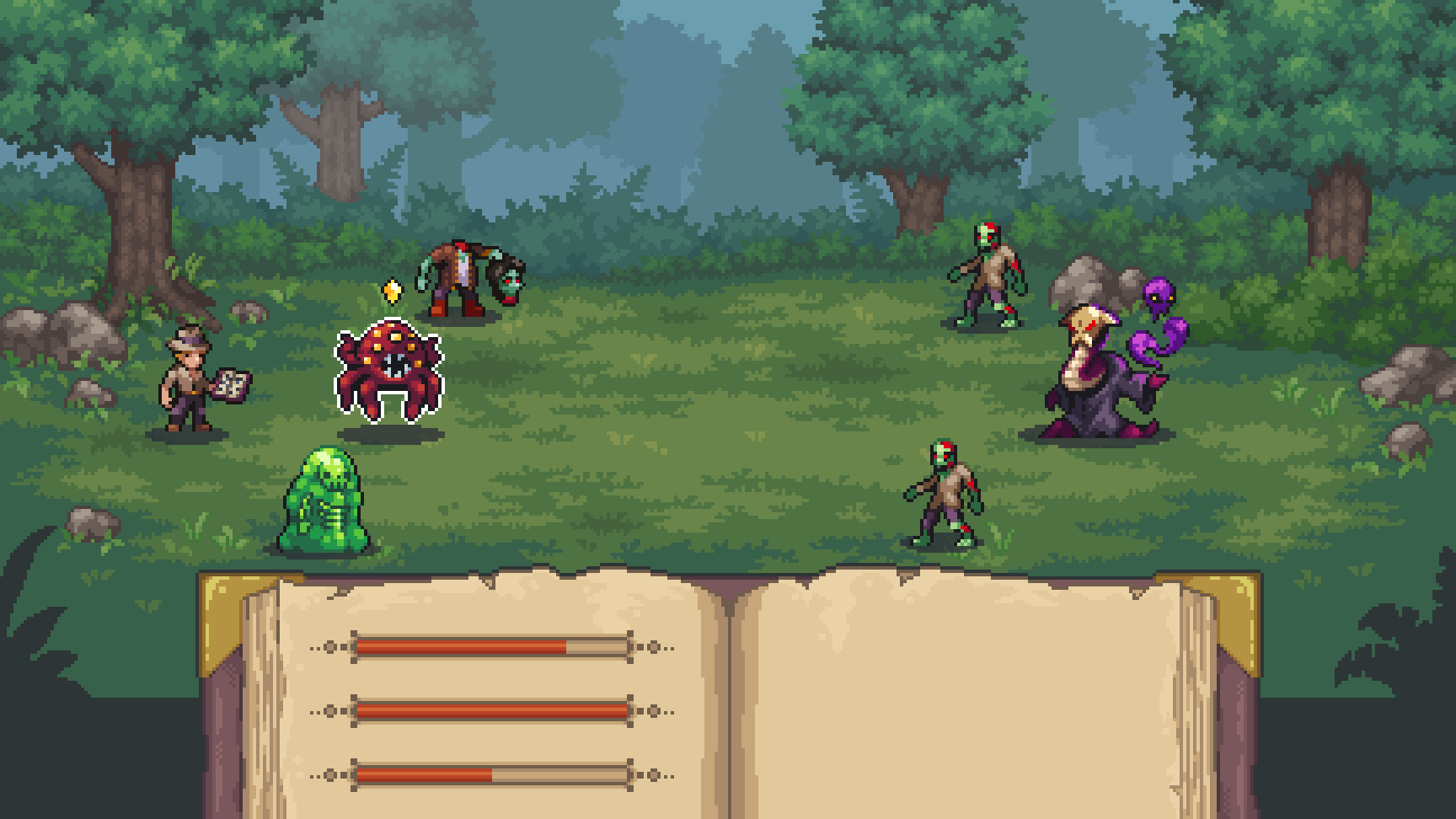 Details are very slim on the game as it doesn't yet have a Steam page, but the demo always had someone playing as I kept trying to check it out. Book of Abominations is a Lovecraftian monster-collecting RPG that boasts a wonderful 2D pixel art atyle.
They just won the Dare Academy 2023 award at this EGX 2023 event and I can't say it's surprising. There's turn-based combat with the monsters you collect, crafty RPG elements that I got to see first hand and overall just a very cool look. I think this may be a game the furthest away in terms of release but right now you can follow the game on Twitter.
The Precinct by Fallen Tree Games
Ever wondered what it would be like to be on the law-abiding side of a Grand Theft Auto game? Wonder no more, as The Precinct, from Fallen Tree Games, delivers on this premise with gusto. You take on the role of a rookie cop in a crime-ridden city, ready to take the fight to the bad guys. Show restraint by making non-lethal arrests, draw your weapon in challenging, brutal combat and engage in both car and helicopter pursuits.
The Precinct has a couple of exciting systems to play around with – calling in backup, deploying spike traps, bringing in armed squads and the like. With a fun sandbox map to cruise around in and the ability to lay the hurt on criminals galore, going through the Police Academy should be worth the hassle. Just watch out when driving around, hitting pedestrians isn't as forgiving like in GTA, who'd have thought?
The Precinct should release sometime in 2024 on PlayStation 5, Xbox Series S/X and PC (Steam).
When The Light Dies by Electric Monkeys
Vampire Survivors meets Don't Starve in this survival action rogue-like from Electric Monkeys and PQube. Can you ward off the waves of increasingly aggressive and powerful foes while still managing your sanity? Best stay next to the fire as long as you can, exploring this world isn't for the faint of heart. With a host of unique weapons to master, abilities to understand and enemies to survive, When The Light Dies should be a compelling rogue-like title.
It will be releasing some time in 2024 and it'll be coming to PC via Steam. It's also very hard, as it offed both Miles and Josh by day three in their pathetic attempts to survive its desolate, dark world. Might need that time until 2024 to practice.
Billie Bust Up by Giddy Goat Games
We all need more Banjo-Kazooie in our lives, don't we? Billie Bust Up is the latest charming 3D platformer you should earmark out for yourself. Inspired by animated films and a smashing series of musical numbers, you'll be hard-pressed not to fall in love with its style. Billie brings back the old-school wit of 90s platformers, with a certain snark that'll keep a smile on your face throughout.
An imaginative odyssey filled with fantastical characters (not least of all the villains), Billie Bust Up is shaping up brilliantly. There's no firm release date as yet, but it will be coming to PC via Steam in the future. Trust me, the songs will likely stay in your brain all the way up until it finally releases. I'm still humming what I heard in the demo…
Dead Meat by Meaning Machine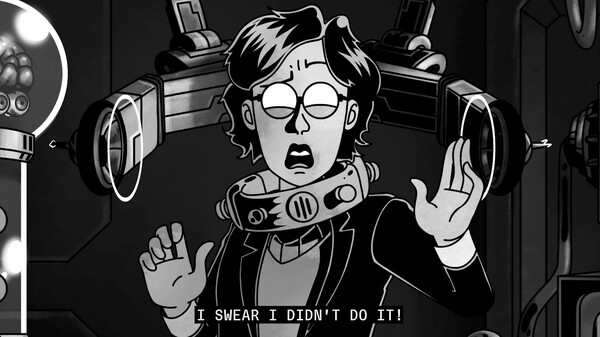 Dead Meat sees you interrogating a Lucia as she may or may not have just killed her husband. Through various methods of conversation tactics that you'll speak aloud into the game, to hopefully get a confession before her lawyers turn up.
You can see the effects of your interrogation skills with the Mind Reader 3000 which monitors her heart rate and use the mind reading capabilities of the machine to unlock new dialogue paths. This has a release window of 2024 and you can wishlist it now on Steam.
Bulwark: Falconeer Chronicles by Tomas Sala
Ready to conquer the ocean isles in your very own supped-up zeppelin, establishing lighthouse bases as you go? Bulwark: Falconeer Chronicles might be right up your… street?… sea?… body of water? Anyway, Bulwark is the work of a single developer, built off the concept of base-building and exploration. Take to the skies in your floating fortress to explore an expansive oceanic map, or drop to ground level and set up your bases with an intuitive control scheme.
With faction relationships to manage, combat with power-hungry opponents to navigate and resources to gather, Bulwark: Falconeer Chronicles will have plenty to keep you busy. This one still has a bit of a ways to go until release, but it will be releasing via Steam once it's good and ready. There's also a demo on Steam you can check out if you'd like to catch a glimpse of its compelling amalgamation of systems.
---
There you have it. A boatload of video games from all different genres and development backgrounds for you to feast on. We hope you found something to tickle your fancy from the list and if you also attended EGX 2023, we hope you had a fantastic time sampling all the convention had to offer. We know we certainly did!
For more News click here
If you enjoyed this article or any more of our content, please consider our Patreon.
Make sure to follow Finger Guns on our social channels. Twitter, Facebook, Twitch, Spotify or Apple Podcasts – to keep up to date on our news, reviews and features.