Shadow Gambit The Cursed Crew smashes together stealth and pirates. Do they fit like a key in a treasure chest, or should it be sent to Davey Jones' Locker? The Finger Guns review:
Shadow Gambit: The Cursed Crew is out now on PlayStation 5, Xbox Series X|S and PC via Steam. It's the incredible third strategy stealth game from Mimimi Games, makers of the already very accomplished and very well-received historical stealth games, Shadow Tactics and Desperados III. Somehow their new one is bigger and better, redesigned, sped up and perfected. Oh, and it's full to the crow's nest with cursed pirates. If you want to read our full thoughts, check out the PC review over here.
If you want to read a few extra thoughts on the PlayStation 5 version alone stay right here and read on.
Controlling A Ghost Ship
So, if you've just joined us from the PC review, everything I said there still stands. The versions are largely identical, and any information on story, characters, gameplay mechanics, sound and music is valid here also. Where they may differ just a little is in controls, graphics, and performance.
Don't fret that generally this type of game (top-down strategy titles) performs best with a mouse – that's not the case here. The Dualsense suits the overall controls and central function of the Red Marley's save mechanics completely and pressing the touchpad for instant saving feels instinctive and satisfying. Controlling the camera on the PC version was more a case of experimenting with the options until I found something that felt natural – on PlayStation 5 everything had been automatically optimised and camera direction and control were responsive and natural. I can never keep track of whether I prefer inverted or not, but the default on PS5 was right.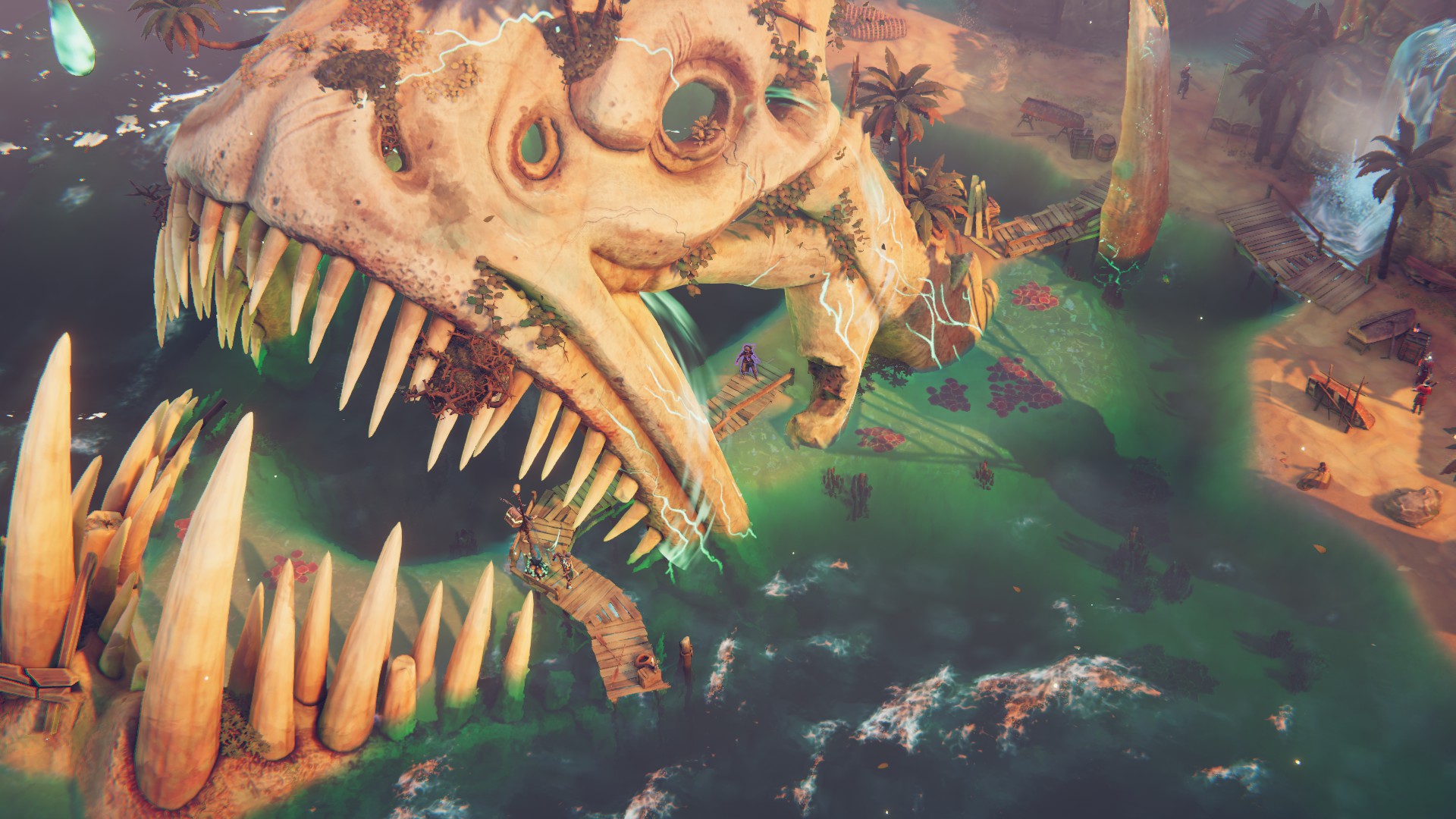 The Black Mark
There is virtually no distinguishing difference between the graphics and performance on PlayStation 5 and a mid-to-high-end PC. Of course, if you have something lower-end, you may want to opt for the console version. The graphical style is such that it's not trying to achieve hyper-realism but more of a stylised approach, and Shadow Gambit on PS5 achieves a solid and constant 60 FPS throughout. If anything, it's possible the game looked even crispier on a nice high-end TV with a massive screen, than it did on my smaller monitored PC setup.
PlayStation 5 trumps Steam in that I find trophies more fun to get, and the overall platinum more fun to chase, than achievements. As in Mimimi's previous games, badges are earned throughout the game for doing a few hundred different criteria. These then correspond to trophies for completing a certain percentage of the badges and finishing character stories.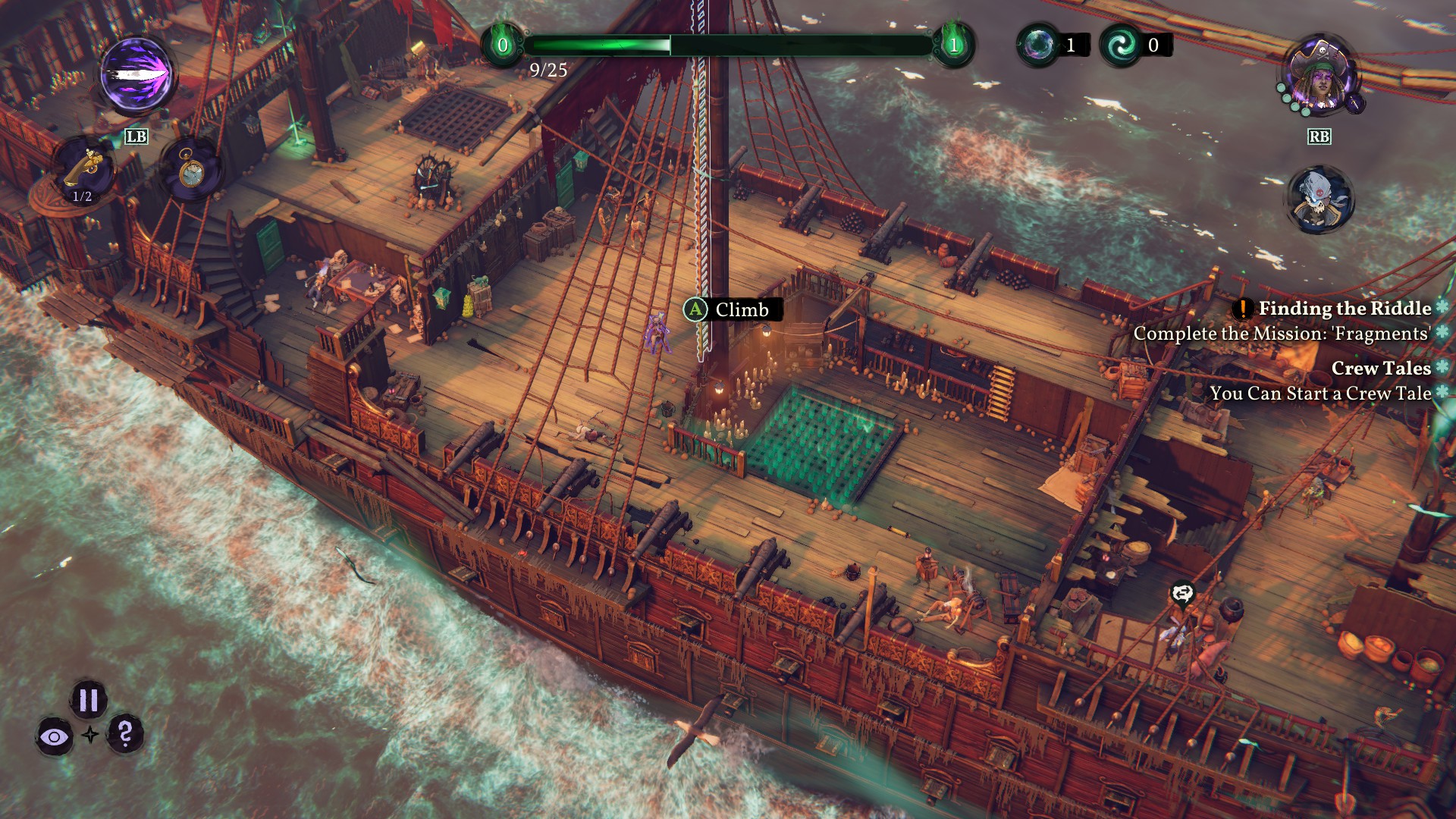 The Joys Of The Open Sea
As you will know from the full review, Shadow Gambit The Cursed Crew is Mimimi Games off the leash. New IP, revised controls, any order mission structure, supernatural stealth powers and quicker gameplay. There's a joyful no-holds-barred feel to the whole game, and an outstanding level of quality. Mimimi Games have outdone themselves.
Shadow Gambit The Cursed Crew has managed the seemingly unthinkable – washed Shadow Tactics and Desperados III down into second and third place and established itself as the best IP and the best game Mimimi have made to date. I'm not mincing words to say this is possibly the most fun I've had with a stealth title since The Phantom Pain, and in my mind, I now look forward to the hopefully ongoing 'Shadow' series with as much excitement as any new entry to Metal Gear or Splinter Cell. Cursed? Blessed, more like.
---
A masterpiece on any system, Shadow Gambit The Cursed Crew is a high-performance wave-slicing ghost ship on PlayStation 5. Making lovely use of the Dualsense and optimising controls for console, you've got the absolute best version of pirate stealthing on your massive living room telly box.

Shadow Gambit: The Cursed Crew is available now on PlayStation 5 (review platform), Xbox Series X|S and PC via Steam.
Developer: Mimimi Games
Publisher: Mimimi Games
Disclaimer: In order to complete this review, we were provided with a promotional code from the publisher. For our full review policy, please go here. If you enjoyed this article or any more of our content, please consider our Patreon.
Make sure to follow Finger Guns on our social channels. Twitter, Facebook, Twitch, Spotify or Apple Podcasts – to keep up to date on our news, reviews and features.