Gioteck make no frills peripherals. But that doesn't mean they look boring. Find out why inside, with the Finger Guns review:
The folks at Gioteck were kind enough to reach out and offer some controller charging docks for review. As someone who's never really bothered with them, I thought I'd give them a go.
They were generous enough to send both a PlayStation 5 and an Xbox One/Series S|X dock, so I put them both to the test. A short and sweet review, let's see if these bits of kit are a welcome addition to the gaming arsenal: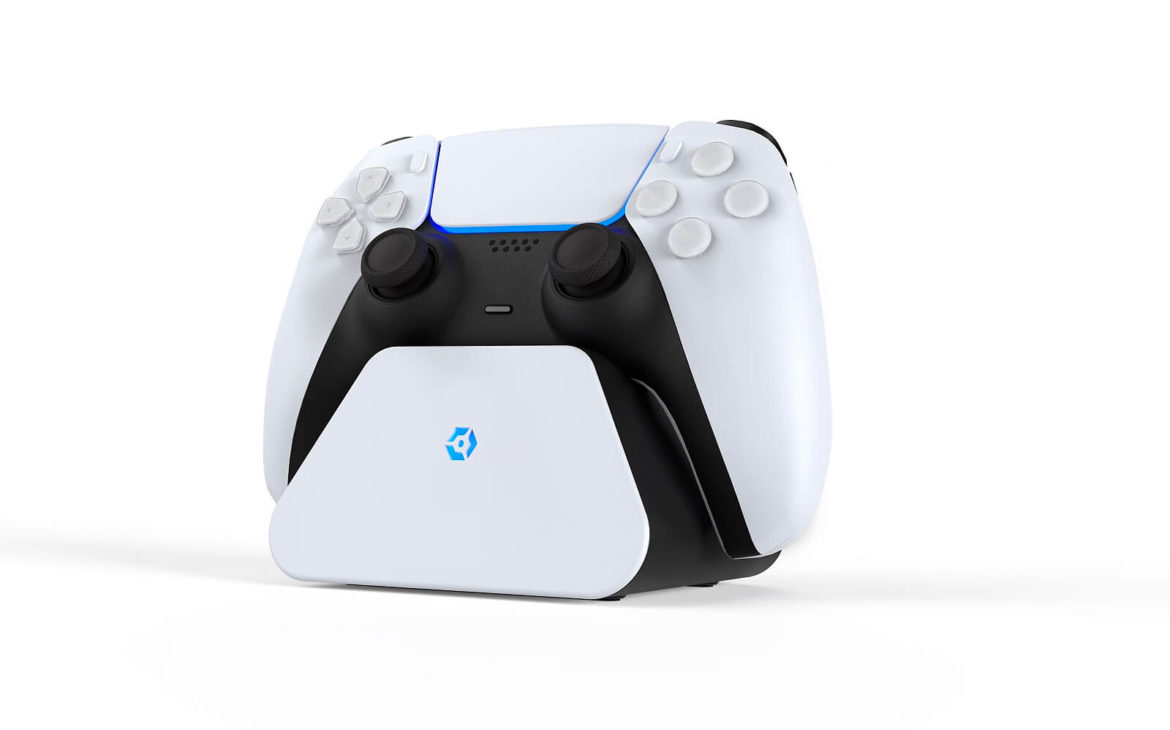 Looks
The designs of both the Solo and Duo remind me of Tyrell's building in Blade Runner, a kind of pyramid/Toblerone vibe to them. The Solo is a bit more upright, in both looks and how it charges, whilst the Duo has a more sloped appearance. The base units are black, but they come with changeable faceplates.
So for me, I quite like having a white plate to match my PS5 and controller, and likewise for my black Xbox and controller. Conversely, if you had a white Xbox One S/Series S, it would look just as striking next to those.
The front of each unit has a charge-indicating LED, which again corresponds to the console. The PlayStation one is blue when not charging, orange when putting some juice in. The Xbox, much like the console's power button, is white when idle and orange whilst charging. It's a little thing, sure, but it's a nice touch.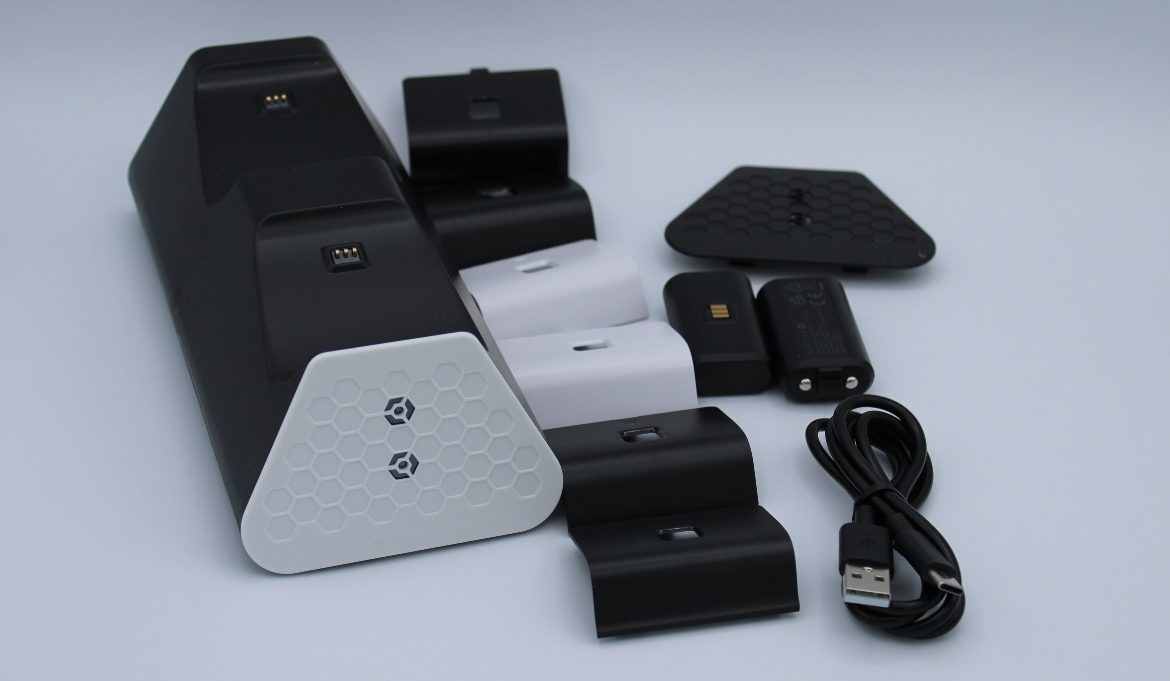 Setup
Setting up each of the docks is easy enough, more so for the PlayStation version. Utilising the same USB-C connection, I just used my official charging cable in the dock for a little bit of extra length to fit on my TV unit. Otherwise, each Gioteck dock comes with a cable, and a second port to run another off of it.
As I say, short and sweet: straight out of the box, take out the cable and you're good to go. I've got the PlayStation one running out of the front, whilst the Xbox one is running out of the rear USB port.
I did have a fiddly time getting the battery back into the Xbox controller, but that's more to do with my pad being one of the older ones. It does stay though, there's no danger of that.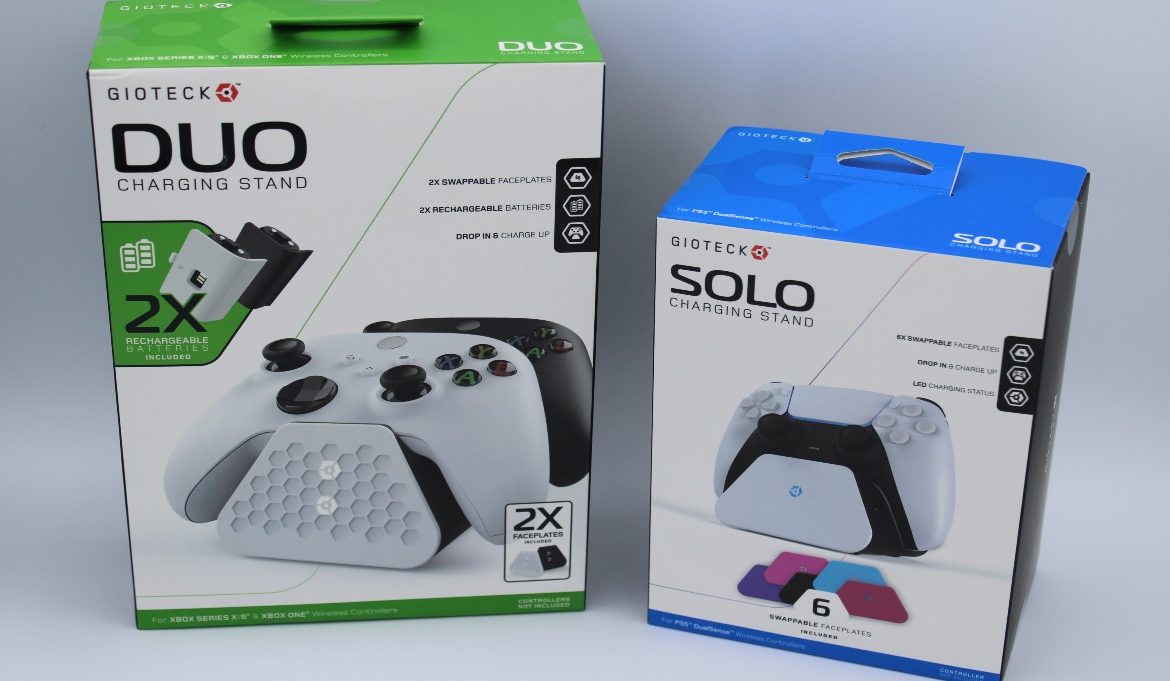 Charge Time and Battery Duration
Given that I use my PlayStation a lot more than my Xbox, the Solo was the more frequently "stress tested" of the two. I never run the battery down to completely dry (I don't have a spare if I do), but I try and let it get low enough to warrant a decent charge. With the PS5 on rest mode, I'd usually see that charge like go blue to signify charged within an hour.
The Duo, as the name suggests, comes with two packs and space for two controllers to dock. Again, I only have one so I'm limited in what I do. However, much like the Solo, the Duo would be fully charged in about an hour or so, whilst there was always a spare pack to switch to if needed.
In regards to charge, I'd say a full PlayStation charge lasted about ten hours or so, depending on whether a game was DualSense-heavy or not. As in: if it relies on trigger effects and controller speaker audio, it would wear down quicker.
By comparison, with an old Xbox One controller with no bells and whistles, easily lasted about fifteen hours on a full charge.
Final Verdict
Not being a peripheral kinda guy, as in "That default cable will do", these two have changed my mind. That they're coincidentally colour-coded to my consoles, fit either side of my TV, as well as just funky to look at, are all bonuses in my book.
Personally, I'm not getting the full benefit of the Duo. Given I've got one controller, balancing the spare pack on the pins to charge is fiddly. But granted, that's a me problem. As with the PS5 Solo, I only have one pad at a time to charge. Fortunately, if I stick a film on, it's nicely nestled in the dock charging whilst that's playing in the background.
Neither are revolutionary, nor promoting anything special. But if you're looking for some new additions to spruce up your setup, you can go far wrong than Gioteck Solo and Duo charging docks.
---
If you're looking for something simple yet functional, stylish yet not extravagant, then this is what you need. Gioteck have packed each dock with a few customisable options, and with a simple setup, you'll have some nice kit beside your consoles in no time.
Disclaimer: In order to complete this review, we were provided with retail versions of the equipment from Gioteck. For our full review policy, please go here.
If you enjoyed this article or any more of our content, please consider our Patreon.
Make sure to follow Finger Guns on our social channels –Twitter, Facebook, Twitch, Spotify or Apple Podcasts – to keep up to date on our news, reviews and features.