Lawn Mowing Simulator arrives on PS5 and it's well worth jumping the fence to play on this one. The Finger Guns Review;
Lawn Mowing Simulator arrives on PS5 and it's well worth jumping the fence to play on this one. The Finger Guns Review;
Lawn Mowing Simulator is better than it ever should have been. There's something utterly glorious about the absolute zen of cutting grass and making some serious bank when doing so, creating an entire empire by cutting daisies is a dream I never knew I had, and there's something about it which is intoxicating. Especially because I have astro turf at my place because I have next to no interest in doing this in real life. In the virtual world? I'm all about cutting grass and being productive and whatnot.
Ergo, this is one of those reviews where we've already reviewed it, so I'm not going to go into huge detail here as you can read everything you could ever wish to know about this cracking title right here thanks to the almighty Sean Davies. I'm here to merely give you a semblance of how the game plays on PS5 and if it's worthy enough to stand alongside the likes of Returnal, Horizon Forbidden West and Ratchet and Clank instead of Halo, Forza and the other one (spoiler; it is).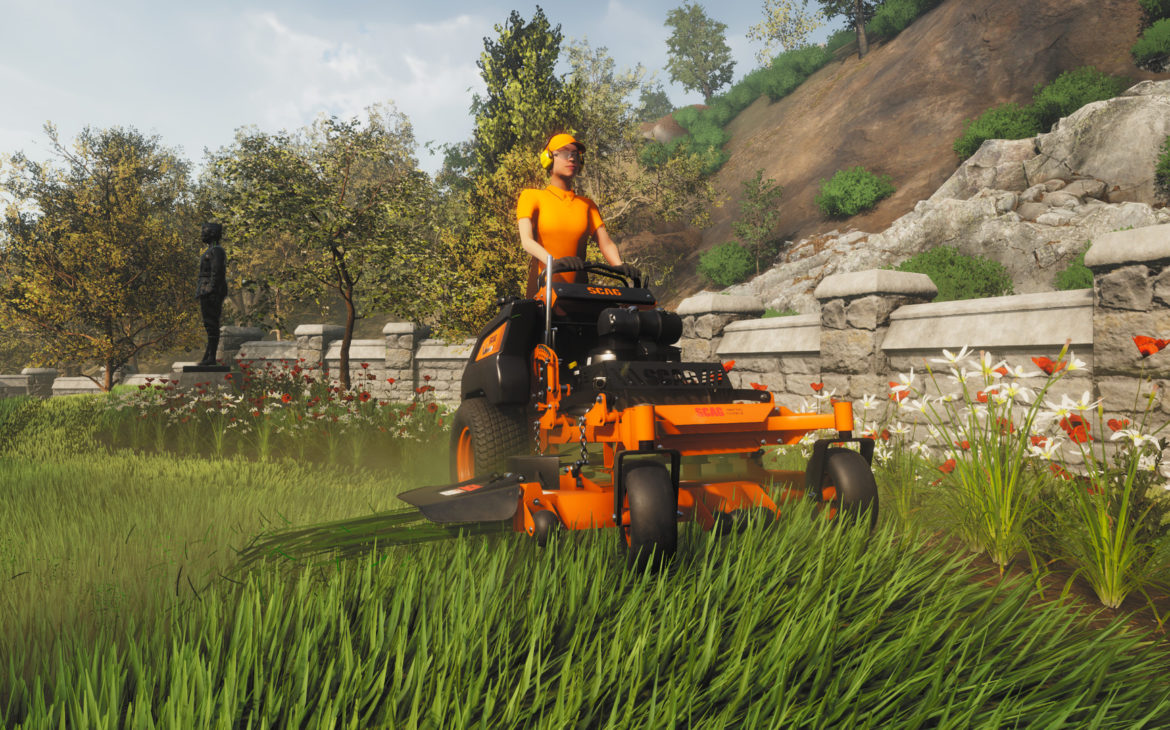 At least gameplay wise, there's very little to add that hasn't already been said by Sean in his review. Before you begin your lawn mowing of course, you'll need to check the lawn for objects that may get in the way of your almighty task. Upon completion, jump upon your lawn mower and get strimming. WIth a strimmer actually, if you like. The way you tackle the lawn is really up to you. There are different ways you can attack this, either by going around the sides first and then tearing it through the central areas with reckless abandon, or by going all out, sitting upon your sit-on mower, setting your cut heights and falling into a zen state of pure grass cutting wonderment with little to no care for your real life because this is vastly more important.
When I went wrong, I cursed the gods. Damaging the lawns and gardens is a feeling much like repeatedly losing to a boss in Elden Ring (probably). How serious the game takes the act of mowing a lawn has to be commended, and it's well worth matching the game in that level of seriousness as you will get punished for reckless mowing, you bloody scoundrels.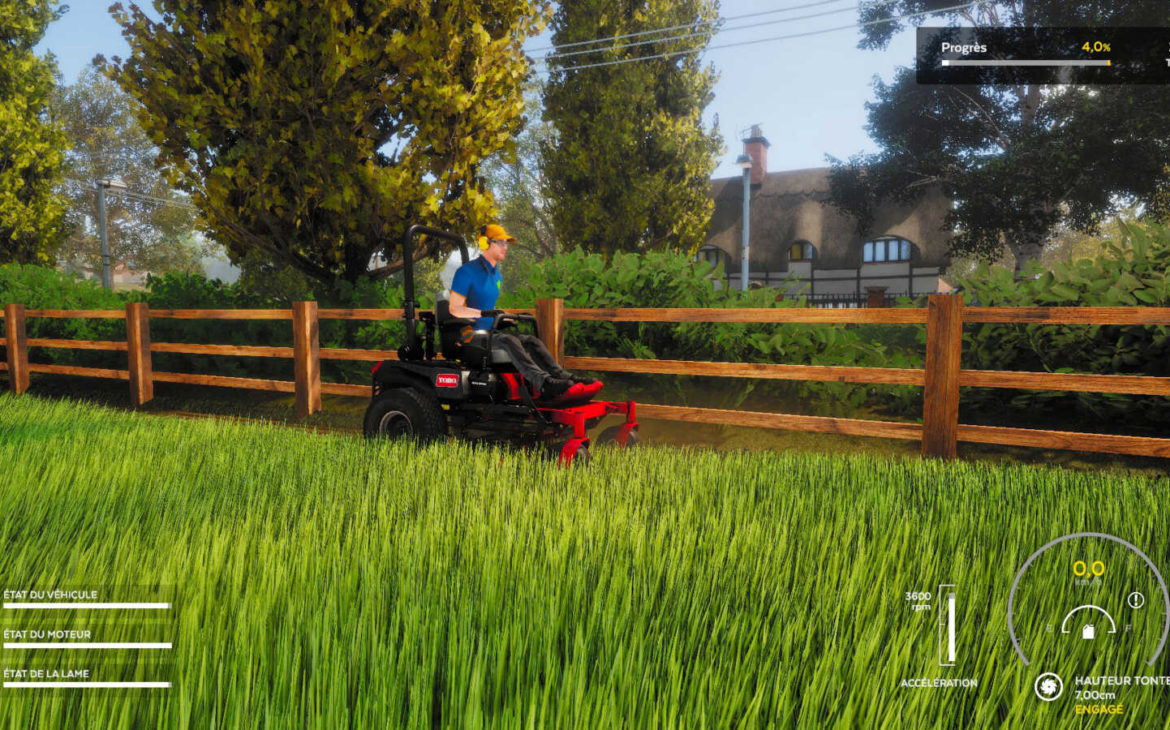 In terms of the PS5, Lawn Mowing Simulator certainly doesn't feel like it's been massively overhauled, and certainly doesn't take advantage of the consoles unique features. Particularly the DualSense, where there could have been some cool haptic feedback on the sit-on mowers, for example. It's a straight port which may disappoint some players who were looking to find how it really feels sitting on the back of the almighty Toro Groundmaster 3300. Sadly, you won't find out here, which honestly is a real shame.
Visually, there isn't an awful lot to sing from the gardens about. The character models have reminded me of Cuisine Royale characters. Just kinda there, dead behind the eyes devoid of any real personality you can hang your hat on. It's a little lifeless in places and this next-gen push could have amped it up a few notches. The scenic panoramas and views certainly catch the eye, but are quickly tarnished with pop-in, something that miraculously we're still writing about in 2022. We're not talking South Park 64 levels here but it's immediately noticeable.
Still, one imagine if you're at all interested in Lawn Mowing Simulator you don't give two blades of grass about the visual fidelity. And fortunately under the hood of this Toro Z Master 7500-D of a video game there's plenty to enjoy, perhaps unexpectedly.
I wanted to give it a go after Sean's review and it's been a while until I've had the chance to really get stuck into this particular garden party. I'm glad I finally got around to it. After days at work there's something relaxing about virtually making millions upon millions cutting lawns and putting your feet up, knowing you've done a good old fashioned days work and all you've had to do is pick up a controller.
Now that's the dream, right there.
---
Lawn Mowing Simulator lands on PS5 in a good condition, though the lack of PS5-only features and a little bit of spit and polish wouldn't have gone amiss. Thankfully, the zen wonderment of this game remains, and there's really nothing else like it.

Lawn Mowing Simulator is available now on Xbox One, Xbox Series S|X, PS4, PS5 (reviewed) and PC via Steam.
Developer: Skyhook Games
Publisher: Curve Digital
Disclaimer: In order to complete this review, we were provided with a promotional copy of the game. For our full review policy, please go here.
If you enjoyed this article or any more of our content, please consider our Patreon.
Make sure to follow Finger Guns on our social channels –Twitter, Facebook, Twitch, Spotify or Apple Podcasts – to keep up to date on our news, reviews and features.