Monster trucks have had a rough ride in video games over the years. Can Teyon buck the trend? The Finger Guns review.
Like many of us who spent the majority of our childhood in the 1980s, I've always had an interest in monster trucks. Essentially pick-up trucks perched on top of absolutely outrageously-sized wheels, like some kind of redneck penny farthings, these behemoths dominated my Saturday afternoons. I was fascinated by the likes of Bigfoot and Grave Digger bombing it round big dirt tracks and making impossibly large jumps over wrecked cars. Times have moved on, of course, but can Teyon's Monster Truck Championship (published by Nacon) help me to recapture that childlike feeling of wide-eyed wonderment?
History is certainly stacked against it, given the somewhat chequered past of monster truck games over the last 30+ years. However, one of the most positive things I can say about Monster Truck Championship is that it very much reminded me of my time with racing games in the PlayStation One era, which might actually be my favourite era for racers.
This starts with the presentation. Not that I'm suggesting that it looks like a PS1 game, of course. This is 2021. But it does that thing that good nostalgia bait – intentional or not – does, in that it does a pretty good job of looking how I remember PS1 racing games looking. The graphics won't blow you away (although there are some lovely sunlight effects on display), but stadiums are well detailed and the vehicle models are big and chunky.
Speaking of the vehicle models, the size would serve for nothing. if the physics of them wasn't right. Thankfully, it's another tick in the win column here. Monster Truck Championship maintains a solid balance between making the trucks feel suitably hefty and grounded, and making the controls loose enough to allow you to powerslide around any corner. The game also offers options to tweak your experience, the most pertinent of which is whether or not you want damage to be visual-only in nature or have a genuine effect on the driving experience. It's a handling model that ensures races are a fun jostle – somewhat reminiscent of the excellent Wreckfest, in fact – and not a staid slog.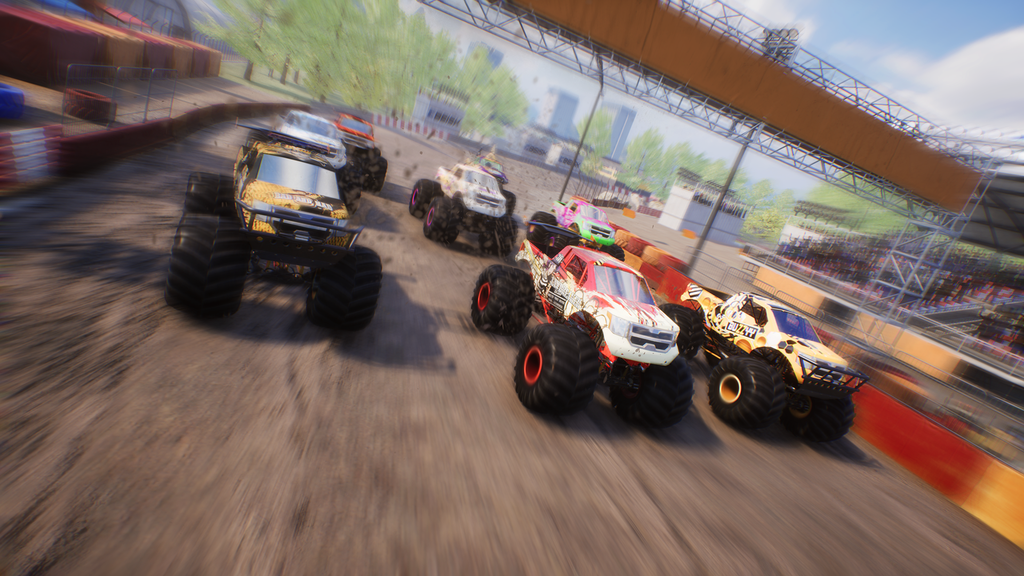 Getting the driving right is, of course, the key thing for any driving game, and – for this alone – Monster Truck Championship deserves credit. However, what separates the 'good' racers from the 'great' racers is often how much you can do behind the wheel and, unfortunately, it's here that Teyon's release falls a little short.
I wouldn't go as far as to suggest that it's a barebones game, but the fact is that once you've seen its limited number of race and event types, there's no real live content element to keep you engaged long-term. Monster Truck Championship's flagship mode is Career, which will immediately feel familiar to anyone who has played a racing game's career mode in the last 10-15 years.
You are initially presented with a generic vehicle and a first event to participate in. Win that event, and you'll be given some cash to play with, a choice of sponsor who will pay bonuses for meeting certain objectives in the next event, and the ability to add staff to your team. These staff manifest as perks – either positively affecting your vehicle by increasing grip, reducing in-race damage etc or by offering financial incentives, such as further income bonuses or the reduction of event entry fees. You can then use any accrued income to buy new bits for your rig, hire more staff or paying to enter new events.
It's a perfectly acceptable career mode that doesn't do anything particularly wrong, but there's an overarching feeling that all of the bits and pieces outside of the races themselves don't actually add a whole lot. Some of the aesthetic items you can buy are nice and add some much-needed colour to affairs, but the items you would expect to change the driving experience – new engines, brakes etc – didn't make the game feel materially different. As such, it all felt a little unneccessary. I'll say this much though – every race or event mode is very fun and kept me playing for longer than I might otherwise have done. Freestyle, in particular, is a terrific showcase for the game's controls – nailing a perfect back somersault with a monster truck is one of my favourite things that I've done in a game this year.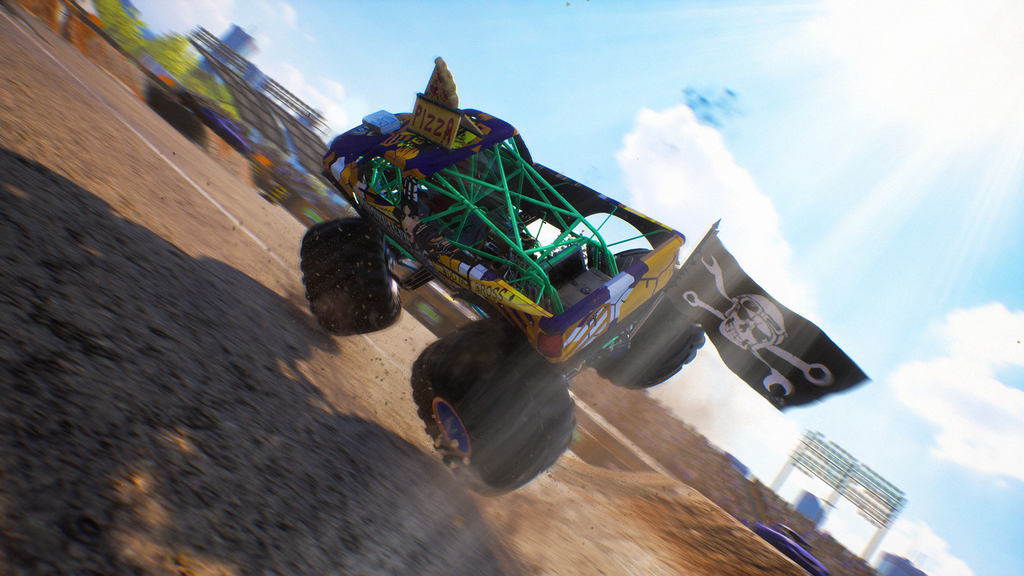 Ultimately, Teyon's Monster Truck Championship succeeds as a result of its excellent handling model, which makes every race and every event a fun experience, free of the frustration that more sim-style racers can often elicit. Whilst it features a somewhat sparse range of modes, meaning you're unlikely to stick with it long-term, it's a really good arcade-style game that you can chuck on for 20-30 minutes every so often and pretty much be guaranteed an enjoyable time.

Monster Truck Championship is available on Xbox Series platforms (reviewed on an Xbox Series S), Xbox One, Playstation 5, Playstation 4, Nintendo Switch and PC.
Developed by Teyon / Published by Nacon
Disclaimer: In order to complete this review, we were provided with a promotional copy of the game. For our full review policy, please go here.
If you enjoyed this article or any more of our content, please consider our Patreon.
Make sure to follow Finger Guns on our social channels –Twitter, Facebook, Twitch, Spotify or Apple Podcasts – to keep up to date on our news, reviews and features.