Planet Coaster arrives on consoles and is an absolute delight. The Finger Guns Review;
There's something oddly comforting about a simulator. Whilst throughout the games you feel a significant amount of pressure from all angles, being able to play a game that allows you to kick back and simply control the ins and outs of a business, whether it be a hospital, a football team or in this case, a theme park, there's something to be said about the zen like quality they can offer, and Planet Coaster, landing in a most shiny state on PS5, is no exception. It might even be the best example the genre has yet had to offer.
What sets Planet Coaster apart from those that game before it? Its spiritual successor vibes to Theme Park and Rollercoaster Tycoon are the beating heart of why Coaster works so well, but there's a personality throughout that makes the entire experience sing. The heady balance of managing finances, ensuring customers are satisfied and adding more exciting rides and experiences to boost the value of your park are beset by the sheer enjoyment of creating your own theme park and designing some utterly bananas rollercoasters that will delight your customers. The creativity of theme park sims has always been its biggest draw, and Planet Coaster allows you to let your imagination scream if it wants to go faster.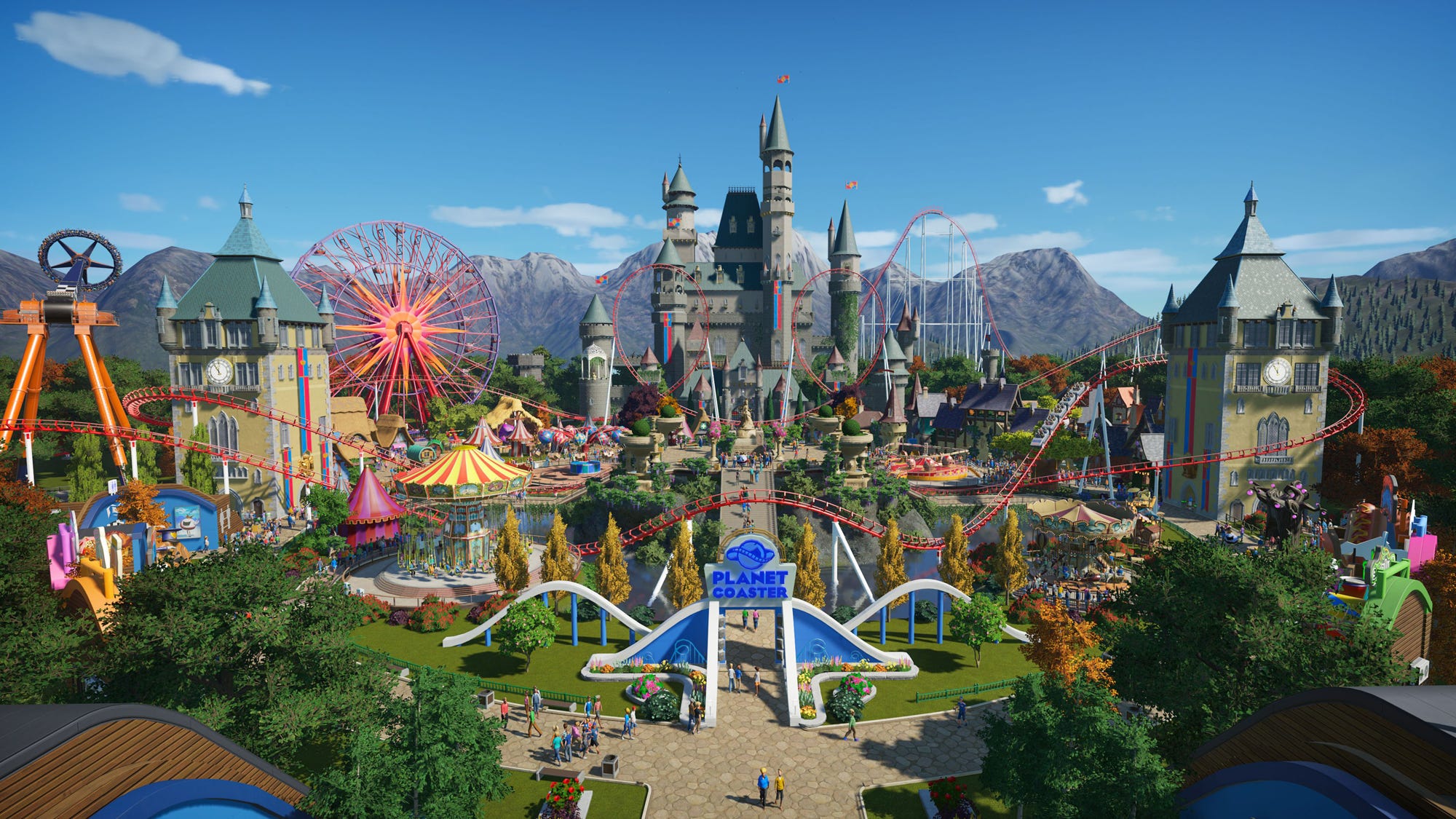 Playing the game on PS5 is also a treat, as you know your console isn't going to blow up when you place down your fifteenth new rollercoaster and the game flips out on you. The console versions of the game include the Osward Eugene Counter – essentially a device that lets you know when your console is about to die because there are too many assets on the screen at once. On the PS4 Pro version we tested there's an absolute limit, and the game gives you plenty of warning (don't worry, there's still a massive amount of content you can include). It's a handy feature but it's a clear reminder these kinds of games are designed for PC's, and the controllers somewhat fiddly implementation at times is testament to that.
(Note: As the game is also available on Xbox Game Pass we were able to to test out the OEC on an Xbox One S All Digital Edition and it offers similar space to the PS4 version. Essentially, you'll have to create a gargantuan park before the game gives you any kind of indication you're filling it up a little too much, but it's good to know in advance that there is certainly a limit)
Still, on PS5 all concerns were put to rest and it runs as beautifully as you'd expect. 4K 60 FPS goodness ensures your theme park creations have never looked so glorious.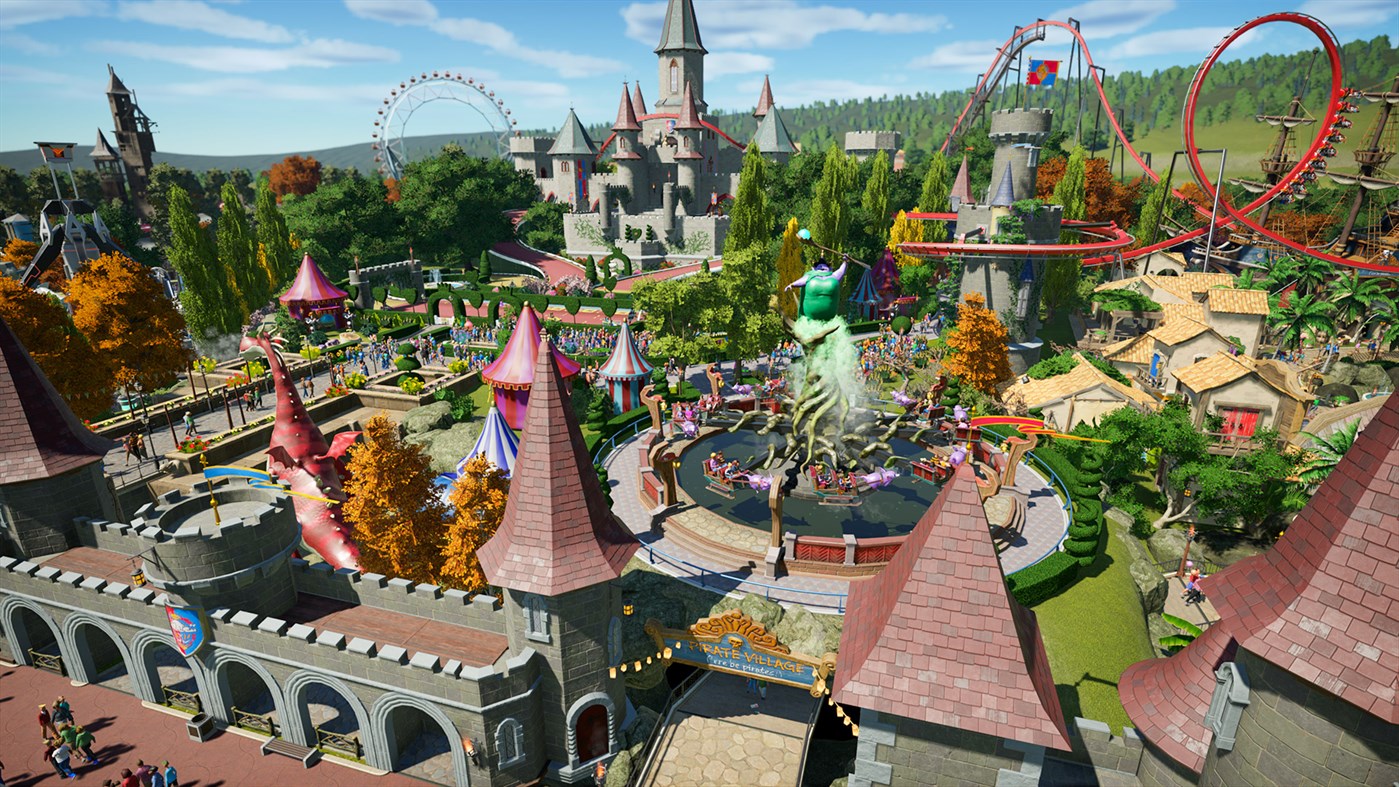 Aside from the unfathomable joy that sears through you as your create death-defying coasters and a theme park fit for kings and queens, your main priority above all else is to make a hell of a lot of money for your corporate overlords, those who are in your ear for the majority of the tutorial and are definitely not annoying (not quite as annoying as the 'content creator' who is your base for finding out just what the customers want). A definite priority, despite the character written far too similarly to the kind of person I try not to follow on TikTok.
The three primary modes are Career, Challenge and Sandbox. Career is where you'll learn the fundamentals of how to create an insanely cool theme park your customers will want to return to over and over again. Broken up into individual scenarios such as building an eco-friendly park or ensuring a certain number of customers are coming through the gates, Coaster offers a fairly decent jumping-on sequence, and allows you to get your head around the controller, which after taking the place of a mouse and keyboard does take a little while to get used to and isn't quite as intuitive as the genres crowning m+k to controller achievement, Two Point Hospital.
The parks in Career are pre-built, and you're normally tasked with clearing it up and ensuring it runs smoothly before moving onto the next one. If you can clear each objective, you'll earn yourself some stars that you can use to move onto the next park and begin a whole new scenario. Naturally being able to learn how the game functions via the career mode is vitally important, and offers a serious challenge over time. A cool addition is that you don't have to move on from each park until you're ready, so you can clear the objectives and continue to improve that park over time and you can choose when you've had enough and want to work your magic somewhere new.
Challenge mode is where the meat of Planet Coaster lies. It's here you'll be tasked with building an entirely new theme park from scratch with little resources at first that build over the course of your development. The rewarding feeling of seeing your park rise from nothing is perhaps the highlight of Planet Coaster and the reason I'm somewhat struggling to put it down. It offers that same kind of thrill that you're so familiar with from Rollercoaster Tycoon and Theme Park, a sense of accomplishment that you can only really capture from business management sims, particularly ones with rather severe difficulty spikes.
Then there's Sandbox, of course. Which is where you just get to do whatever the hell you want with unlimited money and create the theme park of your dreams. There's precisely zero consequences here, but good lord it's fun to create some utterly amazing theme parks with unlimited resources and see it all come to life. Did I mention you can ride every single attraction you place in your park from a first-person mode too? Well yeah, you can do that and in Sandbox, when everything is at your disposal, it's an absolute white-knuckle delight.
If you haven't the time to really get stuck into rollercoaster creation – and honestly, it's fun to imagine your own coasters but an absolute nightmare to create cohesively on a controller – never fear. Planet Coaster offers a variety of options, namely the Frontier Workshop, which gives you the option to download creations by other players, some of which are truly remarkable feats of engineering and will look fantastic in your park.
There's already a ton of creative options available so if you are struggling with the creator you'll find something that will fit your park and what you're looking for. The assets available in-game are already pretty staggering in their amount, but making your park unique with custom rides is enormously satisfying.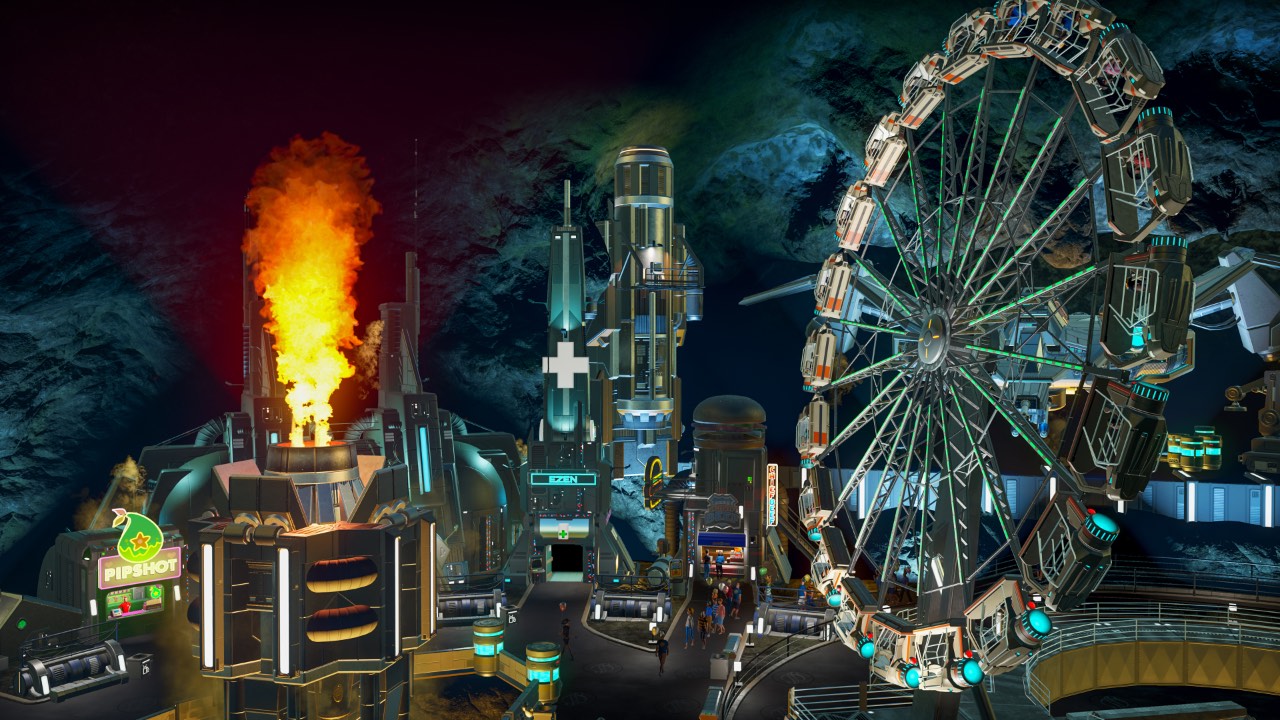 I guess it's already coming across but Planet Coaster is an absolute joy and I'm delighted about it. It's been one of my more anticipated games of the year and I'm excited to keep playing and uncover future updates and what other madcap attractions I can add to my parks in the future. There's definitely a traditional gaming vibe about business management sims, and whilst the nagging feeling that I should be playing it on a PC never really goes away, Frontier Developments have to be commended for the console versions execution. It's a right treat.
---
Planet Coaster arrives on consoles in scintillating form, offering up near-unlimited options to create the theme park of your dreams with ease. If there's a hidden gem in the PS5 launch line-up, this is it.

Planet Coaster: Console Edition is available now on Xbox One, Xbox Series X/S, Playstation 4 and Playstation 5 (reviewed).
Developer: Frontier Developments
Publisher: Frontier Developments / Sold Out
Disclaimer: In order to complete this review, we were provided with a promotional copy of the game. For our full review policy, please go here.
If you enjoyed this article or any more of our content, please consider our Patreon.
Make sure to follow Finger Guns on our social channels –Twitter, Facebook, Twitch, Spotify or Apple Podcasts – to keep up to date on our news, reviews and features.