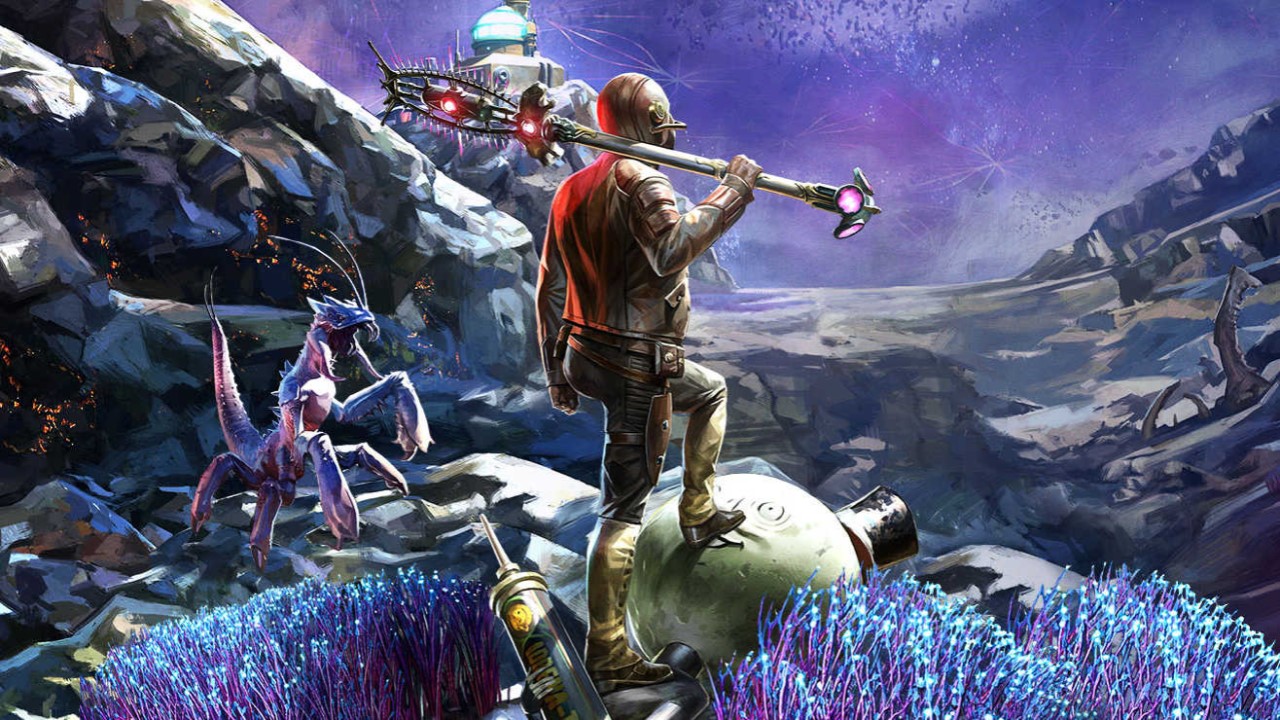 The Outer Worlds returns nearly a year later with a hefty DLC pack. Peril on Gorgon, The Finger Guns Review.
I feel like it's been far too long since I awarded The Outer Worlds my Game of the Year. In the time since then I've probably reviewed and played hundreds of games and not once have they had the immediate effect on me that The Outer Worlds did. The announcement of DLC was enough to send me into a tizzy. The thought of returning to the world of Spacers Choice, Parvati, Halcyon and corrupt corporate overlords charging your loved ones a fee to die and a spectacular shooting mechanics filled me with all the excitement I imagine developers Obsidiian was hoping for. Damn near a year later and I'm finally stepping foot on the Unreliable once again to remind myself why this planet hopping adventure is so freakin' terrific. And not only that, we have a brand new world to explore. What exactly is the Peril on Gorgon?
The first stop? A severed human arm has been sent to your ship with a mysterious message connected to it. You and the elite crew you built up throughout your original playthrough are none the wiser where it came from, so the adventure begins once again to discover the secrets the new planet of Gorgon has to uncover. A smile appeared upon my face immediately. I'm back in The Outer Worlds and there's a human arm on the table of the Unreliable and nobody knows how it got there. This is the kinda DLC I live for.
Gorgon then feels right at home in the Outer Worlds universe. It's, perhaps unsurprisingly a barren wasteland, lost to the perils(!) of a planet wide evacuation after a spoiler-filled mystery is uncovered. Those who remained were left to fend for themselves against a barrage of new, beautifully designed monsters and marauders, preying on anyone and anything that crosses their path. So far, so Outer Worlds. It's fair to say this entire DLC is not exactly a stretch of the primary Outer Worlds mechanics, and Gorgon is an example of 'once more, with feeling'. Though, I've spent a year wanting little else than 'more Outer Worlds', so it's fine by me.
Thankfully this brand new adventure will take you across the Hyperion solar system several times, and getting to explore the worlds all over again is a delight. I kicked off this DLC right at the very end of my original playthrough (well, as far as I could go before I couldn't turn back), which was October 2019, so it's safe to say it's been a minute since I bumped into characters and NPC's that made my 30+ hour playthrough of the base game so much fun. As ever, you can only choose two of your crewmates to accompany you on quests, which wasn't a big deal. The extraordinary Parvati is an obvious companion on any mission, though it's always a little more tricky to choose just one of your motley crew.
I ended up sticking with Ellie for most of my playtime, the combination of her shooting skill and, well, Parvati's humour and compassion is enough for me to have a cracking time at any moment. Nothing really beats Parvati's 'smack-the-bad-guys-in-the-head-with-a-great-big-sodding-hammer' special move, and it's always a pleasure to see it in action.
The dot-to-dot mysteries of The Outer Worlds is what keeps me so invested. I thoroughly enjoyed it in the base game, and Peril on Gorgon is no different. Yes, there's a lot of backpedalling and exploring areas you though you rinsed clean of quest items and yet there's always something you've missed, primarily because you didn't know it was there until the game told you it was. Now yes, these are the kind of mechanics which may be frustrating, but Obsidian takes the humdrum of exploring areas you've already been to by adding healthy doses of humour and purpose to each exploration. Your companions will naturally follow you anywhere, including locations you weren't supposed to go and will get lost with you no matter what.
It's all part of the fun and for some reason I'm never annoyed that I've taken a wrong turning or I need to explore the same locations again. It's rare you'll find yourself losing patience with getting lost, the indicator is enough to keep you in the general direction, though it's up to you to find the nooks and crannies to navigate your way to the quest destination.
The story itself is fun with early 'mic-drop' moments that perhaps don't land quite as hard as it wants to, though the mystery that begins to unfold in its aftermath is what you're here for. Certain decisions – those classic 'you're gonna piss someone off either way' choices that dogged the first game are back with a vengeance and though they have little consequence in the end, there are definitely elements of each decision that make you feel like a bit of a bastard no matter what. Still, the humour balances out those heavier moments, and again it's nice to have Parvati by your side in those moments.
As I tore through The Outer Worlds I began to feel like a bit of a God, having these intense choices to make that will affect enormous towns full of people or merely an NPC you've gotten to know well. These kinds of choices in games tend to stay with you and Parvati brings a level of humanity back to proceedings when you feel like it's getting a little away from you.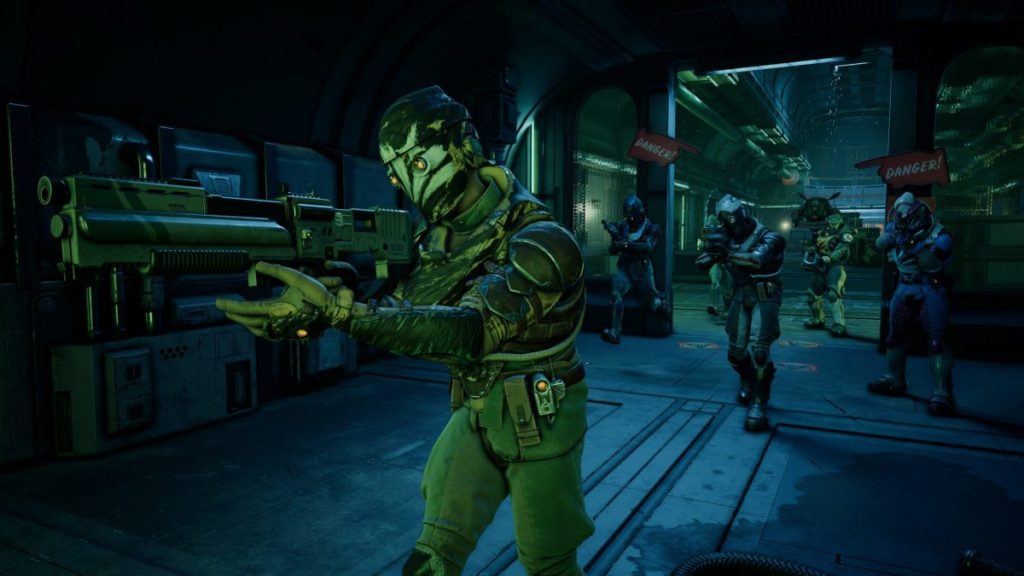 Away from the story there's very little new added to the experience of The Outer Worlds. As mentioned above Peril on Gorgon is very much an extension of the original game, rather than a testing ground for new mechanics or modes. It's great to see story DLC that just drops you right back into the action and if you've been hankering for more Outer Worlds then you won't be disappointed, particularly if you're a fan of the games lore building. There's a heck of a lot of reading to be done, whether it be through conversations or via the games terminals. There's plenty to discover if you find yourself near one and you're wanting to learn a little more about your surroundings or the people that used to inhabit Gorgon, there's just an awful lot of it. You'll already know what you're getting into if you're already 30 plus hours deep into the game, and this DLC doesn't shy away from the story a few emails between corporate stooges can tell.
That being said, with Peril on Gorgon being little more than an extension of The Outer Worlds, it certainly drags across its most heinous crime – the loading screens. There's no getting away from it, they're egregious. To such an extent that I nearly turned the DLC off and got on with something else at one point. Sure, there's plenty to load up and the loading screens are always delightfully designed and at times fun to read, but once you've finished reading them you're still sat for far too long staring and reading. I didn't expect them to be radically better in this DLC, as you can still access the entire solar system in the game and it all needs a bit of time to come to life, but if the biggest complaint (of very, very few) of the original game was the loading times, why not give it a bash and try to boost them up a little?
It's not even close to being a dealbreaker, and once you're back in everything runs like clockwork, you do end up twiddling your thumbs a little though. Man I hope The Outer Worlds hits next-gen.
So Peril on Gorgon is nothing more and nothing less more The Outer Worlds. If you've invested in the DLC the chances are you're wanting more of the same, and thankfully that's exactly what you're getting. The bonus being this detective mystery is delightfully fun and every bit as engaging as the base games story quests. This is just another one to get stuck into, albeit extended to around about eight hours.
---
Peril on Gorgon plays it very safe, which may frustrate players who were looking for it to mix up the formula. For people like me though, who just wanted a reason to take control of the Unreliable once again and tear it across Halcion, this is exactly what you're after.
8/10
The Outer Worlds: Peril on Gorgon is available now on PC, PS4 (reviewed on PS4 Pro) and Xbox One.
Developer: Obsidian / Virtuous
Publisher: Private Division
Disclaimer: In order to complete this review we were provided with a promotional copy of the game. For our full review policy, please go here.
If you enjoyed this article or any more of our content, please consider our Patreon.
Make sure to follow Finger Guns on our social channels –Twitter, Facebook, Twitch, Spotify or Apple Podcasts – to keep up to date on our news, reviews and features.