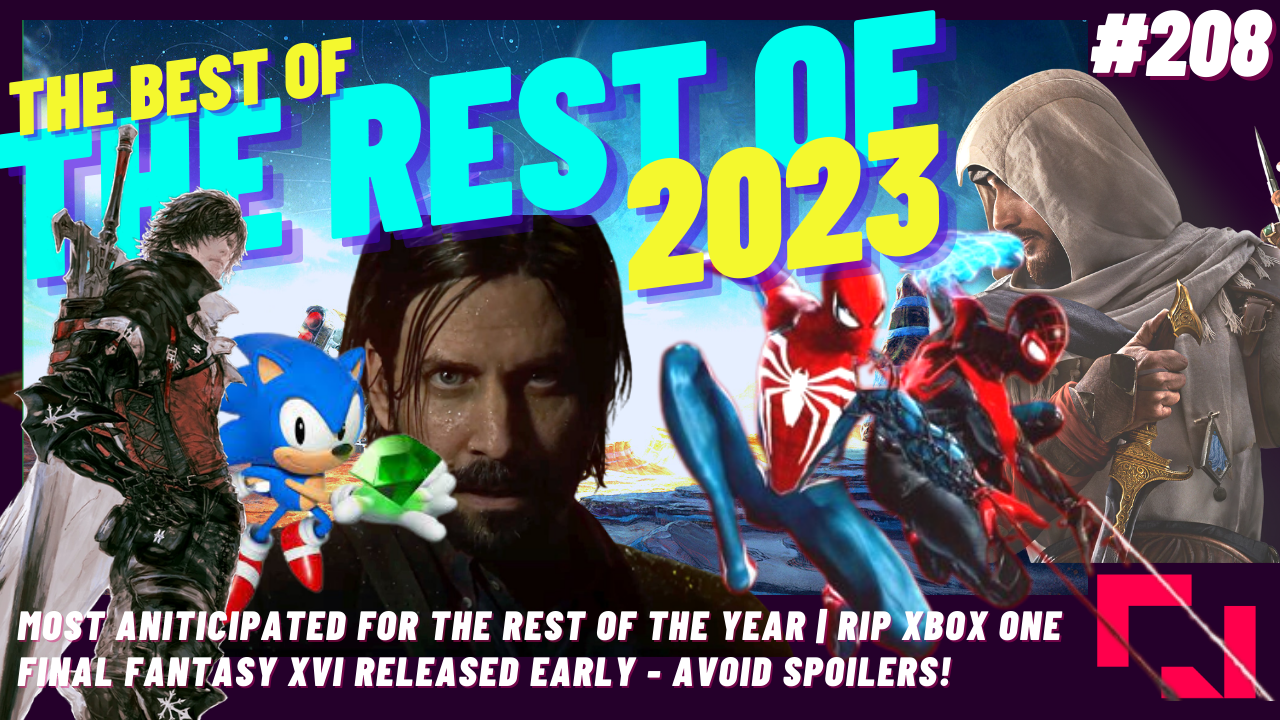 'I'm hyped FOR you.......'
This week on the Finger Guns Podcast in the wake of Summer Game Fest the podteam of Rossko, Kat, Miles, Josh and Yogdog all choose our most anticipated games for the rest of the year and boy, are there are metric ton of wonderful games incoming. There's even a Nintendo exclusive in there! Who would have thunk it?
Elsewhere we say a fond farewell to the Xbox One after Microsoft have confirmed they are no longer making games for the system. We talk the infamous reveal show and where the system went right in the end and discuss why we all decided to go PlayStation last generation after all enjoying our Xbox 360's. It's a fun chat and a nice reminder of where Xbox were to where they are now. A hero's journey if there ever was one.
Also there are Final Fantasy XVI spoilers out there so be wary if you want to go into the game completely fresh on Thursday. To manage this we talk our hype levels and once again drool over that incredible demo which sold us all on picking the game up day one.
Kat kicks us off in Game of the Week with the console release of Crime Boss: Rockay City, you know that we've been playing it for a while and were looking forward to checking out the co-op, and Kat, Rossko, Josh, Miles (and even the elusive Paul Collett) jumped in to check out this updated release. Josh has been checking out the lovely Dordogne and the emotionally charged Before Your Eyes on PSVR 2, Yogdog has spent the week playing Team Fight Tactics (which is kinda in the League of Legends universe), Miles went back in time to finally play Dynasty Warriors 9 and Rossko has been building rollercoasters in Park Beyond.
To download the MP3 of this episode, right-click here.
Theme Music – De Jongens Met de Zwarte Schoenen by RoccoW & xyce. | Edited and produced by Ross Keniston | Published by Acast.
Team: @FNGRGNS / Rossko – @RosskoKeniston / Paul – @ThePaulCollett / Greg – @GregatonBomb / Josh – @jshuathompson / Sean – @Omac_Brother / Toby – @toby_andersen / Kat – @RainbowDropx / Tom – @T_Woods93 | Yogdog (Jonathan Brown) – @Yogdog | Facebook: FingerGunsUK / Twitch: twitch.tv/fingergunsdotnet / The Official Finger Guns Discord Discord: Join here!