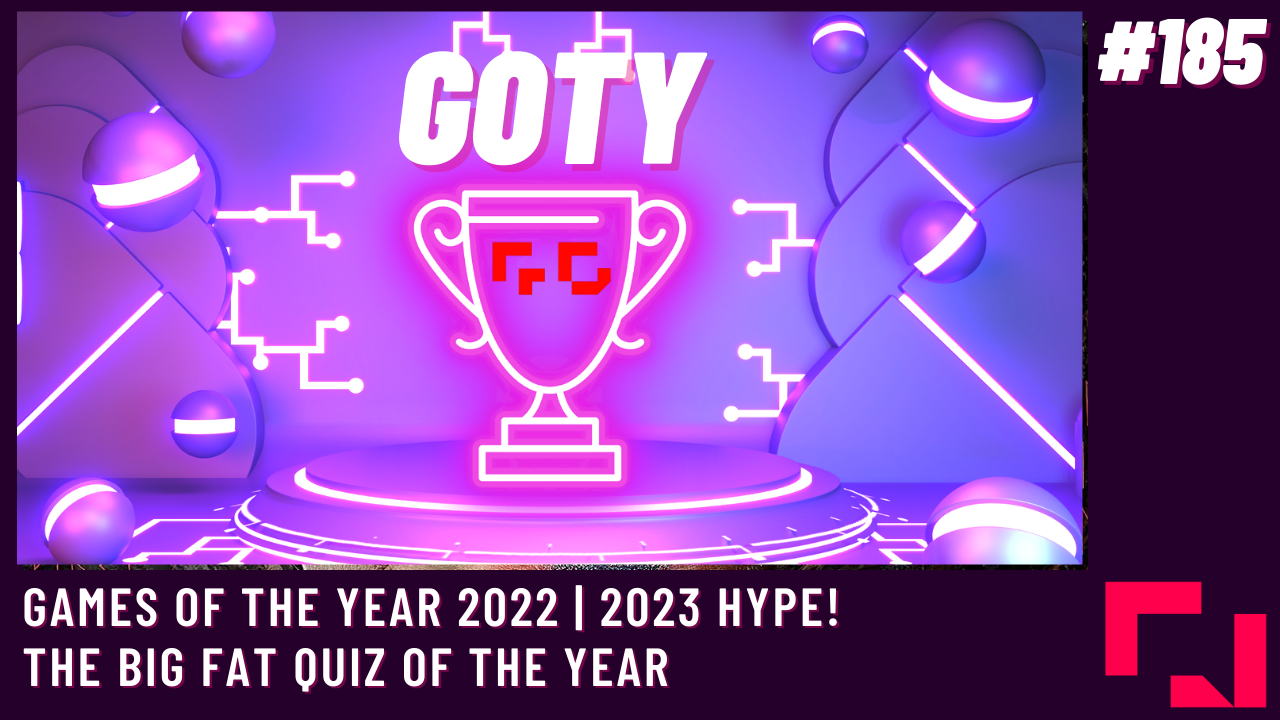 '...THERE IS NO ETHICAL CONSUMPTION...'
On our final podcast of the year we've managed to assemble our biggest cast so far with an almighty SEVEN Finger Gunners joining the pod and amassing an absolute cavalcade of madness. Joining Rossko is Kat, Miles, Josh, Sean, the returning Tom and Jonathan Brown (aka Yogdog) making his first appearance on the podcast as we talk all about our Games of the Year and everything that is to come.
We delve into our Game of the Year choices and share with the group just why these games were so damn special to us, elaborating on our written segments in the website GOTY article. There's a fair few of us now so there's a fair few games to get into, it's a hell of a list.
Elsewhere we talk hype for 2023 and whilst it looks like there's a certified banger dropping at least every single month we try to narrow it down with a hefty list of games we're looking forward to (but still manage to add plenty on at the end). With a simple cheer-o-meter we garner what the team is looking forward to the most and what we can probably do without next year, if anything at all. And also, we're still unsure whether or not we're allowed to bloody play Hogwarts Legacy or not.
A huge shout out to Kat also who put together an almighty Big Fat Game Quiz of 2022 which saw us take on nearly double the questions as normal and try to remember some of the nonsense we wrote in our reviews as questions. It's a hell of a laugh and we hope you can join in at home on at least some of the questions.
Never fear though our regular segment Game of the Week remains as Miles talks Crisis Core: Final Fantasy Reunion, Kat and Rossko get hype on the ridiculously funny High on Life, newbie YogDog talks Rimworld, Sean shares his thoughts on Warp Drive years after release (now shiny and better than ever on PS5), Tom tosses a coin to the next-gen Witcher 3 upgrade and Josh finally tries Vampire Survivors.
It's been a hell of a year on The Finger Guns Podcast and thank you so much for joining us for the ride. We've seen our biggest numbers ever and now we can keep it live and kicking on our new partners Acast!
Thank you again, we'll see you in January.
To download the MP3 of the episode right-click here.
ALL THE PLACES WE ARE: https://linktr.ee/fingerguns
Donate to Sunflower of Peace to support humanitarian efforts in Ukraine: http://www.sunflowerofpeace.com
Theme Music – De Jongens Met de Zwarte Schoenen by RoccoW & xyce. | Edited and produced by Ross Keniston | Published by Acast.
Team: @FNGRGNS / Rossko – @RosskoKeniston / Paul – @ThePaulCollett / Greg – @GregatonBomb / Josh – @jshuathompson / Sean – @Omac_Brother / Toby – @toby_andersen / Kat – @RainbowDropx / Tom – @T_Woods93 | Yogdog: @yogdog_ | Facebook: FingerGunsUK / Twitch: twitch.tv/fingergunsdotnet / The Official Finger Guns Discord Discord: Join here!