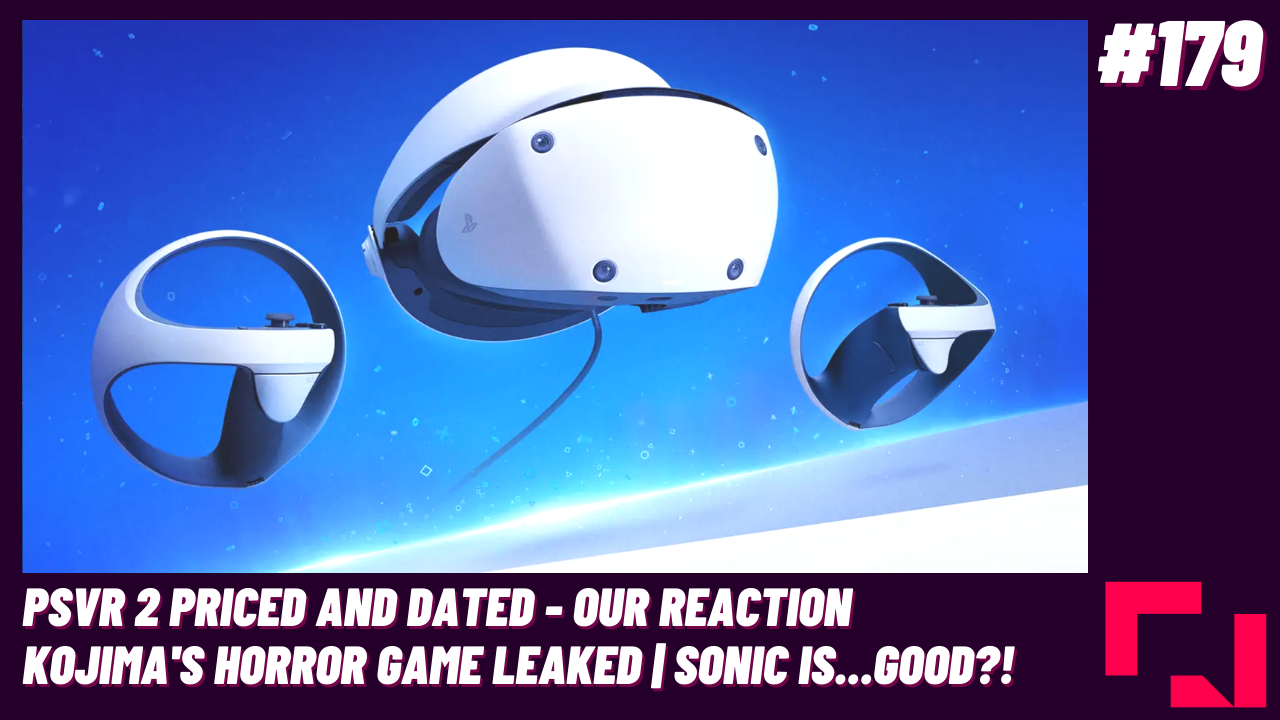 'I have a thing with eyes.....'
This week on The Finger Guns Podcast we're all getting rather excited about the week's big releases, namely God of War Ragnarok and Sonic Frontiers. Has Rossko caved and already brought Sonic? At the time of recording, no, but hey, there's still one hour to go before midnight.
Instead we decided to get together and talk the week's news, and there isn't an awful lot to get into but we did indeed talk all about PlayStation VR 2. Now that it's been dated and priced and we share our thoughts on whether or not we're going to jump into brave new virtual worlds on day one. It's a tad expensive one would argue, but in comparison to other VR headsets of this quality, is it justified? Sean being the man of reason helps us out with this one and we're eternally grateful.
Elsewhere in a follow-up to last weeks main discussion, Hideo Kojima's horror game OVERDOSE may or may not have been leaked on the YouTubes by a shirtless man. There's a whole lot of conspiracy with this one and we're fairly excited to see what ol' Kojima-san has up his sleeve this time around. Also, the shirtless man is totally Geoff Keighley.
We're also all in on Game of the Week. Rossko has lost himself to the PlayStation Starts rewards service for pointless collectibles, Miles has played a terrible castle simulator, Kat has once again played a cosy life sim on the Switch and Josh has spent the week playing one of Sean's favourites of the year, Kovox Pitch whilst Sean shares his impressions of The Chant with the group.
There's also a brand new audio quiz from Kat – with all the drama you expect from a Kat quiz – Rossko gets very excited about Sonic Frontiers reviews, Miles shares his opinions on Terrifier 2 and Sean's cat makes a couple of cameos. There's a whole lot going on in this episode, which is wild considering we only came up with two news stories to talk about.
Enjoy the episode!
To download the MP3 of this episode, right-click here.
ALL THE PLACES WE ARE: https://linktr.ee/fingerguns
Donate to Sunflower of Peace to support humanitarian efforts in Ukraine: http://www.sunflowerofpeace.com
Theme Music – De Jongens Met de Zwarte Schoenen by RoccoW & xyce. | Edited and produced by Ross Keniston | Published by Acast.
Team: @FNGRGNS / Rossko – @RosskoKeniston / Paul – @ThePaulCollett / Greg – @GregatonBomb / Josh – @jshuathompson / Sean – @Omac_Brother / Toby – @toby_andersen / Kat – @RainbowDropx / Tom – @T_Woods93 | Facebook: FingerGunsUK / Twitch: twitch.tv/fingergunsdotnet / The Official Finger Guns Discord Discord: Join here!