Overhauled graphics, new campaigns and integrated multiplayer make Stronghold: Definitive Edition a compelling remaster. The Finger Guns review:
Welcome back, Sire! The time has come to return to your keep and man the walls against treacherous armies once more. Stronghold: Definitive Edition is the entirely rebuilt and remastered version of the 2001 original. I was seven at the time… SEVEN. 22 years on, Firefly Studios have endeavoured to bring the castle management and medieval warfare strategy title into the modern age.
Is the world ready to take on The Pig's infamous castle siege and deal with The Rat's obnoxious cowardliness once again? With upgraded visuals, rebuilt audio for the score and voice acting, a whole new campaign and various other additions, it would certainly seem like a fort that's been restored to old glory.
Stand your forces to arms, assemble your knights and throw your ladder men to the slaughter, 2D Stronghold is back. Let's find out if the wait was worth it.
Raising Fresh Recruits
Best to start with what's new, as this provides the greatest insight into whether Definitive Edition is a worthwhile package over the original. Stronghold: Definitive Edition arrives as trustily as your woodcutter delivering his planks. The 2001 campaign mode returns, bearing the new-and-improved graphics and gameplay tweaks (more on those later).
Joining the roster is an entirely new 14-mission story, involving incursions into the territories of The Rat and The Snake. These missions are designed for veterans of the series, as they'll be throwing a remarkable number of enemy forces at you. I found they also tested my understanding of the game's systems. Objectives are more varied here, to good measure.
For example, one scenario may need you to storm a fort to claim victory. Easy enough. However, you only have a small landing party and a squad of heavily armoured knights approaching. Missions from the new campaign feel like mini-puzzles you need to solve using your intuition from the game's mechanics. They're fun, clever and inventive ways to make two-decades old systems feel fresher than the bread your bakeries produce.
Moreover, there's even a 10-strong Castle Trail mode. Here, the developers have recreated iconic stone (or wood… they did exist at one point) fortresses you can defend with your loyal archers. It's a relatively short and sweet mode, but it's a welcome one, providing more spearmen to meet the ends of your crossbow bolts. In all, the new content probably wasn't even necessary, but its inclusion makes Definitive Edition a more appealing package.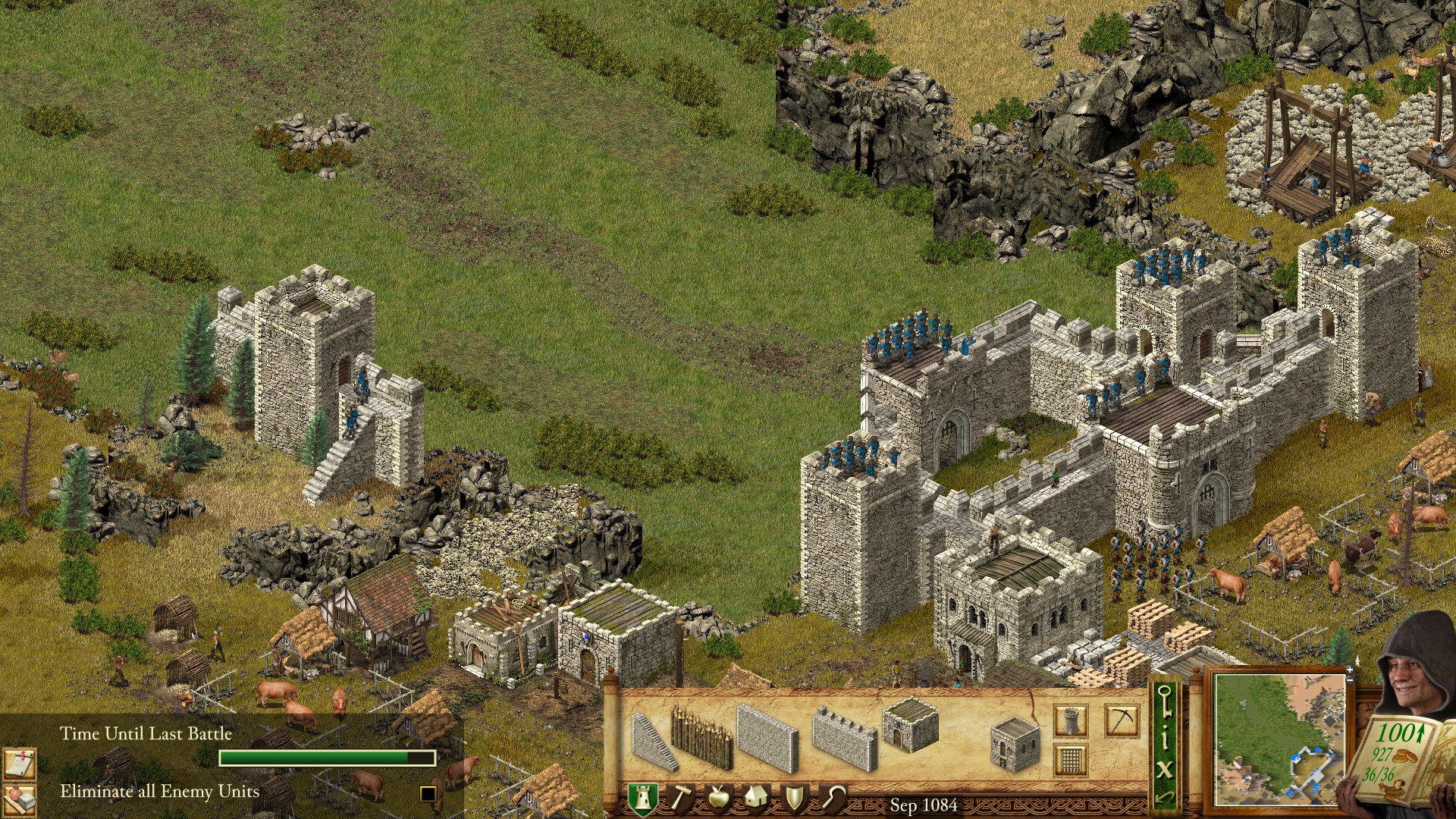 Scrubbing Up Nicely
Stronghold: Definitive Edition's other biggest change is an obvious one, even to an unobservant peasant such as myself. I'm speaking of the visuals of course. The 2001 release, as you might expect, looks rather rough around the edges nowadays, the same way The Snake could be considered mildly untrustworthy. However, its visual flair was always an integral part of its appeal.
As such, it was a relatively risky gamble to mess around with the charming style people hold in nostalgic fervor. Yet, Firefly Studios have largely pulled off the ideal balance here too. Animations have had the most impressive overhaul, I found. Whether it be the brewery ladies swishing around barrels of ale to the quarry miner satisfyingly nailing that block of stone into shape, it all looks fantastic.
Textures have been thoroughly revamped and everything looks brighter and more detailed. It's been handled with real care, as the original charm and aesthetic remain firmly in place, just shinier. Knights look like actual knights too now, as their previous character model seemed to blend into a mesh of silver and sword.
The quirks of Stronghold's presentation remain, such as how multiple units cascade into each other. If you imagine how a Microsoft Windows pop-up box would multiply exponentially about 20 years ago, you can picture it perfectly, just with more bows and maces. Everything runs gorgeously too, maintaining a buttery-like smoothness of around 250-300 FPS at all times. A butter level Betsy the cow would be proud of.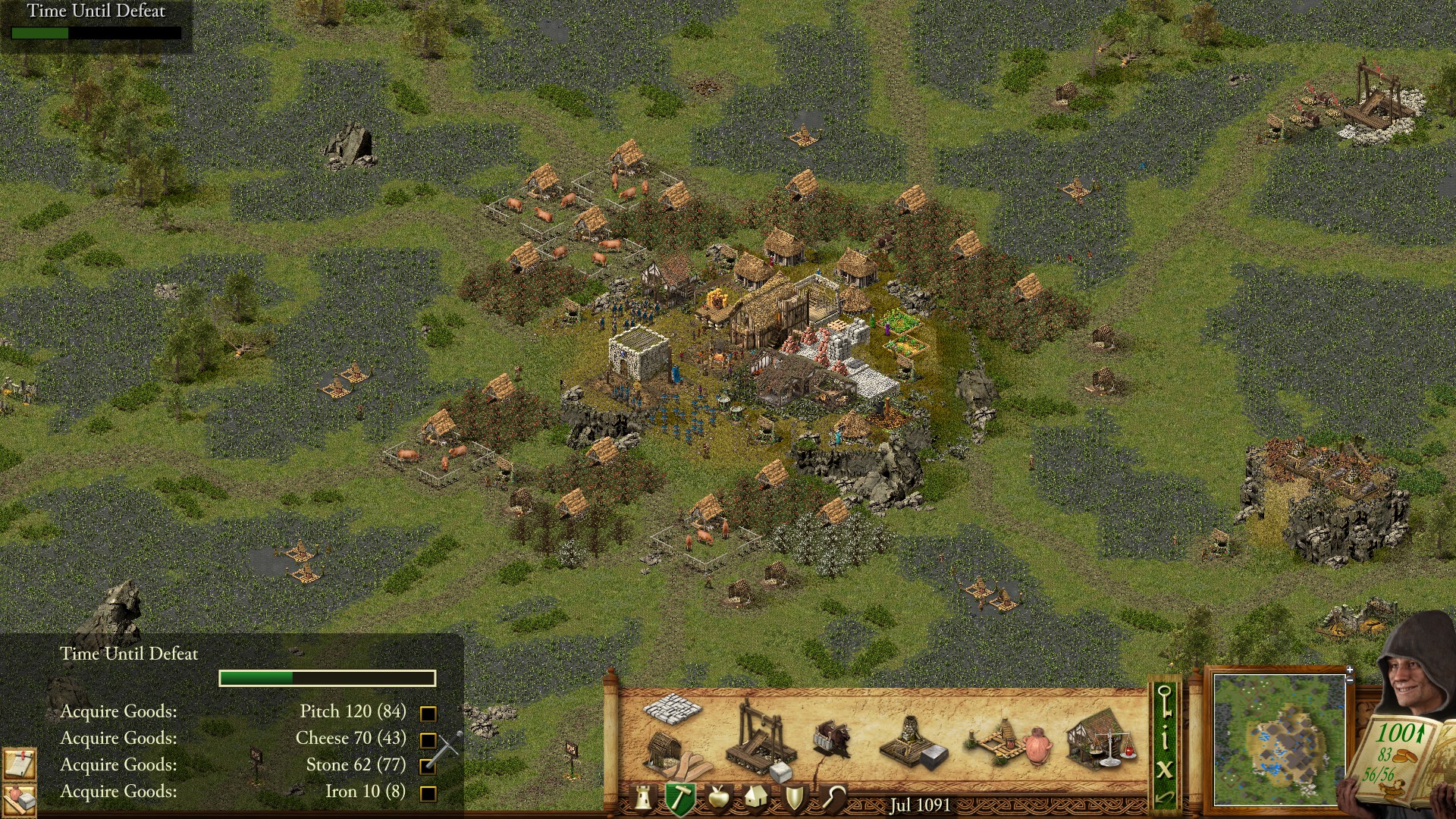 Crossbows, Ready!
Twenty years on, boasting excellent new visuals and a host of new content, can Stronghold's real-time tactics and city building systems still lay siege like the best of them? I'd argue yes, for the most part. Resource collection and management is still essential to success, as you balance gathering building materials and sustaining the needs of your expanding populace.
The main campaign, returning from the predecessor entry, feels fairly easy now, even on harder difficulties. Some of the gameplay can also become quite simplistic. For example, if producing bread is an option, there's simply no need for anything else. Units can still overlap with each other on castle walls (always a minor bug bear of mine) and audio lines will occasionally not play like in the original.
Combat however, is still rip-roaringly engaging. I had a massive grin on my face every time a new army emerged from the corner of the map, ready to break their war machine on my hearty stone walls. There's no new units or buildings to mess around with the core formula, rather the developers have let the gameplay speak for itself.
The addition of higher unit and building caps makes its mark in the new campaign missions, creating massive odds to overcome. I do wish a skirmish mode could have been implemented to truly take advantage of this, but given this was introduced later in the series, it's not to be expected. As it is now, Definitive Edition is quintessential Stronghold action, just on a larger scale, which is no mean feat.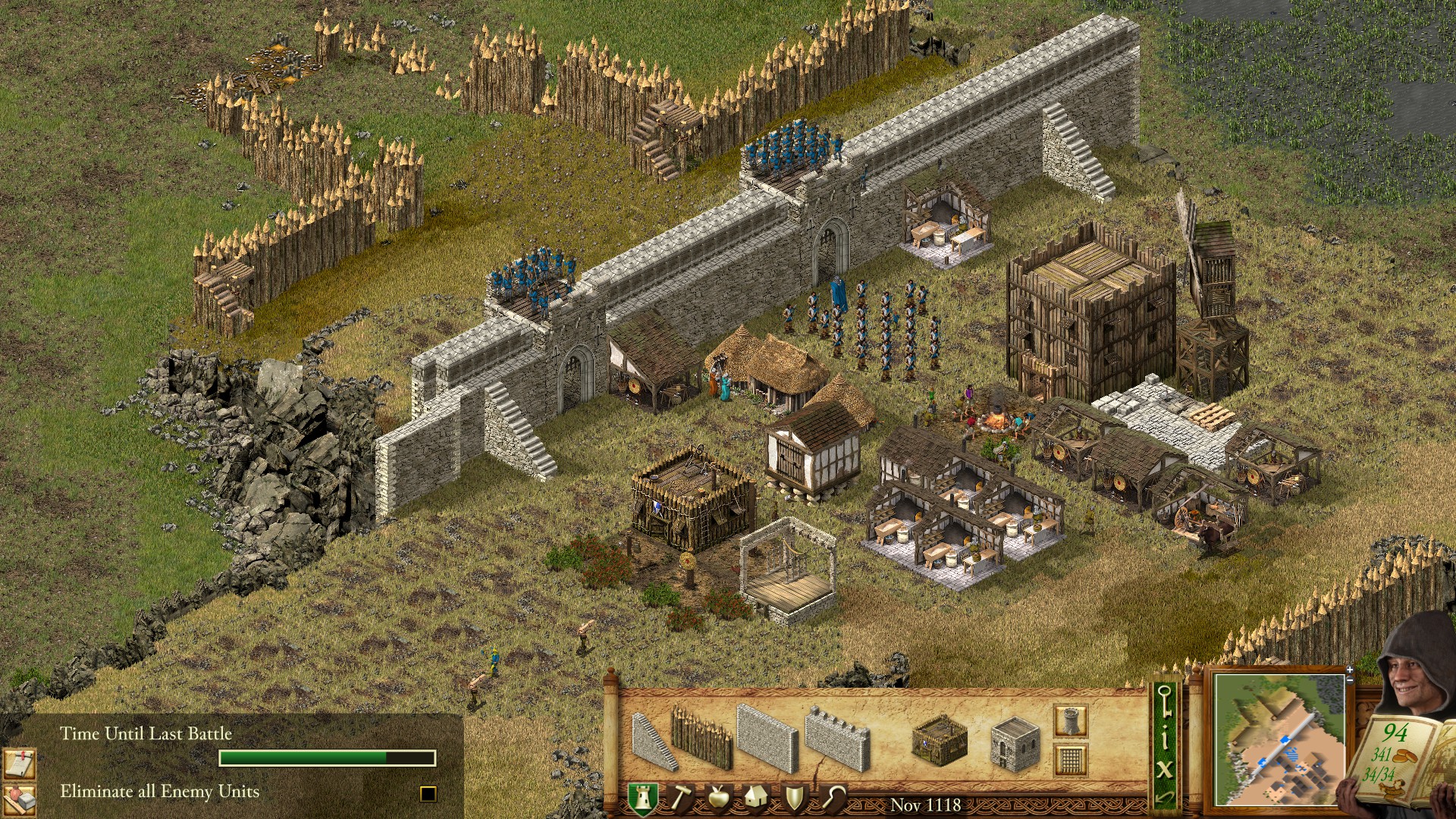 Our Granary Stocks Are Growing, Sire!
Aside from the bigger improvements and content additions, Stronghold: Definitive Edition also adds a host of minor enhancements. Steam multiplayer support is massive, simply because OG Stronghold required more steps to play online than an Ikea instruction manual for building a rocket. Additionally integrated Steam Workshop functionality is added too.
For fans of the series, the soundtrack has been remade with a higher fidelity version and let me tell you, it absolutely smacks harder than a King putting down a rowdy revolt. The string-heavy tunes are bolstered with more stones than your gatehouse and I was often getting lost in a trance of medieval bass drops. I always loved the Stronghold soundtrack for its addictively ear-wormy beats and now they're even better.
All of this has even forgone the economy campaign, siege defence and invasions and the free build mode. There's so much jam-packed into this fort it's bursting out of its walls. Especially considering the low price Firefly have set for this, it actually puts some other remasters and remakes to shame. This is a classic title revitalised for modern audiences with gusto and genuine affection for the source material.
To no-one's surprise then, it's safe to say that I am indeed, a fan of what's been done here. I did miss having a little more cutscene exposition for the new campaign missions. Despite this, the additional writing and voice-over is a nice touch, if a little light. Is it worth rebuilding this worn and aged castle to prominence again? A resounding yes.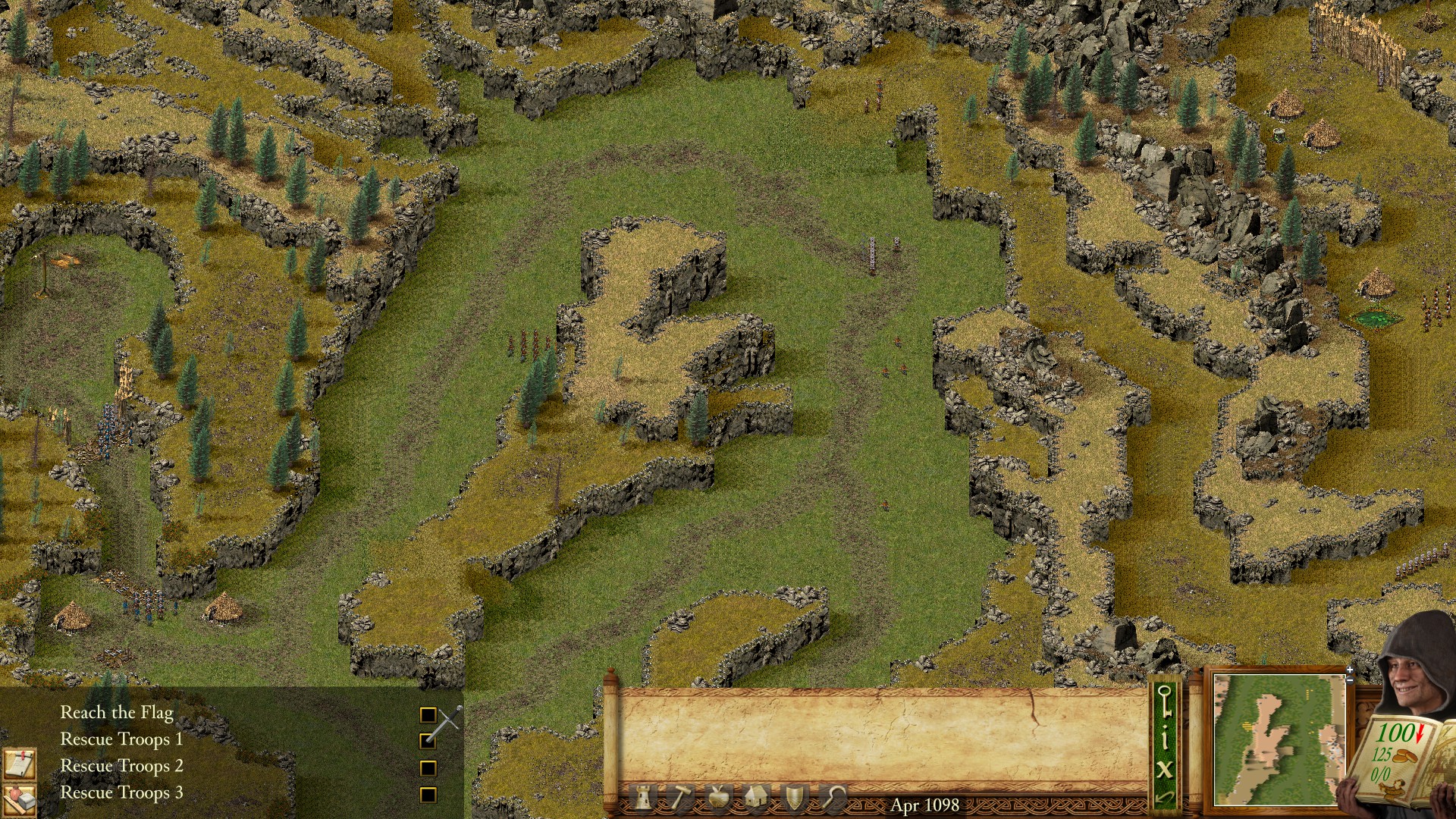 A Bountiful Siege
Returning to Stronghold via the Definitive Edition, having first played it as a child, felt altogether nostalgic and a little emotional. The iconic lines of its caricature villains, the grating-yet-endearing archers' "Leavin'… NOW" and the return of accessible-but-entertaining strategy gameplay all builds into a phenomenal fort of strength and safety.
I had a wonderful time as a returning fan of the series, which is testament to the love Firefly Studios have poured into this version. This is how to bring an old classic into the modern times with care and respect. If you've never taken on Stronghold's sieges and city management, there's simply no better opportunity than right here.
Of course, I'll be readily requesting that Stronghold: Crusader gets the same overhauled love. It's only because I'm gluttonous like that. I'm The Pig when it comes to Stronghold content, basically. My expectations were simply for some nicer upscaled graphics and a couple of gameplay tweaks, but Stronghold: Definitive Edition offers much more than that, making it a prime example of how remasters should be done.
---
Built on aged but sturdy foundations, Stronghold: Definitive Edition honours the roots of the franchise with wonderfully remastered visuals, challenging new content campaigns and a level of love many other, more money-hungry remasters fail to receive. A veritable banquet of siege warfare awaits, including actual multiplayer support and a smashing higher fidelity soundtrack. "To the walls!" as the archers would say.

Stronghold: Definitive Edition is available now on PC (review platform).
Developer: Firefly Studios
Publisher: Firefly Studios
Disclaimer: In order to complete this review, we were provided with a promotional copy of the game. For our full review policy, please go here.
If you enjoyed this article or any more of our content, please consider our Patreon.
Make sure to follow Finger Guns on our social channels –Twitter, Facebook, Twitch, Spotify or Apple Podcasts – to keep up to date on our news, reviews and features.