A handy and encouraging companion journal, Sidekick is a lovely accompaniment for any video game enthusiast.
From an abundance of games whose themes are centered around mental health disorders, to video game addiction being added to the latest DSM-5-TR, the video game universe and people's mental health has been colliding for some time. For better and for worse, our interactions with these entertainment windows into entirely unique universes has been impacting our well-being since the inception of Pong.
Even in my own experience, whether I've been thoroughly shattered from Spec Ops: The Line's ending or left in emotional turmoil from Life is Strange, video games have a wonderful ability to evoke emotion and reflection. I've queried more than a few times whether the amount of time I spend locked into these virtual worlds has become unhealthy or detrimental to other aspects of my life.
There's probably a much longer and wider piece to be discussed around this idea. However, we're not here to dissect that rather massive topic today. Instead, we're here to talk about Sidekick, a paperback companion which hopes to promote positive life habit changes, while also feeding into our collective love for all things video games.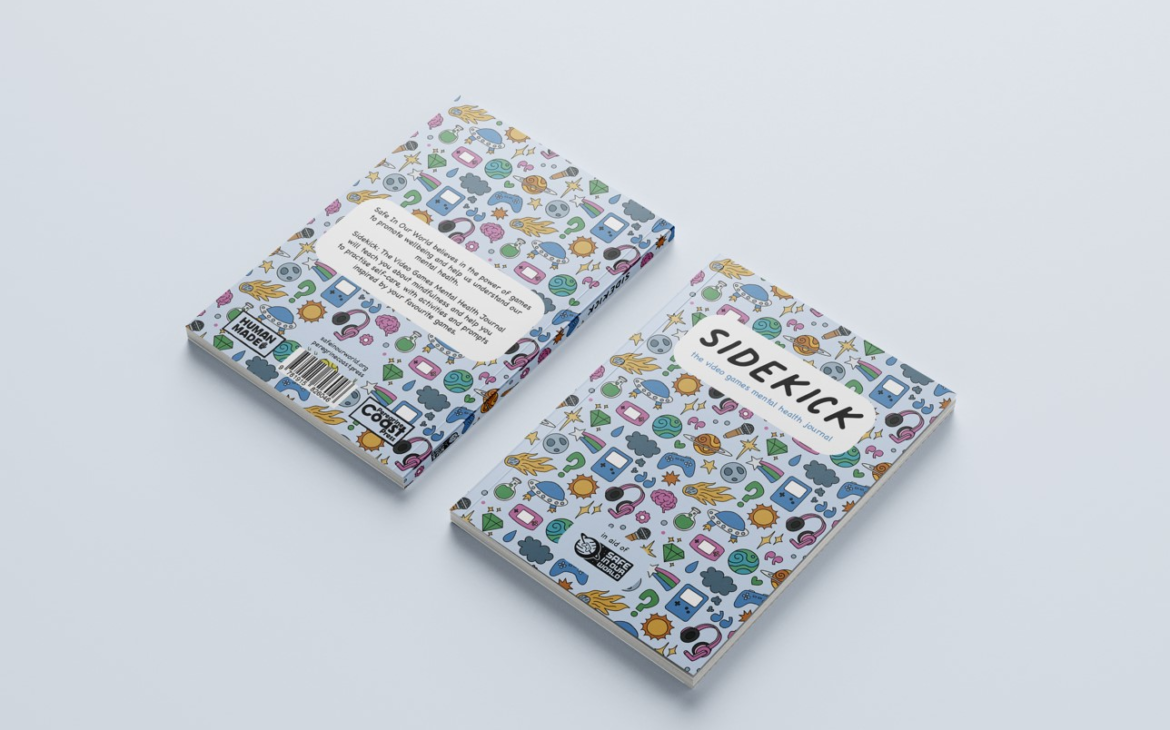 The Ornstein To Your Smough
Brought to life by Safe In Our World – a mental health charity within the video game industry – Sidekick is a creative and welcome project aimed at promoting small, yet beneficial, changes in one's own behaviours. It's largely based on the self-help materials and cognitive-behavioural therapy (CBT) techniques which have exploded in popularity since the 1990s.
I've studied and worked in mental health since 2012, so CBT has been my bread and butter for much of that time. If you've ever been introduced to CBT or have worked with it before, much of Sidekick will feel very familiar, in that happy, reuniting with an old buddy kind of way. Formed primarily of little exercises and writing tasks, it encourages you to tap into positive elements of your life, while also drawing from examples of your favourite games.
Information on stress management, grounding techniques (i.e breathing exercises) and nudging healthier routines day-to-day are some of the tid-bits you can expect. Sidekick will also actively use games as a tool to get you thinking on your values, such as seeing problem-solving in the same vein as how you'd traverse a dungeon in an RPG. It relates a lot of general life skills to the skills you're using constantly when you dive into Final Fantasy VII for the thousandth time.
The skills and information themselves aren't anything hugely revolutionary, but they could prove very valuable to anyone who's struggled with depression or anxiety and who's never been introduced to this kind of material before. Sidekick aims to be short and snappy, with plenty of game references, pictures and spaces to write/draw within, instead of plastering the reader with essays of words.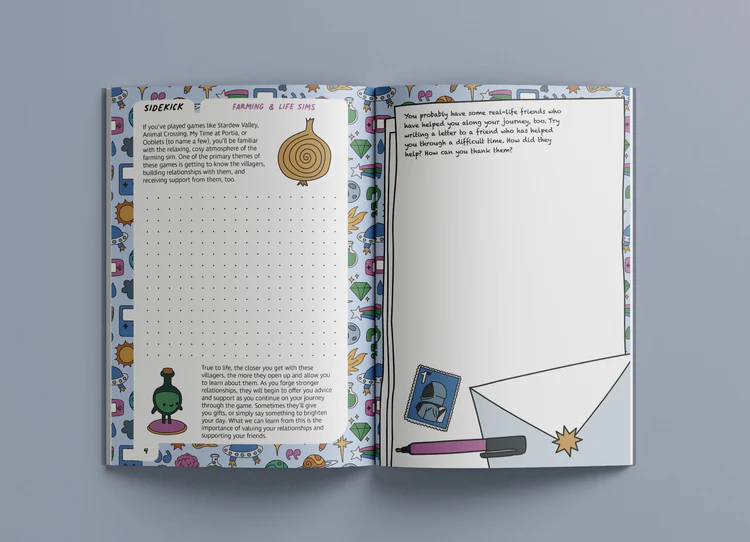 The Clank To Your Ratchet
With quotes from gaming collective darlings like Spiritfarer, Hellblade: Senua's Sacrifice and Night In The Woods, there's been a lot of thought into which video game influences to draw upon. The opening of the book – a stress based section – even immediately references Dark Souls, as we all do when discussing games. It's the Dark Souls of books and so on.
Some bits probably won't land with everyone and can feel a bit… "cheesy"… so to speak, but this will depend very much on your preferences. The nice part is, as with any self-help materials, you can pick-and-choose what sections are relevant for you and focus on those. You don't have to do everything, nor do you have to do it "right", Sidekick is just here to give you pointers along the way.
Plus, it's always intrinsically fun finding a reference to your favourite character or series, as you consider potential burnout and write a letter to your past self. For what Sidekick is trying to be, it really achieves its aim of being a supportive and encouraging accompaniment to a gamer's mental health. It's no replacement for seeking therapy, but it's not meant to be. Perhaps it might even provide an insight which inspires help-seeking for those who need it.
The book itself is presented in a colourful and creative fashion, making it a pleasure to actually flick through. The first half is all about the information, the skills, the references and the self-reflective spaces. The second half is empty pages and blank space for you to use for notes, doodles and lists, or anything else you can think of. It provides ample pages to use as a journal for a good chunk of time.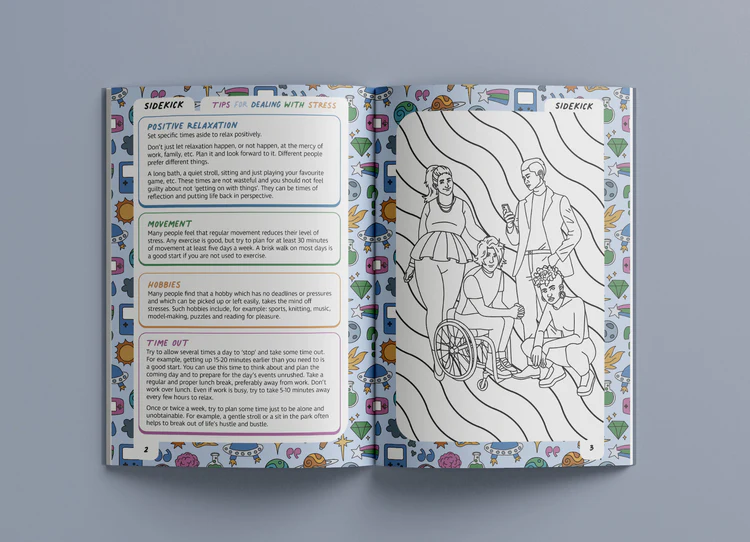 The Cortana To Your Chief
Sidekick is a lovely effort to merge our adoration of video games with the self-help materials of the day, aimed at better supporting our day-to-day lives. In a time where stress, depression and anxiety are only on the rise, there's a space and a need for companions like this. Your appreciation and value of the book will depend very much on your experience with self-help or CBT before, but this is a well-crafted and well-delivered journal.
As I mentioned earlier, it's no replacement for seeking professional support if you're struggling with your mental health. If you're in the U.K you can access your local IAPT services for free via self-referral or through your GP. There will also be links for various mental health support services at the bottom of this article, if you would like to reach out to access some help.
Coming back to Sidekick though, it's a fantastic vision brought to life and if it even helps one person get into healthier habits, or connects them with something meaningful, it will have done its job. I recommend giving it a look if you're interested in improving your mental health or even if you're doing fine but would just like some extra information alongside some fun video game references.
You may just find yourself a special new game to play, or a reference that clicks with you, or even a new skill you can use to reduce that overwhelming feeling of dread. That it's all wrapped up in a colourfully presented journal is all the better. Even Doomslayer and Masterchief themselves needed a hand a couple of times, so what's the harm in getting your very own Sidekick?
---
For more News click here
Make sure to follow Finger Guns on our social channels –Twitter, Facebook, Twitch, Spotify or Apple Podcasts – to keep up to date on our news, reviews and features.
Disclaimer: In order to complete this feature, we were provided with a copy of Sidekick from the publisher.
If you enjoyed this article or any more of our content, please consider our Patreon.
---
Mind:
mind.org.uk
InfoLine: 0300 123 3393
The Mind InfoLine can help you find specialist services in your area.

Samaritans
www.samaritans.org
24 hours a day, 365 days a year. Call 116 123 (free from any phone).

Shout
www.giveusashout.org
For immediate support text SHOUT to 85258 to chat by text to a trained and supervised
volunteer. Free, confidential and available 24 hours a day, 365 days a year.

For more options, visit the Helplines Partnership website for a directory of UK helplines:
www.helplines.org/helpline