Just four months until you can get your hands on the Metal Gear Solid: Master Collection Vol. 1. Read the latest details.
Having been first announced alongside Metal Gear Solid Delta: Snake Eater last month, we now have a firm release date of October 24th for Metal Gear Solid: Master Collection Vol. 1. Huzzah!
Konami have released a rather slick and nostalgic trailer to show off what you can expect from this rather brimming package of content:
Metal Gear Solid: Master Collection Vol. 1 contains Metal Gear Solid, Metal Gear Solid 2: Sons of Liberty, Metal Gear Solid 3: Snake Eater and a host of extra content. Alongside the mainline series' releases, the collection will include a Screenplay Book containing in-game text of each title and a Master Book detailing the story and characters.
Also included will be two digital graphic novels. The first: Metal Gear Solid: Digital Graphic Novel is a fully voiced, digital comic depicting the events of Metal Gear Solid through beautifully dynamic animated panels. This will be followed by Metal Gear Solid 2: Digital Graphic Novel that expands on the events of the sequel.
Originally released as part of the Subsistence version of Metal Gear Solid 3, both the PSX classics of Metal Gear and Metal Gear 2: Snake's Revenge will also be available in Master Collection Vol. 1. Effectively, you're getting five games as well as a bunch of other goodies. What's not to love?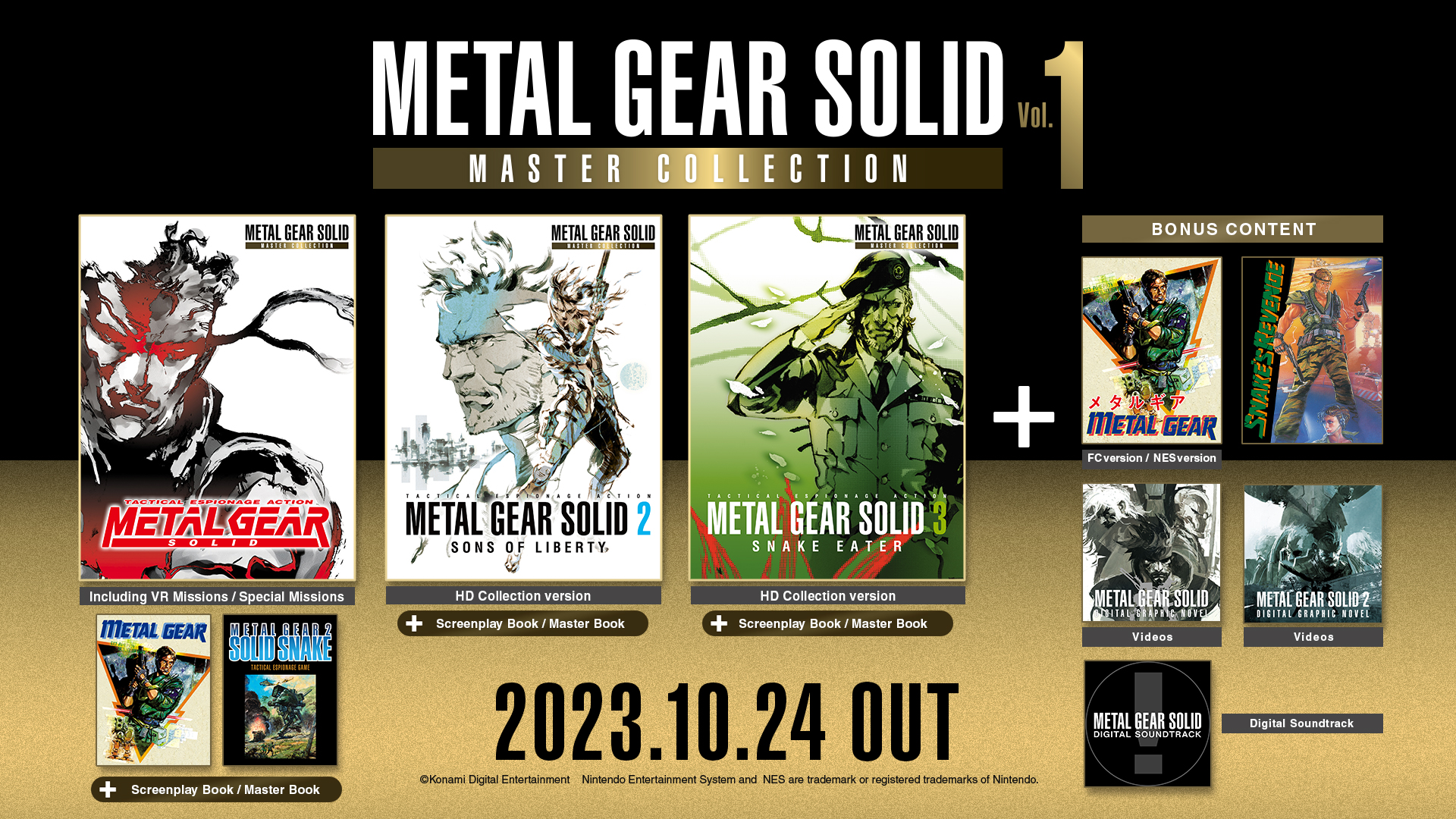 In further good news, you can also purchase Metal Gear Solid, Metal Gear Solid 2: Sons of Liberty, and Metal Gear Solid 3: Snake Eater as stand-alone digital titles separate from the collection.
Given that the MGS franchise has been dormant for quite a while, it's nice to see there's new merchandise also available over at https://officialkonamishop.com/collections/metal-gear if you're interested in showing off your appreciation of the series to the general public.
Metal Gear Solid: Master Collection Vol. 1 will be releasing October 24th for Nintendo Switch, PlayStation 5, Xbox Series X|S and Steam. Pre-orders will bag you a limited digital soundtrack containing newly recorded, orchestral renditions of the iconic themes from the Metal Gear Solid series including: The Best Is Yet To Come, Can't Say Goodbye To Yesterday and Snake Eater.
With the prospect of Vol. 2 likely coming in the future, things are finally looking a little brighter for these veteran clone soldiers. We look forward to getting our hands on the games once again in October and retreading this classic series once more.
---
Source: [Press Release]
For more News click here
Make sure to follow Finger Guns on our social channels –Twitter, Facebook, Twitch, Spotify or Apple Podcasts – to keep up to date on our news, reviews and features.
If you enjoyed this article or any more of our content, please consider our Patreon.