The beloved Konami series is getting a revival, with a soundtrack alongside it. Find out why you should be excited:
The name Suikoden may not sound like much to a vast majority of gamers, but for those who like old-fashioned, turn-based fantasy games, it will. So, here's not one but two pieces of awesome news for people like me, Toby and [hopefully] more.
Firstly, the score to the original Suikoden is getting a vinyl release. Produced by ShipToShore, the gorgeous looking soundtrack is set to ship around June this year. Those lucky American sods get a stunning looking blue marbled version, as well as a standard ocean blue variant. We, the rest of the world, just get the ocean blue.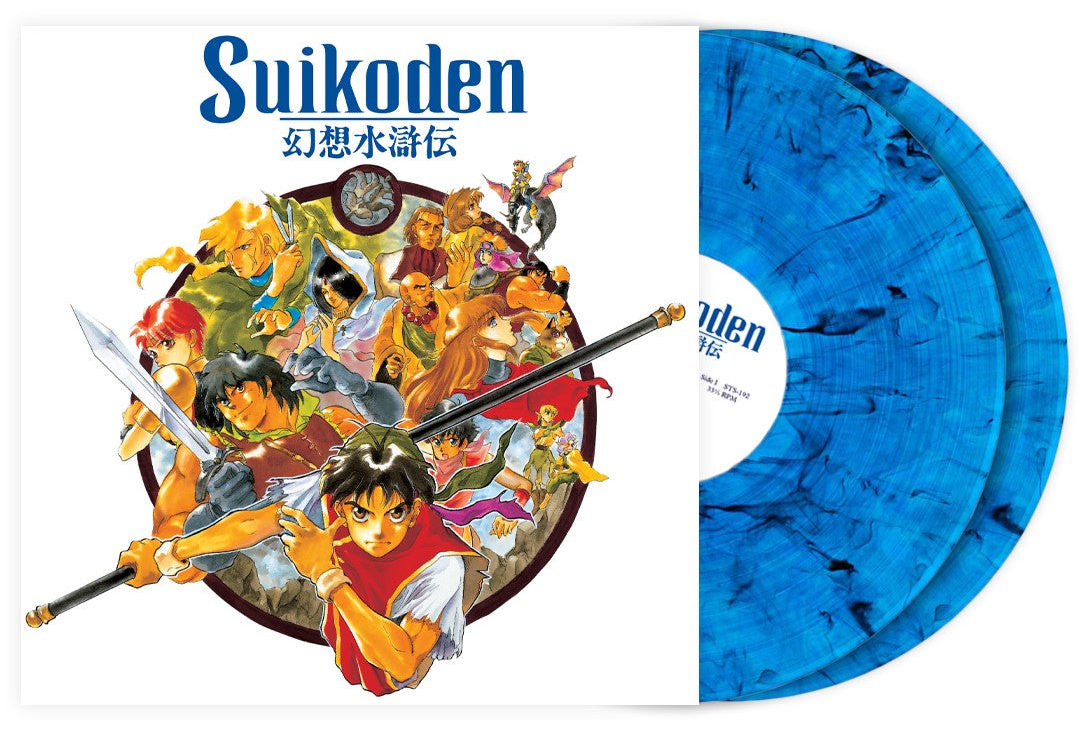 For those that like their collectible soundtracks, you can preorder at the respective links below:
I have a massive fondness for Suikoden, with the second game being one of my all-time favourites. So naturally, as a fan of soundtracks, I bagged one (sadly not a limited edition one, they don't ship here). No word on the second game's soundtrack, but hopefully it'll follow suit.
---
But speaking fondly of the second game, both that and the first are set to be released any damn time now, please by Konami. Dubbed the Suikoden I and II HD Remaster: Gate Rune and Dunan Unification Wars, these two revamps are more than just a gloss over on graphics.
Of course, that's one factor, but other quality of life improvements will surely have fans excited to see (well, I am). So, why the fuss?
Well, Suikoden came out in 1995, more towards the tail-end of 2D graphics and their decline. Remember how much Symphony of the Night was criticised for looking "dated"? This fell under it too. But it reviewed well, spurning a sequel.
Suikoden II, released in 2000, was more of the same but better. Graphically, the writing, the battle systems, it was how a sequel should be done. Still featuring the 108 Stars of Destiny, a recruitment system in each title, it was great and fun to try and get all of them. They're like violent Pokémon that live in your castle.
So, if you are looking for a new old itch, or the other way around, then keep your eyes peeled on these two. As a fan, I can say they're as simple to play as any old turn-based JRPG: Breath of Fire, Legend of Dragoon, etc.
But its the cutesy style that underpins some serious themes of war, abandonment, fate and empirical downfalls that shouldn't be missed. Grandia got a lot of flack for being too formulaic, whereas Suikoden hits much harder. You thought Game of Thrones was good at killing important characters…?
If you're keen, you can keep an eye on the official Twitter account here, as well as me getting all the more excited about it. Might even do a little Suikoden II retrospective at some point…
---
If you enjoyed this article or any more of our content, please consider our Patreon.
Make sure to follow Finger Guns on our social channels –Twitter, Facebook, Twitch, Spotify or Apple Podcasts – to keep up to date on our news, reviews and features.