The Classic is back in a compilation called Turrican Flashback. The Finger Guns Review.
When one of the chaps on Slack wrote "someone wake Paul up, there is a Turrican Flashback code in!" without hesitation, I did wake up and jumped at the chance to play a retro favourite of mine all over again. But how does the game (or games in this case) hold up 30 years on?
Why was I so excited about playing this game again? It's all thanks to the soundtrack. It's the one thing that stands out for me. I even included it in some of the mix tapes I made back yonder (Yeah, I said tapes. Come at me).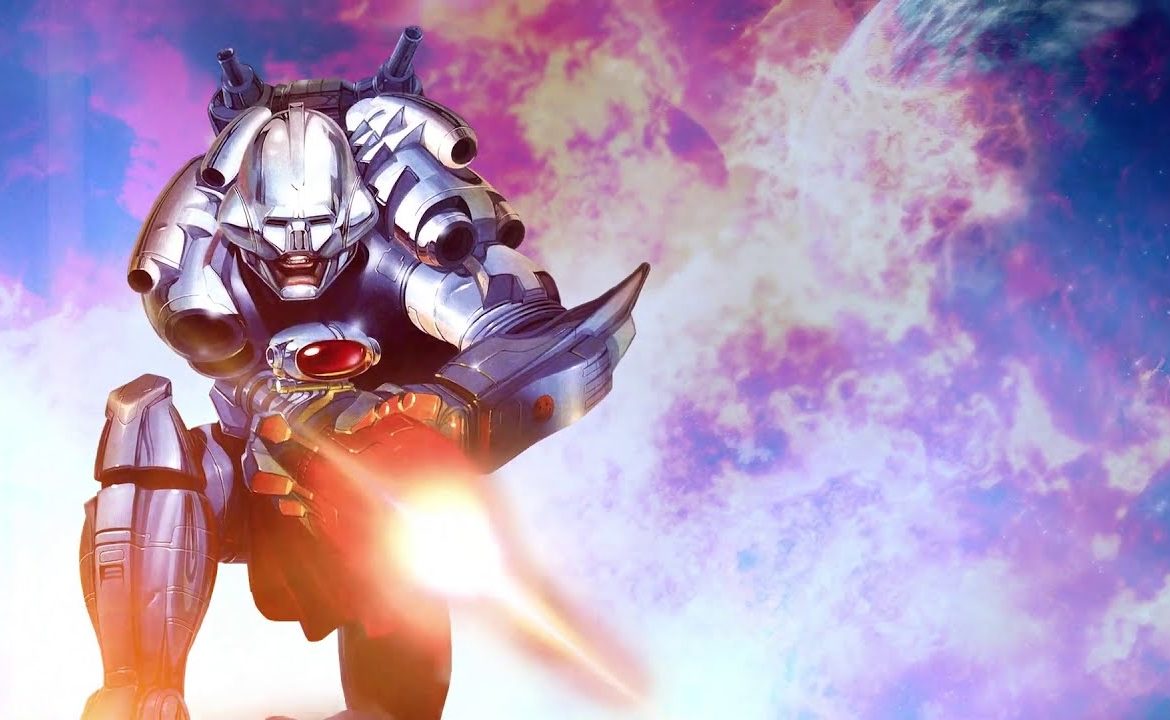 So Turrican Rewind is a collection of four Turrican games all bundled into one handy package. This includes Turrican, Turrican II: Final Fight, Mega Turrican and Super Turrican. That's a hell of a lot of laser bullets you'll be firing!
When Turrican first arrived, it blew people's minds with its graphics and soundtrack, things that the Commodore 64 and ZX Spectrum were not really known for. Because of that, Turrican made its way into the hearts of gamers, on pretty much every format you could possibly think of including Phillips CDi.
For all its graphical flair and audio delight, Turrican is a fairly standard side-scrolling platform-shooter which is often compared to Metroid and Contra mixed with a little bit of Mega Man for good measure. But what it does do brilliantly is its weapons. There are loads, arguably some of the best weapons of the era. It's almost like a 16-bit version of Ratchet & Clank when it comes to weapon variety.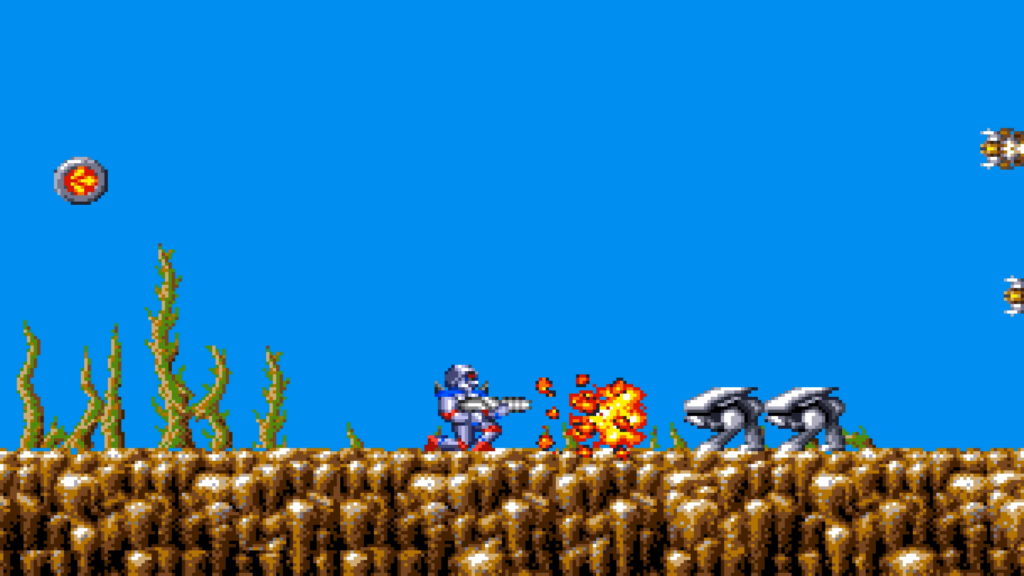 The gameplay is very much of its time with pixel perfect jumps required. You know, the ones where your character is balancing on their heel! Those two extra pixels are the difference between making it to the next platform or falling to your doom.
Speaking of falling to your doom, you will be doing lots of that in Turrican Flashback and not all of them down to your skills. The exploratory nature of the game means that you can't always see what's just below, or in front of you meaning you have no choice but to take a leap of faith and hope you land on a platform and not die. Something gamers of my age are used to as it was the norm back then. These days however I don't think gamers will accept such bad game design.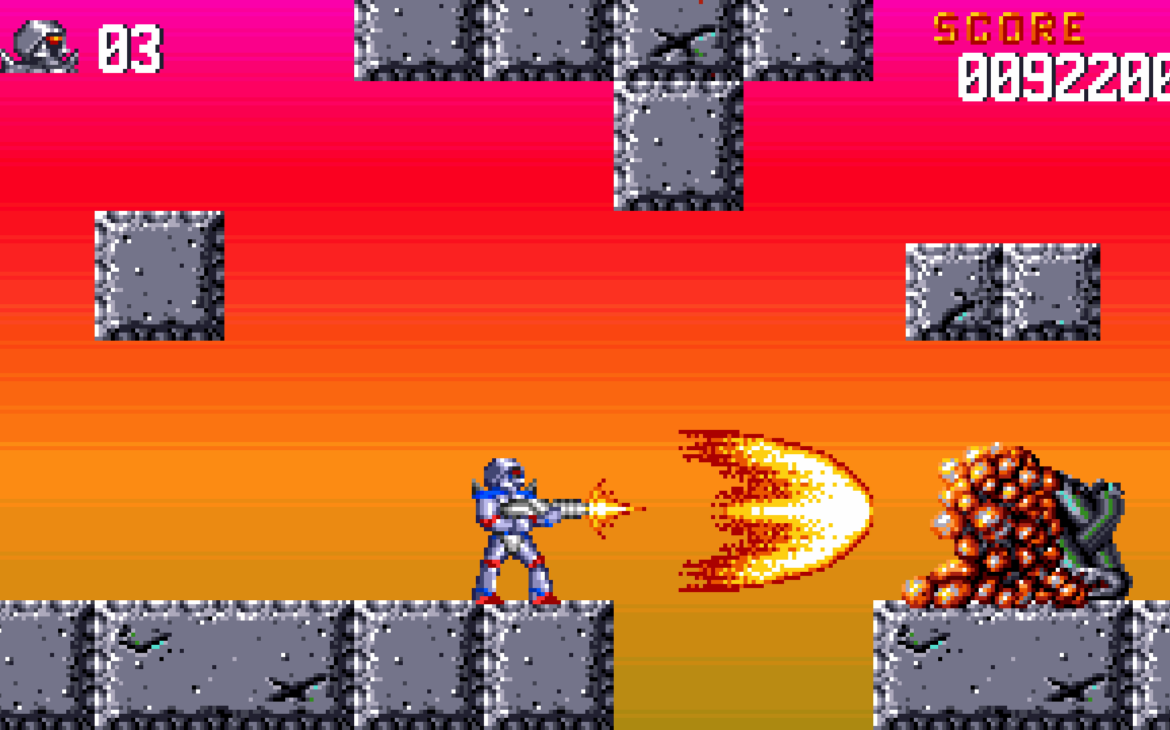 The good news is the developers have realised this and incorporated a few nifty extras to cater for those that fine leaps of faith a bit too annoying. First up is the save states. Here you can save the game as and when you please. An absolute godsend! Also, to help you on your way is a very handy rewind function. Allowing you to rewind the game to a point where you can put right what went wrong. A bit like Sam Beckett.
These are great additions because the surprisingly non-linear gameplay makes you want to explore more than you perhaps thought you would. Exploration is rewarded with unexpected secrets and areas. However, prepare to get lost or accidentally wander into a giant boss fight
To help Turrican on their way, aside from the weapons, they have a morph ball function and a grappling hook. Here you can see why the game is compared to Metroid. Don't be fooled though, this doesn't have Metroid's puzzles. This is just all-out war.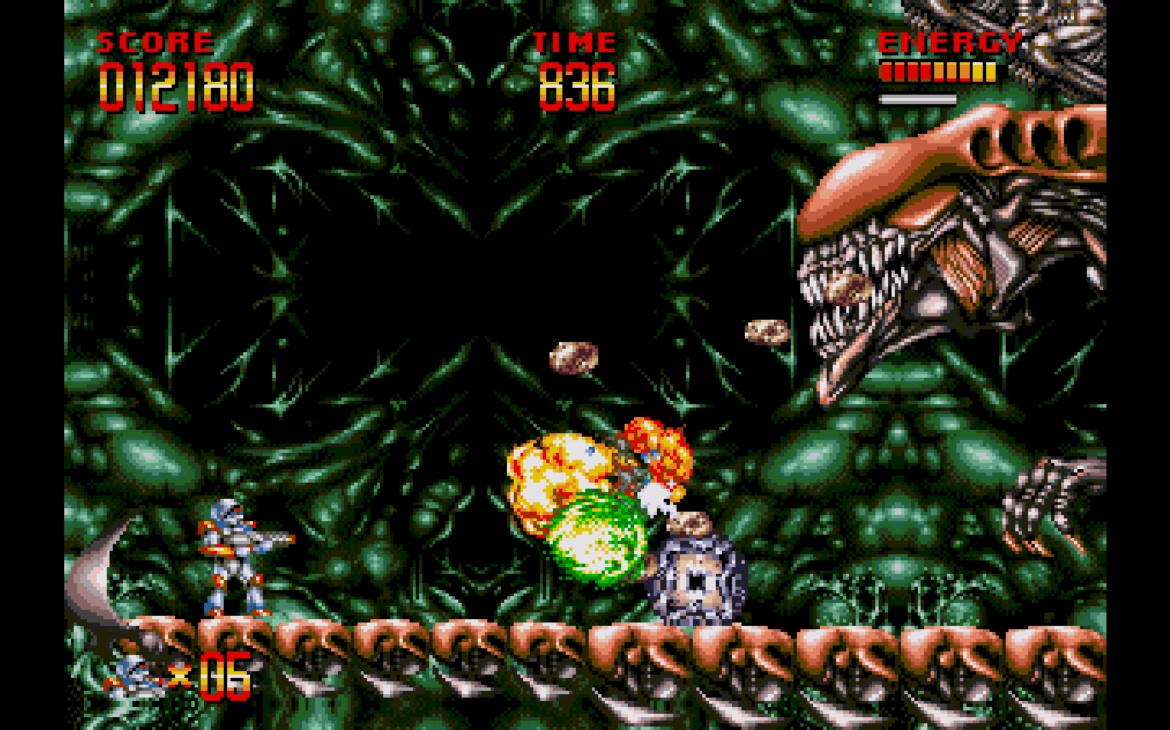 You can easily see a mix of influences within Turrican, not all end up being good though. For example, you can't shoot up while moving. Given the verticality of the levels it feels very restrictive. It desperately needs the same run and gun rotation method seen on the likes of Contra.
Strangely the best games in the collection are Turrican One and more so Turrican 2. These are the games that have more depth where Mega and Super Turrican are more your standard scrolling shooter. It's a shame that there are none of the more obscure versions like the one found on Phillips CDi or perhaps some of the various director's cuts that have appeared over the years.
In fact, there is nothing included that alludes to the series' rich past. No behind the scenes information, artwork or historic extras. Especially considering the game is coming to you from the original developers, Factor 5. Nothing about the soundtrack which sits in so many gamers hearts. Although there is a raft of filters you can add if you want that true retro look. Oh, and you'll find the original cheat codes still work. All told though this is a missed opportunity here, I think.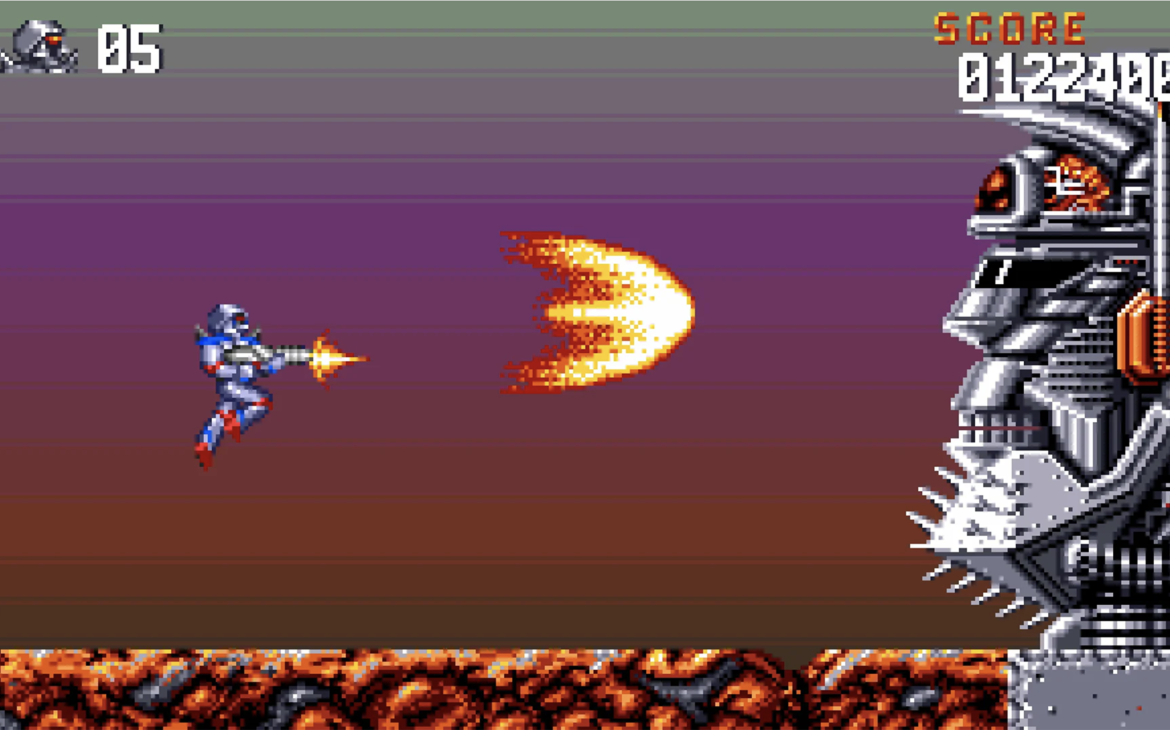 All told, I was surprised how much I enjoyed Turrican. It has held up pretty well considering it's 30 years old. It's still pretty simplistic so don't expect anything too advanced. Plus, the four games are all pretty similar and I'm almost certain I've seen some of the enemies in all the games. 
Turrican is retro difficult, and I doubt this game will gain many new fans, but it's nice to see Factor 5 back again after nearly going bust over 10 years ago.
---
Turrican Flashback is a rose-tinted ride to the heady days of the Amiga. However you can't help but think this is a wasted opportunity considering the lack of extra features.

Turrican Flashback is available now on Xbox, PlayStation 4 (reviewed on PS4 Pro) & Nintendo Switch.
Developer: Factor 5 Ratalaika Games
Publisher: ININ Games
Disclaimer: In order to complete this review, we were provided with a promotional copy of the game. For our full review policy, please go here.
If you enjoyed this article or any more of our content, please consider our Patreon.
Make sure to follow Finger Guns on our social channels –Twitter, Facebook, Twitch, Spotify or Apple Podcasts – to keep up to date on our news, reviews and features.