This latest trailer delves into what it is a Medium does...
Ahead of the games release on January 28th, The Medium developers Bloober Team have released a new trailer to answer some burning questions. Primarily "What is it exactly does a Medium do?".
"The latest quickfire video entitled What Does A Medium Do? explains what it means to be a medium like Marianne – the game's protagonist – and showcases some of the unique psychic abilities she is able to use to navigate the spirit world and unravel its mysteries."
Check it out below:
Marianne's abilities in The Medium are tied to her attuned senses. She's able to feel power sources, feel emotional traces on objects and can even relive the echo's that these items leave behind. These powers will allow her to intuit what has happened in this game on Earth, Hell and Limbo.
Also announced today are the PC specs for The Medium. As you might expect with a game that looks this damn pretty, there's some reasonably high entry requirements (*looks disapprovingly at crappy laptop that has no hope of running it*).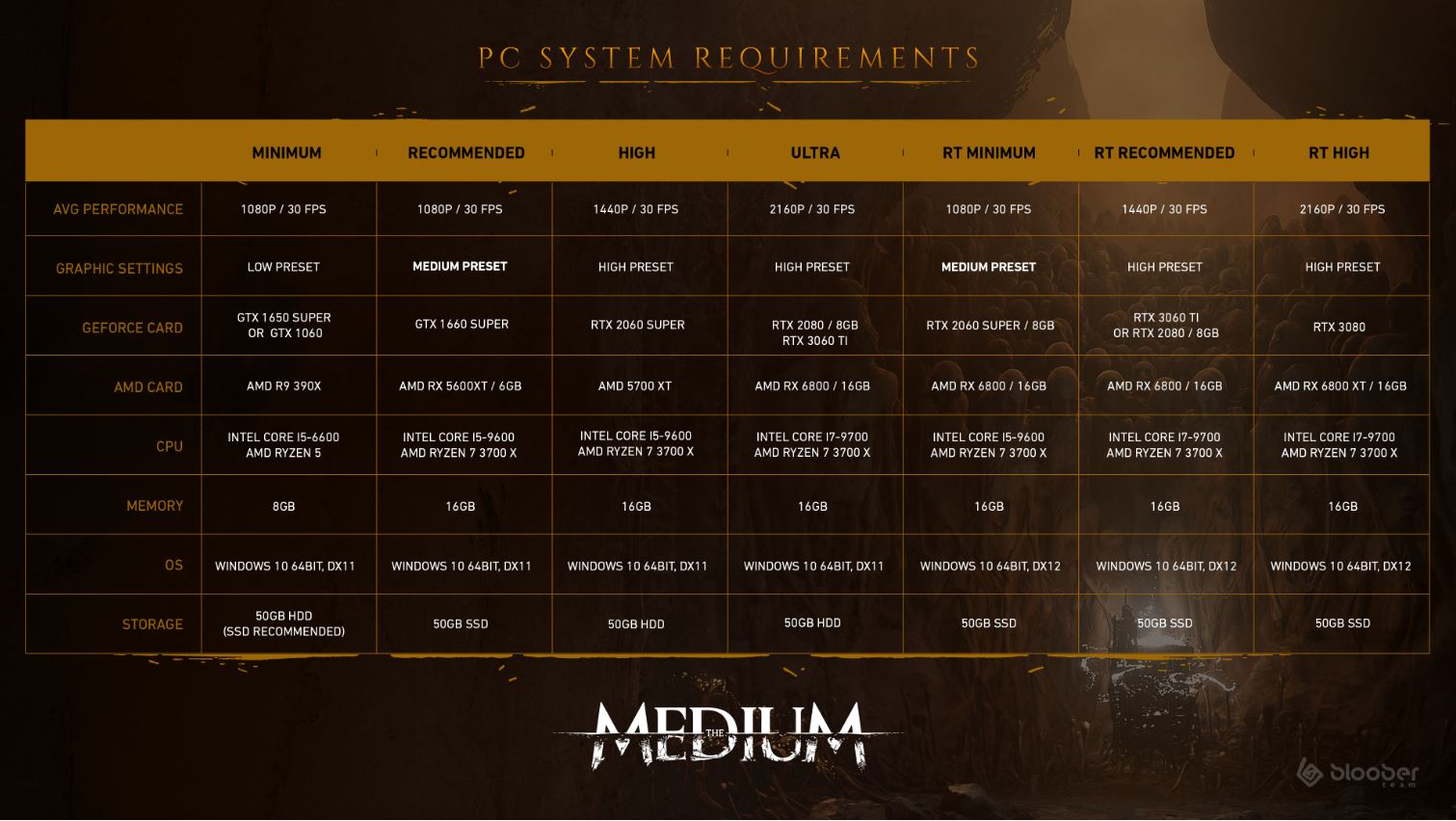 You're going to need at least a GTX 1650 Super / GTX 1060 or better, an AMD R9 390X, Intel Core I5-6600 or Ryzen 5 CPU and 8GM of RAM in order to run it at 1080p, 30fps on the The Medium on the lowest setting. For the RT modes, the required specs are obviously higher.
Of course, if you've not got a rig powerful but you're lucky enough to have an Xbox Series S or X, you're already set. The Medium is an Xbox Series console exclusive right now.
Make sure to check out The Medium when it launches on on Xbox Series X|S and PC via Steam and the Epic Store on January 28, 2021.
For more information on the game, please visit www.themediumgame.com; Follow them on Twitter @TheMediumGame; Like the game on on Facebook @MediumGame, or follow them on Instagram @the_medium_game.
Source: Press Release.