You don't even need to pay full price for the best football game in years. PES 2021, The Finger Guns Review;
You've got to hand it to Konami. Not for a long of things, they've been a trainwreck for the past few years, dealing with major franchises the way a child throws a toy on the ground never to pick it up again until they throw it in the dirt and then hand it to you like a present. It's fair to say their public persona hasn't exactly been a sea of positivity, but one franchise always rose above the vitriol and the bad press; PES. Namely, the only real answer to EA Sports FIFA juggernaut that continues to roll on no matter how dreadful they continue to make it.
Konami, in its infinite wisdom have taken it upon themselves to be the first to move into the long-awaited 'Seasonal Update' territory, a yearly model that allows you to keep a single copy of the game and then pay for an incremental update every year which allows players to keep their stats and teams up to date. A feature that FIFA has been crying out for as EA Sports get increasingly worried they've ran out of ideas.
As a lifelong fan of football games I've cried out for the 'Seasonal Update' angle, buy in at full whack once and then update every year at a lower price whilst keeping me in the ecosystem? It makes an awful lot of sense on paper. How has it worked out for PES?
The first thing you should probably know is that this is effectively PES 2020. They're not messing around with the Seasonal Update gubbins here, purely that's all you're getting that's somewhat different from last years entry (albeit with the odd nice extra which I'll go into soon). Kits, squads, stadiums, transfers are all bang up to date for the 2020-2021 football season – though the stadiums full of fans is highly unrealistic at time of writing – and whilst the more hardcore may require more, the words 'Seasonal Update' is exactly what it says on the tin. This is PES 2020 with 2021 teams. You shouldn't be expecting much else.
That's until you get on the pitch, and you realise that there are several new ways to play and pretend that you're Paul Pogba getting frustrated because he's surrounded by worthless money-hungry wastemen (why yes, your reviewer is a Man United fan, thanks for asking). The 2020 updates such as the brilliant new camera angle, dribbling physics and the Master League are all present and correct here. The only major thing that's changed in the presentation is that the colours of the menus are different, and that's literally it.
Ah, and there's some new music. Hey, it's £25, what did you want, exactly?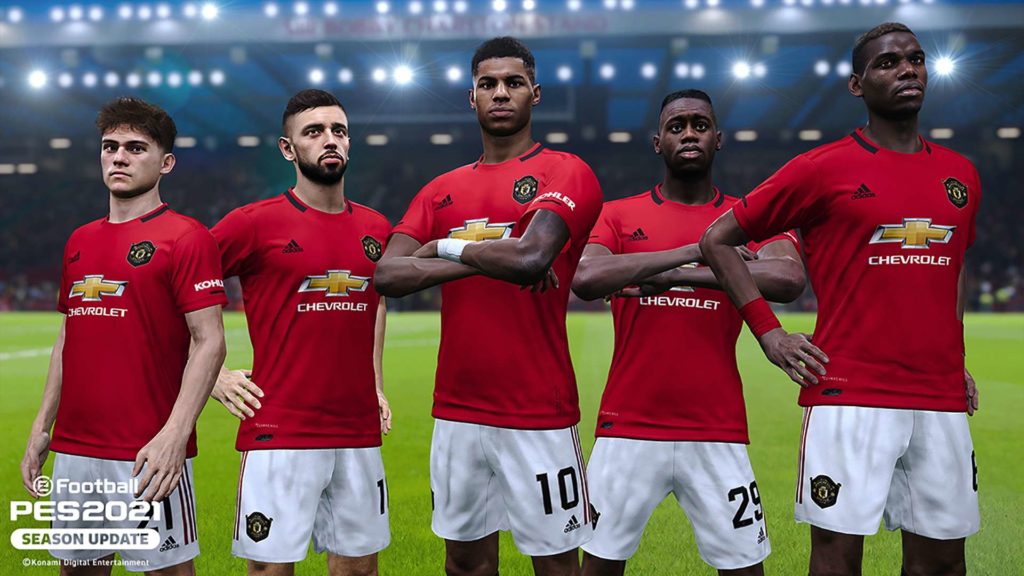 There's no denying PES 2021 does feel a little different on the field. There's a degree of responsiveness from your AI teammates that feels more naturalistic than previous iterations. The games feel somewhat slower – a bit of a shock for this reviewer, who grew up with PES as the arcadey alternative to FIFA's more fervent simulation perspective – but rest assured if you're playing as Manchester United, one of the few teams that actually have their official license in the game, the slow pace should feel pretty on par with the real thing.
The 'eFootball' moniker, introduced in PES 2020, remains present and correct and the online experience remains paramount to PES as a whole. PES 2021 introduces various upgrades (matchmaking including having a stable internet connection and improved player collisions) which are solid and benefit from an ever-improving engine. Online games are fast and frenetic, as they should be. The games are very rarely plodding like the offline experience, and as such the mechanics do have the odd clipping and, in the case of one game I had, the ball can spin wildly out of control when attempting worldies from outside the box. And before you ask no, it wasn't just me.
There's little difference in the online divisions from PES 2020 to 2021. MyClub (PES's answer to FIFA's Ultimate Team) has always felt like a far fairer player experience than Ultimate Team. Whilst FIFA lives and dies on the randomness of their various player packs and how resolutely unfair they feel when you're bitterly screwed over getting Ryan bloody Shawcross like I should be in any way happy about that , MyClub allows you to build a team of Galacticos from the off. My initial team had Peter Schmeichel in goal, Beckham in my midfield and Sergio Ramos in my attack. Wonderful. I still lost, because people are better than me, but it was a decent enough starting point for someone who hasn't really dabbled in MyClub that much before.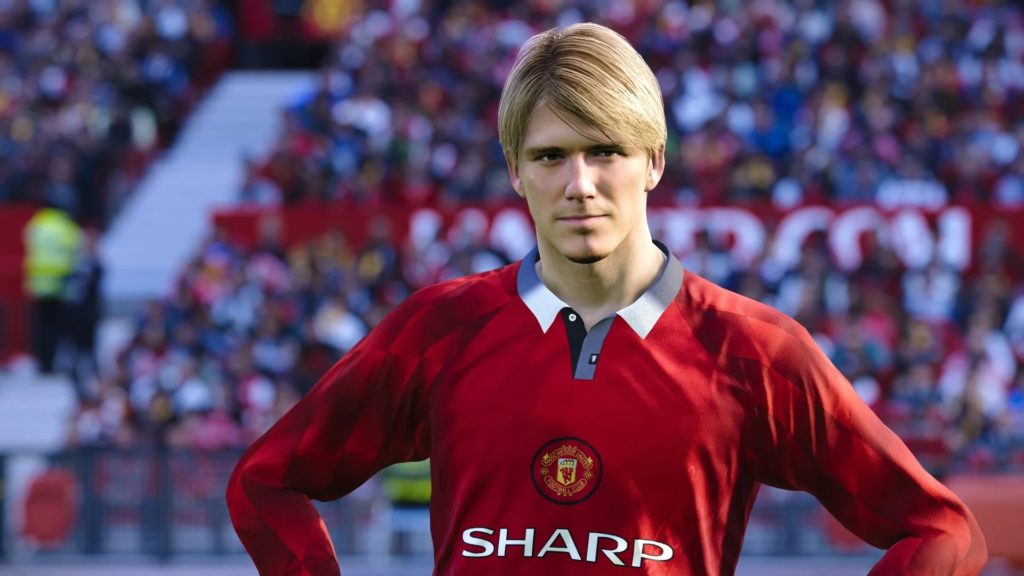 Visually, PES 2021 is an absolute delight. Whilst not a massive upgrade from last years engine, unsurprisingly, players genuinely look like their real life counterparts – Rashford looking like the absolutely stone cold legend that he is, adding an extra point to the games overall score down below -, with licensed stadiums very much looking the part. No, it's not FIFA, but then seeing as all FIFA has going for it these days is how it looks it's hardly a complaint.
What these small additions ultimately build towards though is a feeling that PES 2021 is an experience that's as much of a risk as it is a reward. It feels like the full package, a football game that's built on the foundation of the years previous entry, and whilst only expanding upon it in small doses, becomes a title that feels like a genuine update, rather than say FIFA 20's meanderingly dull gameplay and Volta mode that makes FIFA Street look like Half-Life 2 in historical gaming terms. PES, as it always has done, feels far more player focused, and the fundamental '2021' update has done wonders for its stature against EA's favourite child.
I had an absolute disdain for FIFA 2020 last year. I felt it was a far cry of the terrific FIFA 19 and after dipping my toe in PES 2021, I was immediately sold on Konami's brave new attempt at bringing their game back every year with incremental updates. If it's always going to be as good as this, I'm completely sold.
---
This Season Update experiment makes you wonder why this hasn't been the norm for football games for years. If this is the future of the genre, sign me up. EA should be looking over their shoulder. PES has retaken the crown.
9/10
eFootball PES 2021 Season Update is available now on Xbox One, PS4 (reviewed on PS4 Pro) and PC.
Developer: Konami
Publisher: Konami
Disclaimer: In order to complete this review, we were provided with a promotional copy of the game. For our full review policy, please go here.
If you enjoyed this article or any more of our content, please consider our Patreon.
Make sure to follow Finger Guns on our social channels –Twitter, Facebook, Twitch, Spotify or Apple Podcasts – to keep up to date on our news, reviews and features.