A sample of the vast array of customisation we can expect from the Saints Row reboot, Boss Factory is an impressive create-a-player playground. The Finger Guns Preview.
A sample of the vast array of customisation we can expect from the Saints Row reboot, Boss Factory is an impressive create-a-player playground. The Finger Guns Preview.
One of the big developments we noticed in our preview is that the sheer amount of customisation available in the Saints Row reboot looks to be far, far greater than anything we've seen from this series in the past. More so than in any other Saints Row title, it appears you can really make the experience yours by customising much of the content. From the aesthetic of your base, the look of your weapons, the attributes of your vehicles, the location of your gang fronts, and – most pertinent to this preview – the look of your playable 'Boss' can be tailored in a myriad ways.
As part of the Summer Game Fest, Deep Silver and Volition games have unveiled a way for everyone to get a sneak peak at the scope of that customisation in the shape of the 'Saints Row Boss Factory'. Free to download on every platform that Saints Row will launch on (PC, Xbox and PlayStation), the Boss Factory lets you tinker in the create-a-character suite till your heart's content. We've had some hands on time with it already and it's hard not to be impressed by how expansive it is.
In essence, Saints Row Boss Factory is a way to create your playable character before the main Saints Row game releases. Once the game launches, you can load up your Boss (so long as the Boss Factor is assigned to the same platform as your copy of Saints Row) then dive straight in without having to spend a few hours making sure every element of you character is just right (it's cool, we've all done it).
Every aspect of the 'Boss' can be tailored and altered via an immense series of options. Skin colour, tans, wrinkles, scars, tattoos, facial features, prosthetics, piercings, body shape, body hair and muscles are all part of thousands of customisable physical characteristics. You can even alter how veiny your character is. Want to walk around like you've constantly got a pump on? Sure. Do that. For the first time in the series, this Saints Row game (and thus, the Boss Factory) has asymmetrical face customisation too. You can alter each side of the face independently which, surprisingly, makes quite a bit of difference.
You can really tailor your style here. All of the final character customisation options from the launch version of Saints Row (except for items you'll unlock via game progression) are included in the Boss Factory. Hair styles, of which there are numerous, can be coloured however you wish, including how glossy it is. I went for some Mohican spikes in traditional Saints purple, for old time's sake, on my first attempt. There's a massive wardrobe of clothing to try on; shirts, jackets, bottoms, footwear, socks, glasses, earrings – there's an embarrassment of riches in clothing options and they can all have their colour altered how you see fit.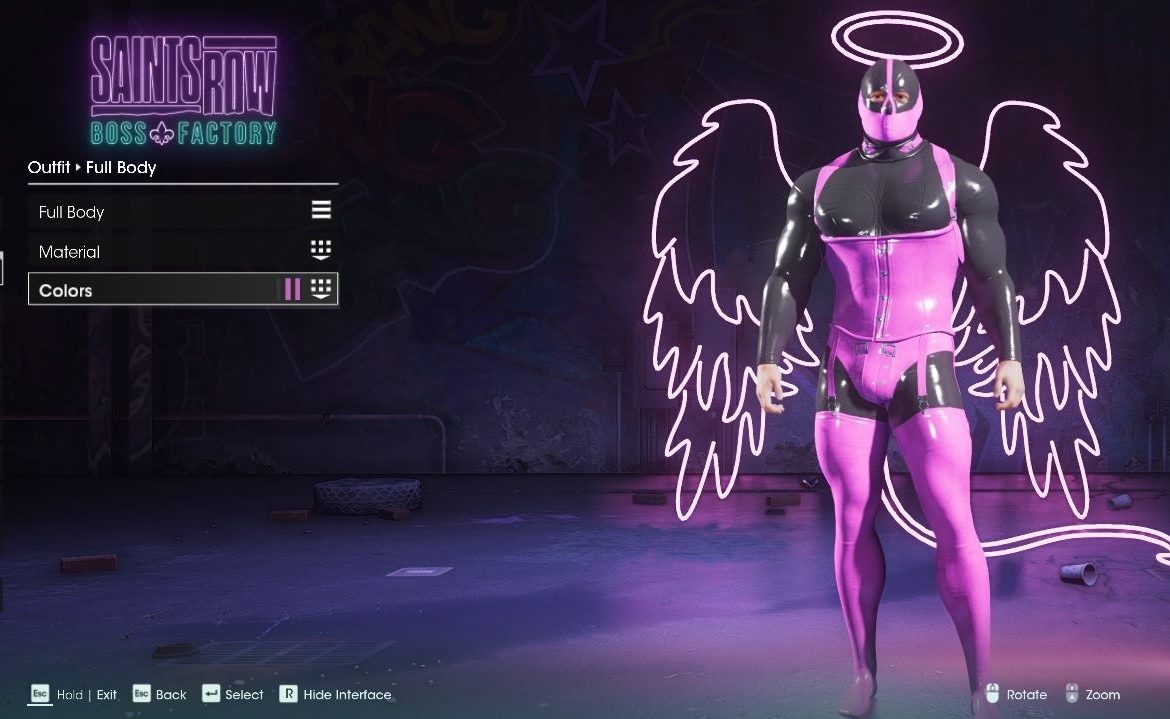 In my preview, I mentioned how there was no mention of massive dildo baseball bats. That seemed to disappoint some people – no judgement here – but there's hints that the kinky side of Saints Row is still present and correct within the Boss Factory. That comes in the shape of a few full body latex suits you can don and colour however you like. They even have that zip up mouth hole.
Once you're happy with the Boss you've created, you can save it ready for August 23rd, 2022. If you're the creative type though, you might want to keep making and sharing your Boss Factory creations. You can create as many as you like. When saved and shared, each Boss generates a 7 character share code. If you share this code with friends, they can search for it and download your boss to their own Boss Factory, no matter what platform they're playing on. I imagine there's going to a reasonably dedicated community surrounding this feature until Saints Row launches because you can create some truly outlandish stuff. There's going to be an upvote system for community creations as well as a Hall of Fame online alongside curated community content highlighting some of the most impressive builds.
If you download the Saints Row Boss Factory for the same platform as you purchase and play Saints Row, you'll also be rewarded with 2 exclusive DJ Helmets in the full Saints Row game when it launches.
As marketing efforts go, the Saints Row Boss Factory is one of the most impressive I've seen in quite some time. It's quite a technical achievement to have this huge suite of create-a-character tools available to play around with months before the full game actually goes live. For some people – admittedly, that's me – creating the perfect customisable character is a big part of their video game experience. With the Boss Factory tool, the first time I boot up Saints Row, I won't be spending my first night deliberating over eyebrows or forehead placement like I did with the likes of Skyrim.
If anything though, it's going to make the wait until August 23rd all the more arduous.
Saints Row Boss Factory is launching on PS5, PS4, Xbox One, Xbox Series S/X, PC via Epic Game Store and online at www.SaintsRow.com on June 9th, 2022.
Saints Row (2022) launches on PS5, PS4, Xbox One, Xbox Series S/X and PC via Epic Game Store on August 23rd, 2022. It is available to pre-order now (click here).
---
If you enjoyed this article or any more of our content, please consider our Patreon.
Make sure to follow Finger Guns on our social channels –Twitter, Facebook, Twitch, Spotify or Apple Podcasts – to keep up to date on our news, reviews and features.