From 2D skateboard journeys to playable metal albums, May has indie games for everyone. Here's 20 we think you should be excited about.
From 2D skateboard journeys to playable metal albums, May has indie games for everyone. Here's 20 we think you should be excited about.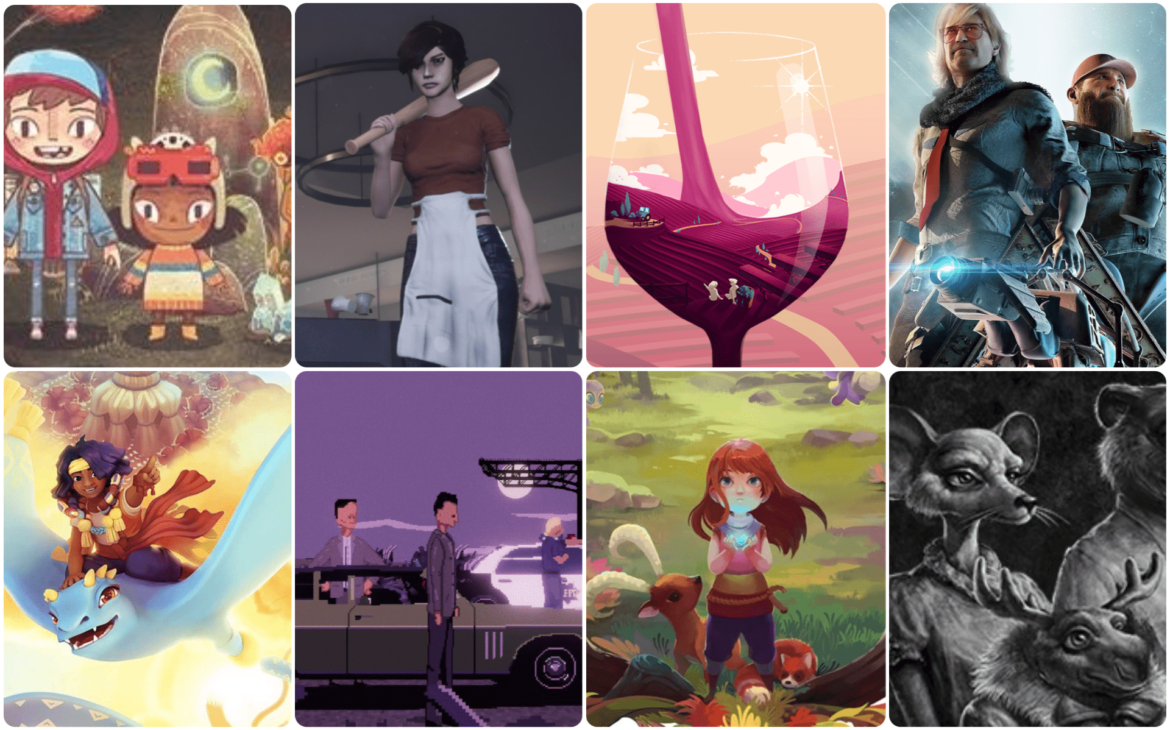 The Wild At Heart by Moonlight Kids – May 20th
I'm just going to say it. The art style of The Wild At Heart is stunning. A cross between a living comic book and a children's book, it's arrestingly charming. The same can be said about the premise to this game too; set in "the Deep Woods", two precocious kids are fleeing hardship. They agree to help a species of lost guardians in a Pikmin-esque fashion, garnering hordes of them before commanding them to solve puzzles, loot treasures and fight enemies. There's an air of wonderment to The Wild At Heart that we'll be able to experience on May 20th when it launches on PC via Steam and on Xbox platforms.
The Longest Road On Earth by Brainwash Gang – May 20th
The concept of a narrative focused game that's completely without text or vocals isn't a new one, but The Longest Road On Earth certainly seems to be the best execution of that idea. This is a parsed down experience with limited interactivity, instead focusing on delivering the story of 4 characters via soul soaring music and enchanting visuals. For me, this was a standout of the recent Future Game Show, exemplifying the innovation that still exists within the indie games space. If you like your games with strong stories and like to experience new avenues of narrative delivery, make sure to check out The Longest Road of Earth when it launches on May 20th for PC via Stream and mobile devices.
Beautiful Desolation by The Brotherhood – May 28th
Beautiful Desolation from 2-man team The Brotherhood originally released on PC back in 2020. Eurogamer Italy called it "magnificent, non-linear and original". GamePlanet said its "an essential entry in the Adventure Game genre". Ragequit called it "delightfully bizarre". On May 28th, Untold Stories are helping bring this award winning adventure game to PS4 and Switch. It's rare that a game gets all of the Finger Guns team excited but our Slack lit up when I posted the trailer for this game there.
Yonder: The Cloud Catcher Chronicles by Prideful Sloth – May 5th
The relaxed RPG 'Yonder: The Cloud Catcher Chronicles' was originally released for PC and PlayStation 4 in 2017 before launching on Nintendo Switch in 2018 and Xbox One in 2019. On May 5th, 2021 it'll be adding the PlayStation 5 to its available platforms with an "Enhanced Edition". This version will include DualSense controller haptic and speaker support, 4K resolution and 60 frames per second visuals and additional player character accessories. As someone who has not yet been able to play Yonder: The Cloud Catcher Chronicles despite the rave reviews it has received, I'm personally very excited to get my hands on the best version of a beloved RPG.
Divisadero by Team2Bit – May 6th
If there's one thing you can say about Divisadero it's that it looks entirely unique. A cli-fi, true crime narrative adventure set in a dystopian San Francisco that has been destroyed by war and natural disasters, it makes for an interesting pitch. It tells the story of a disgraced police detective who's hunting the perpetrator of some horrific crimes and along the way, we'll learn the backstory to the lead characters as well as what happened to San Francisco. Developers Team2Bit have a habit of making indie games that come out of left field like Fist Puncher, Reagan Gorbachev and Final Fleet. Divisadero looks to be following that trend. Check it out when it hits Steam on May 6th.
Hundred Days by Broken Arms Games – May 13th
There's a warmth and odd familiar feeling to Hundred Days, despite its originality. A simulation game that deep dives into the details of making wine, it's an entirely new premise. This is a title that has managed to gamify the importance of different yeasts and bacteria strains, inspire thought to soil analysis and lets you experiment to create your own brand of wine to suit the needs of your customers. All of this is backed up by real data provided from Italian winemaking businesses from the Piedmont region. What's more, it comes with a narrative twist that'll run alongside the gameplay. We spent some time with Hundred Days when it was part of the Steam Summer Festival and were left suitably impressed. We'll soon be able to play the full game on PC (Steam, GOG and Epic Games Store), mobile devices and Stadia come May 13th, 2021.
Lacuna by DigiTales Interactive – May 20th
Alright. I'll say it. I'm getting a bit tired of Cyberpunk. It's getting shoehorned into everything these days. It's refreshing then to see a game like Lacuna described by developers DigiTales Interactive as a good old "Sci-Fi Noir Adventure". In this game you play as hardboiled CDI agent Neil Conrad as he explores a gorgeous 2D sci-fi world and tries to solve a lattice of connected crimes. Lacuna is a dialog-driven adventure that tests the player to guide Neil through increasingly difficult decisions which take him down a branching story. This tale changes depending on his actions. Some of these decisions will pit the greater good against the personal and emotional. What will you choose? I guess we'll find out on May 20th when Lacuna launches on PC via Steam.
Of Bird And Cage by Capricia Productions – May 20th
I'll be honest, I don't think I've ever 'played' a metal album. I tried Kiss: Psycho Circus: The Nightmare Child and had a brief love affair with Revolution X in the 90's but they're both more 'game' than playable music album. Of Bird And Cage stands alone then as an album of symphonic metal music that you play your way through. Featuring famous artists like Kobra Paige, Rob van der Loo, Ron "Bumblefoot" Thal and Ruud Jolie, this game album portrays a story of trauma, violence, and madness as drug addict Gitta attempts to escape her captor. If you're into your metal music and have a penchant for indie games, make sure to give Of Bird And Cage a listen/play when it launches on May 20th via Steam.
An Airport For Aliens Currently Run By Dogs by Strange Scaffold – May 25th
"Write lists of cool looking indie games" they said. "It'll be easy" they said. And now I sit here trying to find the words to describe one of the most eccentric indie games I've ever come across. Well. Here goes nothing. An Airport For Aliens Currently Ran By Dogs is a first-person open-world comedy adventure game. You play as the last 2 humans in existence and dogs have now taken over the airports. Because of course they have. The game features a dog who loves bribes, awkward conversations with canine passengers, impossibly large cups of coffee and bad jokes written in an alien language. No seriously. Look. Just go to the Steam page. You back? I told you I wasn't kidding. When a Steam page description makes you smirk more than most full games do, you know you're onto a winner. An Airport For Aliens Currently Run By Dogs touches down on May 25th on PC via Steam.
Weaving Tides by Follow the Feathers – May 27th
Over the years, many developers have attempted to make a game feel like they're built from fabric. I don't think any have managed to nail that aesthetic as well as Weaving Tides has. Like a cross-stitch world made of "magic and textile", this game has you riding dragon-like Weavers to sew and embroider your way through puzzles and overcome a gallery of "cheeky creatures". I try to avoid the word 'wholesome' as it has lost a lot of its meaning these days but Weaving Tides looks like a game that epitomises that saying. It looks wholesome and I love it. Spectacularly charming with a novel concept, this game launches on PC via Steam and Nintendo Switch on May 27th.
---
Know of other indie games we should have our eye on? Are you a developer yourself and want to show us what you're working on? Head to the comments section or hit us up at Hello@fingerguns.net
---
If you enjoyed this indie games article or any more of our content, please consider our Patreon.
Make sure to follow Finger Guns on our social channels –Twitter, Facebook, Twitch, Spotify or Apple Podcasts – to keep up to date on our indie games news, reviews and features.