A roguelike top-down shooter to avoid, Maze Blaze is a depressingly boring maze to enter. The Finger Guns review:
Maze Blaze promises a top-down shooter roguelike with "endless possibilities". Only thing is, all the possibilities are limited to the same handful of simplistic, uninteresting variables that don't coalesce into anything resembling a fun or engaging run-and-gun shooter.
It follows all of the expected staples of the roguelike genre, including all of the worst elements that have been overhauled and vastly improved on over the years. Repetitious corridors, shallow shooting mechanics and a poorly implemented co-op system can only hold your attention for so long.
So long being, about 30 minutes. Anything more and you'll feel your enthusiasm be drained right before your eyes. I'd never been able to empathise with how a dementor could absorb happiness so relentlessly quick, until I played this game.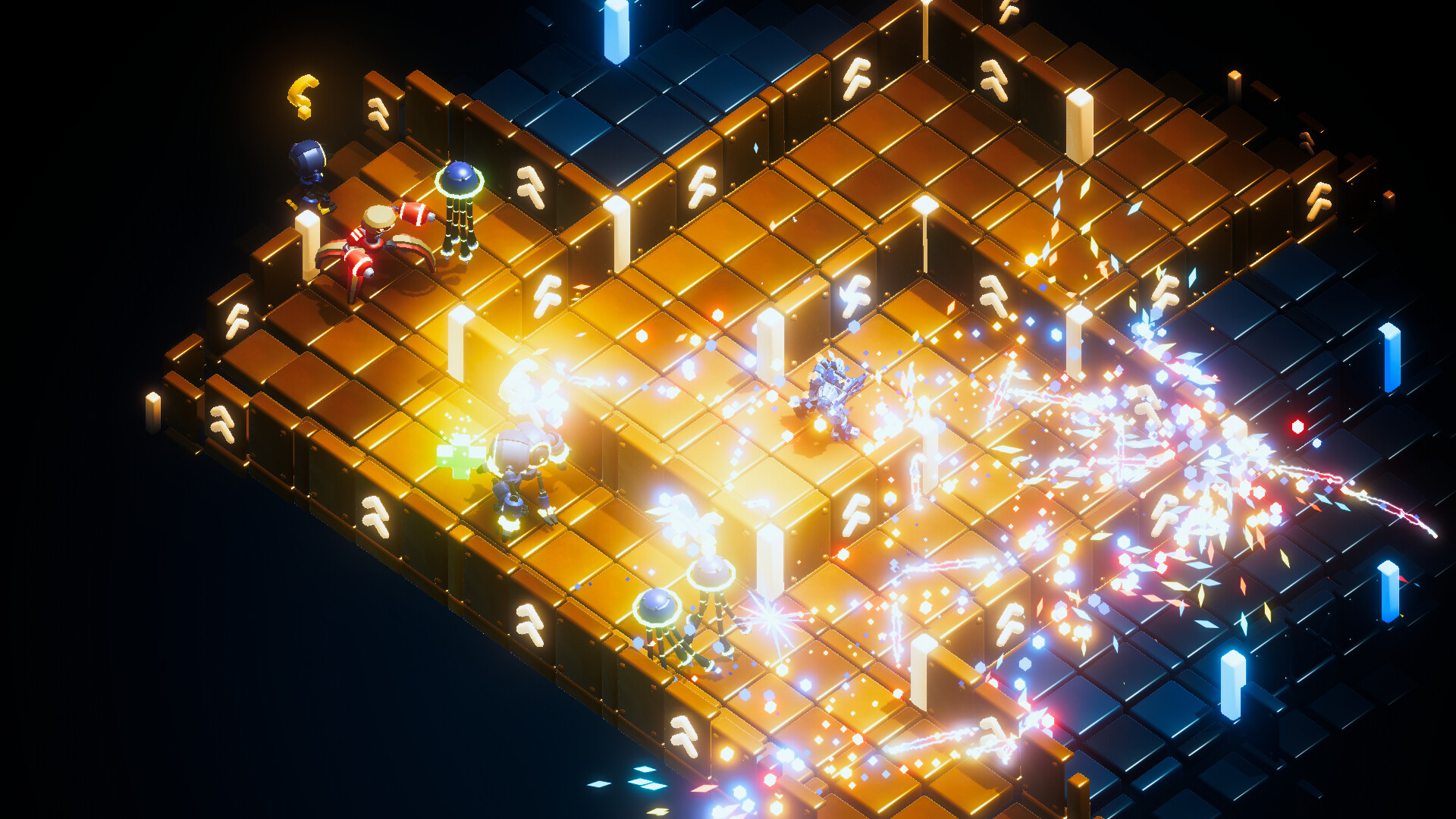 Light Parade
In the spirit of not being totally horrible towards this game, there are a couple of nice elements to it. Visually, it's very colourful and some of the effects have a good smack to them as they propel themselves from your TV into your eyeballs.
Mazes are randomly generated for each run through the gauntlet, with each one consisting of a series of corridors to work your way through. Different sections are brightly lit in all manner of appealing shades, which helps both differentiate their effects and stop the regular corridors completely consuming your soul with blandness.
Enemy design is okay and attack effects can look really cool in places, especially once you get some supped-up upgrades for your rifle and start blasting beams of energy in all directions. For a fleeting moment there's a bit of excitement. It's very fleeting, mind. But, it does exist, but for a moment.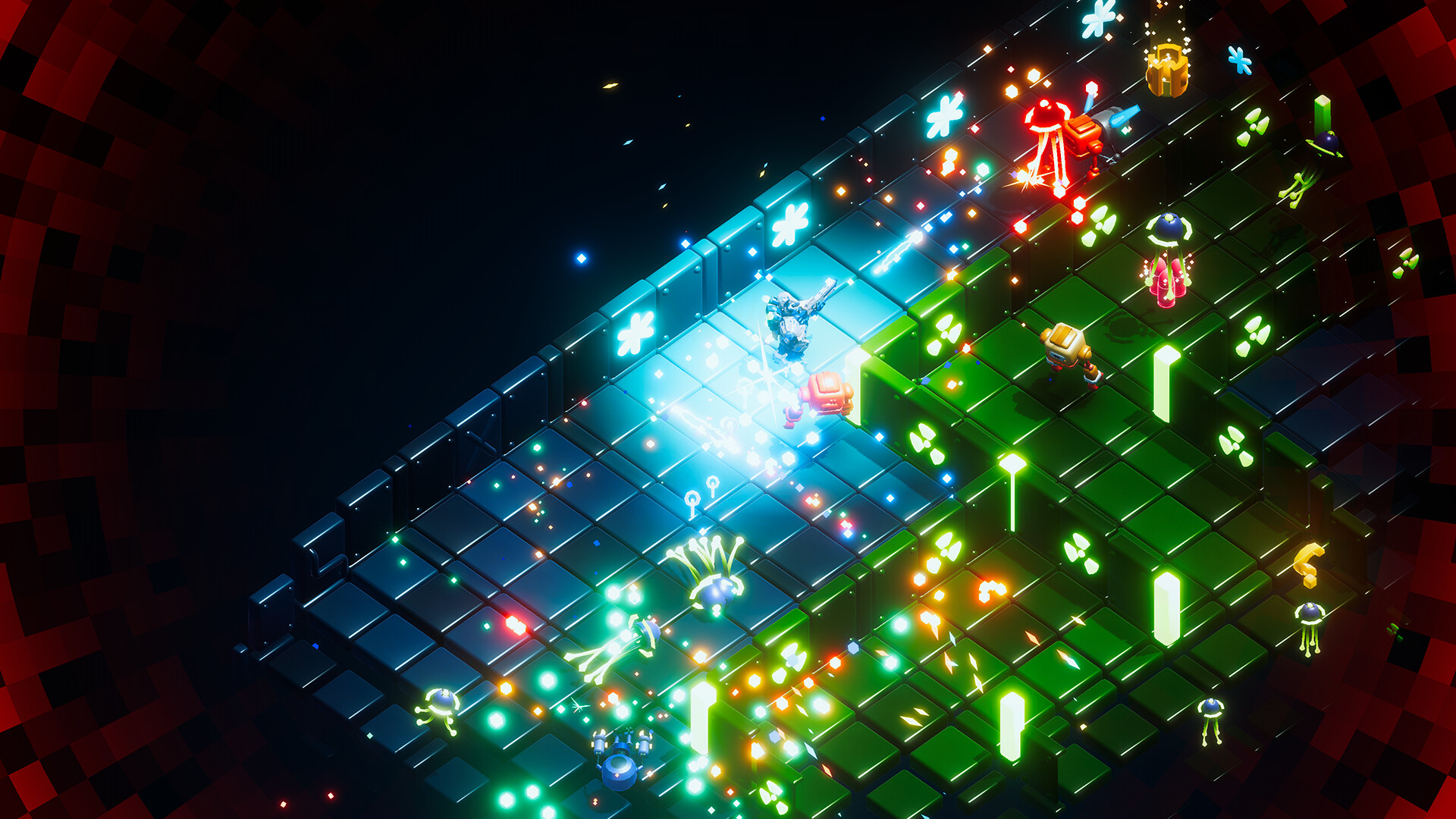 Run-and-Done
The initial visual appeal quickly wears off pretty much after your first attempt at the a-maze-ing (not sorry) gauntlet. When it does, you're left to play Maze Blaze. Which is… underwhelming, to say the least.
A brief set of 10 pop up text boxes semi tells you what you have to do – get from the start of the maze to the goal at the end, shooting everything as you go. Of course, this is a maze, so there's dead ends everywhere.
When I say everywhere, I mean everywhere. In real mazes the joy comes from figuring out a plan to navigate where you've been and where you haven't, arguing nonsensically along the way with anyone who dares question your spatial navigation skills.
In a video game however, reaching the end of a trail means hauling yourself all the way back through the same boring, uninteresting corridors you just came down. The only difference being that now, there's no enemies, pickups or basically anything to actually interact with. It's dead time, making what is probably a 1 minute trip feel like an eternity.
We have day-to-day jobs to mindlessly waste our brain matter and time, we don't need a game to replicate that.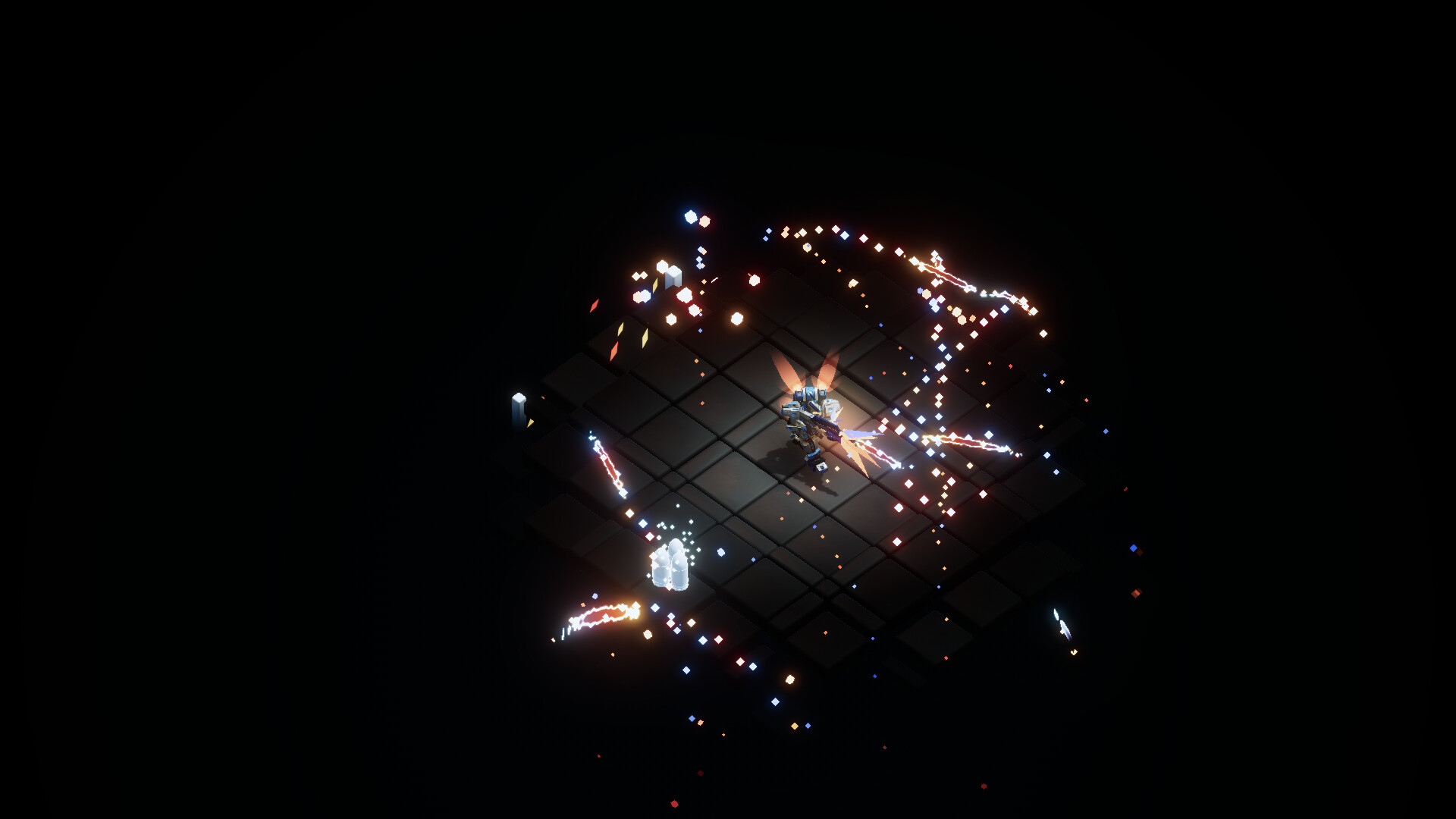 Hide and Just Leave
If you're not running around, you'll be likely grappling with the poorly implemented shooting mechanics. Which, given this is a top-down bullet hell type shooter, isn't a wonderful starting endorsement of how it feels to play.
Enemies charge you in single file. There's no real challenge or skill involved as they're simply variants of melee and ranged foes, no specials or abilities, no tactics or strategies required. What baffled me most was that instead of using a twin-stick set up, when running you only fire directly in front of you. This makes actual run-and-gun gameplay absolutely awful, as you'll hit approximately 29 miles away from the barn door you're aiming for.
You can use L2 to aim properly at the expense of movement (didn't we move past this with Resident Evil 6?) which leaves you at the mercy of the mobs of alien opponents that'll steamroll at you as you stand there scratching your robotic balls. You can also Dash with circle but only while aiming and there's normally so many enemies gunning you at once it might as well not exist.
Throughout each maze there'll be pickups in the forms of temporary ammo types, which range from stunning enemies on impact to locking up your framerate and making the game freeze (richocheting bullets should be more fun than this). Additionally, pickups like grenades and shields accompany upgrades that last for that maze and can vary from increasing health drops to increasing rate of fire.
Unfortunately, there's no persistent upgrade system that carries between runs, which makes bothering to try with a garbage setup nigh on pointless. By the third level of the maze the mobs are so overwhelming you're effectively dead to rights if you haven't had a fire rate upgrade or an increase in damage.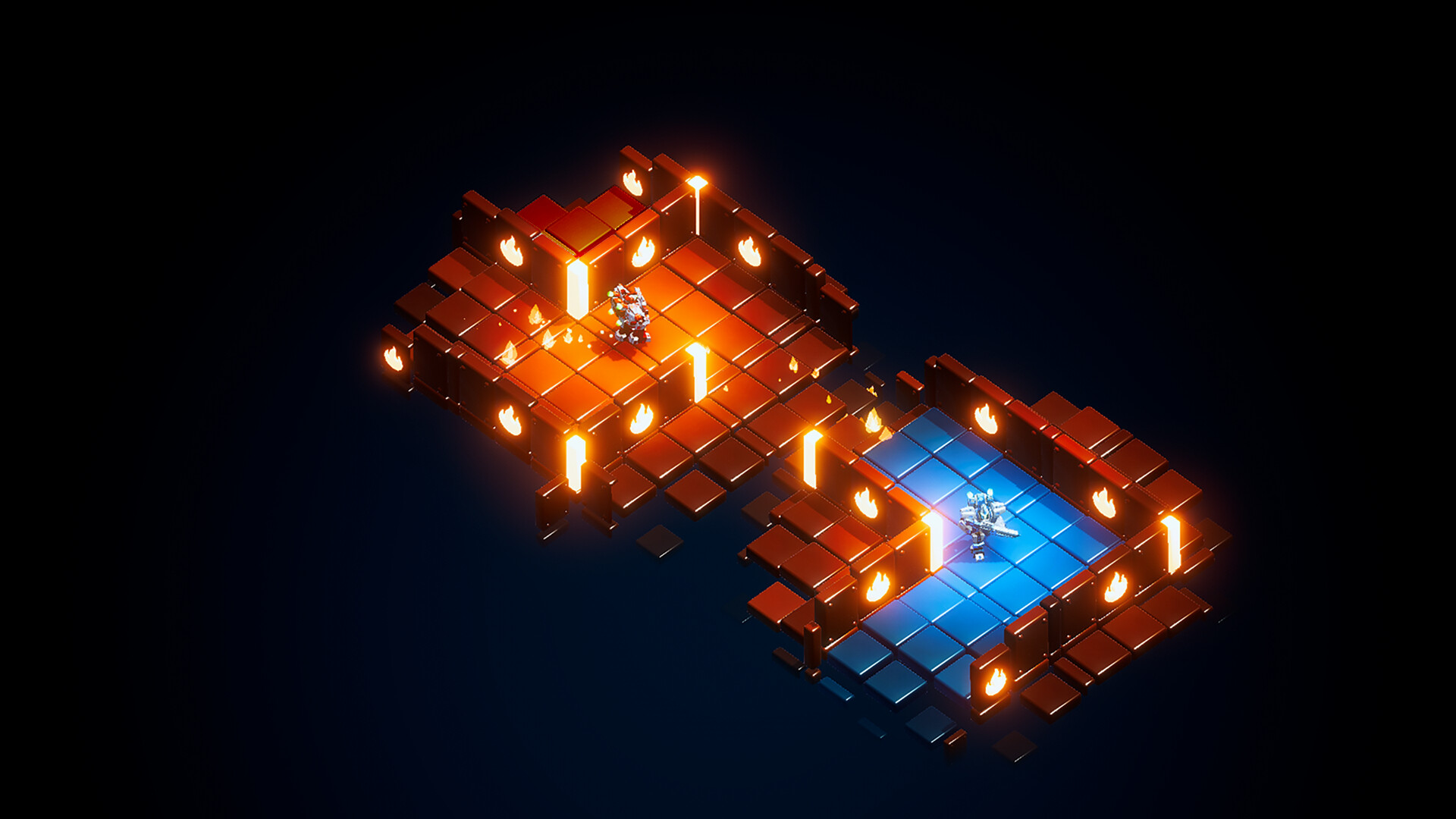 Bloody Mazey
Now you might think the promise of playing Maze Blaze in co-op could alleviate some of these issues or make it a modicum more enjoyable to play. You'd be oh-so-wrong, dear reader. Just ask my fellow Finger Gunner Kat, who remarkably was bored even faster than I was – a whole 10 minutes into playing it with me.
An added benefit of playing co-op is whenever the two avatars are more than a hair's breadth away from each other the perspectives separate but stay on one screen while narrowing both player's field of view, which makes seeing the enemies actively shooting you invisible. Awesome. Phenomenal. SAVE ME FROM THIS MAZE OF PAIN.
Anyway, there's two modes – adventure and endless – to play if you can get past its issues and have any sense of fun. Co-op seems to be local only and there's no difficulty options or any other ways to play that offer any variety. Endless was a bit more fun as it seemed to dole out upgrades a bit more liberally, but this was a short-lived pleasure.
Look, Maze Blaze is a cheap game. It's not supposed to be phenomenal, or even good. Problem is, it's not even decent, really. What is here is hollow, painfully uninteresting and its mechanics have been vastly better implemented in loads of other roguelikes and top-down shooters. If you hate money or want to make a friend suffer for a laugh, subject them to this blazing maze of tedium.
---
Maze Blaze is a vibrantly colourful game that is painfully uninteresting to play. Endless possibilities translate into endlessly monotonous corridor hopping with uninspired or even functional shooting mechanics. You'll probably want to set this maze ablaze after you're done with it.

Maze Blaze is out now on PS4/PS5 (review platform) and PC via Steam.
Developer: Revulo Games
Publisher: Revulo Games
Disclaimer: In order to complete this review, we were provided with a promotional code from the publisher. For our full review policy, please go here.
If you enjoyed this article or any more of our content, please consider our Patreon.
Make sure to follow Finger Guns on our social channels. Twitter, Facebook, Twitch, Spotify or Apple Podcasts – to keep up to date on our news, reviews and features.