Open world furry battler Biomutant now has a shiny PS5 upgrade, but have any of the game's faults been addressed? The Finger Guns Review:
It's been over a fresh long year since the original Biomutant arrived and it didn't arrive with a bang. Finger Guns' own Toby Andersen gave it a paltry six out of ten in May 2021. I won't be going into a deep dive of Biomutant. Toby did a sterling job of that in his Xbox review. I'll just being going over the updates and improvements.
Developers Experiment 101 have not changed the core gameplay, story, combat or progression systems with the now-gen update. But they have given Biomutant a lick of paint with a PS5 edition of the game complete with a range of improvements aimed at shoring the game up from a technical standpoint. Have these improvements made the game any better to play? Let's find out.
So the first thing you will notice is the visual presets, which seem to have been established since 4K was a thing for consoles. This basically translates as getting a fidelity mode which has native 4K but locked at 30fps, or a performance mode that kicks things up to 60fps with a dynamic resolution. Finally, there is a third mode which tries going for 4k while doing its best to keep the frame rate smoother.
I wasn't impressed with the visual overhaul. Everything in the game looks muddy, the blacks are a dark brown, the bright blue sky is a near twilight shade. It all looks a bit dirty. I thought it may have been my settings so I tried all of them with no noticeable change. Despite the graphic options offering increased resolution and frame rates, Biomutant's graphics left me underwhelmed. The only marked difference was with how smooth and silky the game now performs at 60fps – your strange mutant rodent now moves like a mouse gliding through melted butter.
Additional improvements to the PS5 version are adaptive triggers and haptic feedback, which added a layer of enhanced interaction with your furball protagonist. Given the lack of oomph the sound FX have when fighting, the added rattle of gunfire and rumble of clashing swords brings the combat to life a little more than the silence that sometimes greeted you in the launch version. It was actually enjoyable.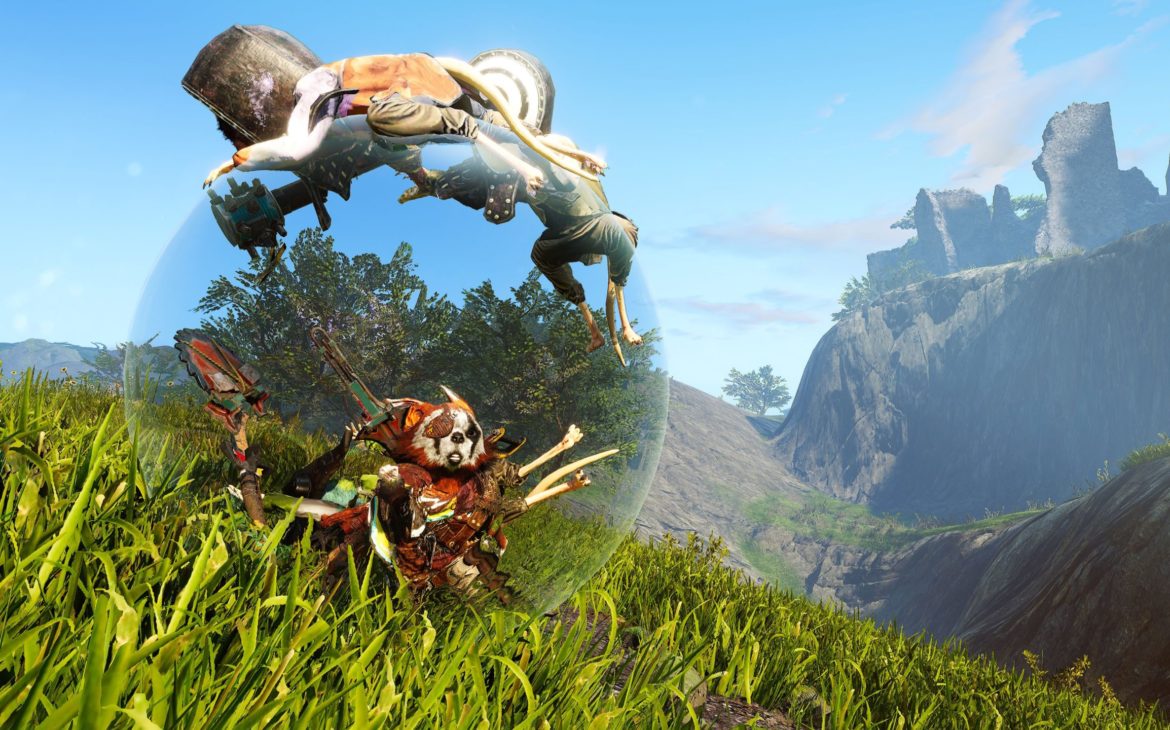 Biomutant also boasts cross-save support with the PS4 version. This means that you can pick up where you left off as soon as you update to the swish PS5 version. Better yet the PS5 version is free for those of you that purchased the original PS4 game. Bonus!
The trouble is the very few and far between upgrades don't really fix the major problems the game has in the first place. Yes, the game now has a stable framerate, but that should be standard (don't get me started on this subject). The dull side quests (for which there are a bazillion) are still dull. The hideous amount of narration is still present and as infuriating as ever. A real plot hasn't emerged. I mean you're out to stop four world-eaters. That sounds Avengers level exciting, but alas it's near not mentioned throughout the game. The millions and millions of pointless items are still pointless and generally Biomutant still feels like a wasted opportunity.
---
Biomutant had bags of potential but squandered this at release. The developers have now had a year to to come out swinging with fancy-pants graphics and dozens of wholesale changes the game needed. It could have been Biomutant 1.5. Instead, the game is still let down by all the same questionable game design, pointless side-quests and ghastly amount of narration that makes you want to blow your face off. The PS5 update brings framerate smoothness to make combat feel and play better – it's really this new version's only saving grace. Unfortunately, that's not enough to improve upon our original verdict.

Biomutant is available on PlayStation 5 (review platform), Xbox One, Xbox Series S|X, PS4 and PC via Steam.
Developer: Experiment 101
Publisher: THQ Nordic
Disclaimer: In order to complete this preview, we were provided with a promotional copy of the game. For our full review policy, please go here.
If you enjoyed this article or any more of our content, please consider our Patreon.
Make sure to follow Finger Guns on our social channels – Twitter, Facebook, Twitch, Spotify or Apple Podcasts – to keep up to date on our news, reviews and features