Who doesn't love a modern take on a classic game? Well you might not, or you might! Find out here for Papertris. The Finger Guns review:
Papertris is an arcade style twist on that very not so popular game you probably have never heard of, Tetris. Whilst I am not going to sit here and pretend it's an entirely different game, there is both a take on a classic game style mixed with new rules and features between Papertris and Tetris.
Papertris heads straight on in with little explanation – unless you go looking for it. This tells me it's very much intended for am audience familiar with its game style. If not, you can find out how to play, and the differences in the menu.
Let's get into the different rules here: Papetris is a puzzle game where players will need to destroy blocks by matching 3 or more of the same colour in a block. Right off the bat you'll find a different to Tetris – players can move the direction of the block itself left or right, but the rotation can not be changed. All blocks will fall vertically and stand. Each block is made of 3 separate cubes. These cubes will be a mix of colours and players can be playing against a total of 12 different colours at one to match. However this starts off simple with just a few colours to begin with.
With two modes to play, players can choose between Challenge mode and Endless mode. Endless mode is what most seasoned Tetris players will likely feel familiar with. The play gets faster with time where players will need to clear as many blocks as they can until they become too overwhelmed and cross the threshold, ending your run.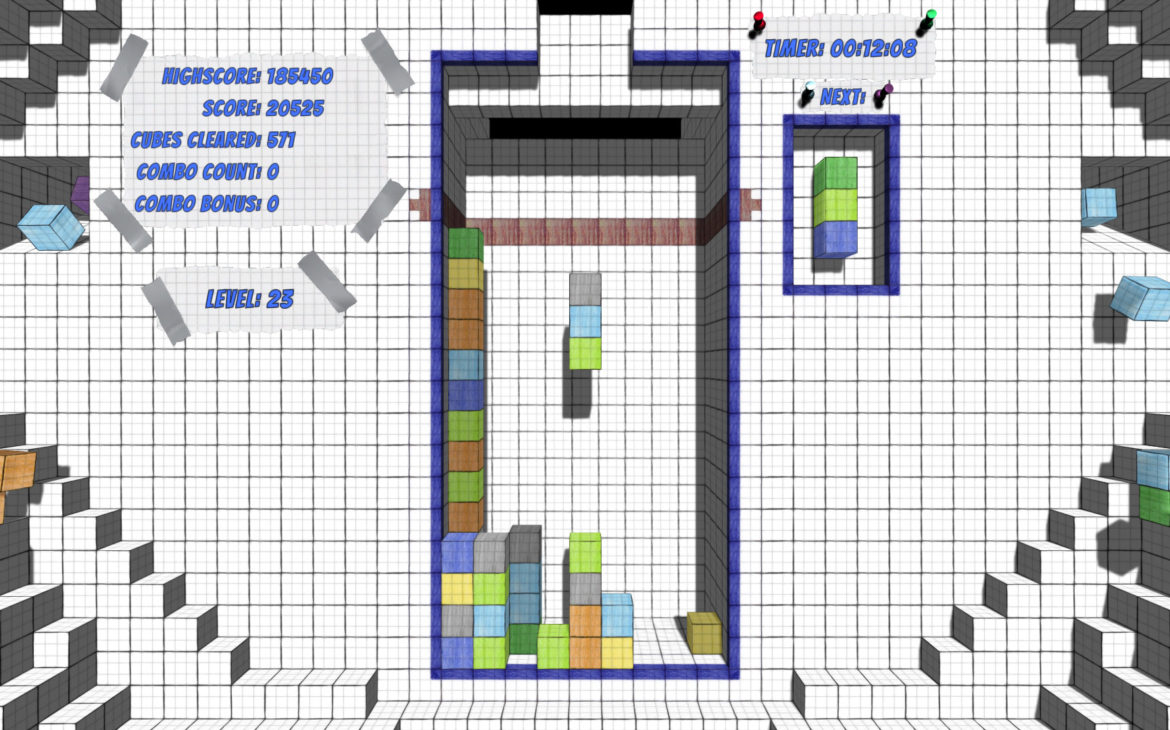 Layers of an Onion
Challenge mode offers a different challenge of each level that become increasingly more difficult. At first this starts off pretty straight forward – A simple game of matching blocks and hitting a high score. Challenge mode introduces you slowly to the idea of their version of Tetris, tasking you to achieve scores, or destroy blocks within a time limit. As quick as level 7 you will get the newest take on Tetris. Tetris in dimension.
Before I get onto that, power cubes are also introduced early on. These are different types of coloured patterned blocks that have different properties when placed. They will either destroy cubes around them or in a vertical or horizontal line. There are cubes that can be placed that may change that vertical line's colours at random and also cubes where the colours are not uncovered until the cube is played.
Some of these can make or break challenge mode. For example, I had a level where I needed to get rid of all the 'x' marked cubes, without destroying any cubes with a symbol on it. Sometimes you have to save space to place these random coloured cubes so as to not mess with your flow, as it could take a long way to tangle out and destroy those blocks to get back on track.
There were times I would forget that a certain colour could not be near the symbol block, or I would risk destroying it and losing the level, so in a quick fire decision I would fast drop a block that would not uncover until it landed, only to scupper my whole level 6 or 7 minutes in requiring a restart. This, just like its original classic inspiration, takes strategy. Each level is a different variety, some levels will simply require you to just destroy 'x' amount of yellow blocks, or a variety of coloured blocks, (whilst also having other colours in the mix it isn't necessary to destroy), others will require more thought as you start to play with the depth of it's more interesting feature.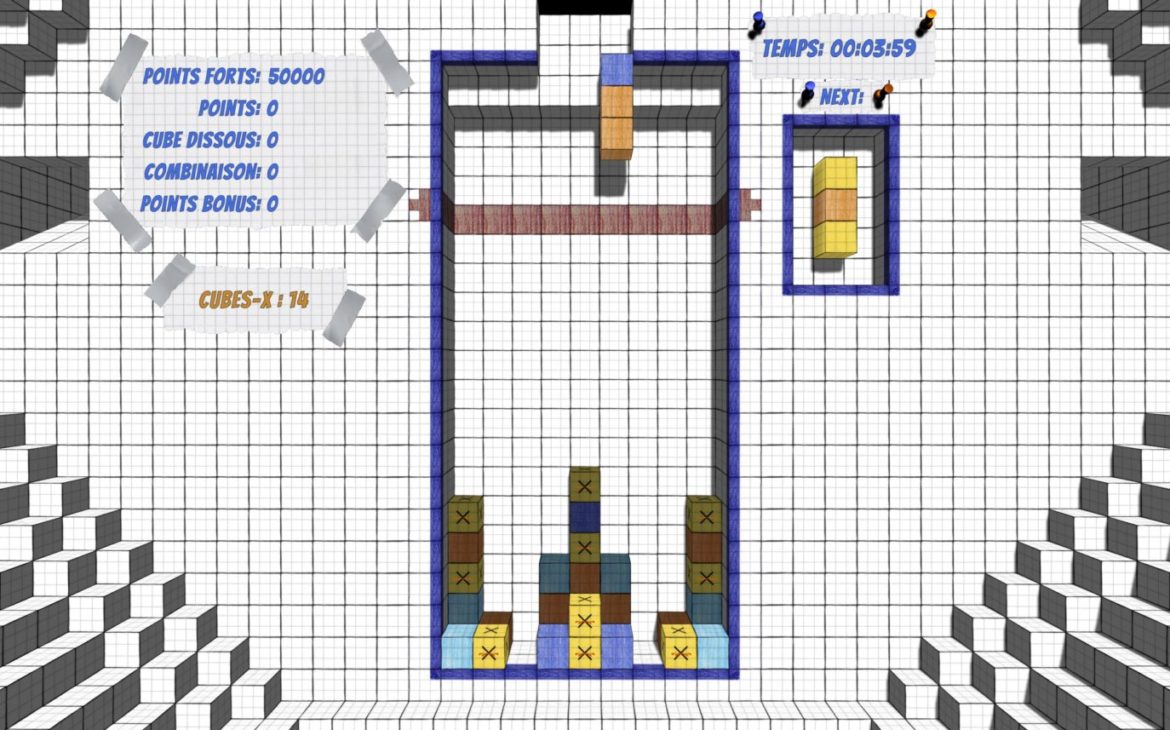 Papertris has a very intriguing feature, one that I have not seen before in any take on its classic. This is the idea that blocks can be back one row behind your current blocks. Adding an almost 3D gameplay element. Every 500 blocks that are destroyed, your backwall will move one block width back, opening up a possibility that more blocks are destroyed with careful planning. To destroy blocks that are behind your current array of blocks, players will need to vertically line them up and match the colours this way. Almost as if the blocks would be side by side. Some challenge levels will play on this feature heavily. Asking you to destroy certain blocks to win the level.
Whilst this is a newer feature, this is a feature that takes the systems of a tried and tested classic and makes it far more interesting and modern. Challenge mode allowed me to stay interested, and attain different goals each time. Some of these levels will require time limits, and I noticed that although sometimes time limits count down, you don't always have to do something in the time limit unless the challenge specifies.
One thing I was surprised about is that the individual levels in challenge mode, do not get faster if you play them for longer. They stay at the same pace. At first I thought this might make things a little slow paced, but with harder challenges that take more time later in the game, I am glad this feature only exists in Endless mode.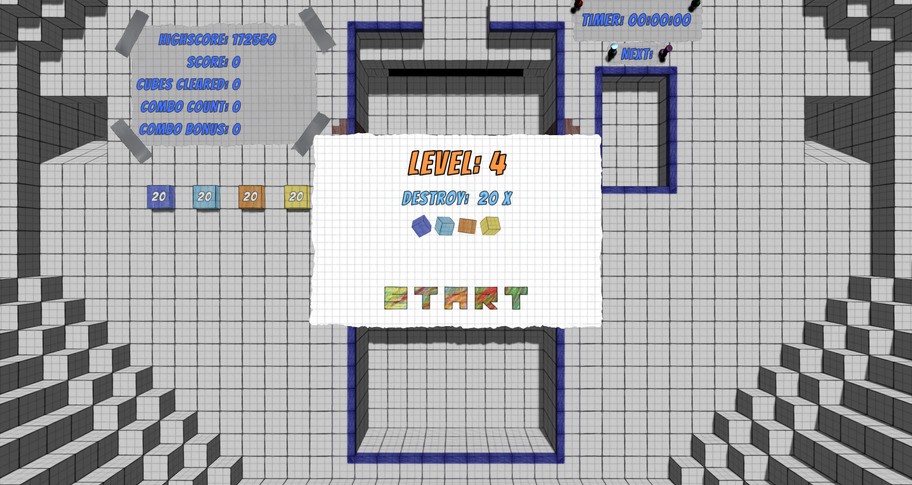 Block Party
Papertris is also very visually appealing. Designed like your old school maths book, the graphics appear hand drawn as if they're doodled on paper. When blocks are destroyed, they will cascade down geometric designs like a recycling crusher. It's not mind blowing but it really suits the aesthetic of the whole game. This title is simple, easy to grab and easy to get the hang of. With full controller support, accessibility for individuals who are colour blind, dark mode if you would prefer a bit of night time block puzzling.
Papertris also offers 2 Player mode, something I didn't personally get to check out as I don't have friends (kidding). This again looks fun to play with friends, allowing players to send over blocks to 'block' each other's combos and gameplay.
One of my favourite features of Papertris is the music. The music had no business slapping that hard. With over 10 songs to play from techno, to disco to relaxing dulcet tones. I think at one point I was so engrossed in Papertris because of the beats behind the game.
All in all, Papertris is not reinventing the wheel but brings an interesting feature and modern twist from a classic game. Papertris can be consuming for hours in both its endless and challenge mode. I am not sure I am completely sold on vertical-only, none rotational movement that feels restrictive, but it does make the game stand out. There are also those important quality of life features that make Papertris feel more smoother to play, such as the quick drop. The price point is really decent too, and so this would be an easy recommendation if you're looking for a fresh bite of a classic pie.
---
Papertris doesn't reinvent the wheel of the puzzler Tetris, but does act as an interesting evolution to the classic formula. The game's layered depth is an interesting element with new rules and tactics to discover. It also has a visually appealing look, and a soundtrack that has no business slapping that hard for an arcade game. A decent price makes it an easy recommendation if your looking for something fun, familiar and simple to sink your teeth into.

Papertris is available from March 30th on Nintendo Switch (review platform) and out now on PC via Steam
Developer: Paper_Games
Publisher: Flynn's Arcade
Disclaimer: In order to complete this review, we were provided with a promotional copy of the game. For our full review policy, please go here.
If you enjoyed this article or any more of our content, please consider our Patreon.
Make sure to follow Finger Guns on our social channels –Twitter, Facebook, Twitch, Spotify or Apple Podcasts – to keep up to date on our news, reviews and features