Indie Games are not slowing down for the start of Summer - here are 20 to be excited about during June 2023.
Is it too early to call 2023 one of the best years for video games? Indie games in particular, we have been treated to an absolute treasure trove of gems. In this list, I'll also be shouting out some games that were released in May as we haven't had the chance to cover them. Some we've already reviewed like After Us, Fights In Tight Spaces console release, Tin Hearts and Planet of Lana.
For now, you can forget the launch of Final Fantasy XVI or the recently covered Street Fighter 6. Here are 22 Indie Games to be excited about during the month of June, with a sprinkle of May that you can also enjoy:
Sunshine Shuffle by Strange Scaffold – May 24th, 2023
Have you ever played Texas Hold 'Em and thought to yourself, my peers just aren't furry or criminal enough? For me personally, I don't have that issue. However, if you're searching for such a thing look no further! Sunshine Shuffle is already out! The game is a narrative-driven poker game where the animals at the table aboard the S.S. Sunshine are members of the 'Morning Shift', the now infamous gang who robbed a bank in one afternoon. During your time, you'll learn more about the characters whilst customising the boat, card decks, light fixtures all to the soundtrack created by Skatune Network and RJ Lake. Sunshine Shuffle is out now on Nintendo Switch and PC via Steam.
Fake Signals by Vona Soft – May 25th, 2023
Fake Signals is described as an action hybrid rogue-lite. You'll be sneaking into enemies' camps, acquiring various weapons and eliminating them, in a sleek 2D-pixel art fashion. This looks like if John Wick wasn't a movie but a game like Hotline Miami or Katana Zero and do action fans need anything more than that? With over 27 missions, 3 themes and over 20 different weapons, you'll be utilising various interactive objectives and killing enemies in quick succession and style. Don't worry about dying because you'll instantly be put back to exact revenge on your foes. Fake Signals is out now for all your 2D gun-fu'ing on PC via Steam.
Return by Dead Unicorn – 29th May, 2023
Return has been a game I've had my eyes on for a while. There's something so alluring about the minimalistic art direction whilst still retaining such an engrossing-looking atmosphere. You return to your home planet after 200 years of space travel, only to discover it's overrun with enemies and ancient bosses in this art-driven adventure. With both long range and melee combat, you'll be shooting and slashing your way to unlocking powerful weapons to explore your unfamiliar home in an attempt to repair your ship. This is a debut title from Dead Unicorn and it just looks incredible. Return release on PC via Steam.
Candle Knight by Dracma Studios – May 31st, 2023
If you're a fan of 2.5D action platformers then look no further than Candle Knight! You play as an enchanted candle holder whose trying to restore the light to its home. As you wield the flame to fight the creatures that lurk in the shadows, you can take advantage of the dynamic difficulty system. With this system, you can increase things like your damage output and speed. Though players are warned that the enemy AI will scale depending on your use of it. Enter into paintings to discover surreal puzzles to discover the secrets within, adapting to the world around you. This looks like an incredible blend of Little Nightmares and Dead Cells in both style and gameplay. Candle Knight releases on PS4, Xbox One and PC via Steam.
Driftwood by Stoked Sloth Interactive – Early Access Release June 1st, 2023
Driftwood is out for Steam Early Access. The game sees you in high-speed downhill longboarding action as you play Eddy, who you may have noticed is a sloth. Carve up mountainsides as you drift through beautiful vistas as you manage your speed and control for the best score. You'll be able to customise Eddy as well as compete competitively to rank in the online leaderboards or beat your own score. The game boasts a wonderful colourful cartoon art-style that's hard not to swoon over. Driftwood is out on Steam Early Access only.
Killer Frequency by Team17 Digital – June 1st, 2023
Serial killer killed the radio star in Killer Frequency. You play as night-time radio host Forrest Nash in a first-person horror adventure. Listeners of the show are being stalked by a mysterious killer and it's up to you to try and save them from within the confines of the radio station. Solve puzzles, make narrative decisions and run the switchboard all to the tune of some incredible 80s synth wave. Designed with a genuine 80s aesthetic and completely voice-acted, Killer Frequency looks to take over the airwaves on PS4/5, Xbox One & Series X|S, Nintendo Switch, Meta Quest 2, and PC via Steam.
Gibbon Beyond the Trees by Broken Rules – June 1st, 2023
Originally released on Nintendo Switch and PC. Gibbon Beyond the Trees makes its way onto PlayStation consoles this month. BAFTA-nominated and well-received critically, the game features a wonderful hand-drawn art style. You play a gibbon who's lost as they embark on a journey into the unknown. You can race to freedom in liberation mode, or play through a narrative that attempts to capture the struggle of creatures around the world. You'll be mastering the art of brachiation (swinging from branch to branch) to build momentum at high-speed to pull off somersaults and launch yourself high into the air with the help of fellow gibbons. You can play it now on Switch and PC, with PlayStation 4/5 in June.
Steam | Twitter
Homebody by Game Grumps – June 1st, 2023
YouTubers in the Game Grumps web series have gone from playing games to making games and Homebody is the latest from them. The game is a survival horror puzzle game set amongst a group of friends haunted by memories of the past. But that's not all that's haunting the group on their retreat to watch a meteor shower, as a relentless killer stalks them. Inspired by 80s slashers, you'll be facing devious puzzles whilst evading the killer and hopefully make it out alive with the group. Homebody releases on PS4, Xbox One and PC via Steam.
Amnesia: The Bunker by Frictional Games – June 6th, 2023
Amnesia is back, or did it never leave, I can't remember. This time round you're transported to a desolate WW1 Bunker to face the oppressing terrors stalking the dark corridors. The game is still from the first-person perspective but this time round you won't be helplessly hiding as you'll gather resources and weapons to aid in fighting off the horrors that hunt you. The game features a dynamic and ever-present monster that reacts to your actions as you take on the non-linear open world to keep the lights on and escape. This is a great new spin on the now extremely popular franchise of Amnesia, will you survive the bunker? Amnesia: The Bunker will release on PS4, Xbox One and Series X|S and PC via Steam.
NOCTURNAL by Sunnyside Games – June 7th, 2023
Nocturnal is a 2D action adventure where you play as Ardershir – who after years of travelling has returned home to discover it covered in a mysterious fog. Wade through the mist and counter it as a soldier of the Enduring Flame. Use fire abilities to quell the fog, restore light to your home town and discover all the secrets left behind. Gain ashes by killing enemies and exploring your environments to give your new abilities and stat boosts to survive. Nocturnal will release on PS4/5, Xbox One and Series X|S, Nintendo Switch and PC via Steam.
Bleak Sword DX by more8bit – June 8th, 2023
Bleak Sword was an Apple Arcade Hit, so much so that's now coming to PC and Nintendo Switch as Bleak Sword DX. The game is a dark action fantasy from the asymmetric perspective where you'll hack and slash giant monsters in tight arena-like levels to lift the curse of the legendary Bleak Sword. This new version features new post-processing effects, adaptive depth of field and a series of filters giving the game a brand new shine to it's already stylish pixel aesthetic. As well as three new modes and multiple gameplay improvements. This month isn't so bleak with Bleak Sword DX, coming to Nintendo Switch and PC via Steam.
Undead Citadel by Dark Curry – June 8th, 2023
For some, Undead Citadel has been long awaited and highly anticipated. Designed for VR exclusively, the game pulls you into an adventure where you'll be fighting hordes of undead enemies. Slash, stab, crush, shoot or dismember with your own hands as your make your way into the depths of the cursed citadel. With an immeasurable amount of weapons at your disposal including swords, axes, warhammers and bows just to name a few; you'll be confronting the undead in a 1:1 physics based combat system as you play through the Story Mode or Horde Mode. Undead Citadel releases on PC via Steam.
Greyhill Incident by Refugium Games – June 9th, 2023
Greyhill Incident is a story-driven first-person survival horror set in the early 90s. You play as Ryan Baker, equipped with a baseball bat and a few bullets for his rusty revolver as he explores the neighbourhood of Greyhill that's been invaded by UFOs and Grey Aliens. You must defend yourself from the ever-looming threat of being abducted by the terrifying aliens known as "The Greys" as you discover the truth that the Government lied to everyone about. Greyhill Incident releases on PS4/5, Xbox Series X|S and PC via Steam.
Daydream: Forgotten Sorrow by Ravenage Games – June 14th, 2023
Daydream: Forgotten Sorrow is a puzzle platformer where you'll embark on a touching journey through the surreal world of a person's mind. You play as a young Griffin whose accompanied by the trust companion bear, Birly. You'll be overcoming challenges, avoiding traps and beating enemies to help the older version of Griffin find peace in the real world. Travel through a mysterious yet mystifying world of floating castles, craggy caves and fairytale forests as you learn resilience and letting go. Daydream: Forgotten Sorrow releases on PC via Steam.
Dordogne by Un Je Ne Sais Quoi, Umaninmation – June 15th, 2023
Set in the titular Dordogne in France – you play as Mimi as she explores a vibrant watercolour landscape, recollecting the memories of her time with her Grandma. On your travels, you'll be collecting photos, sounds and scents to add to your personalised journal – making the adventure truly your own. A unique and heartwarming story is the driving force of Dordogne as you uncover lost family secrets. Dordogne releases on PS4/5, Xbox One, Nintendo Switch and PC via Steam June 15th, 2023.
Fall of Porcupine by Critical Rabbit – June 15th, 2023
Fall of Porcupine follows the anthropomorphic journey of Finley – a pigeon who is soon to become a doctor at the local Porcupine hospital. The game plays as a 2D side-scrolling adventure where you'll be balancing home and work life, getting to know the residents and investigating patients' illnesses through logic, speed, timing and skill minigames. Not everyone is as they seem, however, so you should always be on guard with who you get to know. Fall of Porcupine releases on PS4/5, Xbox One and Series X|S, Nintendo Switch and PC via Steam.
Layers of Fear by Anshar Studios, Bloober Team – June 15th, 2023
The last chapter in the spine-chilling series Layers of Fear. The game this time round is built on Unreal Engine 5 as you can play through the first, second and all existing DLCs in a fresh new frightful fashion – including a new final chapter that gives you a new perspective from The Writer as well as concluding the story. Brand new core mechanics as well as new features are injected in every chapter to create a seamless interweaving of chapters. The best way to experience the harrowing story of Layers of Fear will be on PS4/5, Xbox One & Series X|S and PC via Steam, June 15th, 2023.
Trepang2 by Trepang Studios – June 21st, 2023
Trepang2 promises to make you feel like the ultimate badass in this fast-paced action-packed FPS. Dodge bullets, cause chaos and do it all in style in a distant future setting. You play as an escaped soldier who has no memories of their past, all that's left is supernatural abilities at your disposal. Get revenge on those that have wronged you by punching, sneaking and exploding the bad guys in slick break-neck fashion. Trepang2 releases on PC via Steam.
VR Skater by Deficit Games – June 21st, 2023
After an incredibly successful release on Steam in 2021, VR Skater is now taking to the streets of PSVR2. Built from the ground up for VR, VR Skater looks to be an extremely immersive skateboarding simulation. If you've barely set foot on a board or if you need to brush up on your skills, you can play the Skate Academy to learn all the tricks in the book. With 4 highly detailed maps and 2 tutorial maps, there's plenty of space for you to tre-flip around in. VR Skater is out now on PC via Steam and PSVR2 on June 21st, 2023.
Silicon City by Polycorne – June 22nd, 2023
Silicon City has been in Early Access on Steam for a good couple of years now, but it's finally getting a full release on PC via Steam. The game looks to be a fresh take on the classic city-building sims whilst retaining the retro-inspired visuals. Build a city your way, but be wary as every citizen has an opinion on how you run it. Will you be an urban designer, a rural evangelist or a reckless capitalist? The city is truly yours, especially in the Sandbox mode. Buildings are procedurally generated along with a data-driven social network that analyses your city. Silicon City is playable now on PC via Steam.
SOULVARS by ginolabo & SUCCESS Corp. – June 26th, 2023
Originally on iOS and Android, Soulvars is now getting a PC and console release. The game is a stylish pixel-art deck-building RPG that combines turn-based combat with an in-depth deck-building system to create dynamic strategic battles. Humanity faces the consequences of their technology as the sudden appearance of the Dominators threatens civilisation. Unravel a dark conspiracy as a team of Soulbearers facing off against the invading Dominators. Soulvars releases on Nintendo Switch, Xbox One and PC.
Story of Seasons: A Wonderful Life by Marvelous Inc. – June 27th, 2023
Plant your roots down in the tranquil village of Forgotten Valley. Formerly known as Harvest Moon, Story of Seasons is a reimagining of the classic A Wonderful Life game. Complete with all new and improved features seen in the original game, the legendary casual life simulator is back for modern consoles. Plant your harvest, make new friends and create a homestead how you want with updated and adorably lush graphics. These games will occupy so much of your time, you'll really feel like you're living amongst the people of Forgotten Valley. Story of Seasons: A Wonderful Life releases on PS5, Xbox Series X|S, Nintendo Switch and PC via Steam.
---
Now that's a huge list of Indie Games for June and I'm sure I missed out on so many. If you know of any or are developing your own Indie Games, please reach out and show us what we're missing! The more the merrier on this list.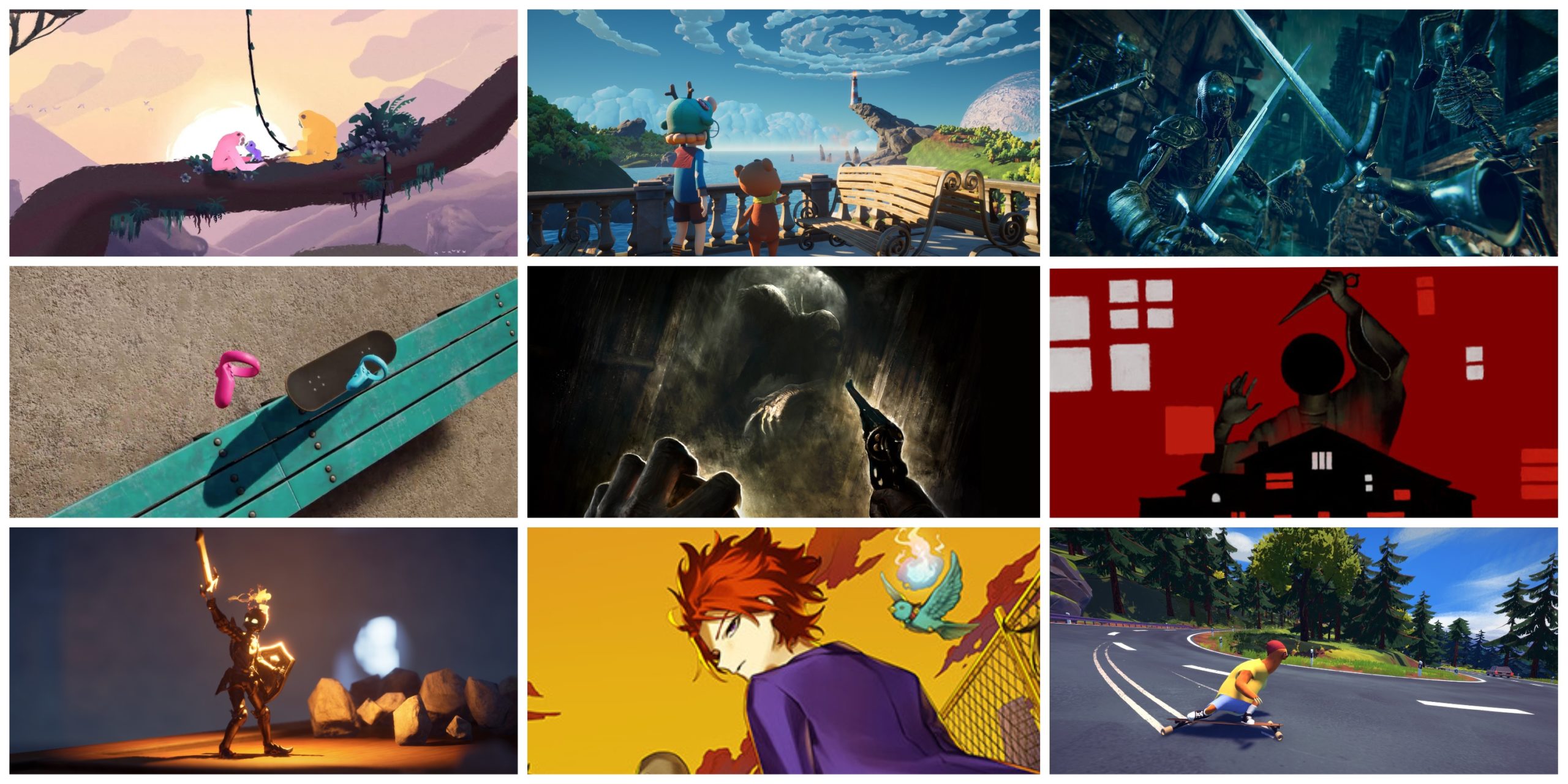 For more News on Indie Games and more click here
Make sure to follow Finger Guns on our social channels –Twitter, Facebook, Twitch, Spotify or Apple Podcasts – to keep up to date on our news, reviews and features.
If you enjoyed this article or any more of our content, please consider our Patreon.