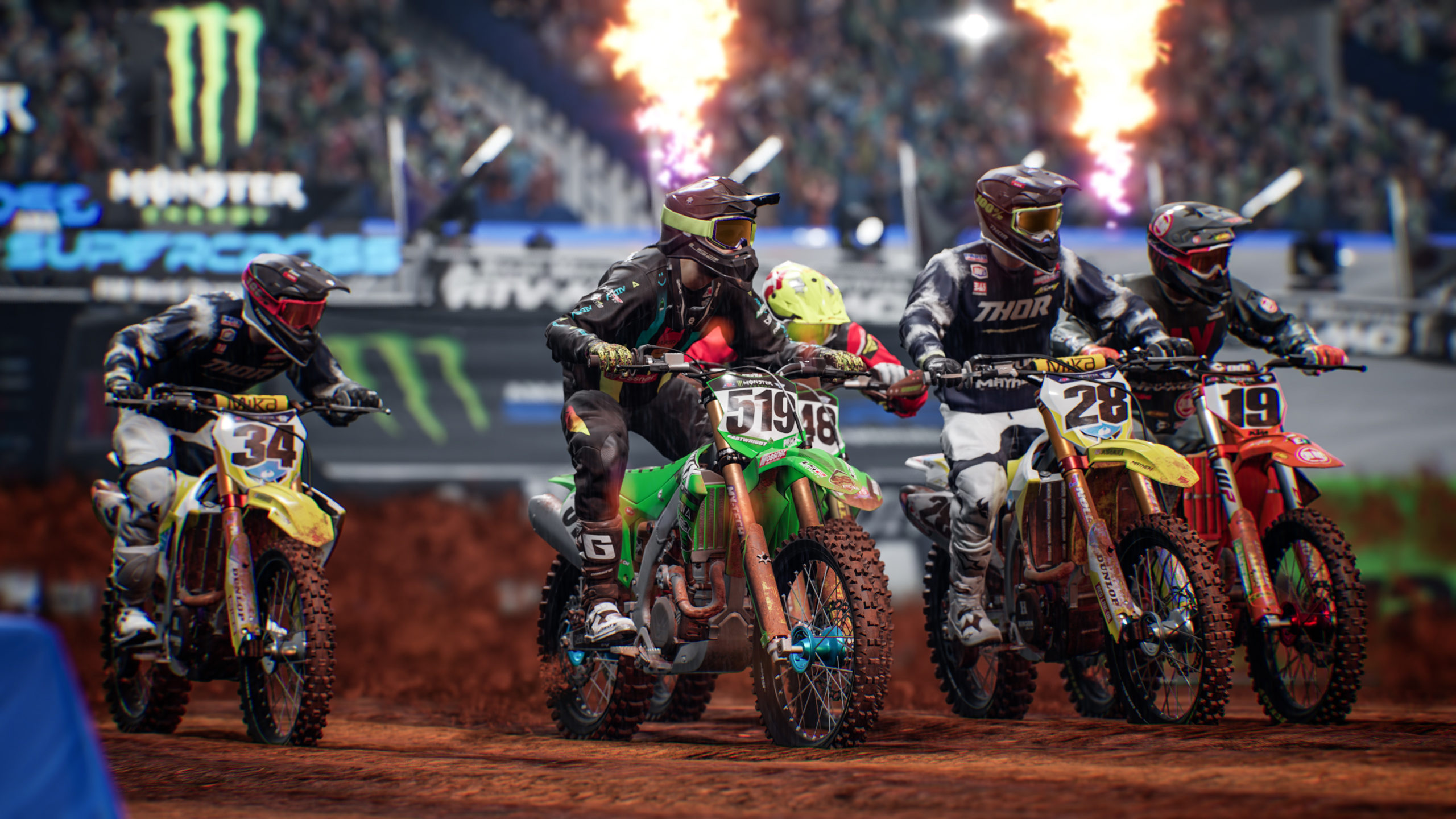 A little more accessible and with some new in-air controls, the 5th instalment of Monster Energy Supercross - The Official Videogame series continues to take strides in the right direction. The Finger Guns Preview.
A little more accessible and with some new in-air controls, the 5th instalment of the Monster Energy Supercross – The Official Videogame series continues to drive in the right direction. The Finger Guns Preview.
Despite the fact that I know very little about the real world version of AMA Supercross, I've always enjoyed the official Monster Energy Supercross games from Milestone. I've always found them to be a little more fun and grandiose than their MXGP titles. Despite the fact that the Monster Energy Supercross games are tailored to a particular niche, I've always attested that even those who don't know anything about bikes can find a tonne of fun in these games.
There has always been a high barrier of entry to this fun however. It's a barrier that demands a few hours of investment as you fail repeatedly until you get the hang of staying on the bike. When I reviewed Monster Energy Supercross 3, I said "There's a steep learning curve, somewhat hampered by a tutorial that expects you to know the ins and outs of a Supercross track from the get go but once you've got the hang of it, you can get a lot out of it". These are sentiments that Greg mirrored when he previewed Monster Energy Supercross 4 last year too.
Within a few seconds of loading up the preview build of Monster Energy Supercross 5, it was obvious that Milestone have put a lot of effort into making sure this is isn't going to be a complaint once again. After I'd crafted my custom rider from a reasonably simple but intuitive set of customisation options, the game guides you through a tutorial that'll quickly show you how to get a good start off the line and the rest of the controls while heading around a track.
This initial tutorial might be enough for some players, especially those returning from previous instalments. If you're new to the sport, new to the game series or really want the insider hints and tricks to become competitive quickly however, Monster Energy Supercross 5 has a new trick up its sleeve – The Futures Academy.
This is a series of more structed events that explain how best to cross over various sections of a track. Those knobbly bits on the track that'll take you down to a snails pace if you just ride at them? There's a trick to getting across them with speed. Alongside that are video lessons in advanced riding techniques, narrated by "The GOAT" Ricky Carmichael (a name from Monster Energy AMA Supercross I knew!). These are all really well put together and are something I personally found beneficial. I even managed to crank the difficulty settings up to Normal within my first 3 races by using some of the techniques I learned in the academy. I was getting that hole shot before drifting way ahead of the pack by shifting the riders weight in no time.
Shifting the riders weight is another aspect of Monster Energy Supercross 5 that feels like a step forward, especially in the air. Directing the rider's weight can help you take corners far more quickly but while jumping, the movement is far more nimble this time around. It's not quite "arcade-y" but with a flick of the thumb sticks, I was able to pull off some pretty neat tricks (even flips) over some of the bigger jumps, like the big ramp of the Daytona Beach track. That extra manoeuvrability helped me avoid some potentially costly crashes after I've gone a little off track too.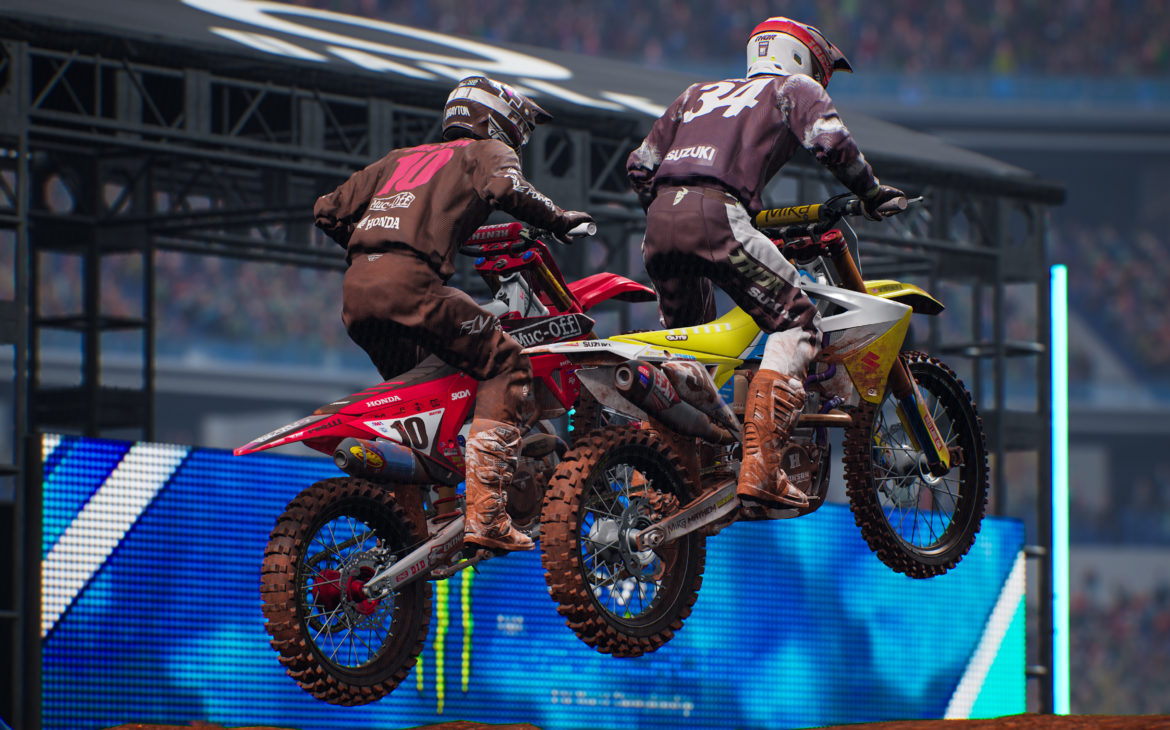 Those crashes could have been undone using the 'rewind' function which has become a staple for this series. Tap a button and the whole race will pause and start to run backwards until you're happy to restart it again. There's some good news for those people that were frustrated by the limitation of the rewind function in Monster Energy Supercross 4 too. Yes, the rewinds are still restricted to 3 uses BUT via skilful racing, you can regain them over time. Drift around corners, land big jumps, pull off some tricks, complete a clean lap or reach first position and these trio of rewinds will refill and can be used again. Even in this preview stage, it's obvious that Monster Energy Supercross 5 is going to be the most accessible game in the series to date.
Those who've been asking Milestone every year since 2018 for local split screen multiplayer can relax too. Monster Energy Supercross 5 includes it. I only managed to try a single event with my son but everything looked and worked as you might expect.
The racing itself was as fun in the demo for Monster Energy Supercross 5 as it has been for the previous instalments in this series. It's you vs. the track vs. everyone else as you attempt to tame the humps, bumps and turns of the track faster than every one else. It's fast, frantic and enjoyable racing, no matter which of the tracks you're competing on.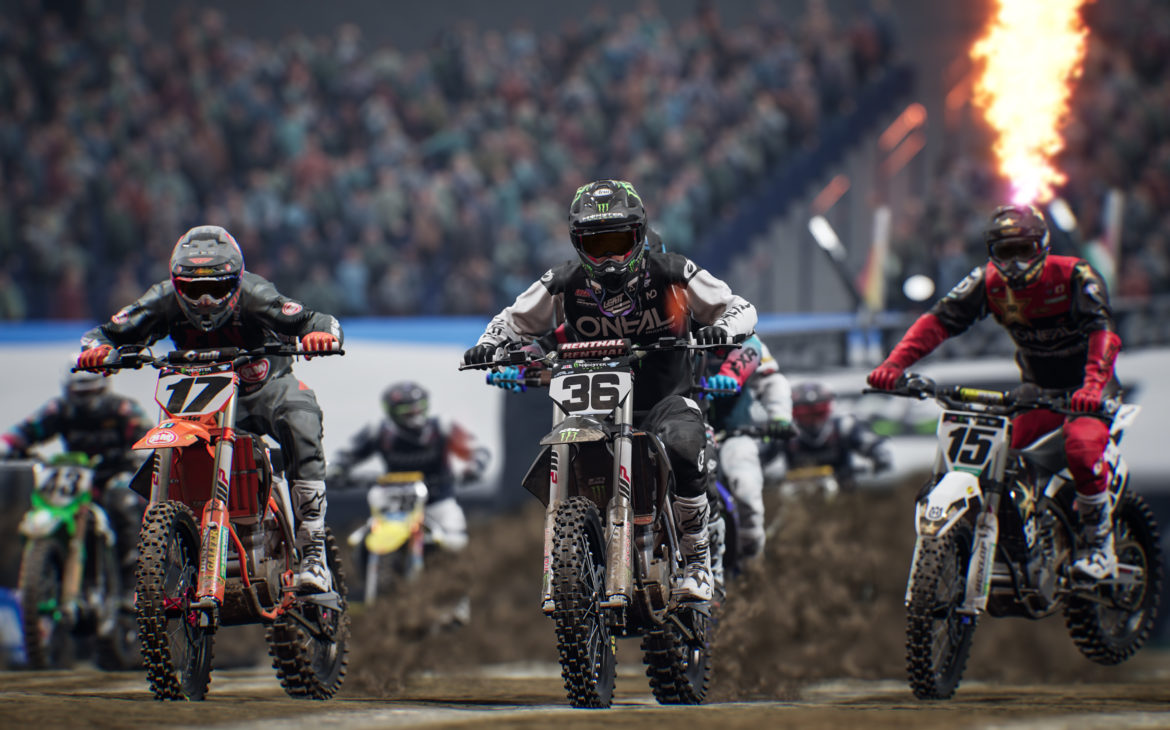 The tracks include all of the stops on the East and West AMA Supercross calendar as well as a number of original SX courses from Milestone and some outdoor tracks at a compound. This even includes an MX track which is quite fun. There were a few rough visual edges to some of the tracks, especially those outside with a far off horizon, but they all felt like things that could be tidied up before launch or in a post launch patch.
For those that find importance in such things, all of the riders, their bikes and their liveries for the Monster Energy Supercross 2021 Season, including the 450SX, 250 East and 250 West roster, are included. There's even a handful of 2 stroke bikes included this times around. I've googled a hand full of the racers and compared a photo to their in-game model and they're quite impressive. You can even tell the difference in the height of racers by the way they sit on the bike.
While everything I've experienced in my preview time with Monster Energy Supercross – The Official Videogame 5 felt like a move in the right direction, some of the most important aspects of the game were not included in this build. Where I usually spend most of my time with these games – the career/campaign mode – was absent, as was online multiplayer. The free roaming mode and all of the editors were excluded too. If all of these modes and tools deliver at launch to the standard of the rest of this preview build then it could be quite some game. It's certainly a promising start.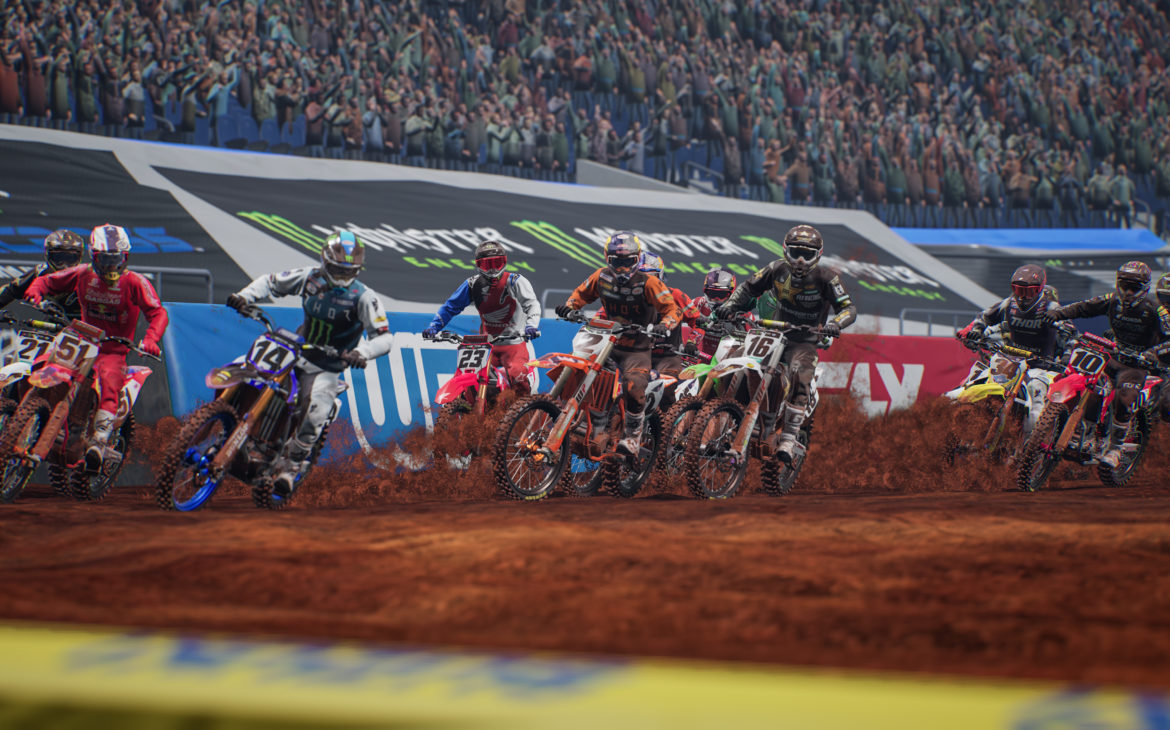 This preview build has piqued my interest to say the least. While the new content and tweaks to the formula aren't revolutionary for bike racing games, they certainly edge Monster Energy Supercross 5 towards becoming a more complete racer with a much wider appeal. It all feels like a incremental refinement, retaining what worked from the previous 2 entries but tuning them to keep the game play competitive. If anything, I'm now convinced that when this game launches next month, I'll have to be on that starting line to see if the rest of the game is as good as this.
Monster Energy Supercross – The Official Videogame 5 launches on PC and consoles on March 17th, 2022.
---
There's to be a Twitch stream later today – 25/02/2022 – 20:00 GMT – featuring Milestone's Developers, Creators, Pro Riders and other special guests that will reveal more about the game [found here at Milestone's Twitch account].
---
You can pre-order Monster Energy Supercross – The Official Videogame 5 on PS5, PS4, Xbox Series X|S, Xbox One and PC via Steam now by clicking here.
---
If you enjoyed this indie games article or any more of our content, please consider our Patreon.
Make sure to follow Finger Guns on our social channels – Twitter, Facebook, Twitch, Spotify or Apple Podcasts – to keep up to date on our news, reviews and features.