Lemon Cake is a career simulation game about running your own Bakery/Café. Is it all crumbs or patisserie perfect? The Finger Guns review:
I have never been good at baking. I can admit this. Lemon Cake makes me wish I was half the baker the protagonist of this wonderful charming indie entry into the management genre is.
Lemon Cake begins as the protagonist takes on the task of restoring an old derelict bakery. Here we will be greeted with Miss BonBon. The spectral Miss BonBon is the charming owner, unfortunately now deceased, but fortunately now your new ghost friend to guide you through turning your defunct building into a dreamhouse bakery. BonBon will assist you in what you may need to buy for the kitchen, restaurant, and garden to be able to deliver only the finest baked and frozen goods, as well as coffee.
There's No Such Thing as Rush Hour
A well-rounded casual management game will always contain some character customisation. Let's call mine Betty. The customisation suite is not extensive but does offer a decent range of clothing, hairstyles and colours to become star baker.
Betty starts off with a pretty bare bones set up. You have access to one oven, one table with two chairs and just a handful of recipes. The most special thing about Lemon Cake is the pace. In other similar games such as old school Diner Dash, the game becomes extremely challenging and almost blood pressure raising. While it is important to bake your customers orders in a timely manner, at no point did I feel overly stressed to do so by Lemon Cake.
Patrons will enter your bakery and choose to either sit or peruse any goods you may have in the window. They do have the option to take out instead of dining in, depending on what you choose to display in the window.
If they do choose to dine, you will need to take their order in a timely manner. You'll then have to make and deliver it, the time to do which depends on what you have on the menu. The animation is the same regardless of what you cook, but different combinations will add to the speed of your bake. Some things like candies won't need to go into the oven and therefore can be given to customers super quick for more points. With each action performed you get a score to help level up and with each bake they pay a certain price depending on how advanced it is. The rule of thumb is that the higher the number of ingredients it takes to make, the longer it needs in the over and the higher the cost to the customer.
When reaching a new level you can choose to learn a recipe and sometimes Miss BonBon will allow you to increase the capacity of your menu to have a wider range. Goods range from a basic loaf of bread to blueberry crumbles, cherry pies, and waffles, ice lollies and so much more. With the opportunity to double up as a Cat Café and Coffee Shop really is a wonderful career simulation.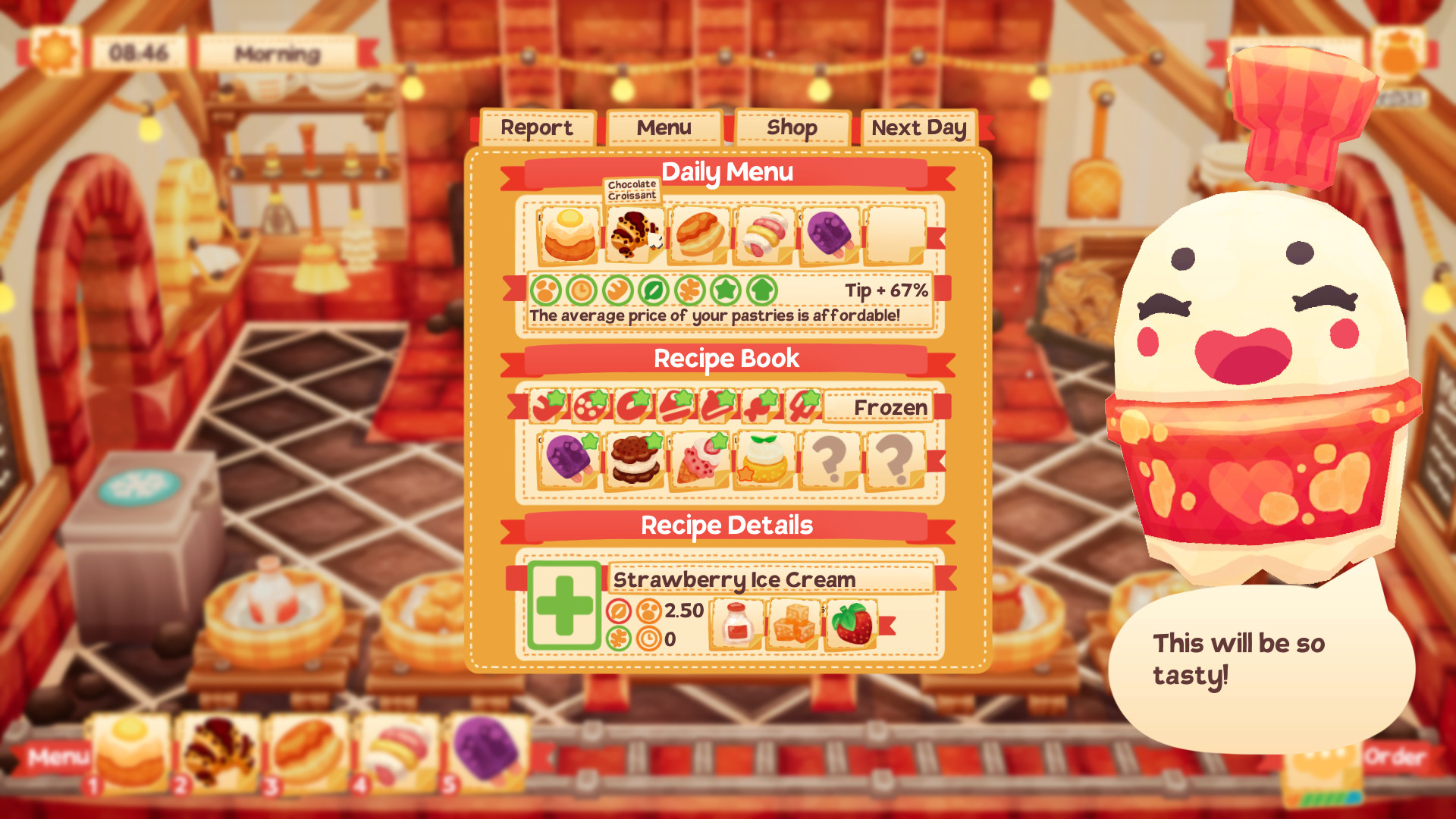 Lemon Cake takes casual to the next level. Before opening the Cafe, players will need to clean the floors, set up the window arrangements and cook what's needed , sort the animals, and water plants. There is no time limit to do this. Players can take this as slow and easy-breezy as they like. The shop opens when you choose for it to open with no consequence to the player or your profit.
When your day is done, you may be surprised with a minigame to catch unwanted critters in your restaurant. There is monetary value to this so this can earn you an extra buck or two.
It is also near impossible to make a mistake in your order, as Betty will not mix anything that isn't supposed to be mixed. Each bake will include different ingredients to gather and combine, she will either mix this together or put this in the oven. As your game expands, upgrades such as carts moving from garden to kitchen to prevent you constantly running in and out to pick fruit allow the flow of the game to continue with much ease.
Lemon Cake's handling is very smooth. Trying this on both handheld and using a Switch Controller, I found no difference. I sometimes find some Switch games are better suited to be hooked up to your TV for ease of the screen or ease of using a controller instead of the Joycons, but Lemon Cake comes down to preference and works especially well in both areas.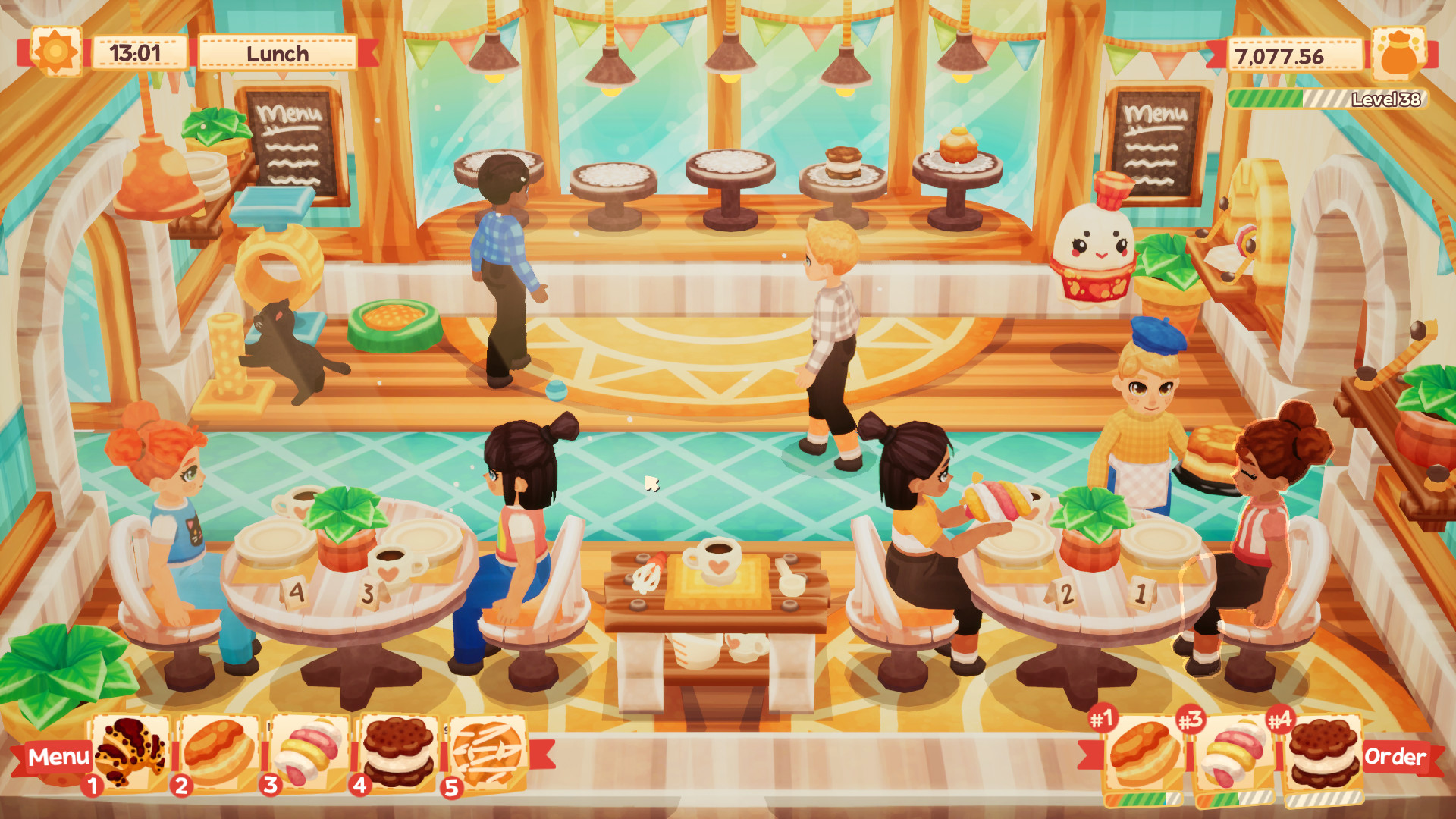 Bake Off
Whilst running any kind of food establishment, I imagine that if you want it to be successful, it is important to change up the goods you sell so customers don't get bored. This is no different for Lemon Cake. You will need to change up your menu every few days or you'll get less profit per day. Bonuses will also be granted if you have a variety of gluten free, vegan and a mix of bakes on your menu. This can be quite tricky towards the beginning as you have limited options on your menu to choose from until you are able to unlock and learn more recipes from levelling.
Another thing I don't think I have seen in any casual simulator in a while, if ever, is each bake is graded by your timing. Whilst choosing your menu you will see a letter grade, of A,B,C etc depending on how efficient this is cooked and brought to customers. This adds just an extra challenge should others feel they want their own personal game achievements whilst they play.
The one gripe I had with the game as I continued to play it, was the staggering difference between the money earned per day, and how expensive some of the upgrades were. On average I earned around 28 pounds. A very very successful day was around 36 pounds. The money intake is quite slow so you have to do the same thing a lot as things are quite expensive. Even with 50-100% tips added on this only boosted some of my intake. Some of the upgrades can range from 200 to 400 pounds depending on what you get, and some upgrades wouldn't make a huge difference to the gameplay despite being expensive, like another oven or a grape tree. So to get those upgrades to be taken back to zero to try and get through the upgrade tree again can feel a bit slighted. The time taken for each upgrade is shorter in late game with more fancier baked goods which bring in more profit. Until then, the game can feel unbalanced, dancing between sloggy and casual at times.
The upgrade tree is presented with four different area's. The store, kitchen, greenhouse, and your bedroom. Some upgrades are purely decorative, whilst others will add more ingredients to cook with, add more customers (or cats) to the store, or just make things more manageable, like watering your garden as your arsenal of bakes increases.
I have to complement the the music to the game which is very soothing. In some games, this type of relaxing music can be overly repetitive so it stands out, but Lemon Cake's subtle tones only compliment the casual feeling of the game.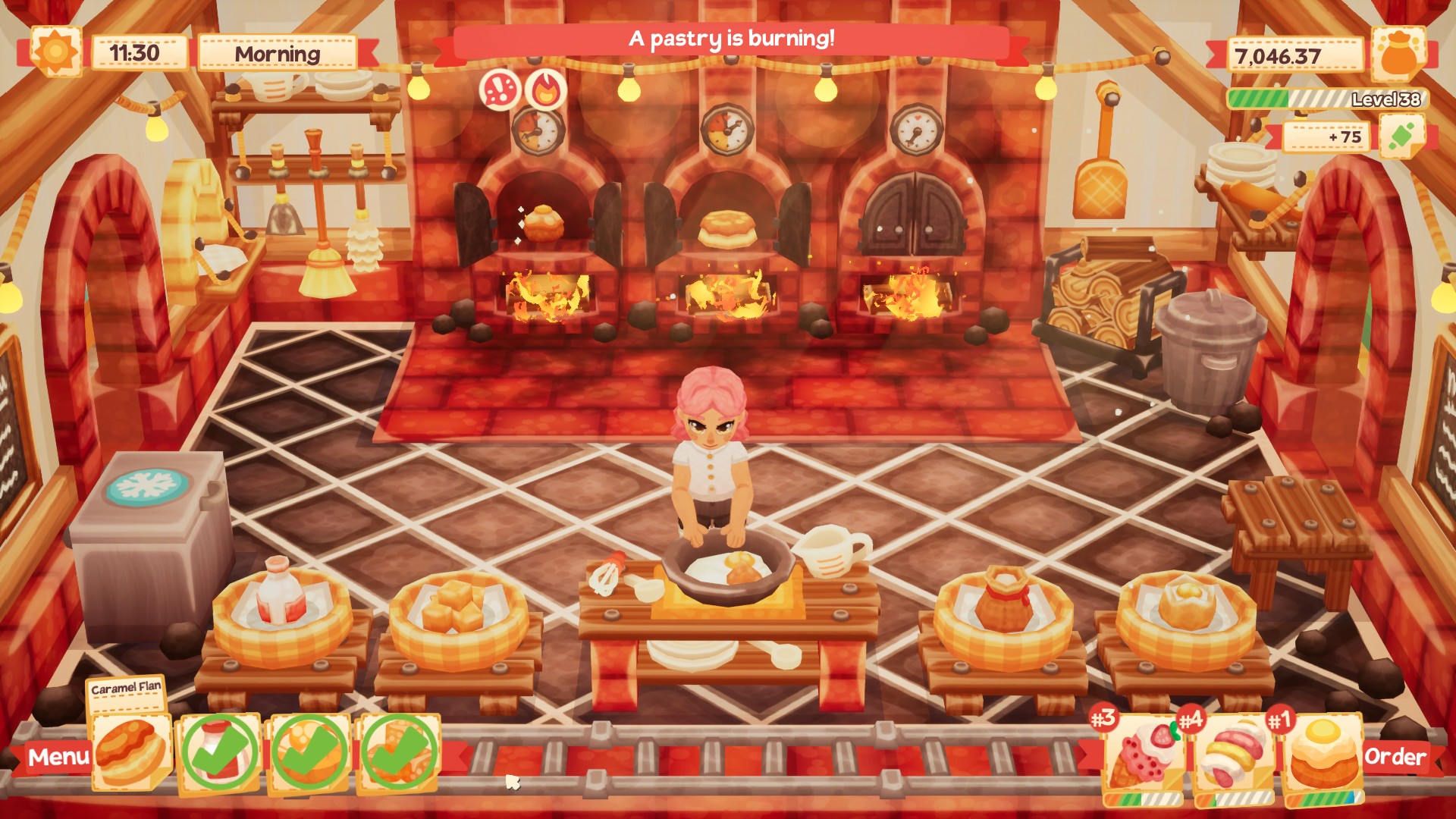 Weevils
As for bugs, and no, not the type you get in your flour; I only ran into two during my gameplay and it was nothing a restart couldn't fix. Early on, my character was unable to get anything out of the oven, so I had to sit there and watch my bread just burn. What a waste of good bread. Much later I encountered a small bug where Betty wasn't able to hold or grab anything. She was essentially just there to literally look pretty ('cuz I'd customised her so well, obviously). As previously mentioned these are extremely minor issues. The game saves after every shift, so if something does go awry, you won't lose much progress.
Those small niggles aside, it feels like a no brainer to recommend this game to anyone who is a big fan of career simulations or the casual genre. It's cute, casual, gorgeous and will fill a bus ride or an evening on the couch with entertainment.
---
Lemon Cake is a wonderfully charming career simulation suitable for anyone with a sweet tooth. This game has plenty to offer and plenty of play time to fatten you up with gaming goodness. It has a great pace, soothing music and nothing ever becomes overcomplicated. It's an easy recommendation to the fan of the casual sim genre.

Lemon Cake is available now on Nintendo Switch (review platform) PC via Steam, PlayStation 4 & 5, Xbox Series S|X and Xbox One.
Developer: Cozy Bee Games
Publisher: SOEDESCO
Disclaimer: In order to complete this review, we were provided with a promotional code from the publisher. For our full review policy, please go here.
If you enjoyed this article or any more of our content, please consider our Patreon.
Make sure to follow Finger Guns on our social channels. Twitter, Facebook, Twitch, Spotify or Apple Podcasts – to keep up to date on our news, reviews and features.