The collect-a-thon, explor-a-thon you may or may have not asked for is here! Is it worth it? The Finger Guns Review.
A relaxing adventure exploration game, Submerged: Hidden Depths has you navigating the ocean and hidden depths of a sunken city with a deadly curse. The Finger Guns Review.
I love a collect-athon. There's something about just roaming around with places to to explore, goals to hit and an adventure that's to tediously collect everything in sight until you catch 'em all. Pokémon puns aside, this is exactly what Submerged: Hidden Depths is.
Flooded
Submerged: Hidden Depths follows on from the 2015 sequel, 'Submerged', where the player explores a mysterious flooded city with her brother. In this sequel, the city has swallowed all life and submerged the city in a 'mass'. Instead of death, the 'mass' gifts Miku a gift to heal others and the environment around her and her sibling, Taku. This gift is given to her by having the mass wrapped around her arm.
The mass looks like darkened vine and encases buildings, landmarks and similar infrastructure as well as weaving through the waves of the ocean. Submerged: Hidden Depths is a non-combative game and so the only way to attempt to stop the spread is to have Miku plant seeds into a sparkling chasm. This in turn removes the darkness from the Mass and turns it green with eco friendliness. We love a green finger. 
Row, Row, Row your Boat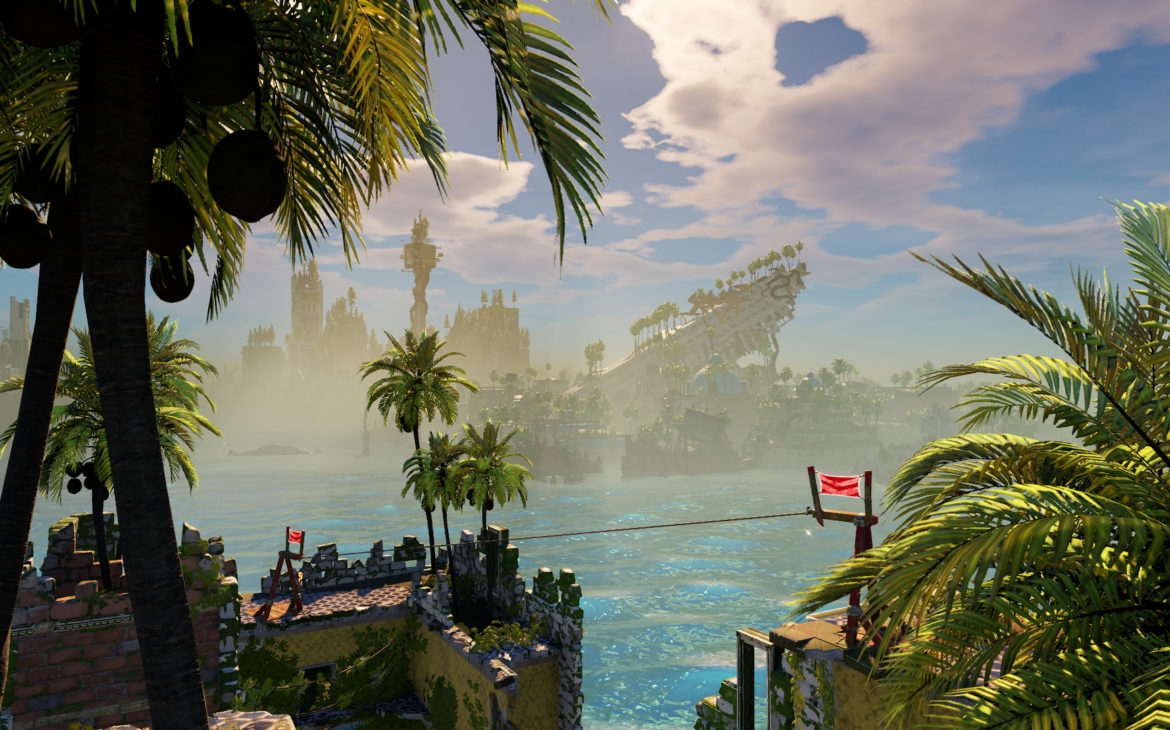 So whilst reviewing this game, I was undergoing a solid ass kicking from COVID-19. Submerged: Hidden Depths kept me afloat on the days where I couldn't string together two sentences without coughing. 
The gameplay is relatively simple, you assume the character Miku and drive the boat around the submerged city. You can get off the boat and explore different depths and secret nooks for collectibles, but most importantly gathering large seeds to overcome the mass. It's not overly complicated and everything you need to complete the adventure is at your disposal from the beginning. As a player you are given a map to explore, a journal of collectibles to find and then a lovely telescope so you're able to add locations to the map. 
The map is clouded over which gives you the chance to explore without anything being spoiled. Along the way of your adventure you will need to visit eight main locations to finish the story. On these main small settlements Miku will need to collect many things in this area. Such as sea-shells which amount to different styles for Miku and the boat, story pages, and a flower that she can accessorise her hair with, whilst also needing to achieve the main goal of finding the seed and placing it in the mass to bring it life again.
In the process of doing this eight times over, it did eventually feel as if I was on autopilot or as if I was copying and pasting the same minigame, but it was super relaxing to be able to switch off and find my way with things. It is also very rewarding to be able to eventually start to recognise secret areas, that may lead to further secret areas. The buildings you'll exploring may need your boat to pull a bridge over, or grappling among vines to traverse walls. The game isn't difficult in finding the collectibles but challenging enough that you sometimes scratch your head wondering where the last one or two things are.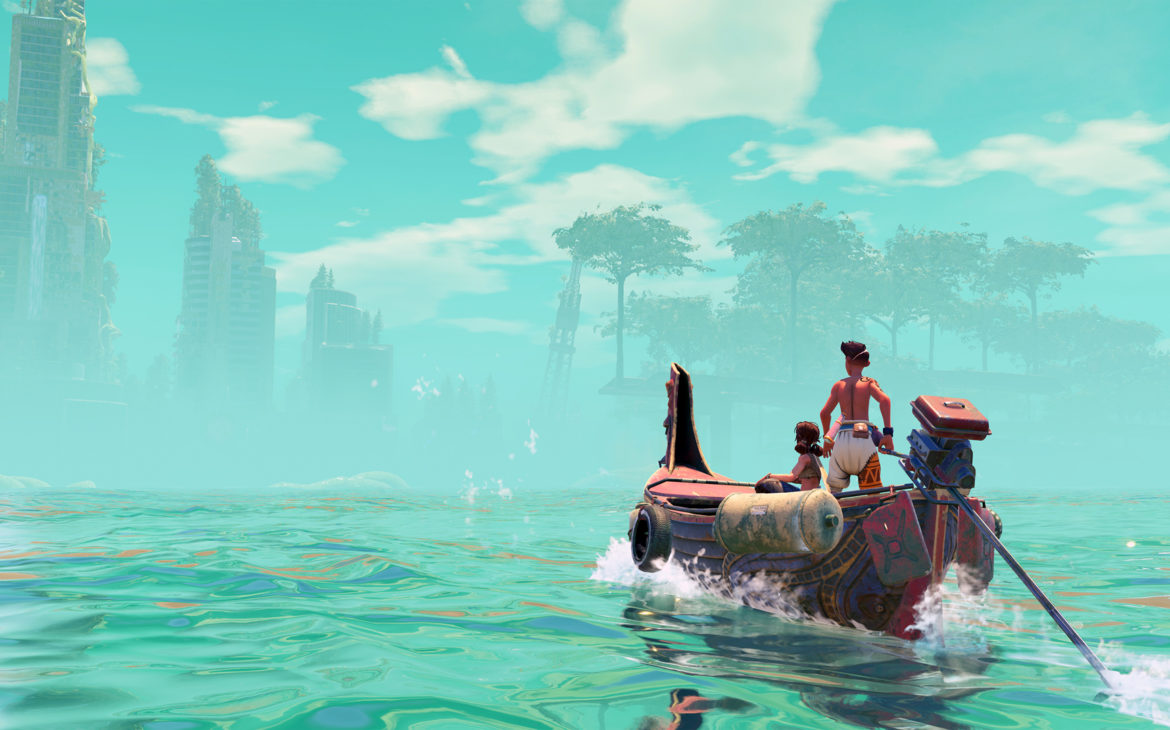 The buildings also tell a small tale with its environmental storytelling. People who once inhabited there are now silhouettes of grass vines as the 'mass' froze them in time. As you collect pages in each building they show a short storyboard and a snippet of the larger picture in hand. 
As a player I failed to really feel that invested in the story, as there seemed to be different ways to tell it, but all feeling a little lacking in depth. There were short, detailed cut scenes mostly at the beginning and end, as well as after each seed has been placed, which told the progression of the story well. But then simple stick figured storyboards that appeared to tell the rest of the story as you collect all the pages. 
It may have just been me, but the storyboard was a bit lost on me, as It was confusing as to whether this was talking about present day, the future of Miku and Taku or before the mass. I remember following it for quite some time, and then reading one and thinking huh? How does that relate? For me, however this didn't matter as I was very content watching the cut scenes and making my own interpretation from the story of the siblings myself. 
Outside the main areas that Miku explores, the ocean is also a playground of collectible discoveries. From shiny animals (also inhabiting the main buildings), to upgrades for your boat to be able to go faster. 
Exploring in the boat is a lot of fun, and there are smaller buildings that the boat can reach where it may just have a story page on. Additionally there are lookout bases where you can climb towers. Traverse them and locations will be added to your map as a marker. What is also handy during this is using the telescope to add other markers. My only irk with this map was that you couldn't add a travel marker, so it meant constantly coming in and out of the map to make sure you are heading in the right direction.
However, as a predominantly collectible simulator, a well thought out mechanic is the audio cues used for when you are nearby a potential collectible. Each type of collectible will have it's own unique sound, so it's great for those larger areas of exploration or the long shores of sea. Miku's brother will also do some exploring on the smaller buildings, so it's good to have both characters playable, although this doesn't really add anything more to the game.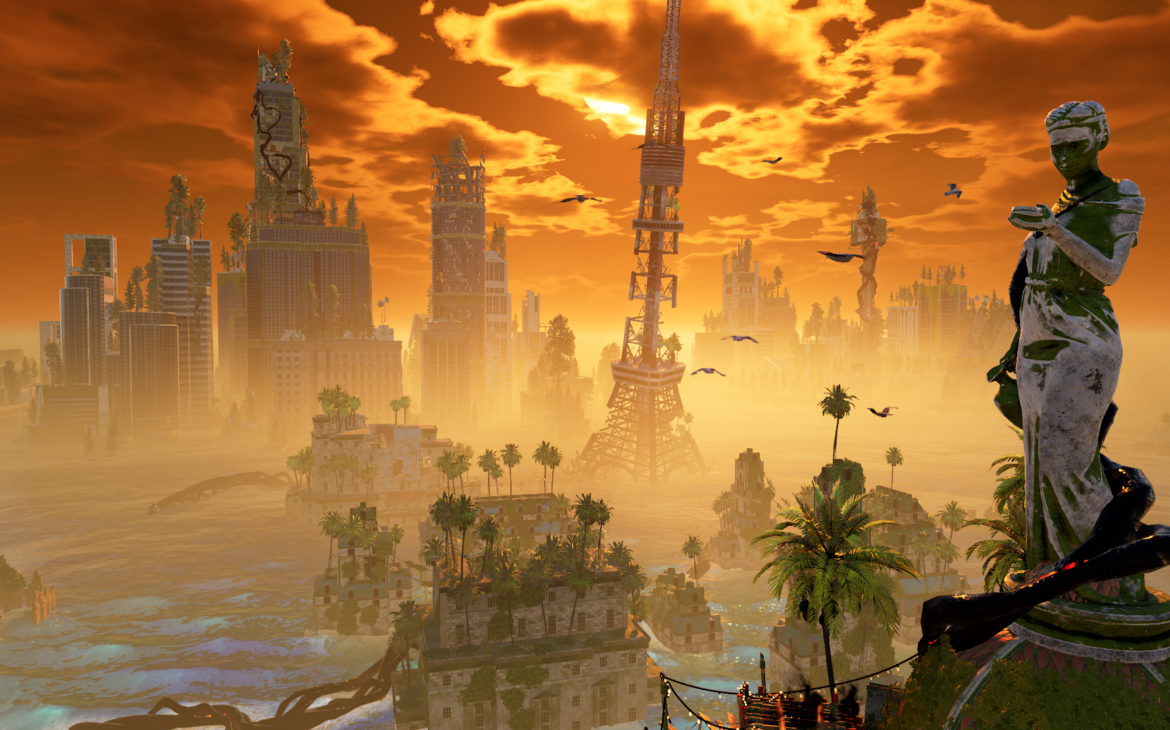 Refreshing Sea Air
The game is visually stunning and there is no denying that. It was the first thing I noticed when jumping in. The glistening of the ocean is spectacular and full of vibrant colour and realism. It honestly felt as if I could almost feel the refreshing air when I jumped in. The whole game is pretty to look at, from character style, to collectibles, to how the developers have incorporated the mass within the animals. Each animal looks like an entwined woven vine that sparkles as you approach it. Some animals will follow you around your boat and it just feels very relaxing to be on adventure. 
There are lovely soothing sounds and music as you go though the game, and it really does feel very zen. There are no enemies to defeat and it's impossible to die. There are no time limits or speed runs of any sort and so this game can really be taken at your own pace. 
Coming in at around 4-5 hours, maybe a bit longer if you are an avid collector trying to find all the animals and story pages, Submerged: Hidden Depths is a condensed experience. This game is easy to recommend to anyone who likes easy going relaxing games, or anyone who needs a break from intricate story or scaled combat (Horizon Forbidden West and Elden Ring – I am winking at you).
This game runs in the same vein as games such as Journey or Abzu and will be highly recommended should you have enjoyed those types of games. This game can feel a bit more repetitive than those previously mentioned, but even the game itself makes a small self-referential joke at that.
---
A relaxing collect-a-thon adventure game, Submerged: Hidden Depths is visually stunning with graphics that are comparable to those of big budget titles. Although the story lacks depth and the main mission can feel a bit repetitive, if you want a game that is very chill and completely devoid of stress, this is worth picking up.

Submerged: Hidden Depths is available for PS5 (review platform), PS4, Xbox One, Xbox Series X|S, PC, Nintendo Switch and Google Stadia.
Developer: Uppercut Games
Publisher: Uppercut Games
Disclaimer: In order to complete this review, a copy of the game was purchased. For our full review policy, please go here.
If you enjoyed this article or any more of our content, please consider our Patreon.
Make sure to follow Finger Guns on our social channels –Twitter, Facebook, Twitch, Spotify or Apple Podcasts – to keep up to date on our news, reviews and features.