The misadventures of Dredge continues with The Pale Reach DLC, but is this expansion a good excuse to thaw out your boat? The Finger Guns review:
It's been a minute since I set sail across Black Salt Games's cosmic horror archipelago in Dredge. However, despite that time spent away from the game and moving onto a plethora of other outstanding horror titles this year, Dredge has been the one gnawing at the back of my mind, like the untold disease that can slip onto your boat and infect your fish. You could say I've been Davy Jonesing to go back to it, but awful puns aside, there's probably no better time to go back and revisit or to hoist the anchors for the first time than with The Pale Reach DLC.
Since the launch way back in March 2023, Dredge has had a bunch of updates, quality-of-life improvements and bug fixes. Map markers are now in the game, new wildlife to obtain and more recently a new character called 'The Painter'. This new NPC can change the look of your boat by adding flags, bunting and even a paint job if you provide them with the right fish.
The game didn't need these improvements, but the fact we're now getting a whole new expansion among these updates just shows the love that Black Salt Games has for their title. So does this wintery expansion make for a perfect seasonal denizen? or does it pale by comparison? Let's get into it.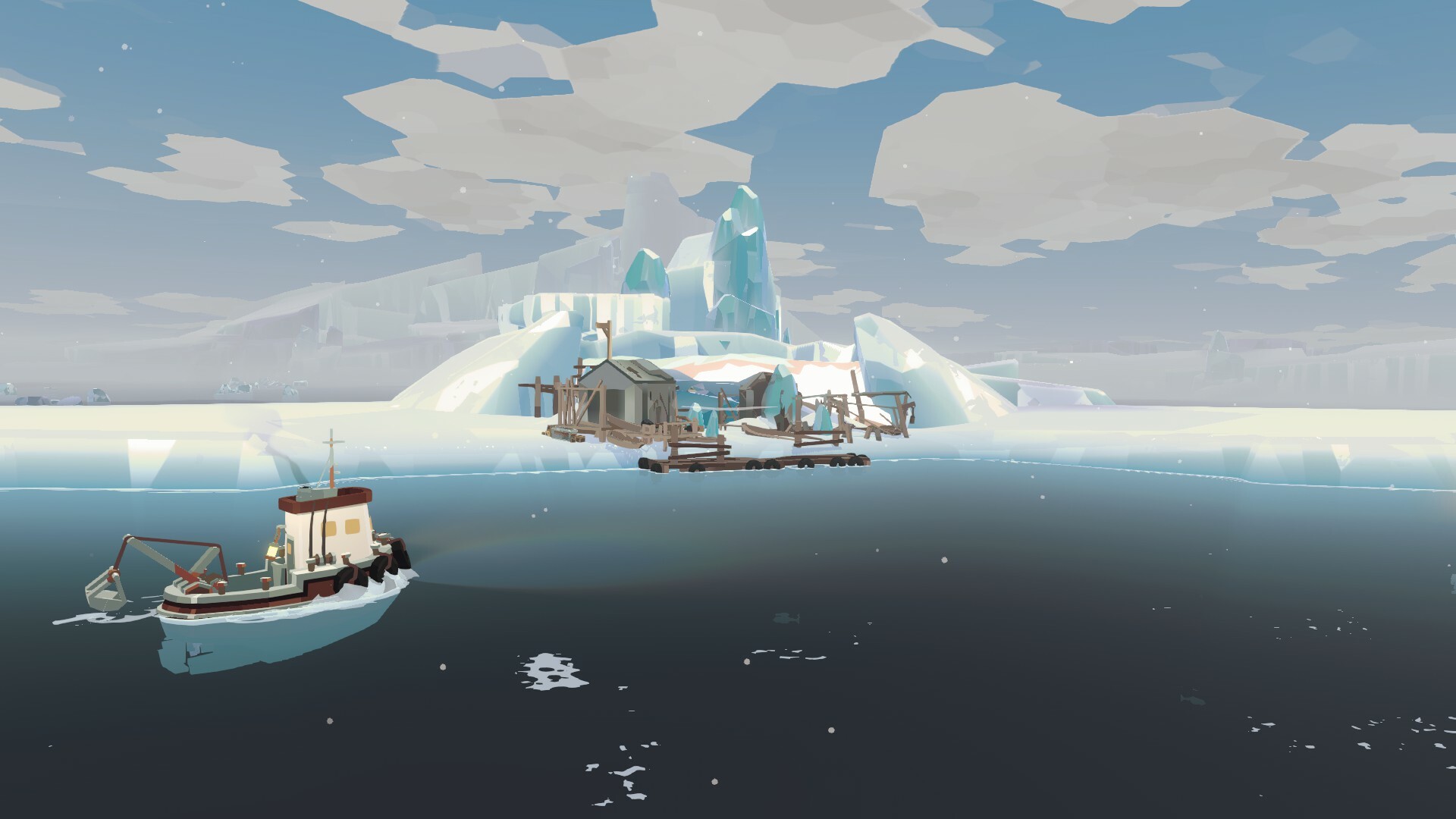 The Cold And The Blue
The Mayor of Great Marrow invites you to venture south and meet with The Photographer to help her with her studies of the new area you'll be visiting for this expansion. It's an ice-themed biome with new dangers and potentially the scariest mystery I've come across in Dredge. I 100% completed the game at launch for review, but I do believe you can tackle this area at any point in the story.
I'd recommend doing this around the time you're about to beat the game, as it alleviates some of the grind you'll face during the early stages of the DLC. What follows is a very by-the-numbers mission structure you'll come to expect from Dredge, which isn't an outright reductive statement but I wouldn't have minded a new approach to completing the mini-narrative.
There aren't any cutscenes that depict some of the horrors you'll be facing but there is some incredibly rich world-building within the journal entries you stumble across. Tonally, they're a lot more beguiling than the rest of the game, something I felt was missing in the base game. I'm dancing around the plot as it's one of the biggest draws for experiencing it but there are of course ice-themed creatures lurking, particularly a main creature that will begin to hunt you when it's hungry.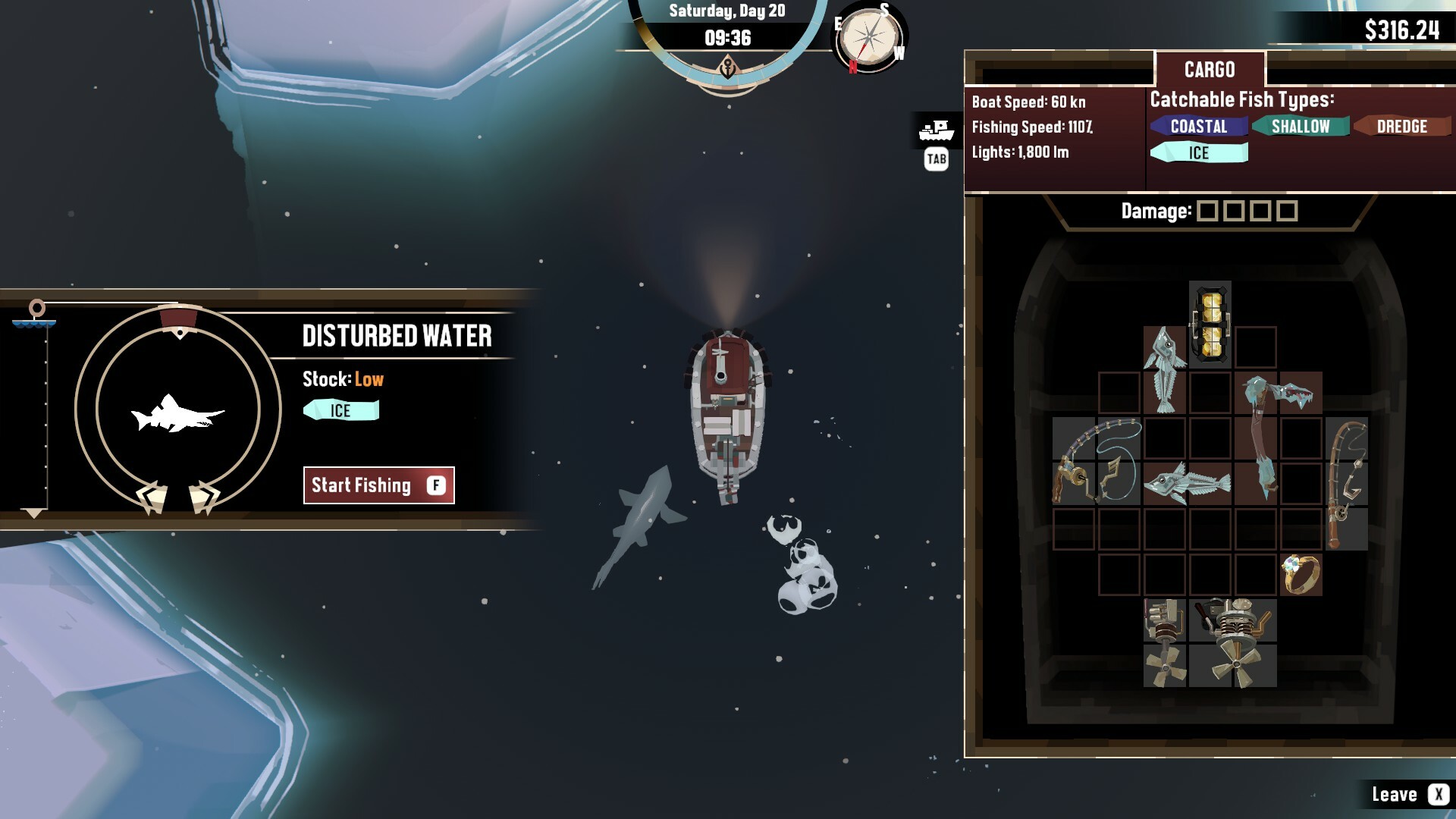 Ice, Ice, Navy
With a new biome, comes a new specificity for the fishing gear. The base game had different equipment depending on the type of seas; to add to the list of Oceanic, Shallow, Hadal, Abyssal etc. is the new Ice. Unfortunately, this isn't the ice fishing where you're peacefully sat by a fishing hole beside an igloo, but the eerie yet addictive methods we've already played.
With that comes new fishing gear for your boat, which brings the persistent problem I had of playing naval Tetris with my equipment. As I'm at the endgame at this point, having a full encyclopedia of fish, I had a boatload of cash at hand to wistfully discard equipment for the new stuff and juggled to see what fit. You have some new rods and nets to acquire but there are a whole slew of new fish to catch with the techniques you've come to learn.
Black Salt Games really know what they're doing when it comes to the designs. Whilst there weren't really any outwardly ice-themed fish, some of them were the nastiest catches I've encountered – it's good to see the nausea-inducing freaky fish are still just that. There are also some utterly terrifying new pieces of music to accompany this frosty endeavour, alongside the perfect art design continuing with a new flavour.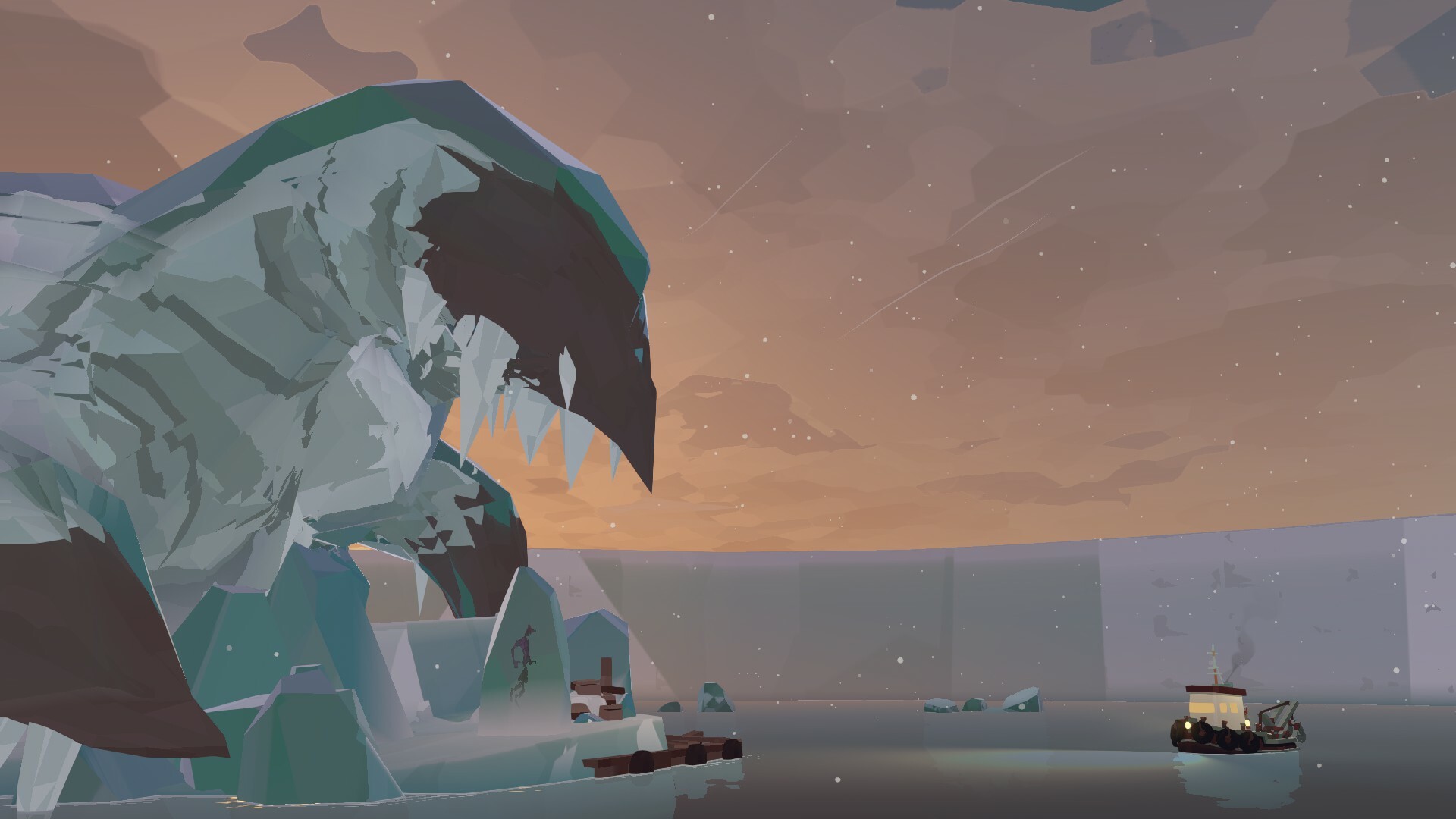 Snowed Over
The Pale Reach DLC is a very short expansion overall. I beat the missions and accrued all the trophies within an evening, which for an expansion priced at £5.99 is fair. The near-flawless design consists in this DLC along with a continuing perfect atmosphere now with a new flavour of horror to explore. I can't knock what feels like a victory lap for the studio and I hope they keep running for a little longer as I love delving deep into this world.
Alongside all the aforementioned improvements and content added, there is no better time to check out Dredge and the subsequent The Pale Reach DLC. This is one of my favourite games this year and if you're into atmospheric, meticulous and sometimes relaxing games with a big helping of an engaging fishing minigame, then Dredge with its DLC is the destination for you to drop your anchor.
---
Albeit criminally short, maybe because I can't get enough of Dredge; The Pale Reach DLC is a wonderful expansion to dive into during the Winter season. A decent helping of new fish to discover and a terrifying mystery to uncover make for a great return to one of the best games of the year.

DREDGE and The Pale Reach DLC are out now on PlayStation 5 (review platform), PS4, Xbox Series S|X, Xbox One, Nintendo Switch and PC via Steam.
Developer: Black Salt Games
Publisher: Team17
Disclaimer: In order to complete this review, we were provided with a promotional code from the publisher. For our full review policy, please go here.
If you enjoyed this article or any more of our content, please consider our Patreon.
Make sure to follow Finger Guns on our social channels. Twitter, Facebook, Twitch, Spotify or Apple Podcasts – to keep up to date on our news, reviews and features.