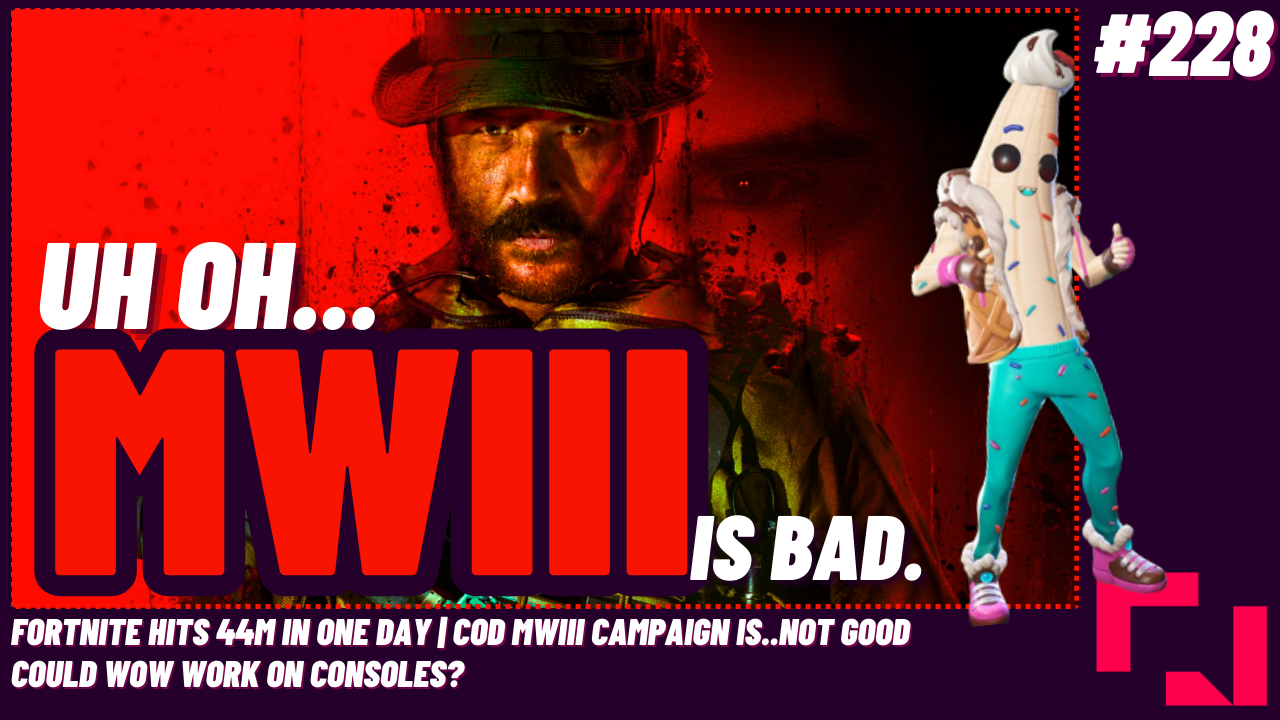 'just say Rat-A-Tat-Tat......'
This week on The Finger Guns Podcast Rossko, Miles, Kat and Josh talk all the week's biggest news including the rise of Fortnite and their colossal weekend numbers, the downfall of Call of Duty's terrible MWIII campaign and the possibility of World of Warcraft on consoles. Is there a chance? We don't seem to think so but under Phil Spencer, anything is possible, right?
In Game of the Week Kat has jumped into the OG Forntite map, Josh has been climbing the walls playing the wonderful Jusant and Miles, along with confirming he's Platinum'd Spider-Man 2 he talks Achilles: Legends Untold, which he wasn't as fond of. Rossko also talks us through his trip to the seedy underground of Detroit in the rather brilliant RoboCop: Rogue City.
Recommendations? Well, Vanilla Coke from Miles (yeesh), Donald Glover's Atlanta (yay!) and Kat talks going to see Fall Out Boy this weekend and recommends a drama on Netflix whilst Rossko takes us back to 2006 and talks his recent first time watch of The Devil Wears Prada. We're nothing if not way up to date with the current trends on this podcast.
Hey if you like our podcast why not leave us a review?! You can do it on Apple where you can also spread the love and on Spotify with their star ratings. Everything helps and we'd really appreciate it. Thank you!
Enjoy the episode!
To download the MP3 of this episode right-click here.
Theme Music – De Jongens Met de Zwarte Schoenen by RoccoW & xyce. | Edited and produced by Ross Keniston | Published by Acast.
Team: @FNGRGNS / Rossko – @RosskoKeniston / Paul – @ThePaulCollett / Greg – @GregatonBomb / Josh – @jshuathompson / Sean – @Omac_Brother / Toby – @toby_andersen / Kat – @RainbowDropx / Tom – @T_Woods93 | Yogdog (Jonathan Brown) – @Yogdog | Facebook: FingerGunsUK / Twitch: twitch.tv/fingergunsdotnet / The Official Finger Guns Discord Discord: Join here!